On the festive New Year's table, meat or fish aspic, jelly will always look. Today we offer to make an original and easy-to-prepare chicken aspic. Such aspic does not require much time and your strength. Orange slices, in which we place a delicious aspic, will be an excellent cold appetizer for guests and loved ones.
Ingredients:
Large ripe oranges – 3-4 pcs.
Instant gelatin – 3 tsp.
Chicken quarter without skin – 3-4 pcs.
Carrot – 1 pc.
Green peas – 3 tsp
Corn – 3 tsp
Sweet pepper – 1 pc.
Salt – to taste.
Water – as needed.
Parsley – to taste.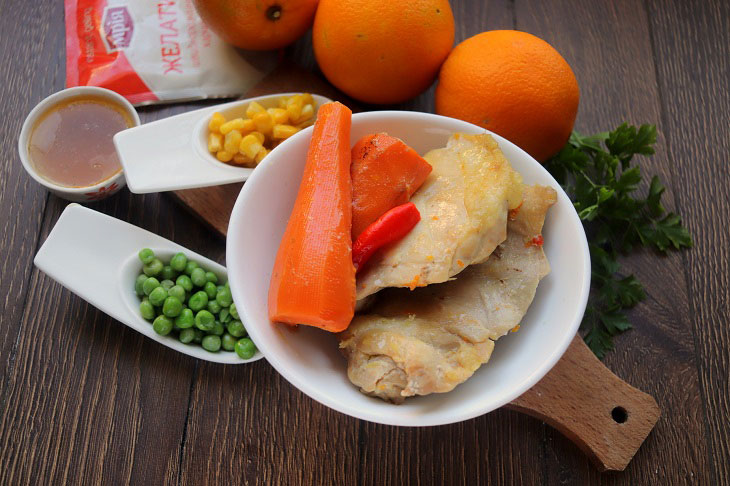 How to cook:
1. Use ripe large oranges for this festive appetizer. Cut several oranges in half and carefully scoop out the pulp. Put the resulting orange bowls aside for a while, or in a bag and in the refrigerator. The rest of the oranges can be prepared a little later.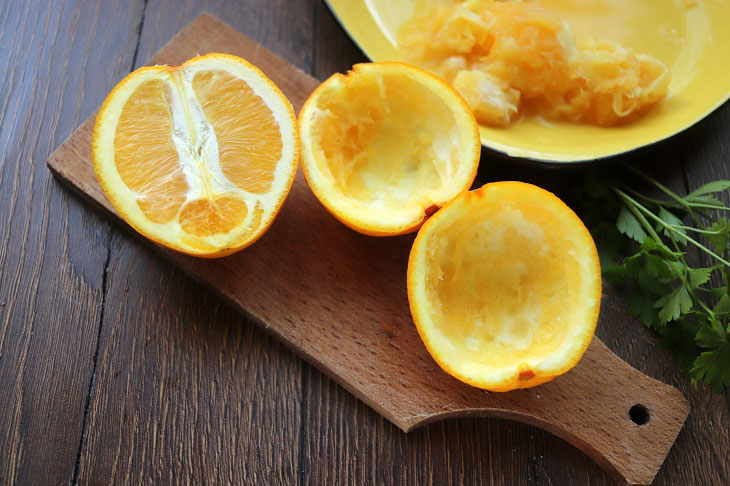 2. For aspic, you need to bake the chicken in the oven. Take a chicken quarter or breast. On a baking sheet with sides, place coarsely chopped carrots and orange pulp, which was chosen earlier, on the bottom.
Add a few slices of orange to give the chicken a brighter taste and aroma.
Spread the chicken pieces on a baking sheet, sprinkle with salt, orange juice and spices to taste, pour a glass of water. Cover the chicken with foil and bake until cooked through for 30 minutes at 180 degrees.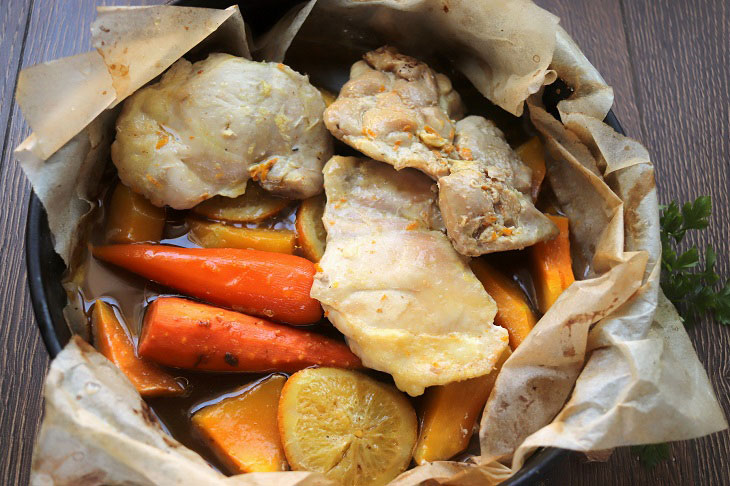 3. Prepare the filling that you will fill the oranges with. Send the diced chicken meat, green peas and corn, carrots to the bowl. For brightness and richness of colors, add chopped sweet peppers to the filling.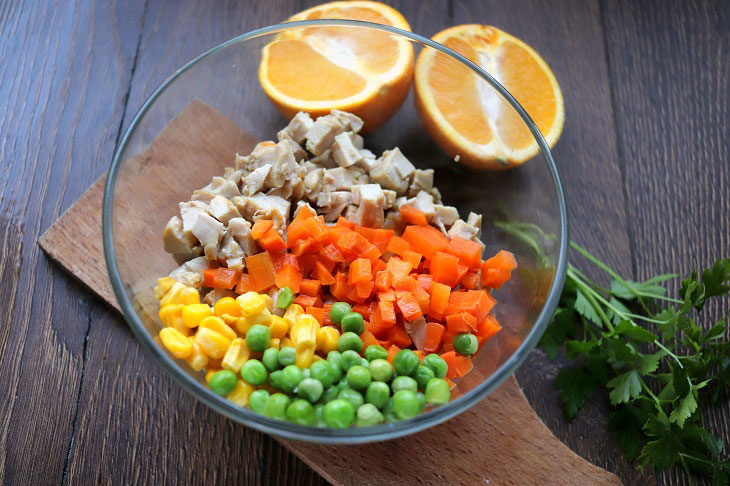 4. To make the aspic dense and keep its shape well, you will need gelatin. Soak gelatin in boiled warm water and wait for complete dissolution. In a water bath, heat the gelatin with the separated broth in a bowl on a baking sheet with chicken. Add salt and garlic to taste if desired.
The gelatin mass should not turn out to be fresh, so that the finished aspic turns out to be bright in taste.
Combine the prepared jelly broth and filling, mix. Use fresh parsley or dill if desired.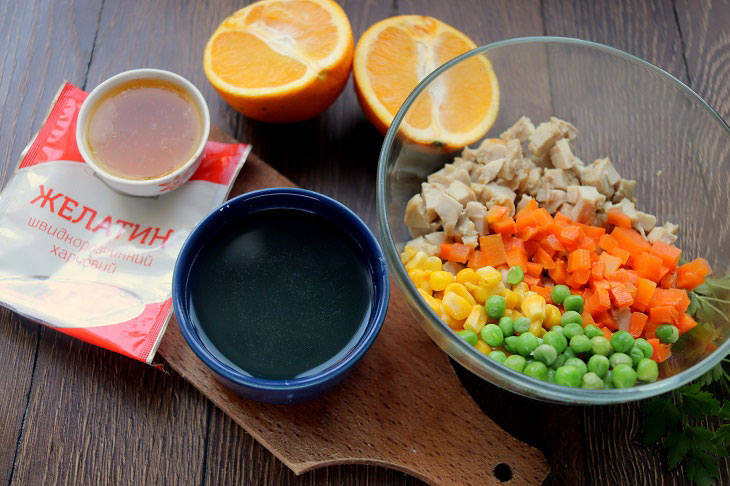 5. Scoop out the pulp from the rest of the oranges. Lay out all the orange bowls on a board, and to make them stable, place metal or silicone cupcake molds under each. Divide the filling into bowls and pour over the broth. Cover with plastic wrap and refrigerate for 2-3 hours.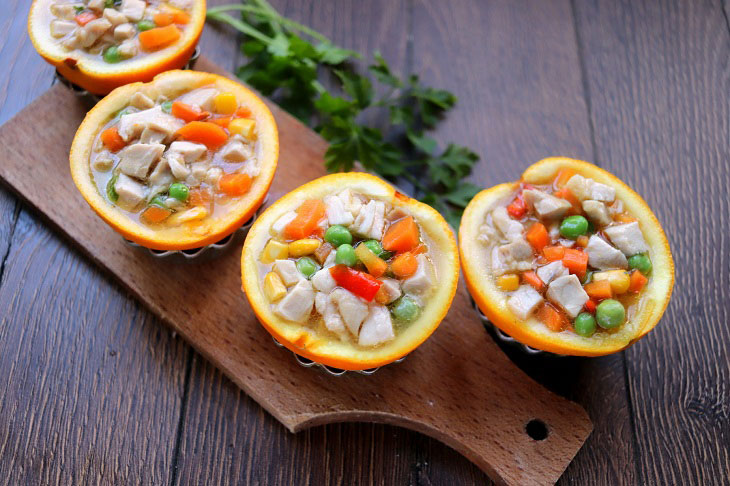 6. Cut orange slices with aspic before serving and put on a plate, decorate as you like.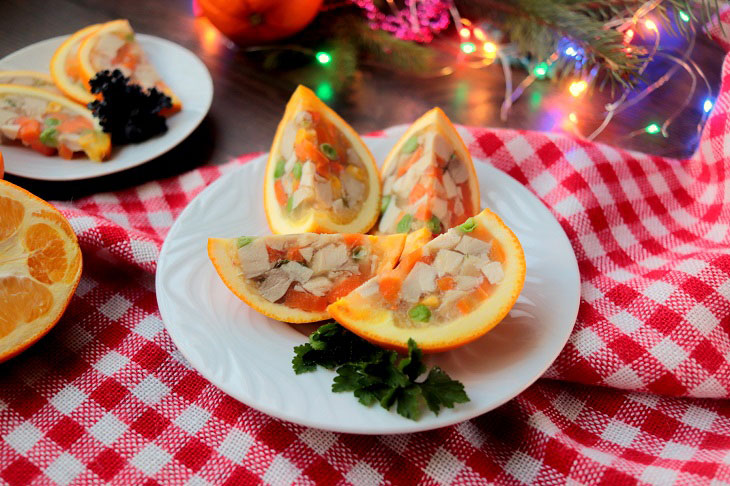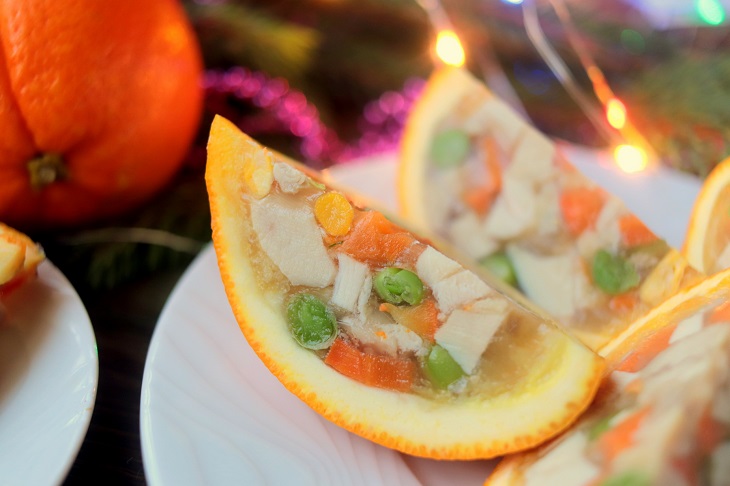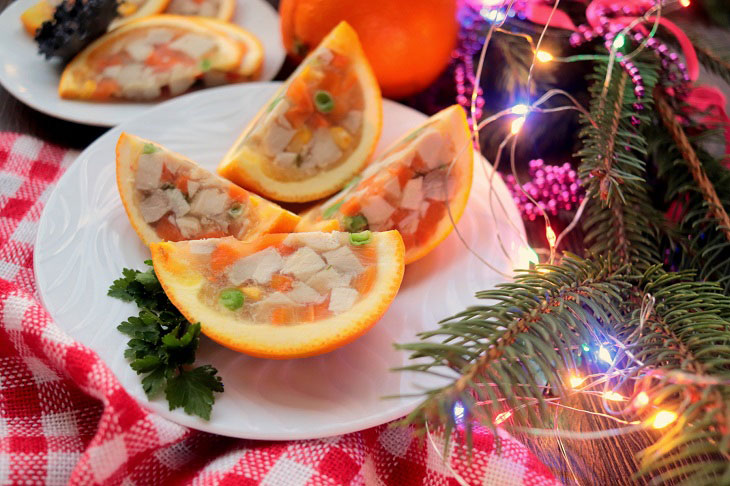 Bon appetit!