You can cook many different dishes from chicken liver, one of them is royal liver. Such an appetizer, a bit reminiscent of a liver casserole with onions and carrots, will become a real favorite of the festive feast. Tender and juicy liver will royally captivate the heart of any gourmet.
Ingredients:
Chicken liver – 600 g.
Semolina – 0.5 tbsp.
Crackers – 1 tbsp. l.
Milk – 100 ml.
Carrots – 5 pcs.
Salt, ground black pepper – to taste.
Onion – 5 pcs.
Vegetable oil – for frying.
How to cook:
1. Wash the chicken liver, remove the hymen and excess fat (if any), put in a blender and grind.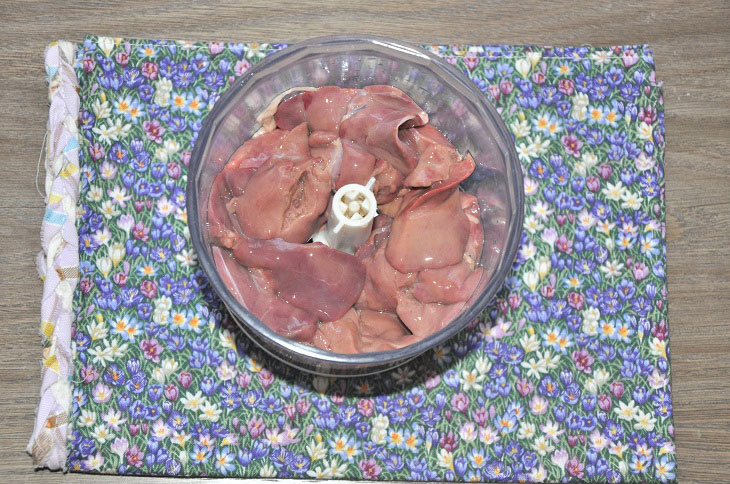 2. Add crackers and semolina to the ground chicken liver, then beat again in a blender.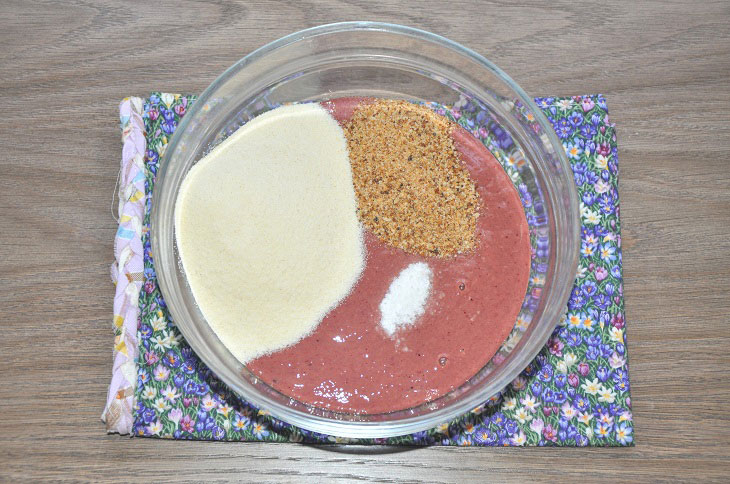 3. Pour the resulting mass into a deep bowl, add milk, mix thoroughly. Salt and pepper to taste, then stir again.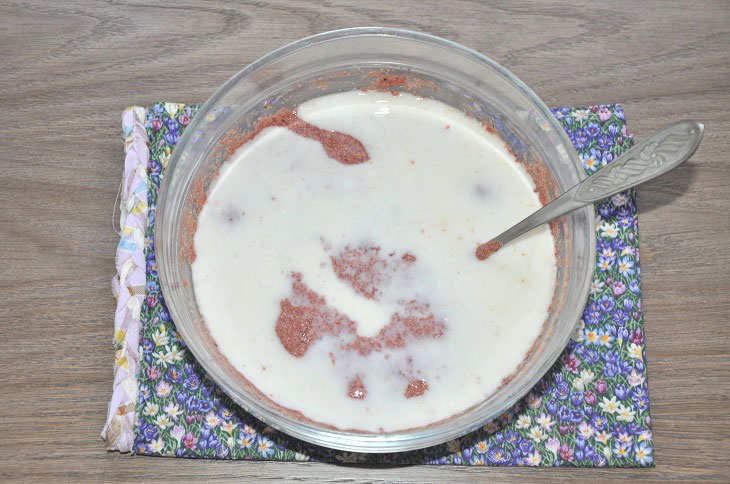 4. Cover bowl with cling film and refrigerate for 20 minutes. During this time, the semolina should swell, and the liver mass itself should thicken.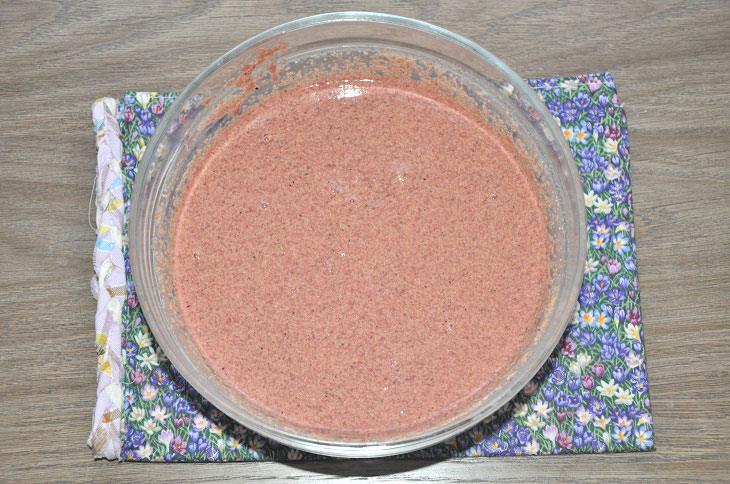 5. While the semolina swells, prepare the filling: cut the onion into thin quarters, grate the carrot on a coarse grater.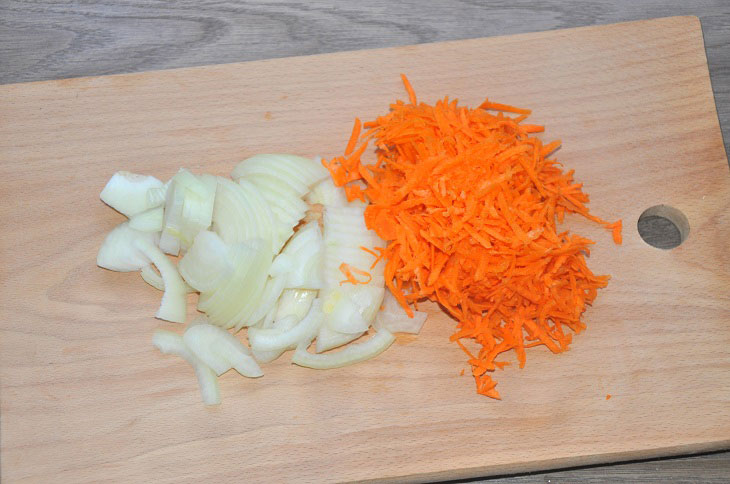 6. Put the chopped onion in a preheated pan with vegetable oil and lightly fry.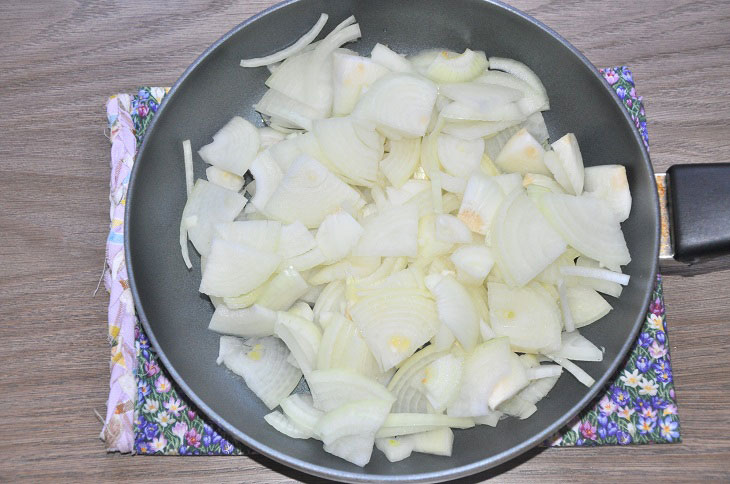 7. A few minutes later – grated carrots. Simmer vegetables over low heat until tender.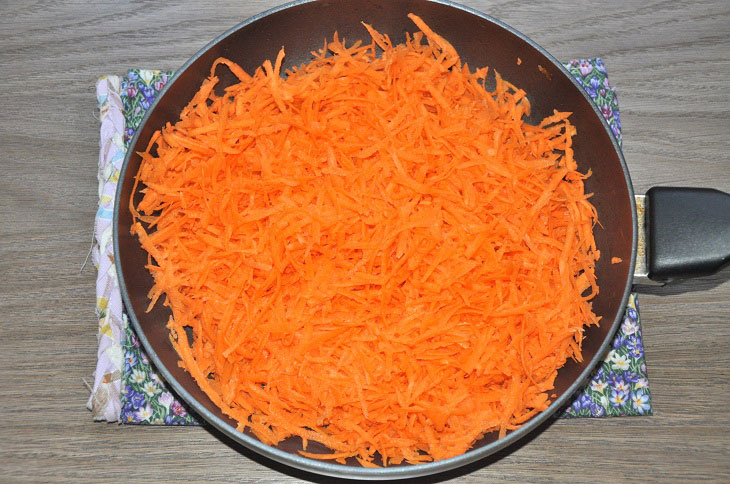 8. Salt and pepper the cooked carrots with onions a little (to your liking).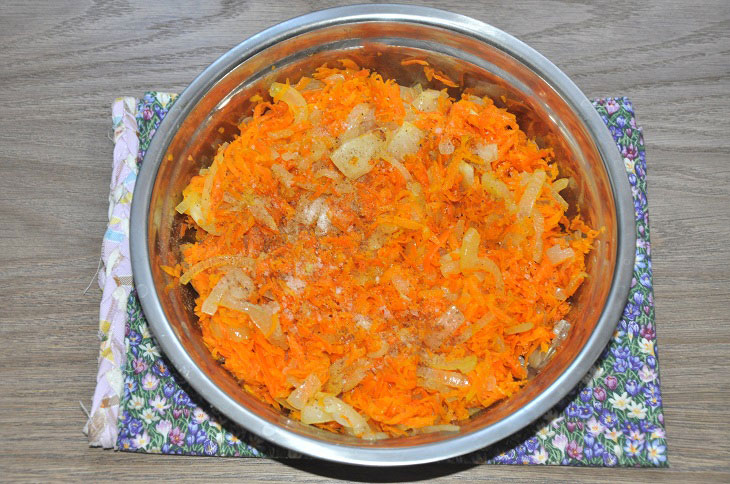 9. Cover the baking dish completely with foil (preferably in several layers).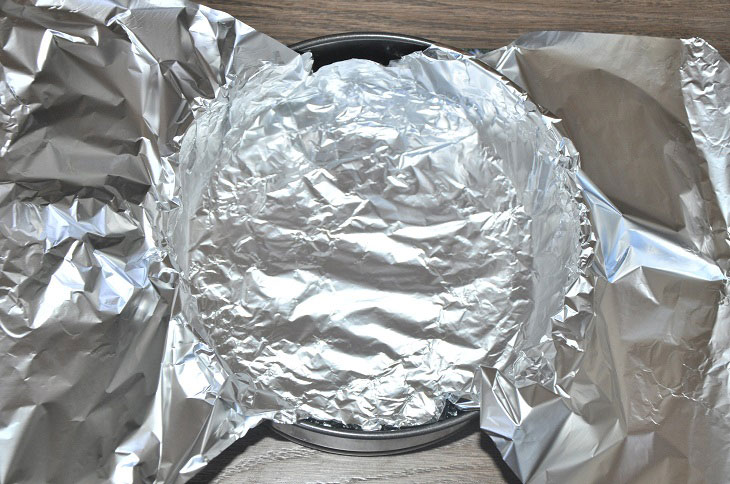 10. Put half of the onion-carrot filling in a mold, spreading it evenly over the entire surface, then press down firmly with a spoon, forming small sides.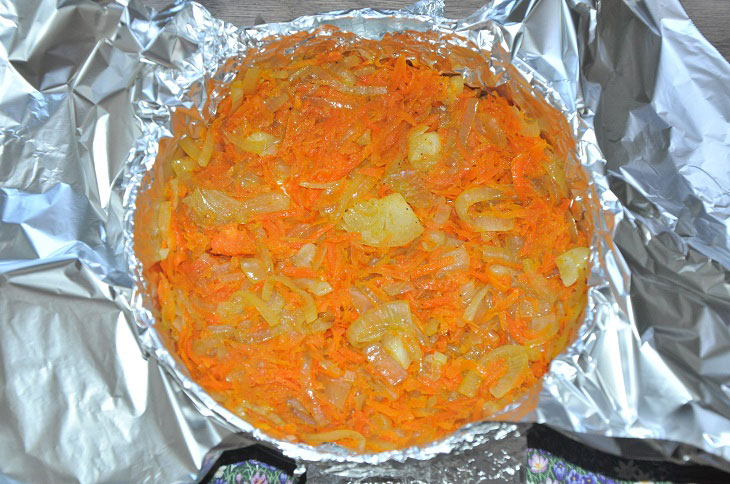 11. Pour a part of the liver mass onto the filling, spreading it evenly over the surface with a spatula.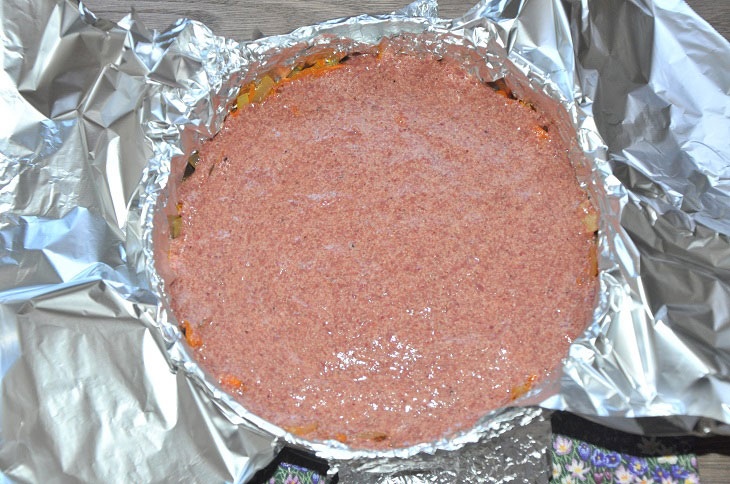 12. Then again lay out a layer of onion-carrot filling.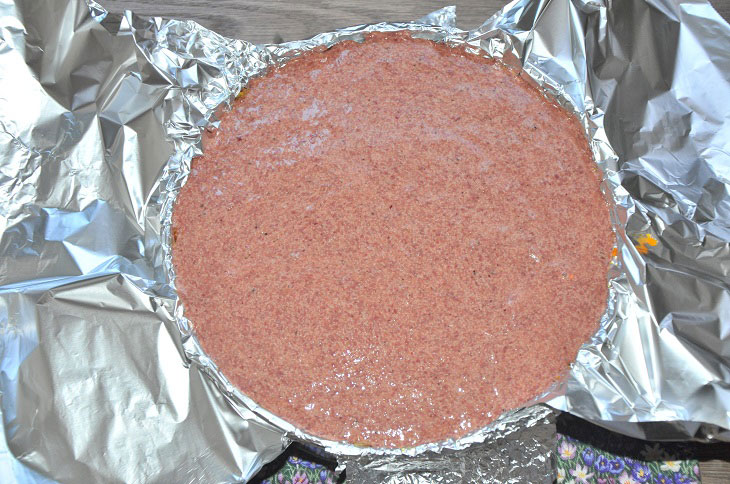 13. Then pour out the remaining liver mass. Put the royal liver in a preheated oven at 170 degrees for 35 – 40 minutes (it may take more time to bake, it all depends on your oven, as well as on the diameter of the mold).
To prevent the liver pie from burning, cover it with foil on top.
Leave the finished liver royally in the oven until completely cooled. When it is completely cold, then remove it from the mold and put it on a dish. If desired, garnish the edge (in the form of a rim) with finely chopped dill or parsley. This dish is best served cold.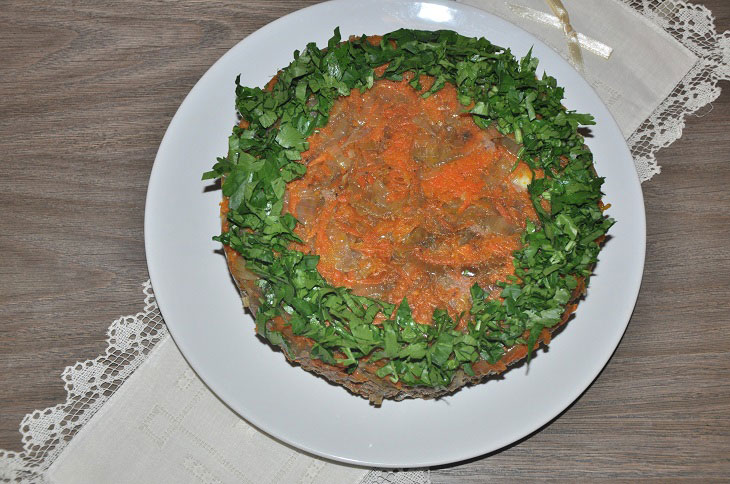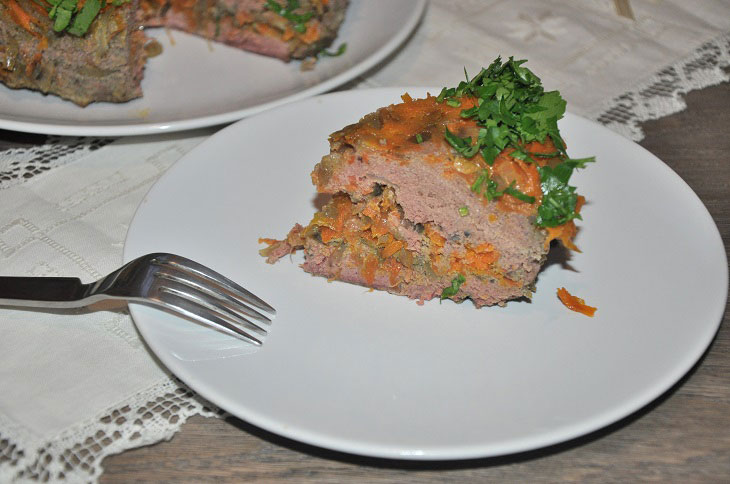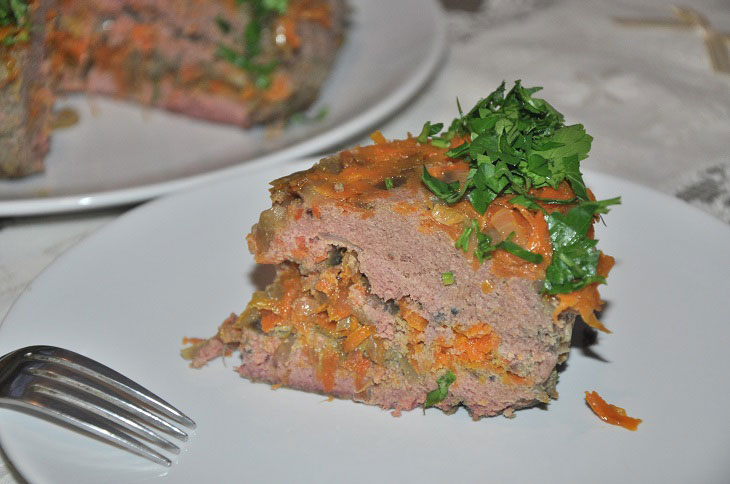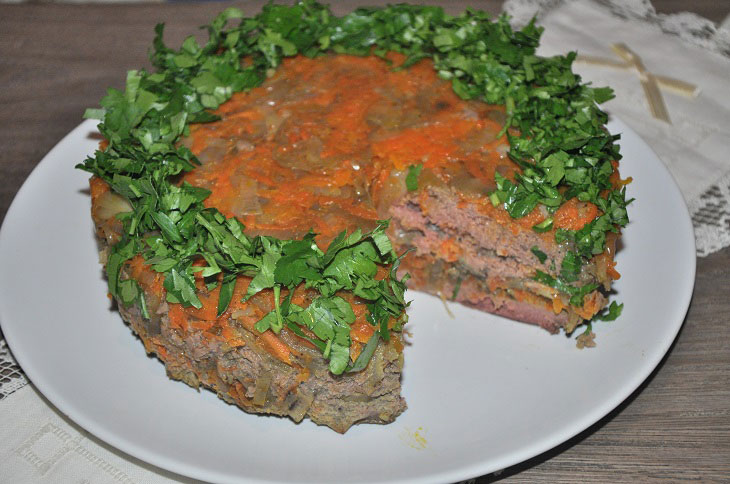 Bon appetit!