Salad with an unusual combination of meat and salted fish, which we will prepare today, belongs to the Latvian national cuisine. This salad is called "Latvian". It turns out tasty and satisfying. If you use the original and beautiful serving of such a salad, then you can safely serve it for festive feasts.
Ingredients:
Boiled meat (beef or chicken) – 200-300 g.
Salted herring (medium size) – 1 pc.
Boiled potatoes – 3-4 pcs.
Pickled cucumbers – 2 pcs.
Boiled carrots – 1 pc.
Fresh apple – 2 pcs.
Mayonnaise – 3-5 tbsp. l.
Grated pickled horseradish – to taste.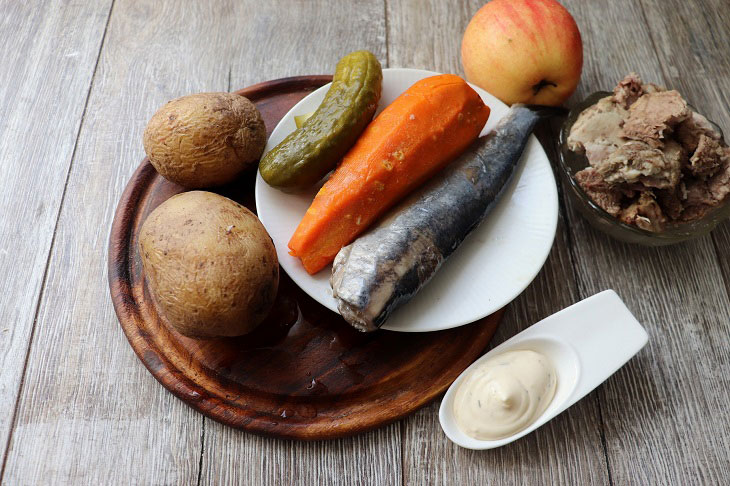 How to cook:
1. Potatoes for salad must first be boiled in their skins or baked in the oven, in foil. Peel the cooled potatoes and cut into small cubes, as for a vinaigrette or capital salad.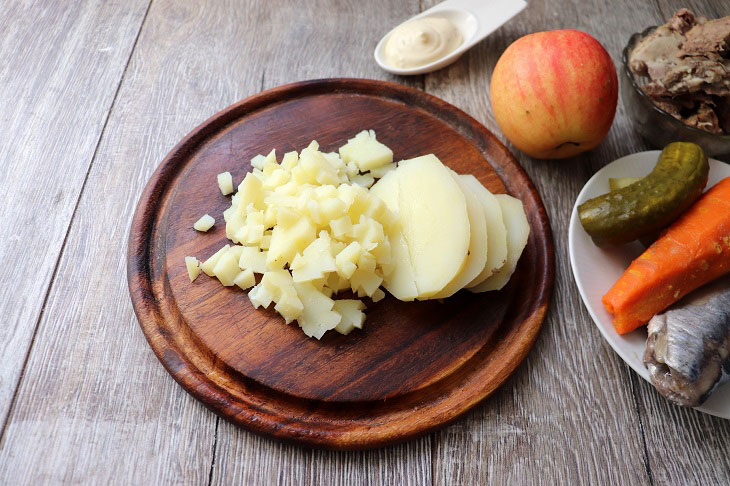 2. Pour the prepared potatoes into a deep bowl. Cut one small carrot into cubes and add to the salad. Finely chop pickled or sour cucumbers and also pour into a salad.
So that it does not turn out watery, squeeze the cucumbers from the liquid that is inside.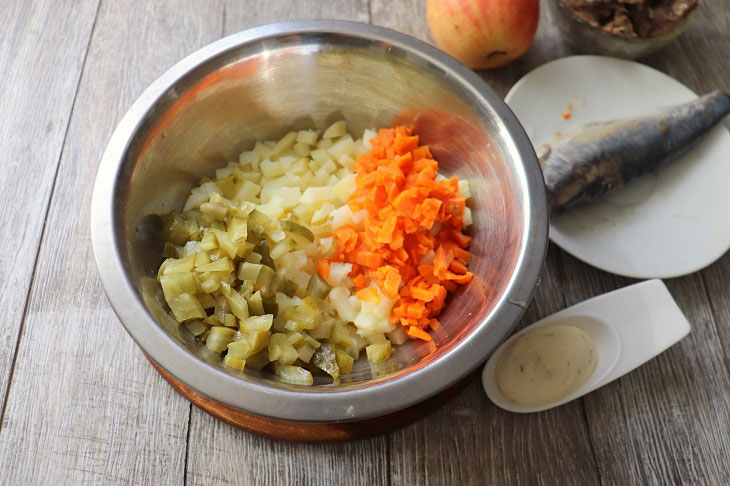 3. Boil or bake a piece of beef or any other meat in foil, cut into cubes and add to the dish.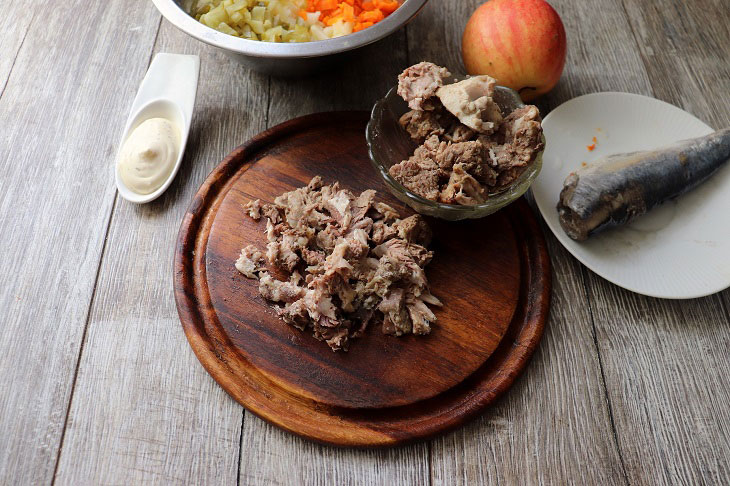 4. Peel one small carcass of herring from bones and skin, chop finely. Add herring to the salad and mix it.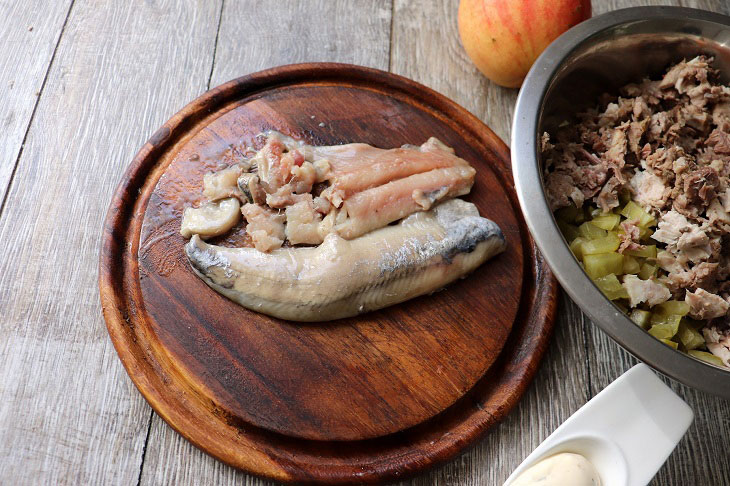 5. Cut sweet and sour apple into cubes, it will add a pleasant juicy note. It is not necessary to cut the skin from the apple, it all depends on your preferences.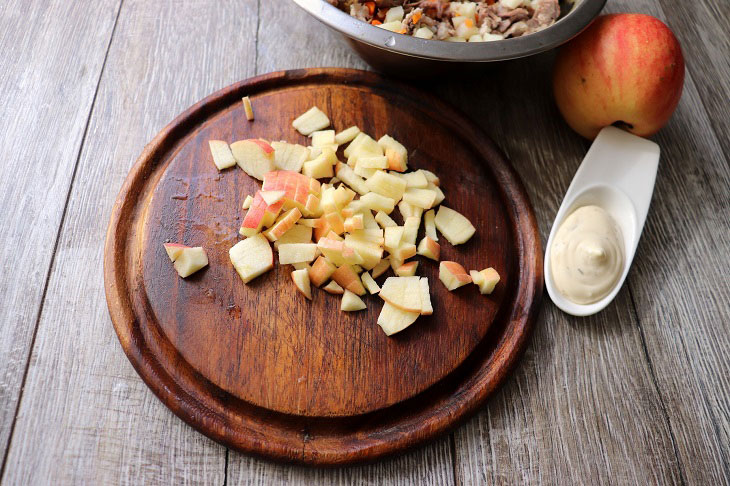 6. Stir the finished salad with a spoon and season with mayonnaise and grated horseradish to taste. This time we used a ready-made mayonnaise sauce, which includes horseradish. You can use store-bought horseradish in jars for this recipe. Add salt and ground pepper mixture to the salad if desired.
We recommend leaving the salad for 20 minutes in the refrigerator for impregnation, and then prepare its serving.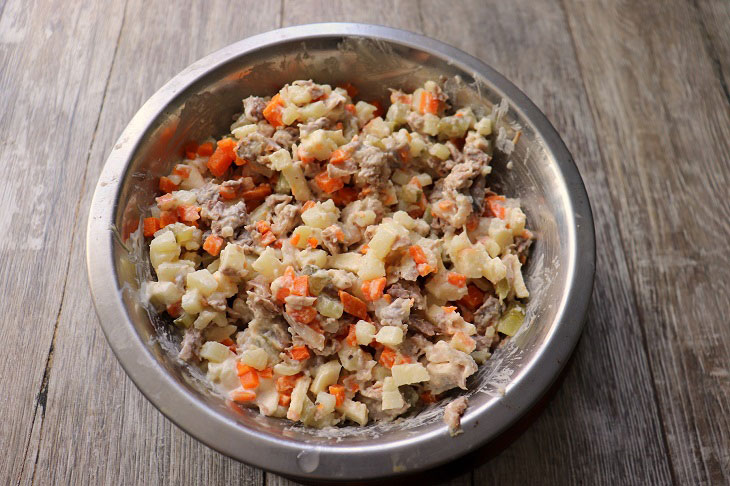 Lay out the dish in portions using the cooking ring. Decorate the finished salad "Latvian" with apple slices, a sprig of parsley.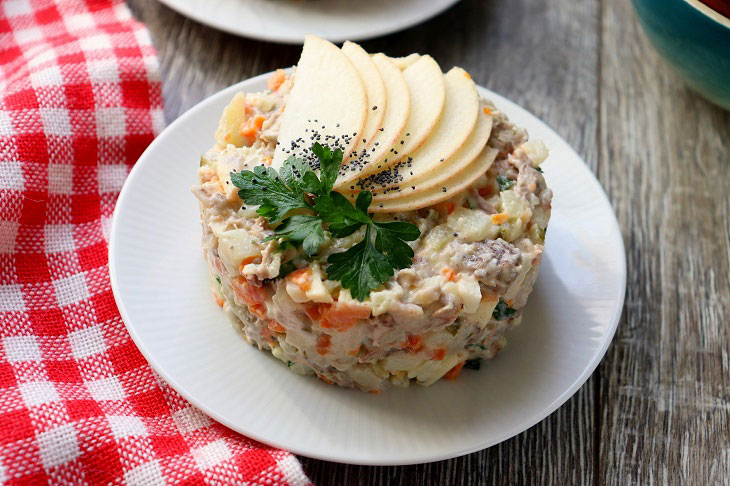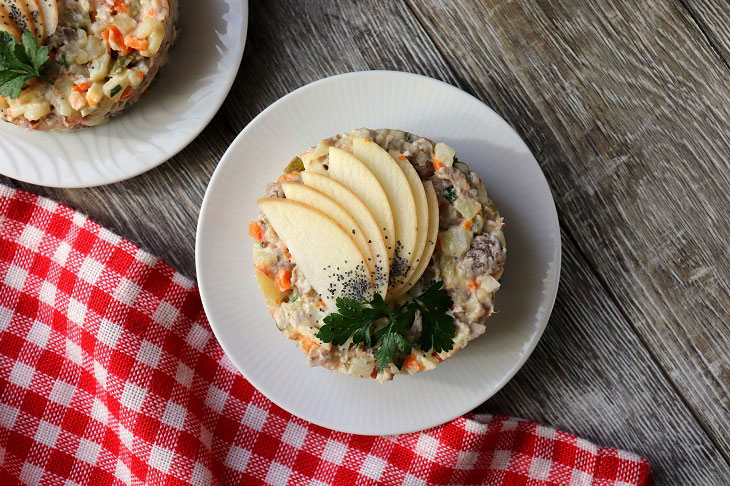 Bon appetit!