Most often, lard or some kind of hot sauce is served with the first courses. It can be adjika, mustard, horseradish and others. Today I want to tell you how you can cook adjika without much effort at home. In most cases, it is prepared from tomatoes, bell peppers and horseradish. However, there is a more original recipe where adjika can be made from plums.
Let this moment not be embarrassing, on the contrary, it is from these fruits that it will turn out so tasty and original that the recipe will become one of the most beloved. In addition, such ready-made adjika from plums can be safely served at the table not only with red borscht, but also with all meat dishes.
It is worth preparing it from plums of any variety. It is best to store adjika in a pantry or cellar, where the temperature is rather cool and dark.
Ingredients:
Plum – 350 g.
Hot pepper – ¼ pcs.
Garlic – 1 clove.
Ketchup or tomato paste – 1 tbsp. l.
Salt – 1 pinch.
Sugar – 1 pinch.
Vinegar 9% – 1 tbsp. l.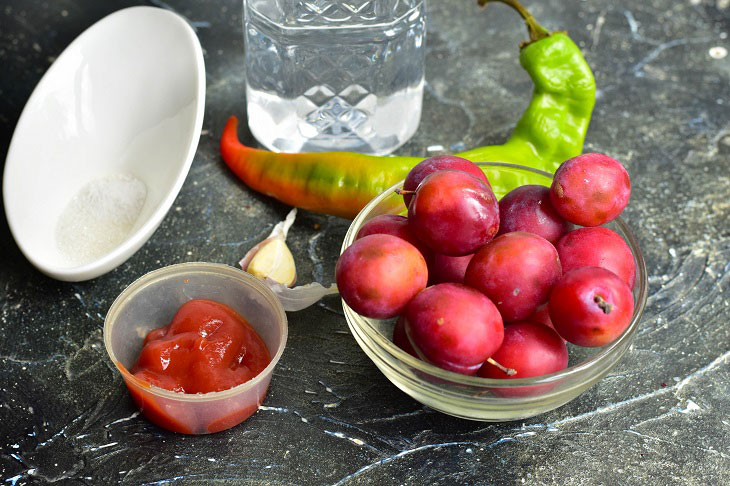 How to cook:
1. Wash the plums very well. Now carefully remove the bones, and cut the fruit into pieces. Put them in a deep bowl or saucepan.
In general, you can not cut the plums, but simply remove the seeds, breaking each one in half.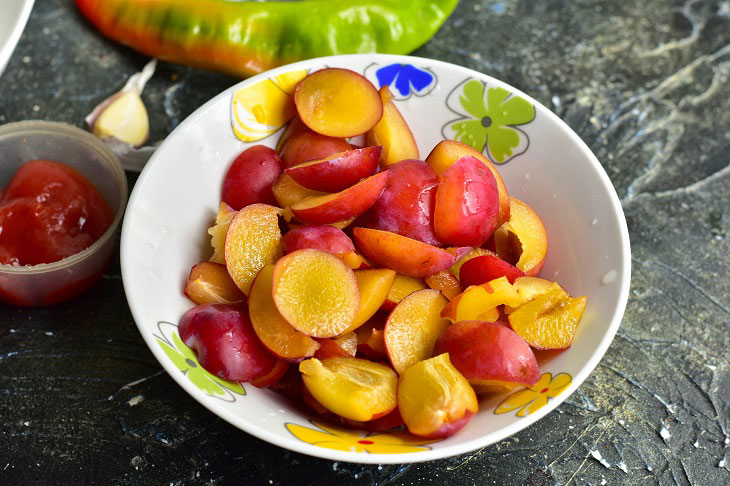 2. Peel the garlic. Send it to the chopped plums.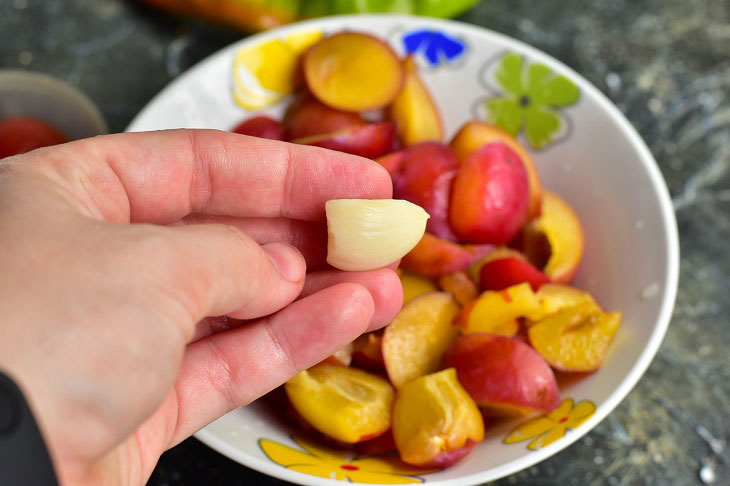 3. Remove the seeds in hot peppers. It is better to do this procedure with gloves. Cut it into smaller pieces. Lay them out with the previous ingredients.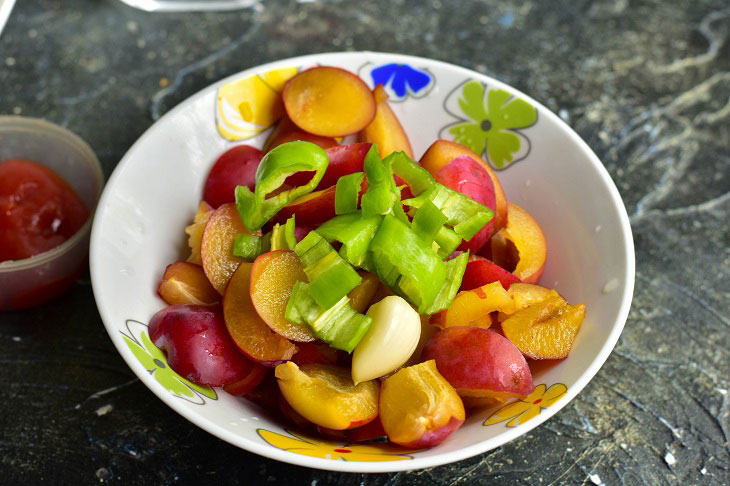 4. Now add salt.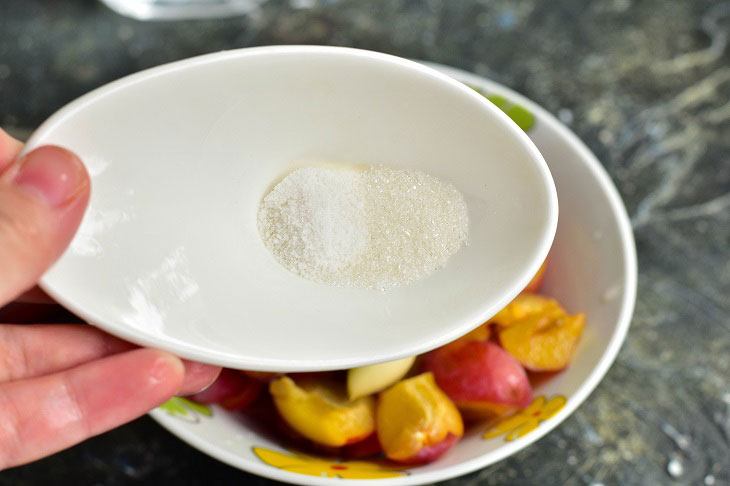 5. Then sugar.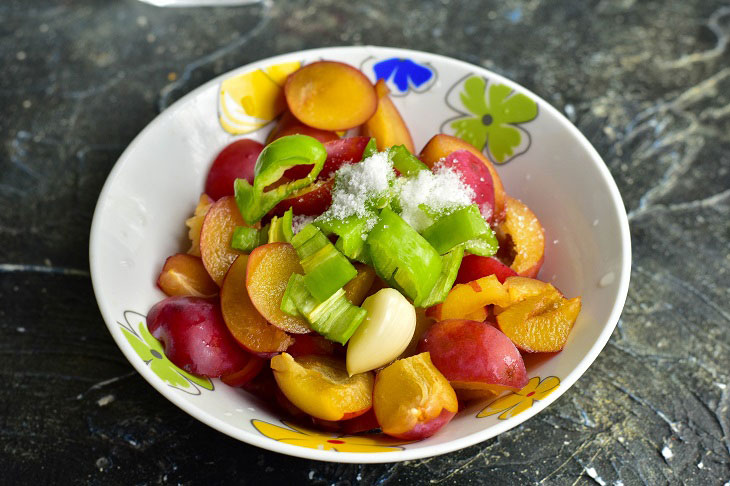 6. Carefully add tomato paste or ketchup.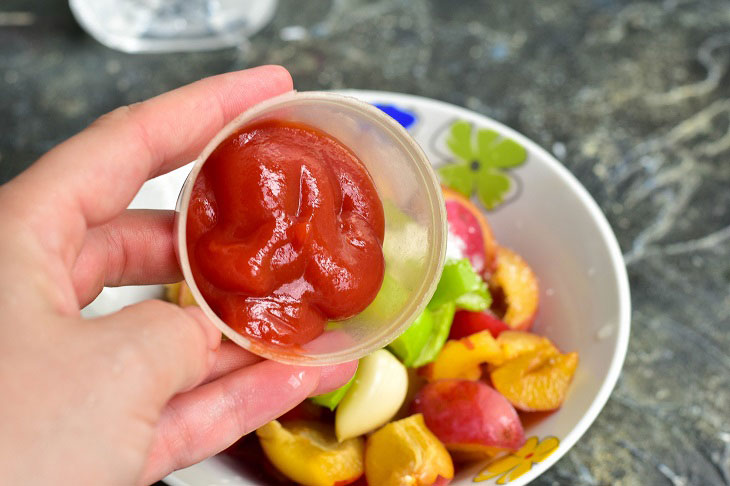 7. Pour in the indicated amount of vinegar immediately.
You can use acetic acid, only it must be diluted according to the instructions with water. Also suitable is not ordinary table vinegar 9%, but apple cider vinegar.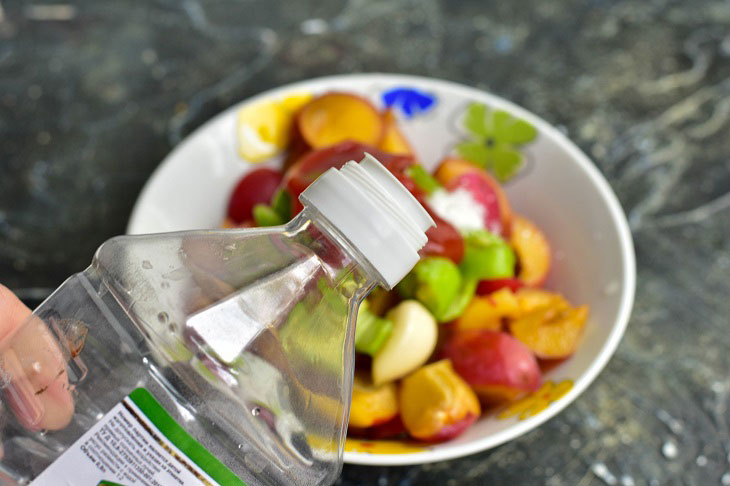 8. Use an immersion blender to make adjika. It should be fairly uniform in consistency. If there is no blender, then just twist all the ingredients in a meat grinder.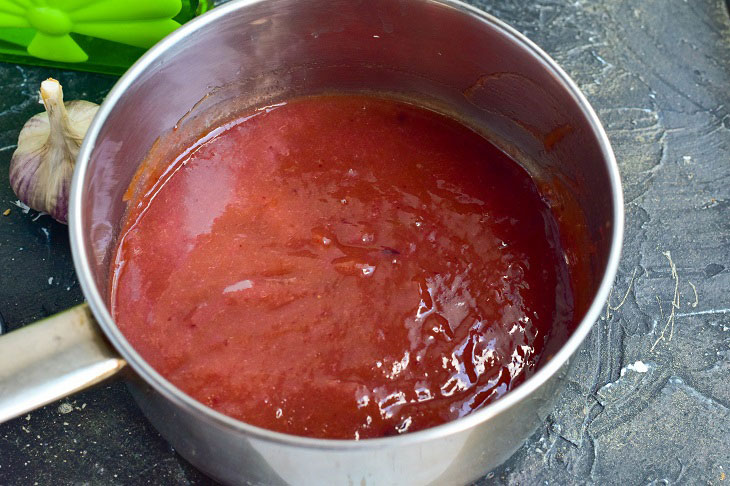 9. Pour the finished adjika from the plums into a beautiful bowl or an ordinary small jar. Put it in the refrigerator for at least an hour. After that, serve it boldly to the table.
You can also roll up such an adjika for the winter. To do this, pour it into a ladle or pan. Put on fire, boil for 10-15 minutes. Then grind the adjika again with a blender. By consistency, it will become more uniform and change color to a darker 1.
Here is such an adjika from plums for the winter turned out!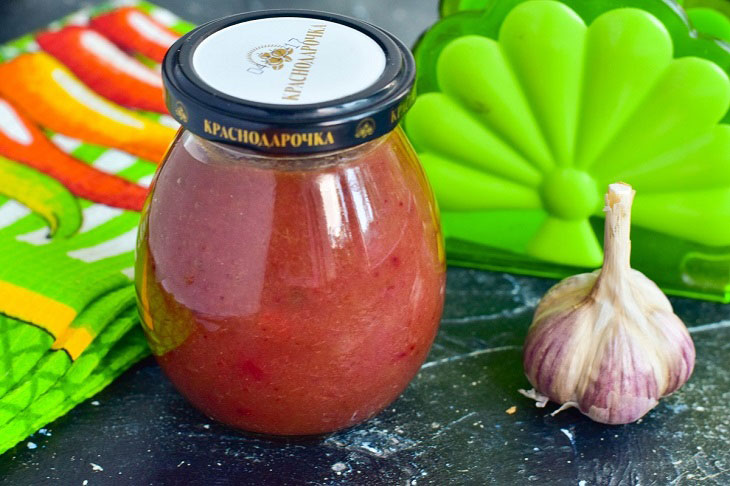 Bon appetit!