Cherry in its own juice for the winter is a tasty and healthy preparation. In the season of ripe berries, be sure to buy cherries to make a variety of recipes from them. If you have picked cherries in your garden, then you will definitely be sure of its freshness. Make cherry blanks immediately on the same day you picked the berries or bought them. If the cherry lies at your place for even a couple of hours, it will drain, and we need to save all the juice.
For today's preparation, choose a large cherry – it has more juice than a small 1. It will also be easier to remove the stones from large fruits. The rest of the recipe is very simple and everyone can repeat.
Ingredients:
Cherry – 500 g.
Water – 5 liters.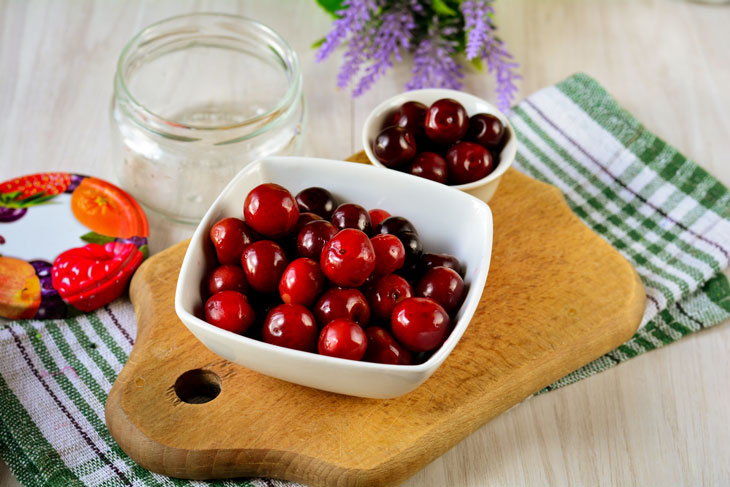 How to cook:
1. Sort cherries, remove leaves, twigs and use only whole berries, without dents.
Dense large cherries are the key to a delicious preparation.
Wash the cherries and drain the water. Remove all bones. Choose the removal method that is most convenient for you. The old method is to remove the bones with an ordinary pin.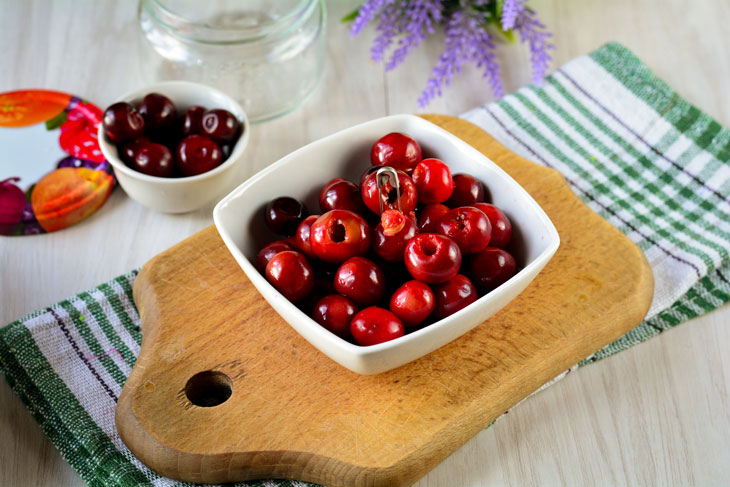 2. Put the cherries in clean, sterilized jars, preferably tighter so that there is not much empty space left.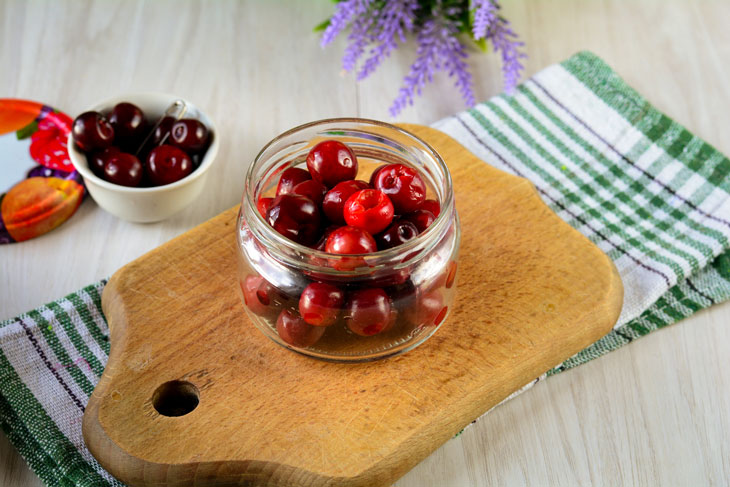 3. Pour warm water into the pan, put a piece of cloth on the bottom, place jars of cherries – wait until the water boils and sterilize the cherries for 20 minutes.
During the sterilization process, a lot of cherry juice will stand out – in this juice, the cherry will be ideally stored all winter. In addition, due to the fact that there are no seeds in the cherry, the workpiece will not lose its taste even after a year, while with a stone, the shelf life of a cherry is no more than 6-7 months.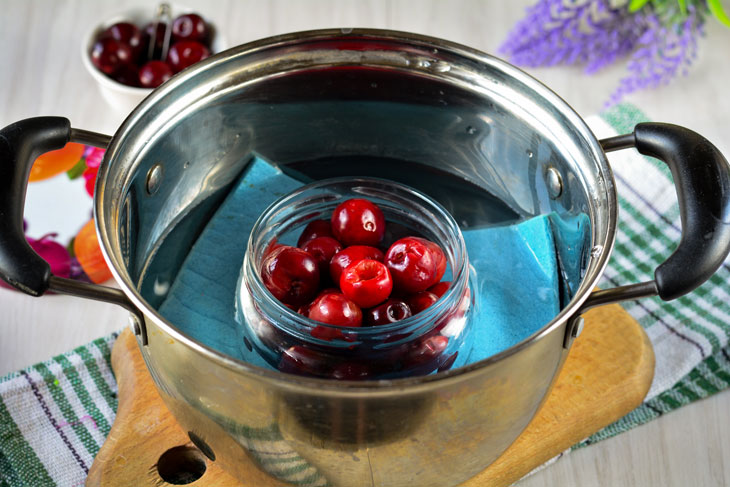 4. Carefully use potholders to get a jar of cherries so as not to burn yourself.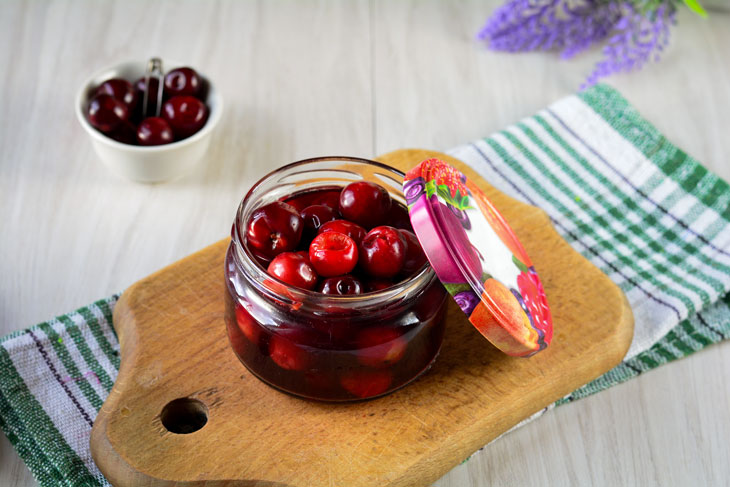 5. Roll up the jar with a lid scalded with boiling water.
A screw cap is suitable for seaming a threaded can. Roll up ordinary cans with iron lids under a special seaming key.
6. Insulate the jar, let it cool under a blanket, after which you can put it in the pantry until winter.
Cherries in their own juice can be eaten immediately from the jar – it will be an independent dessert. It can also be used for filling cakes and pies.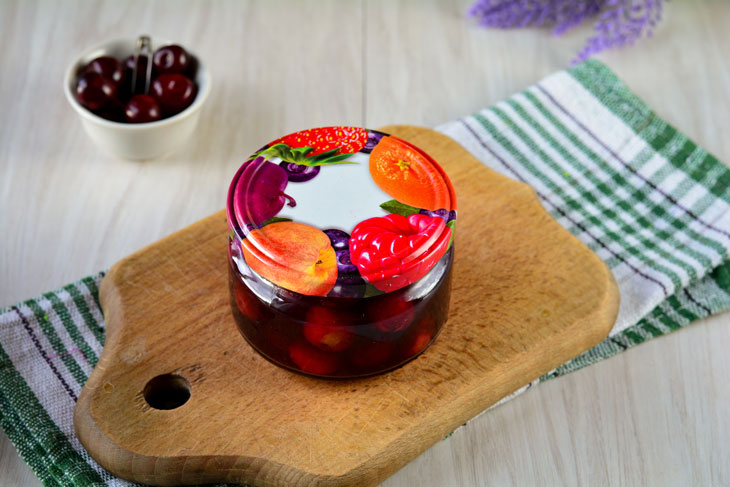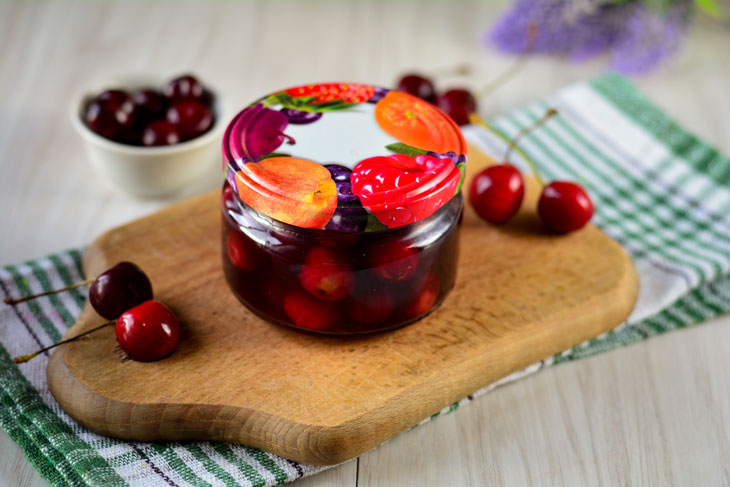 Enjoy your meal!