You can easily cook chicken wings in a mayonnaise-soy marinade for lunch or dinner. For this dish, you will need, in fact, the wings themselves, mayonnaise, soy sauce, cumin, suneli hops and, if desired, salt.
It is desirable to choose wings large and consisting only of the shoulder and middle parts, that is, without the most extreme part – the brush. However, wings of any size and with a brush will do.
In the proposed recipe, the wings are marinated in a mixture of mayonnaise, soy sauce and seasonings, and then baked in the oven. But, you can also pan-fry the chicken or grill it.
Ingredients:
Chicken wings – 1 kg.
Mayonnaise – 2 tbsp. l.
Dark soy sauce – 1 tbsp. l.
Cumin – 1 tsp
Suneli hops – 1 tsp
Salt – 1/3 tsp.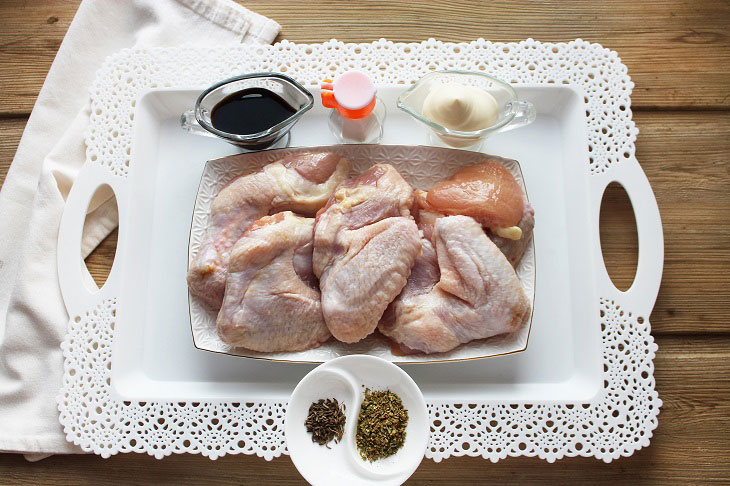 Cooking time: 1 hour 40 minutes. Servings: 3-5 (depending on the size of the wings)
How to cook:
1. Rinse the wings well with cold water, pat dry with paper towels and place in a bowl. Add mayonnaise.
You can also cook chicken thighs, drumsticks or legs with this recipe.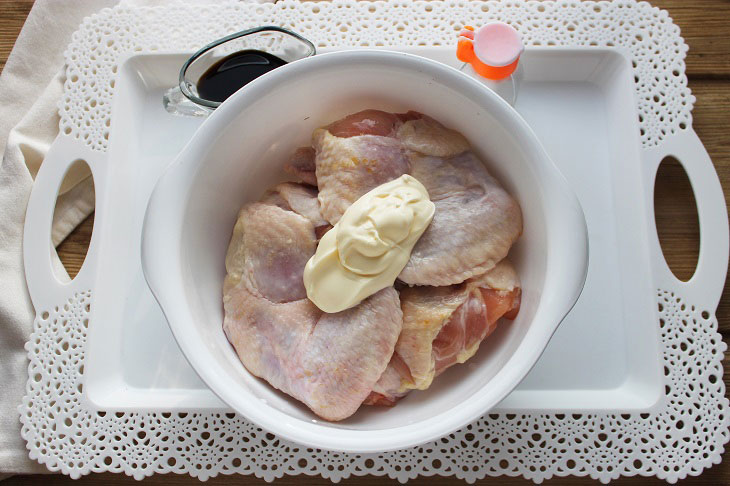 2. Pour in suneli hops, cumin and salt. However, you can not add the last ingredient, because salt is already contained in mayonnaise and soy sauce.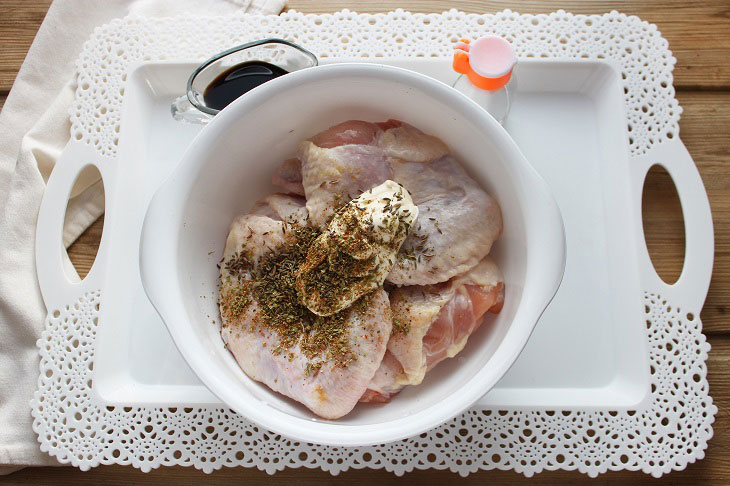 3. Pour in the soy sauce. If you don't want to add salt, you can double the amount of soy sauce.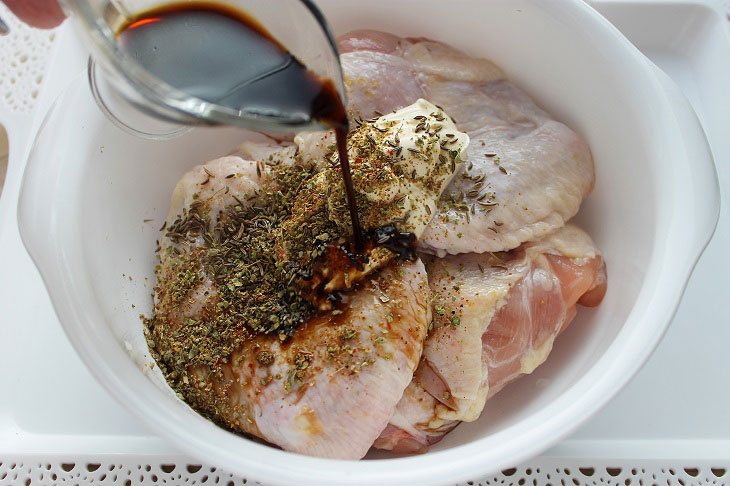 4. Mix the contents of the bowl well with your hands. The wings should be covered on all sides with marinade.
5. Cover the bowl with cling film and leave the chicken to marinate for 1 hour. Line a baking sheet with baking paper. Lay out the wings.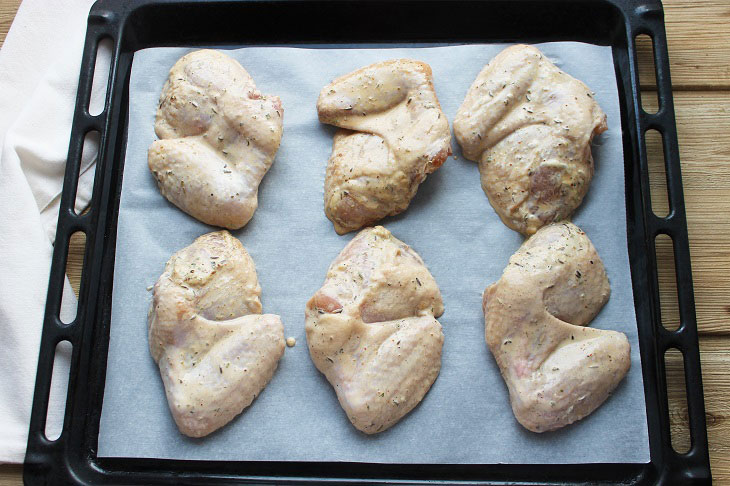 6. Preheat the oven to 180⁰ C. Place the baking sheet with the chicken in the oven and bake the wings for 35-40 minutes, turning over once to the other side.
Serve the chicken wings in a mayonnaise-soy marinade hot to the table. Separately, you can serve tomato sauce or mayonnaise. As a side dish, tender mashed potatoes, boiled rice or potatoes boiled in large pieces are suitable for this dish. Wings also go well with a salad of fresh vegetables – tomatoes, cucumbers and herbs.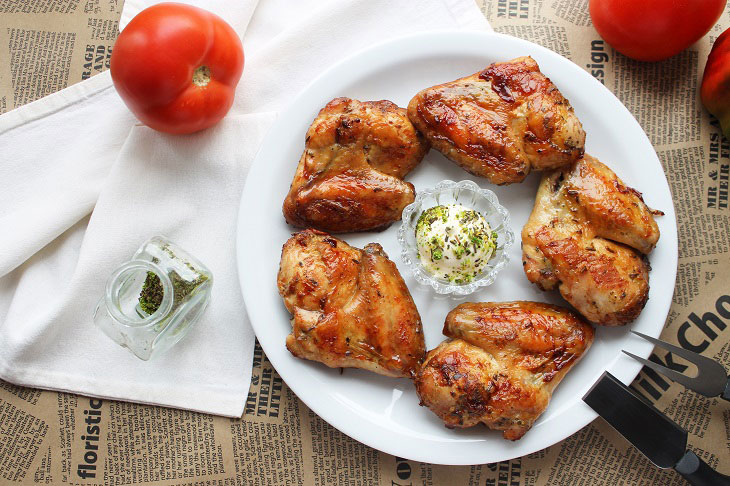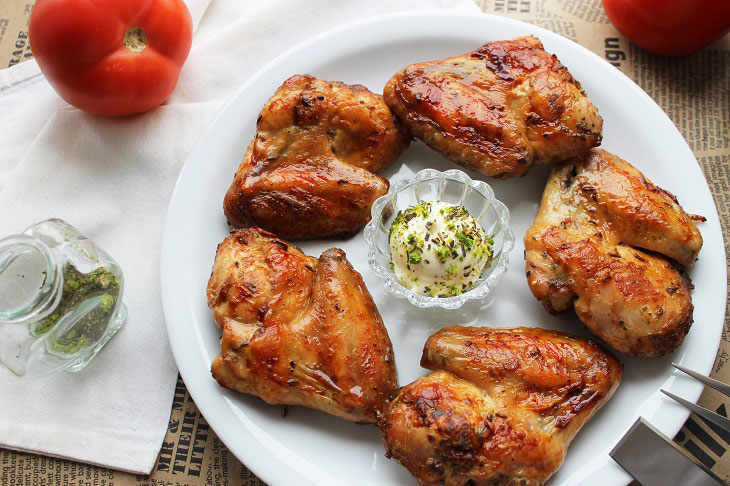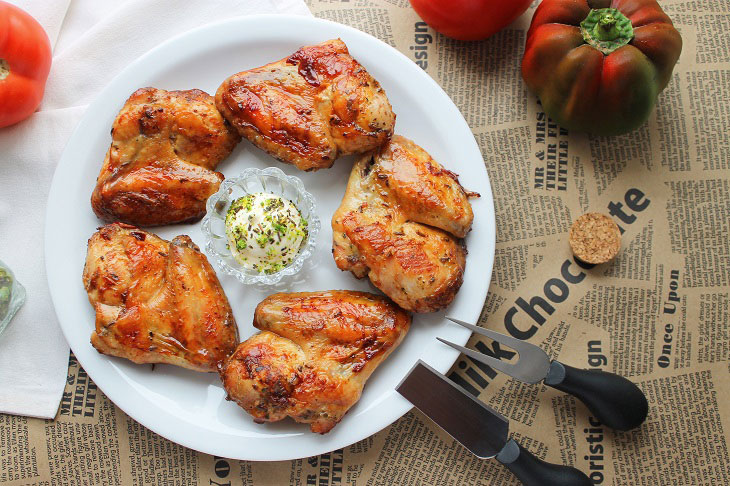 Enjoy your meal!