From young zucchini zucchini and ripe red tomatoes, we will prepare a delicious platter for the winter table. Add fragrant seasonings, garlic and fresh greens of young dill to the vegetables – the result is a wonderful appetizer in a fragrant marinade, which will decorate the festive table and serve as an excellent addition to a variety of dishes from meat, poultry, potatoes.
Zucchini choose a small size with a smooth, intact skin. Tomatoes are better to take varieties of cream, medium-sized with dense fleshy pulp.
Ingredients:
For a 1 liter can:
Zucchini squash (medium) – 1 pc.
Cream tomatoes – 5-6 pcs.
Garlic – 3 cloves.
Dill green – 3 sprigs.
Bay leaf – 1 pc.
Allspice and black peppercorns – 4-5 pcs.
Salt – ¾ tbsp. l.
Sugar – 2 tbsp. l.
Table vinegar 9% – 2 tbsp. l.
Filtered water – how much will go in.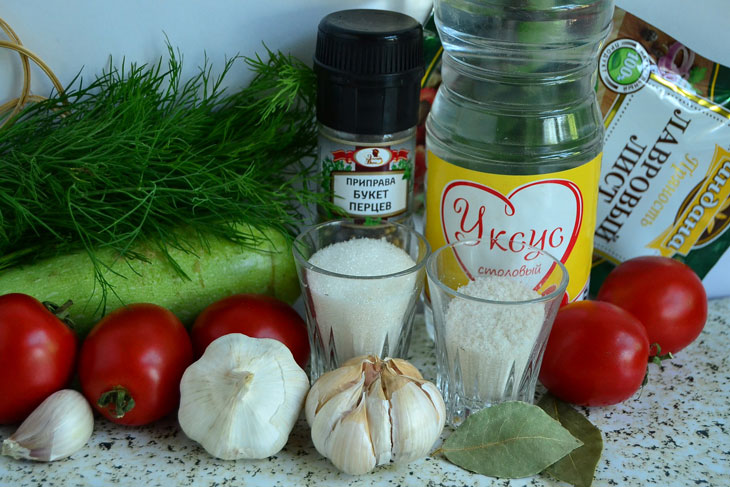 How to cook:
1. All vegetables and herbs prepared according to the list should be washed and dried on a cotton towel. The total amount of already peeled vegetables for a jar with a capacity of 1 liter is approximately 450-500 g. We cut the zucchini into large sticks, we prick the tomatoes several times with a toothpick in the stalk area so that the skin does not crack much during sterilization.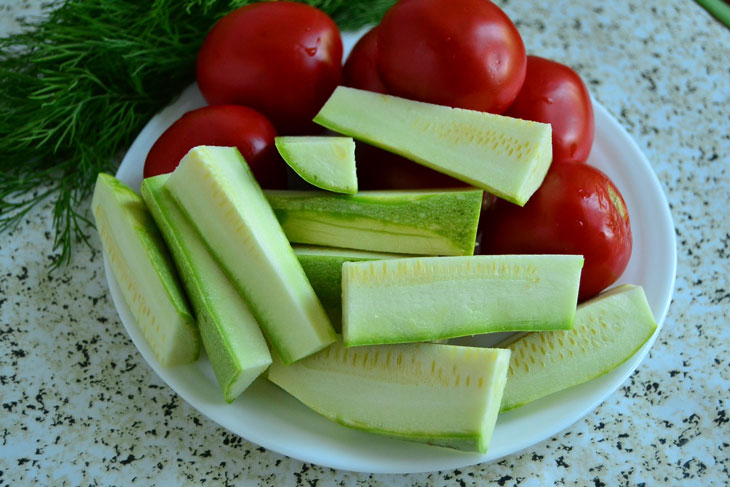 2. At the bottom of clean sterile jars we place spices, garlic cloves and part of dill. Lay the zucchini sticks vertically close enough to each other. Sprinkle with chopped dill.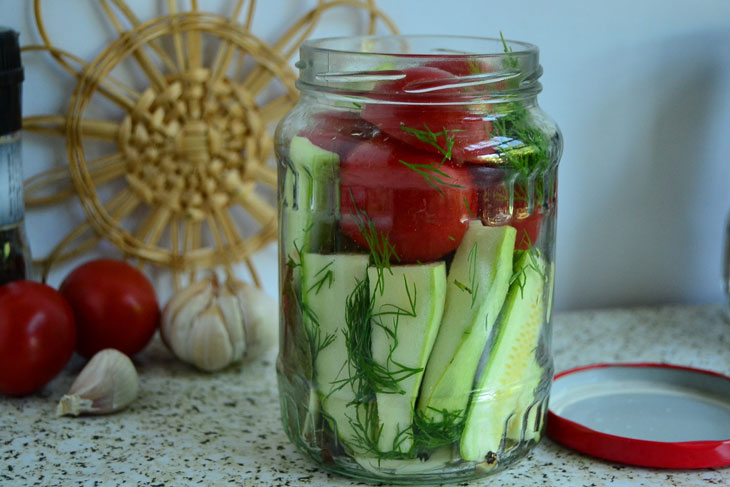 3. We place the tomatoes on top of the zucchini, trying to put them more compactly so that there are no large gaps between the fruits. Individual tomatoes can be cut in half and filled with such halves of the empty space. Distribute the remaining dill greens among the tomatoes.
If desired, you can add 2-3 chili peppers, increase or decrease the amount of garlic and peppercorns – there are no strict rules here and each housewife is guided by the preferences of her family.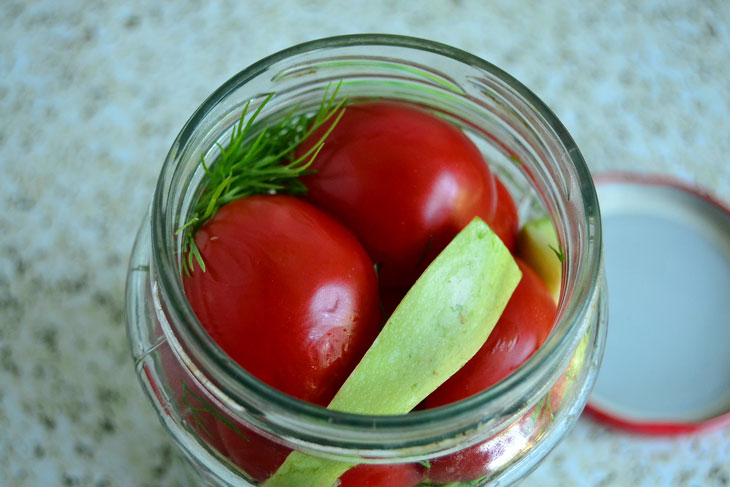 4. In a jar of vegetables, add vinegar, salt and sugar according to the recipe.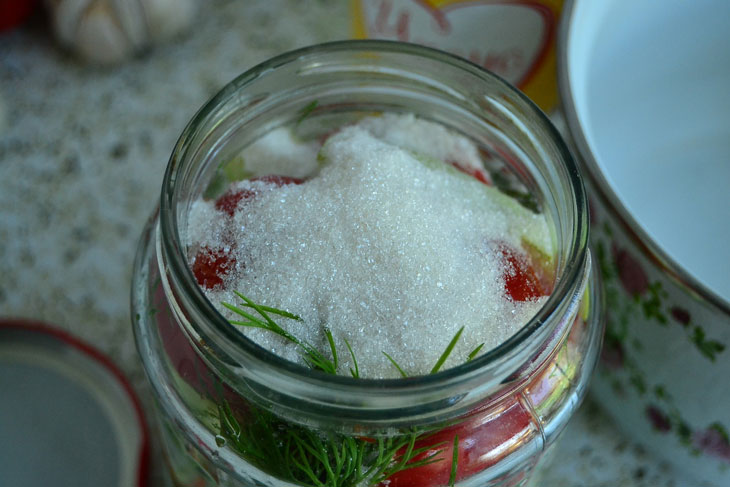 5. Gently fill the jar with boiling water with a thin stream and cover with a sterilized lid, but do not twist it yet.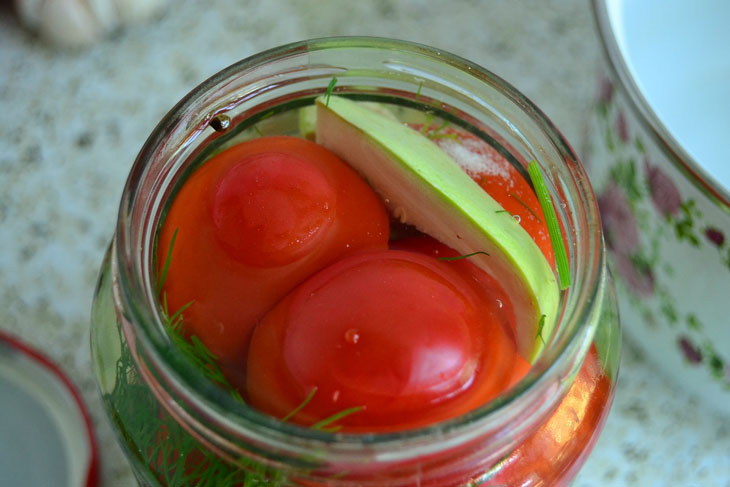 6. We place a jar of assorted zucchini and tomatoes for the winter in a saucepan with warm water and sterilize over medium heat for 10 minutes from the moment the water boils in the saucepan. At the bottom of the container, do not forget to lay a cotton towel in 2-3 layers so that the glass does not burst.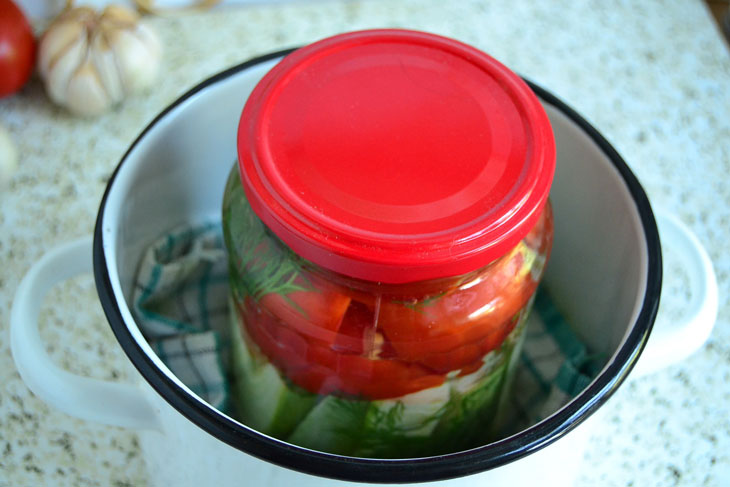 7. At the end of sterilization, we transfer the cans with conservation to the table, tighten the lids, cover with a thick towel and leave to cool.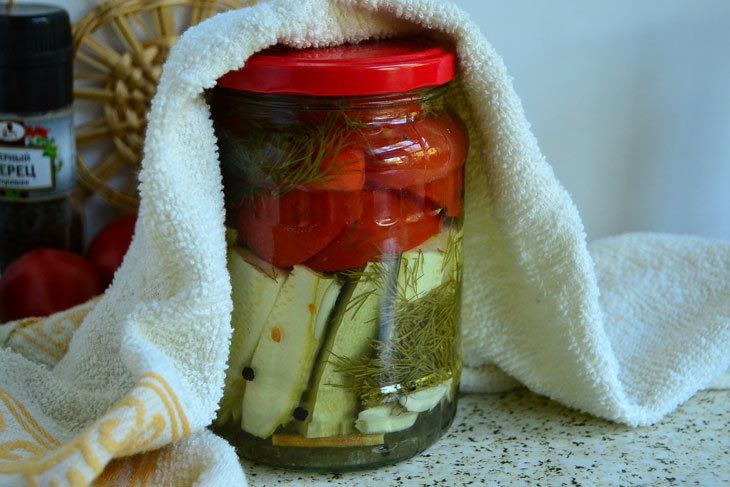 Assorted zucchini and tomatoes for the winter is ready!
We store such a blank in a dark, cool place: in a home pantry or in a dry basement.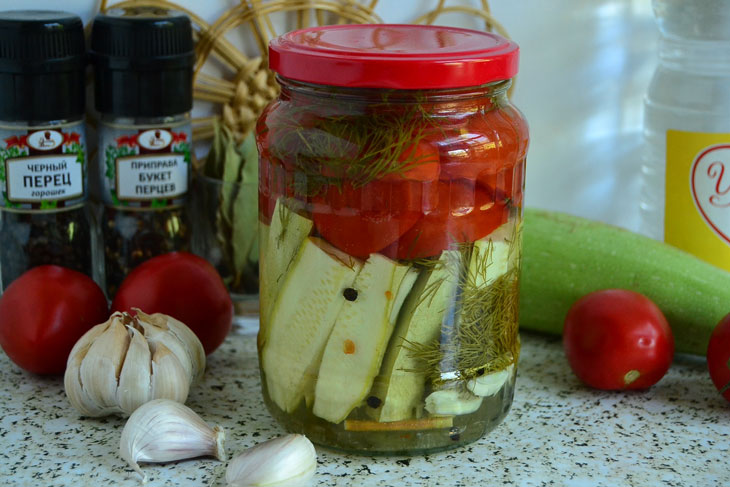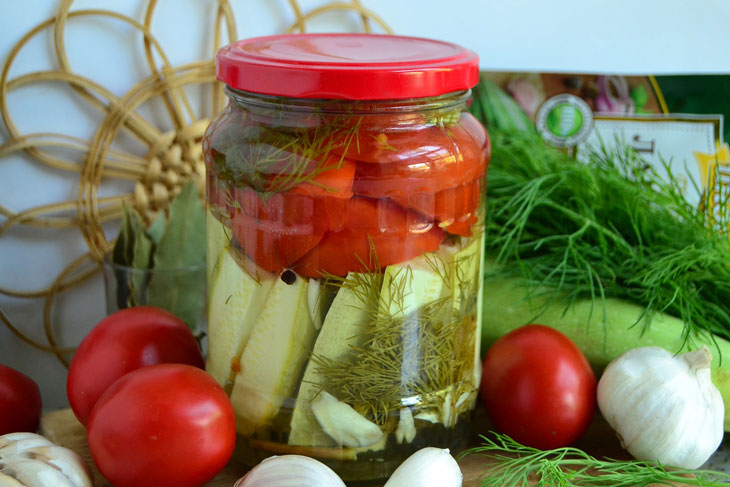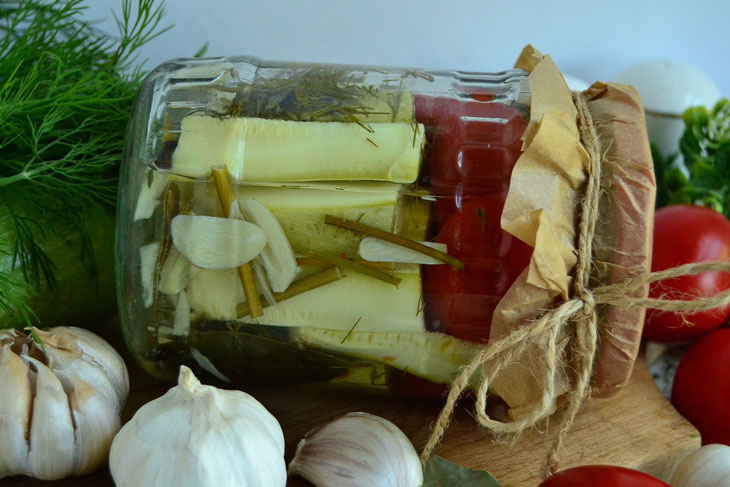 Enjoy your meal!