Jellied pie with cabbage is a very satisfying, quick to prepare, and even quite economical dish, the recipe of which was recorded in the cookbooks of many housewives in Soviet times. Moreover, the cost of a grocery basket for this pie was not at all inferior to the quality of baking.
For cooking, both young cabbage and its winter version are suitable. The same goes for carrots and onions. And even when cooking, it is important to take into account the following point: do not overdo it with soda, otherwise the cake will get an unpleasant aftertaste.
Ingredients:
For test:
Wheat flour – 200 g.
Egg – 2 pcs.
Sour cream 20% fat – 150 g.
Mayonnaise – 150 g.
Sugar – 20 g.
Salt – 9 g.
Baking soda – 1 tsp without a slide.
Vinegar – to extinguish soda.
For filling:
Young cabbage – 250 g.
Carrot (medium) – 1 pc.
Onion (medium) – 1 head.
Sunflower oil – 1.5 tbsp. l.
Ground coriander – 1 tsp.
Freshly ground black pepper – to taste.
Salt – to taste.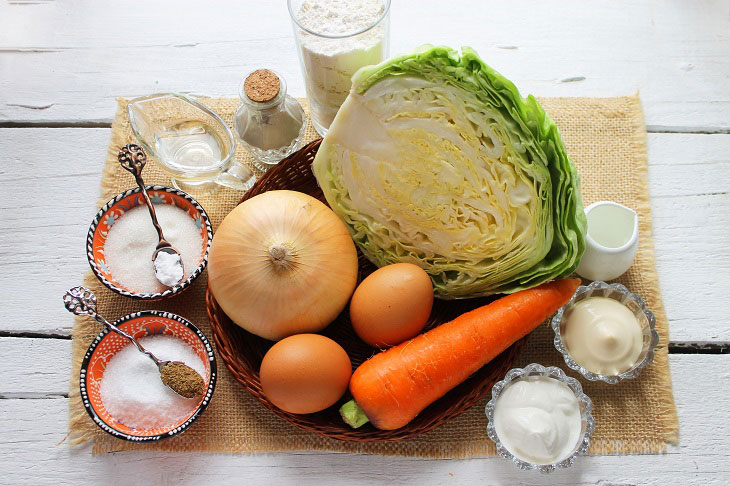 Cooking time: 1 hour 25 minutes. Servings Per Container: 8.
How to cook:
1. First, start preparing the dough. Sift flour into a bowl.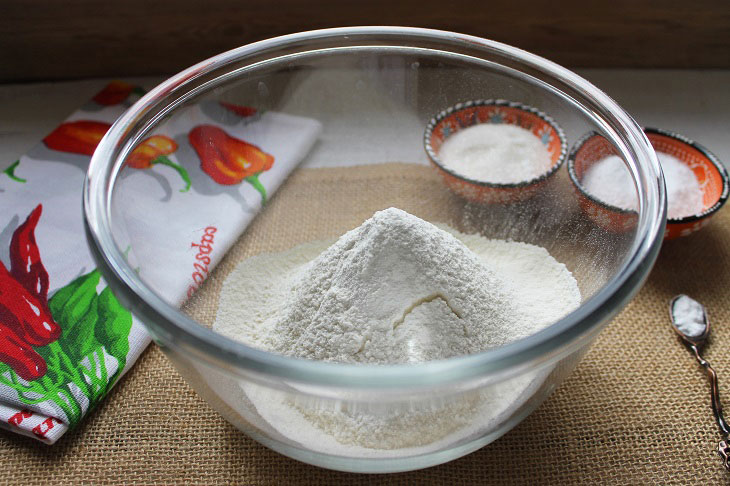 2. Add sugar and salt. Mix dry ingredients.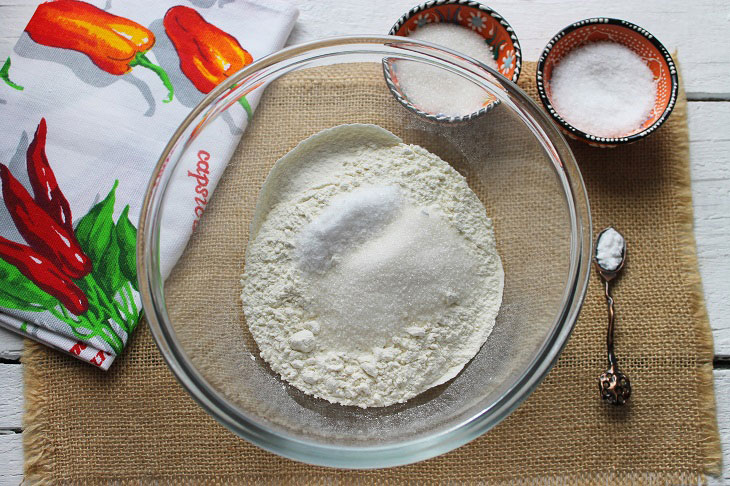 3. Add mayonnaise and sour cream.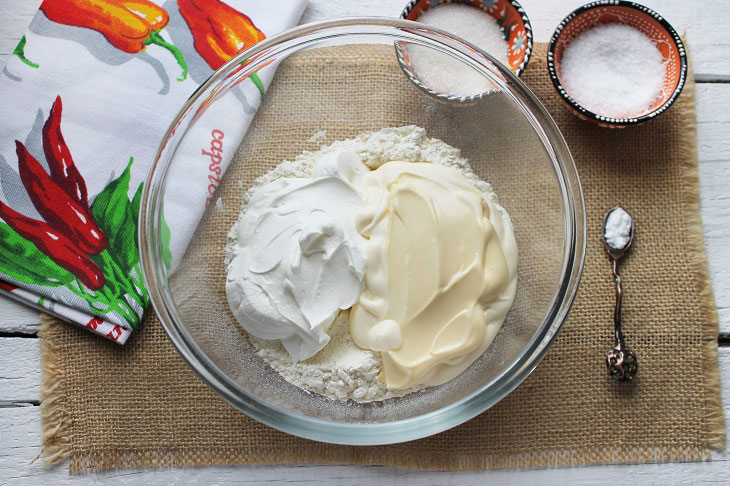 4. Beat in the eggs. Stir, preferably with a mixer, until smooth.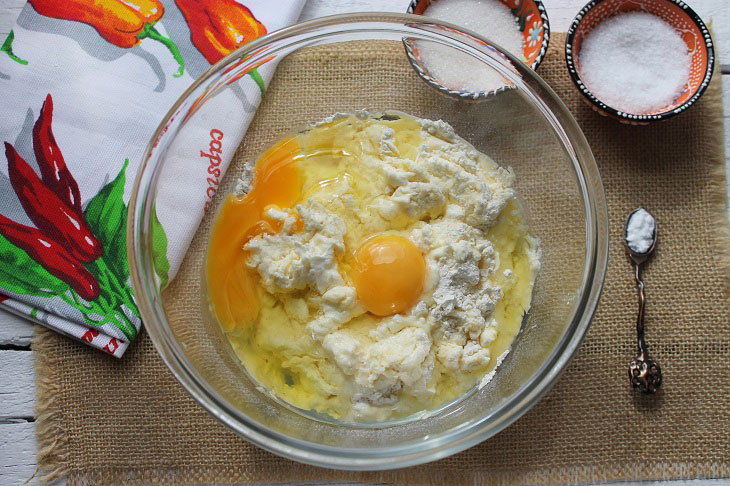 5. Quench the soda with vinegar and add to the dough. Stir gently.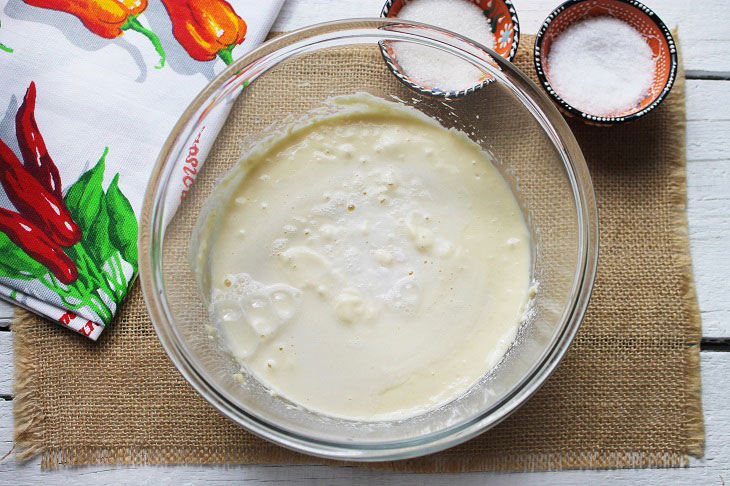 6. Place the dough in the refrigerator for 30 minutes.
Next, prepare the filling. Peel the onion, wash and chop finely. Free the head of cabbage from the top leaves. Finely chop the cabbage. Wash the carrots, peel and grate on a coarse grater.
Heat the sunflower oil in a frying pan and fry the onion in it until translucent.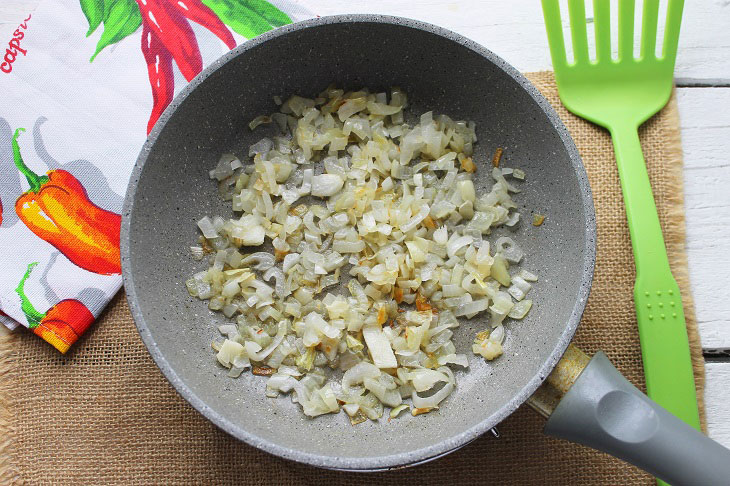 7. Add cabbage and carrots to the onion. Stir.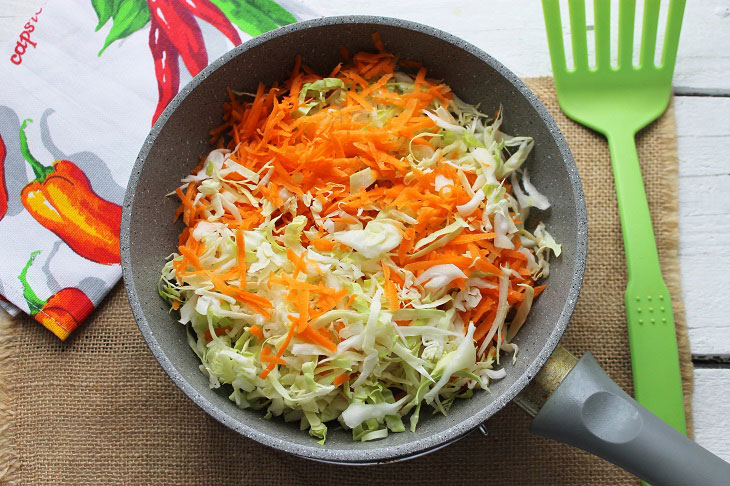 8. Stir-fry the vegetables for 6-8 minutes. Season with ground coriander, black pepper and salt. Mix well and continue frying for another 2 minutes.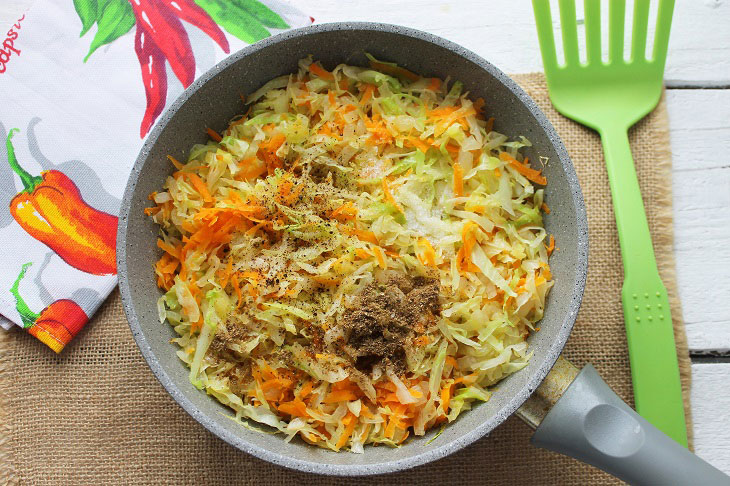 9. Transfer the filling to a bowl and let it cool.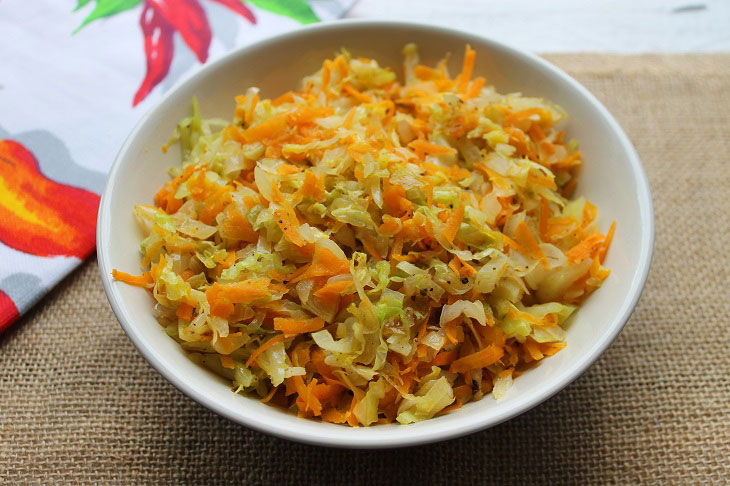 10. Preheat the oven to 200⁰ C.
Lubricate the refractory form with a thin layer of sunflower oil. Pour half of the dough into it.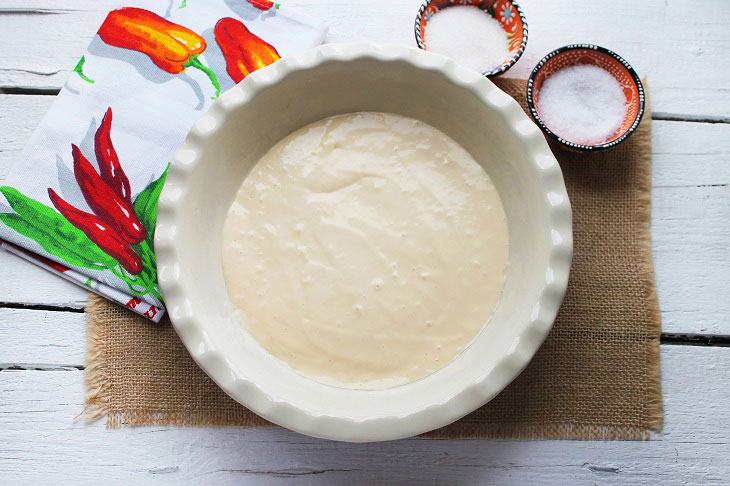 11. Put the form with the dough in the oven on the upper level for 2 minutes.
After 2 minutes, remove the form from the oven. The dough should "grab".
Spread the cabbage filling in an even layer.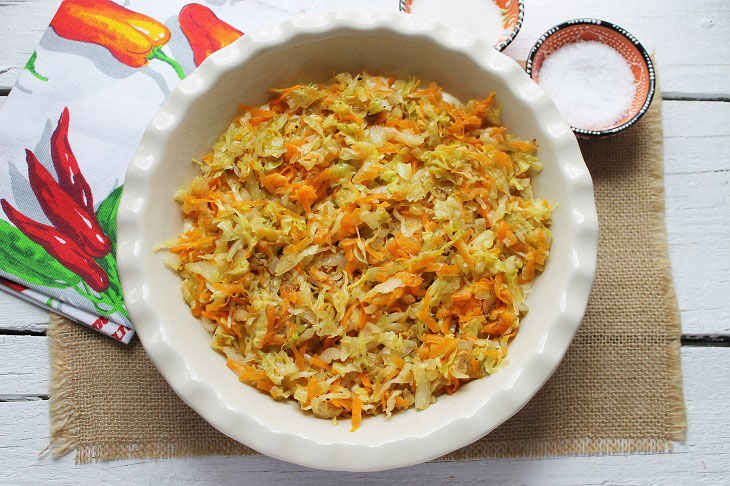 12. Pour the remaining dough over the filling.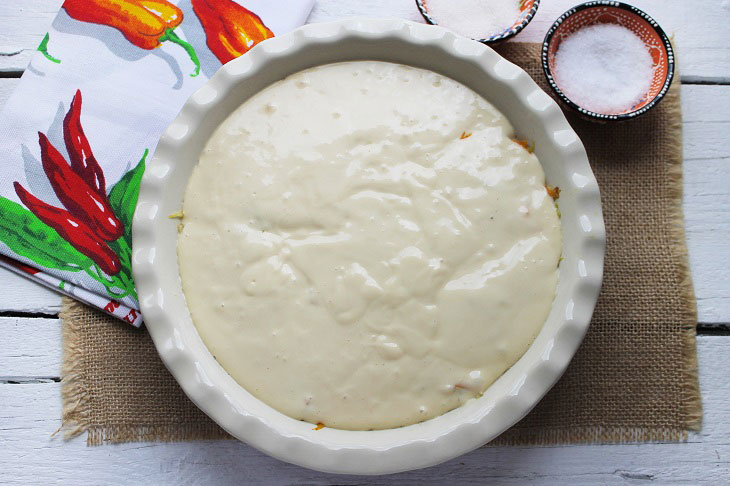 13. Send the form to the oven and bake the cake for 25 minutes. After the specified time, check the readiness of baking. Poke the pie at the highest point with a toothpick. It should not have sticky dough. In addition, when pressed, the cake should spring back.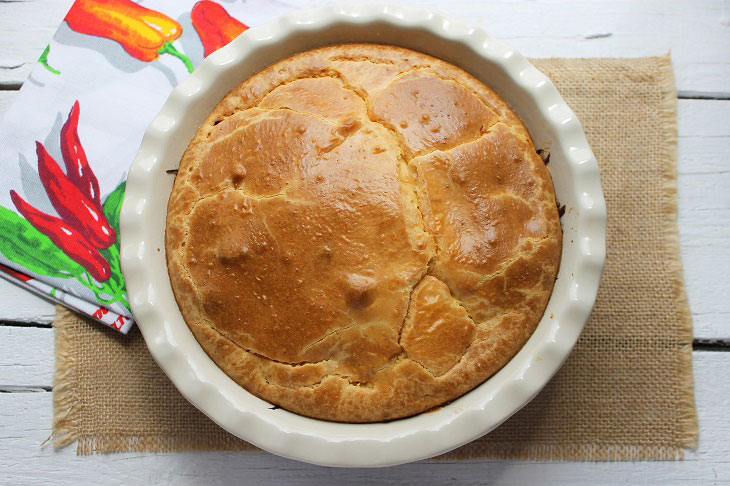 14. Cool the jellied cabbage pie to room temperature, then cut into portions and serve.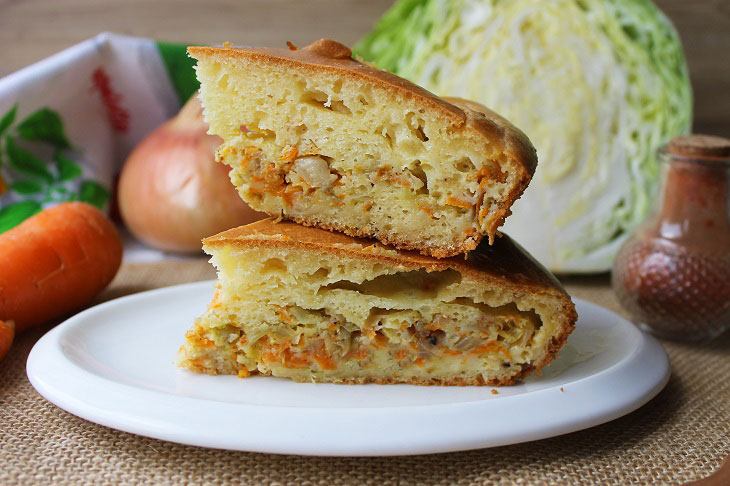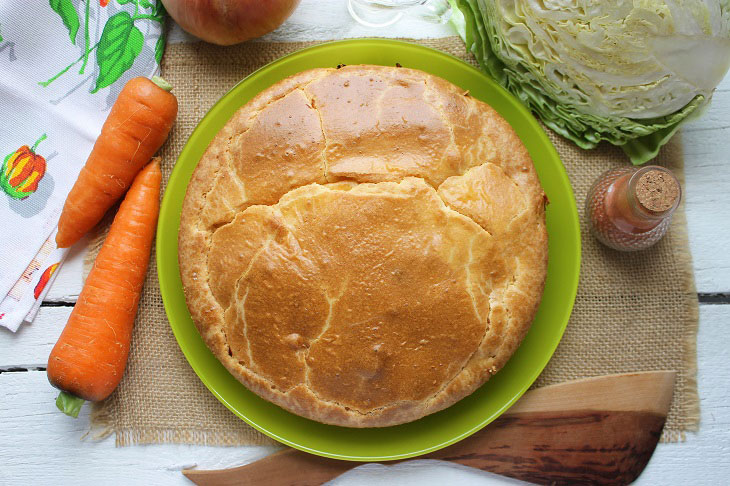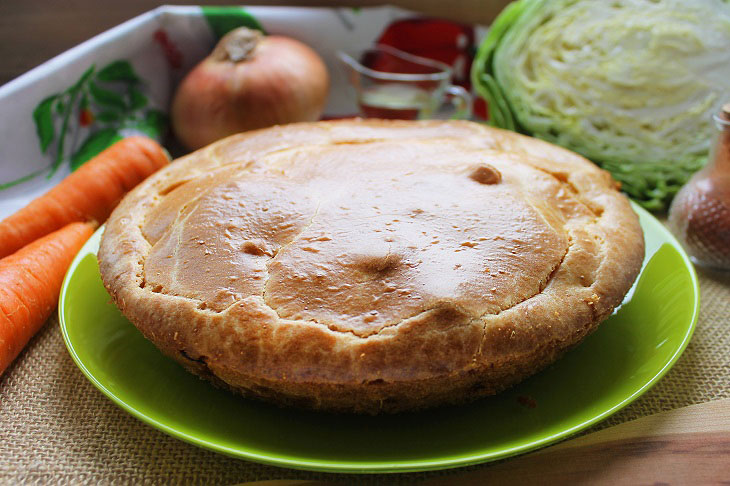 Bon appetit!