Salad "Signor", in addition to being very tasty, is also incredibly satisfying.
It includes juicy, baked in the oven, chicken fillet. The meat component harmonizes perfectly with fried canned champignons and onions. Mushrooms make the salad a completely self-sufficient dish, because it is not for nothing that the wise Russian people call them "second meat" or "forest beef". Corn brings sweet notes and a bright color scheme. Walnuts complement the already rich flavor of the salad.
The dish is seasoned with mayonnaise and decorated with parsley leaves and halves of quail eggs.
Ingredients:
Chicken fillet – 300 g.
Canned champignons – 300 g.
Canned corn – 250 g.
Onion – 1 large head.
Walnut kernel – 100 g.
Quail egg – 5 pcs.
Mayonnaise – 5 tbsp. l.
Sunflower oil – 2 tbsp. l.
Freshly ground black pepper – to taste.
Salt – to taste.
Parsley greens – 3 sprigs.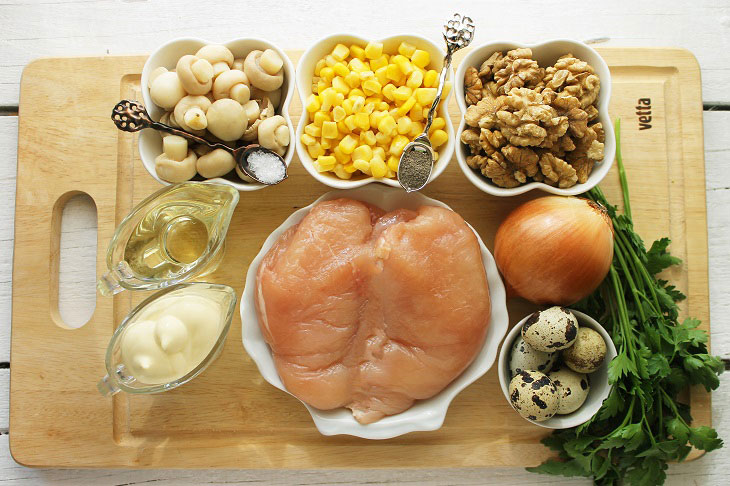 Cooking time: 1 hour. Servings Per Container: 5.
How to cook:
1. Rinse the chicken fillet, pat dry with paper towels and rub with freshly ground pepper and salt on all sides.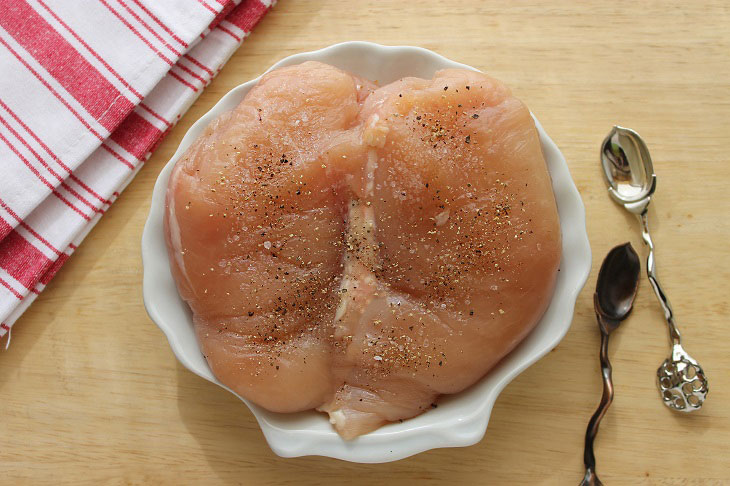 2. Lubricate the refractory form with sunflower oil (0.5 tablespoons). Put the fillet in it.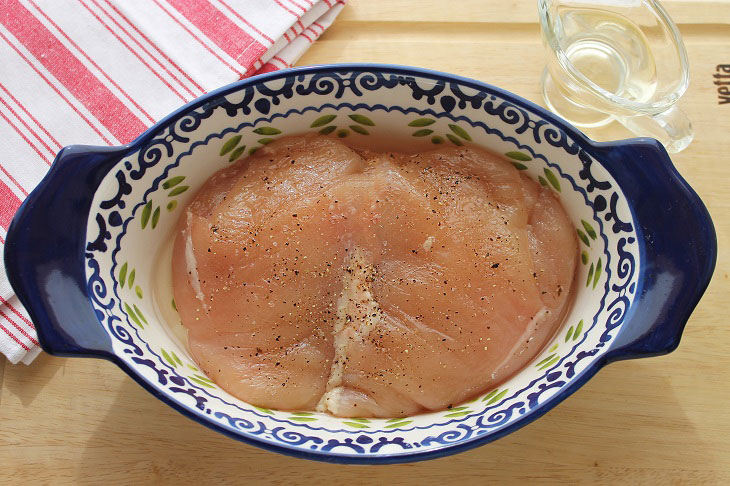 3. Preheat the oven to 180⁰ C. Put the mold on the middle level of the oven and bake the chicken for 30-35 minutes.
You can cook chicken fillet in other ways – boil or fry.
While the fillet is baking, prepare the rest of the ingredients.
Hard boil quail eggs – 5 minutes from the moment of boiling. Then cool and clean. Cut each egg in half lengthwise.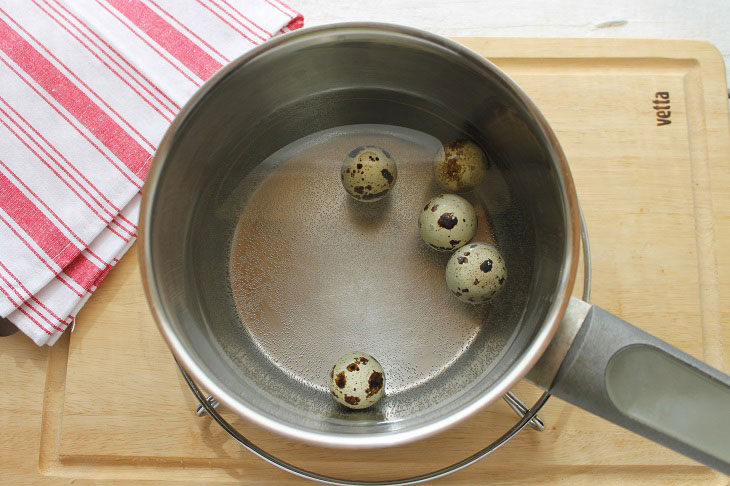 4. Stirring, fry the walnut kernels in a dry frying pan until they have a characteristic smell and golden color. Cool and grind in a blender.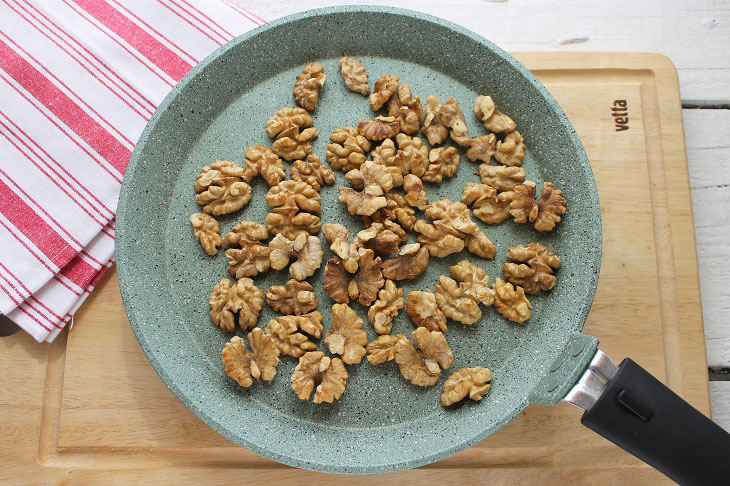 5. Peel the onion and cut into thin half rings or quarter rings. Put the onion in a pan with heated sunflower oil (1.5 tbsp.)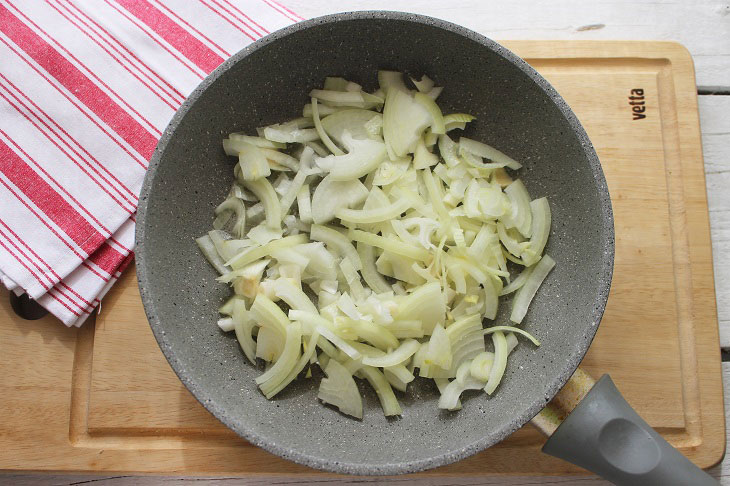 6. Fry until translucent.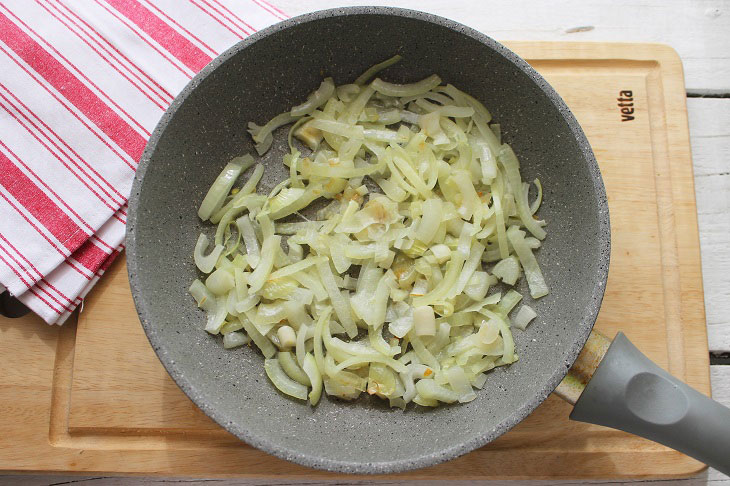 7. Put the mushrooms in the pan. Leave small mushrooms whole, and cut large ones into plates.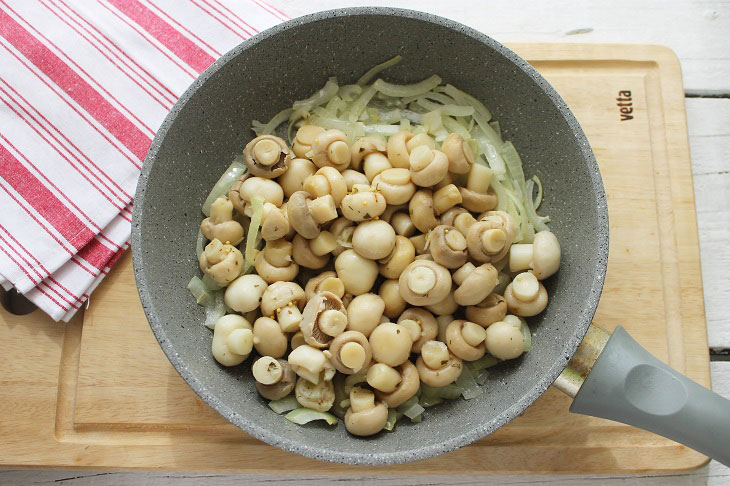 8. Fry mushrooms with onions until golden brown.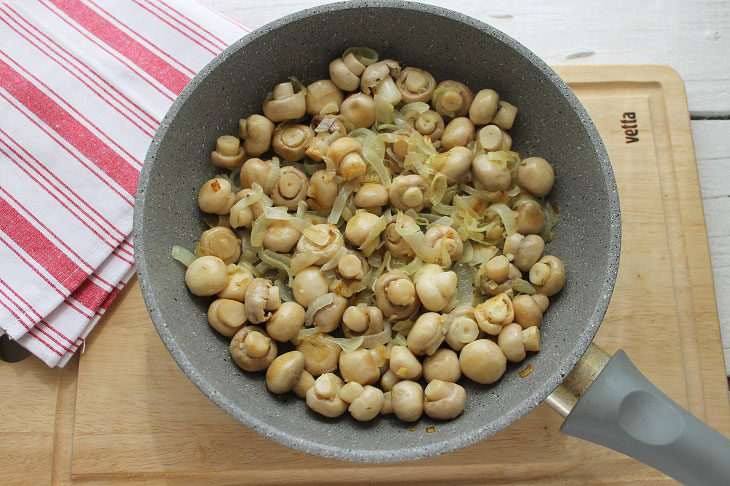 9. Remove the fillet form from the oven, cool the meat slightly. Then cut it into thin strips.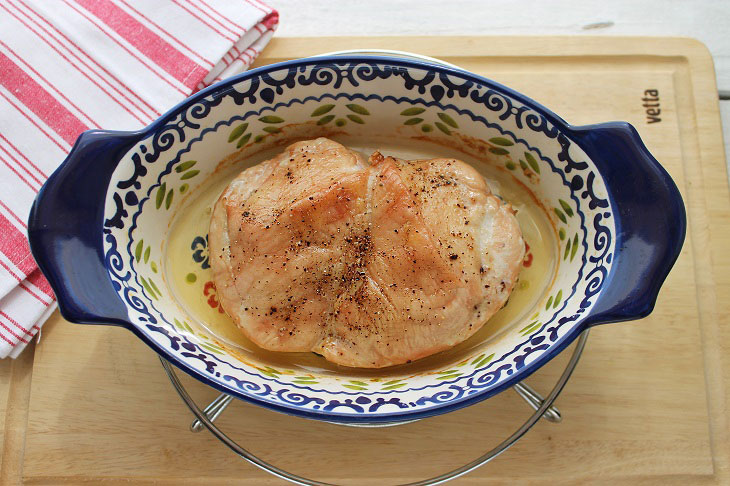 10. Put mushrooms with onions in a bowl.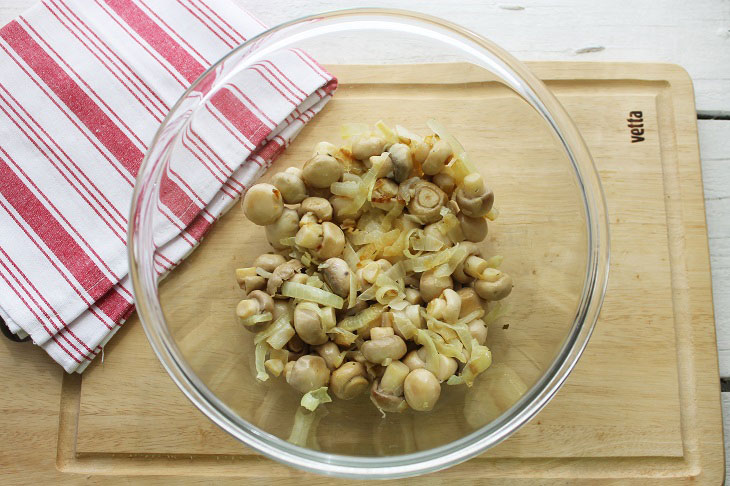 11. Add baked chicken.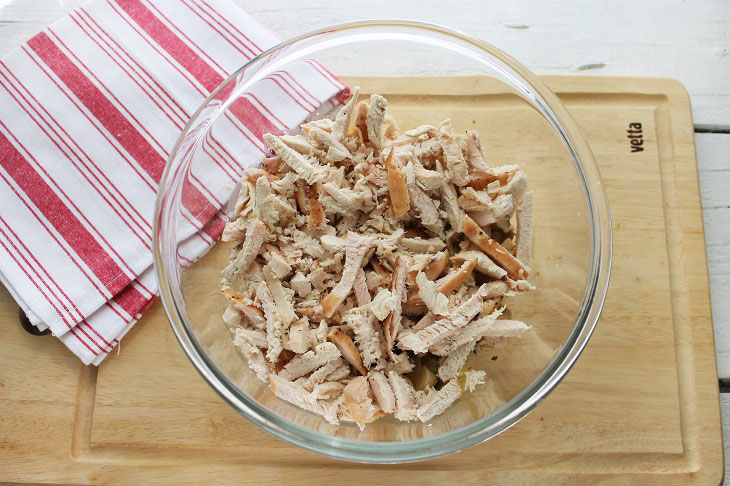 12. Pour in chopped walnuts.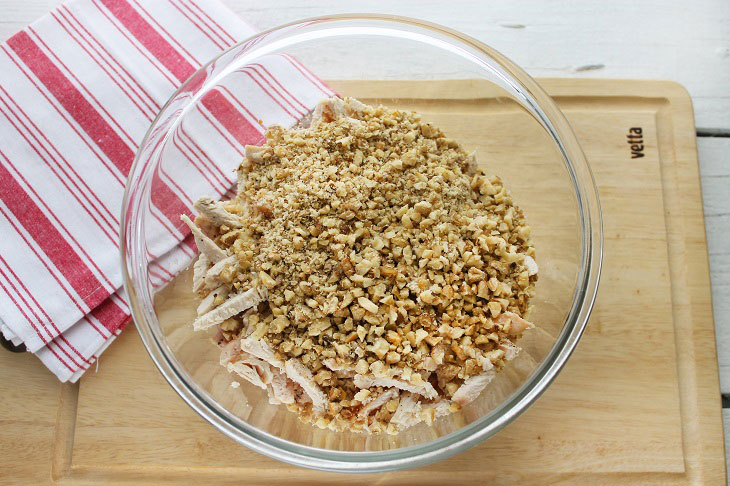 13. Add corn.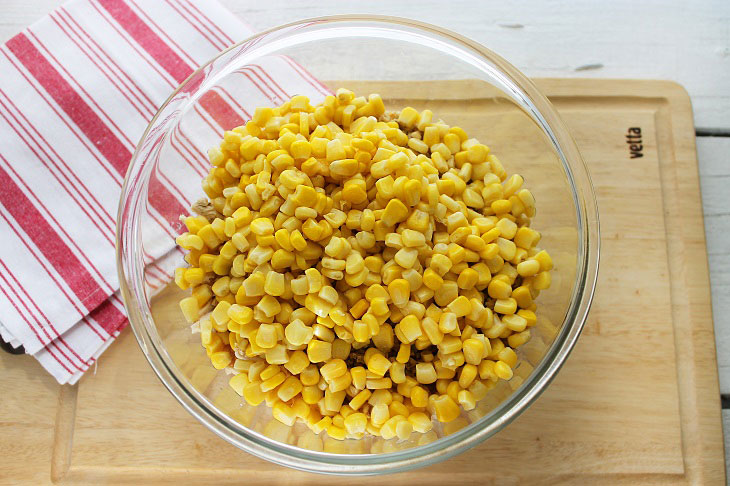 14. Season to taste with black pepper and salt. Season with mayonnaise. Mix well.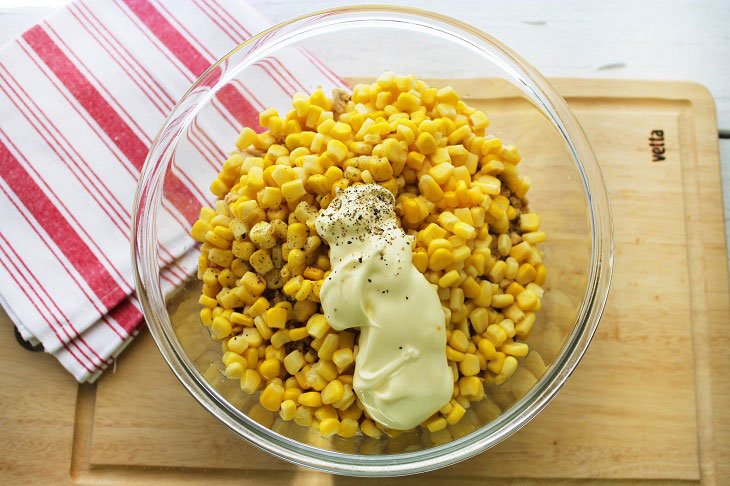 Put the Signor salad in a beautiful salad bowl. Lay the egg halves around the perimeter and garnish with parsley leaves.
Salad can be served immediately after preparation.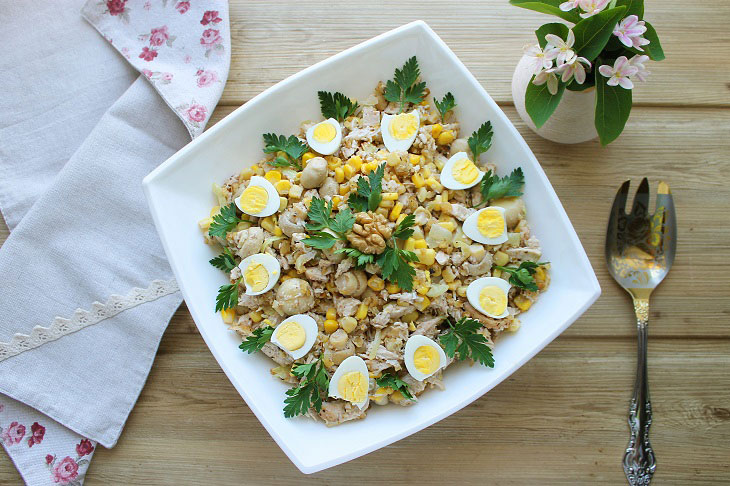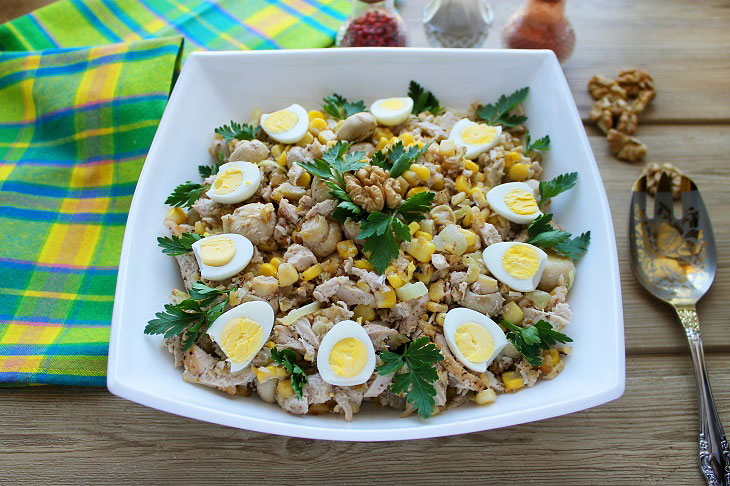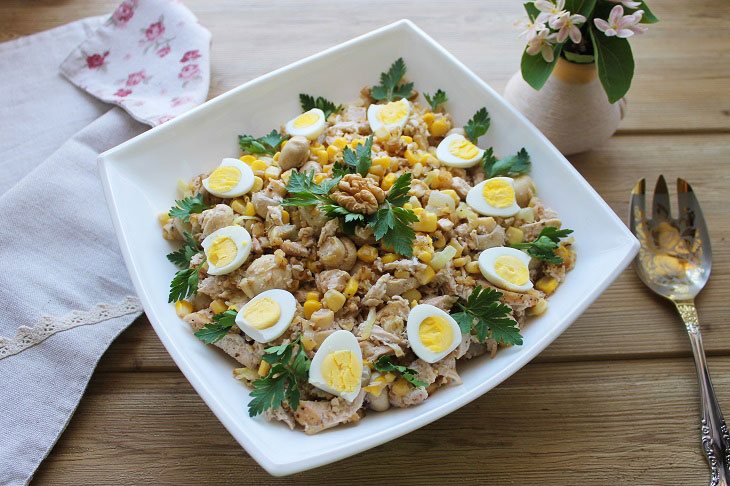 Enjoy your meal!