While the season of delicious and crispy cucumbers is in full swing, you must definitely take the moment and make the most necessary preparations that will delight you in winter. One option is to cook sweet cucumbers, which are sure to turn out very tasty. They will perfectly fulfill the role of an appetizer, they will be very useful in various salads and other dishes.
It is best to take cucumbers that grow in the garden, but if this is not possible, then they can be bought at any store or market. The most important thing when buying is to pay attention to the quality of vegetables. Cucumbers should not be sluggish and yellow, it is best to purchase the variety that has a lot of pimples.
Ingredients:
Cucumbers – 1 kg.
Salt – 30 g.
Sugar – 50 g.
Garlic – 1 clove.
Pepper (allspice) – 5-6 pcs.
Dill – 1 umbrella.
Carnation – 2 pcs.
Cherry leaf – 1 pc.
Water – 1 l.
Bulgarian pepper – 0.5 pcs.
Vinegar 9% – 2 tbsp. l.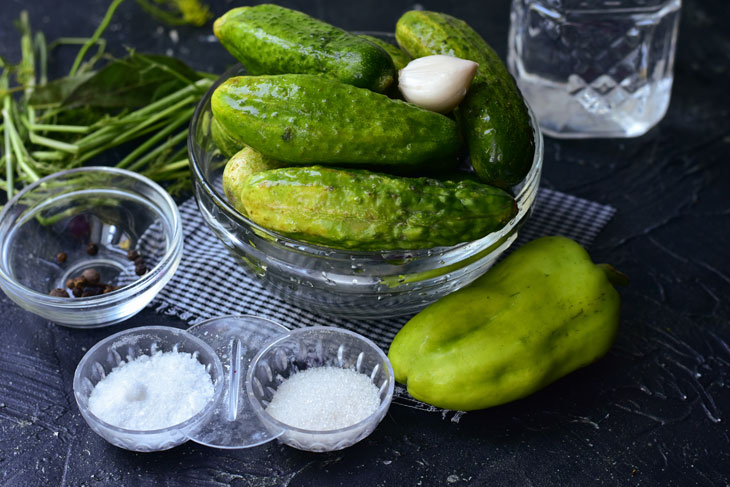 How to cook:
1. Before cooking, soak cucumbers in cool water for 6-7 hours.
The bank should be prepared in advance. For this amount of ingredients you will need 1 liter jar. It must be washed, it can be with soda and sterilized in the way that is most convenient. The jar lid also needs to be sterilized.
Prepare marinade. Pour exactly one liter of water into a convenient container, add sugar and ordinary rock salt (fine and iodized will not work), allspice and a few cloves. Next, you need to bring it all to a boil and wait until the bulk is completely dissolved.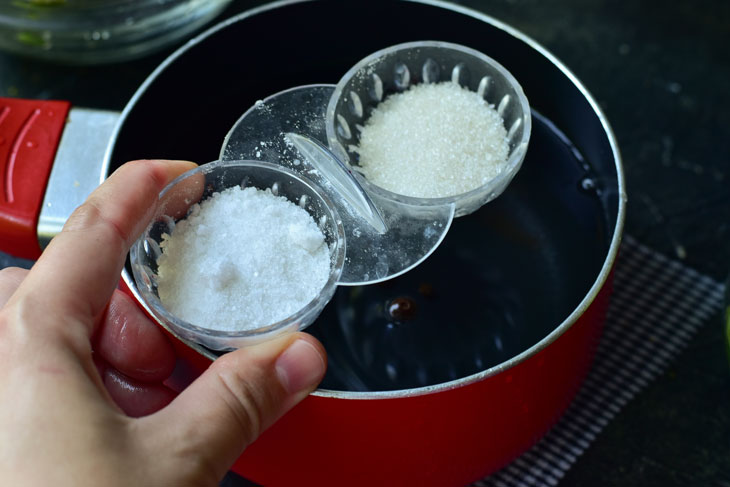 2. In a sterile jar, you need to put all the cooked leaves, dill umbrellas, garlic, bell pepper.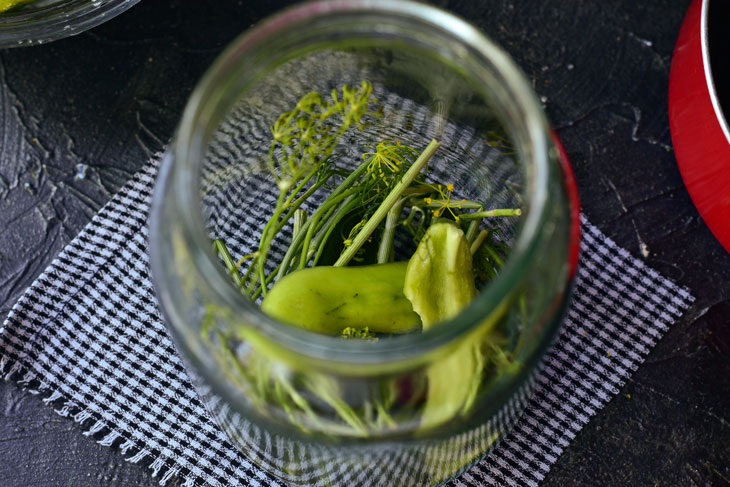 3. Then lay carefully, but tightly all the cucumbers.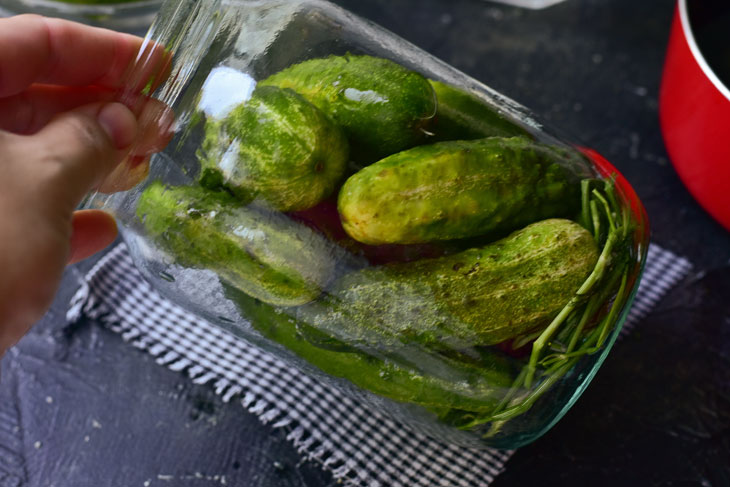 4. Next, they need to be poured with boiling water for literally ten to fifteen minutes. After that, it is necessary to pour out the water from the jar of cucumbers, pour in the vinegar.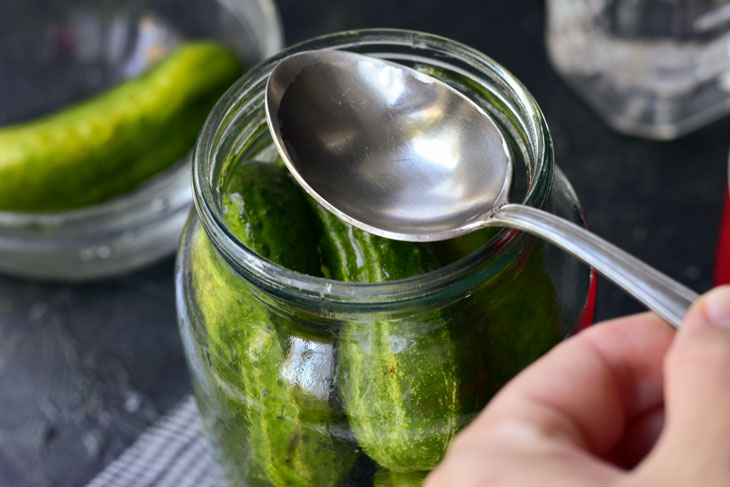 5. Then pour boiling marinade over.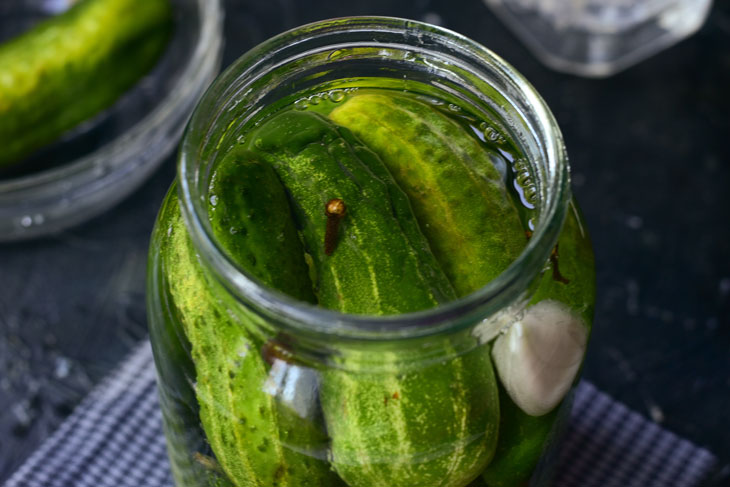 6. Sterilize a jar of cucumbers for 10 minutes in a saucepan, put a rag on the bottom of it.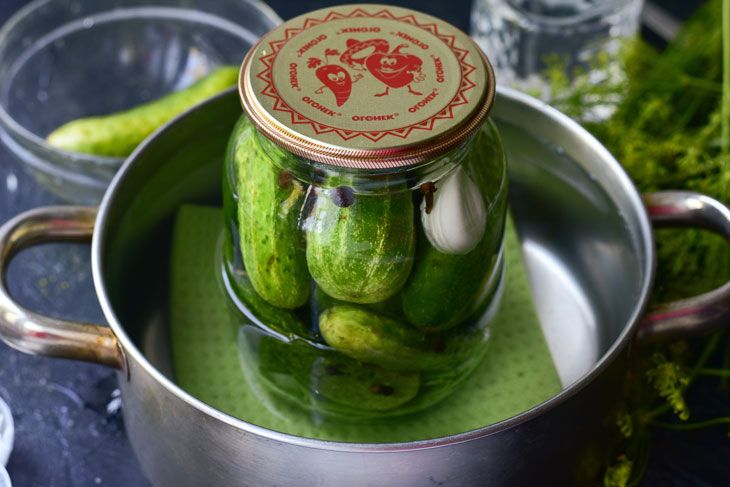 7. Then immediately roll up the jar and wrap it up, covering it with a warm blanket.
It is necessary to store such cucumbers in the dark and cool.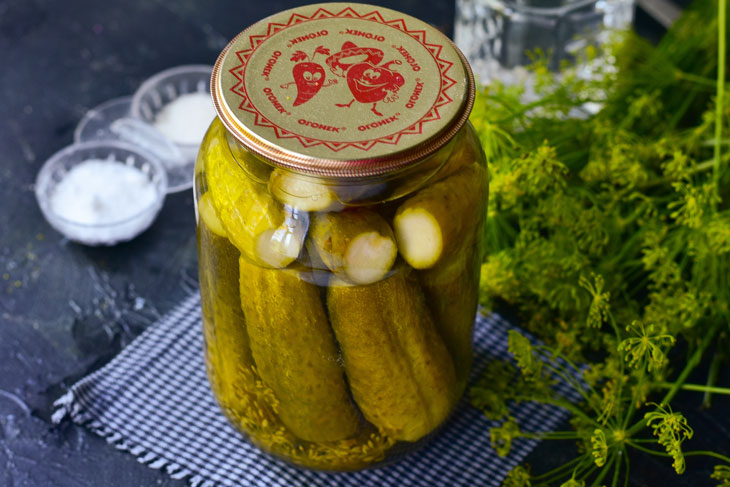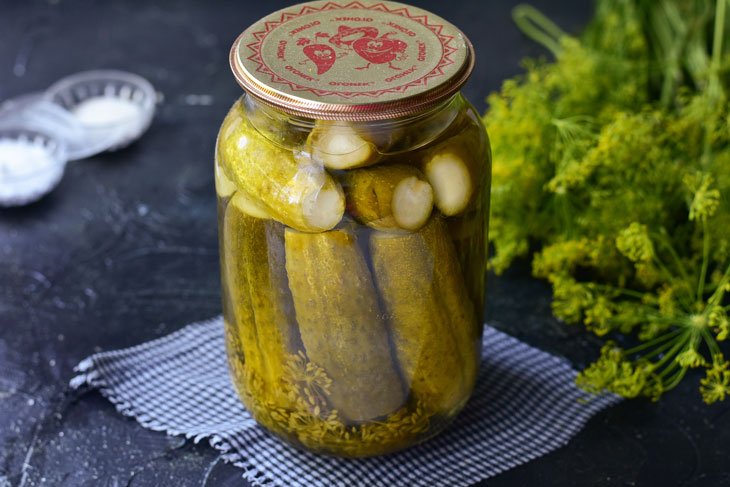 Enjoy your meal!