Zucchini with tomato paste for the winter is a versatile vegetable snack, which in winter is most often eaten "to the last jar". It turns out it is very satisfying, tasty and quite useful.
For the preparation of this type of preservation, young or older zucchini are suitable, the main point is that they should not contain seeds. You can stew vegetables in a pan or in a cauldron. Jars must be pre-washed and sterilized in the oven or microwave. It is better to use jars with a volume of 0.5 liters, although you can take smaller ones.
Ingredients:
Zucchini – 2 pcs.
Garlic – 1 clove.
Vegetable oil (it is better to use odorless oil) – 70-100 ml.
Tomato paste – 1 tbsp. l.
Purified water – 100 ml.
Vinegar 9% – 1-2 tbsp. l.
Salt – 0.5 tsp.
Sugar – 1 pinch.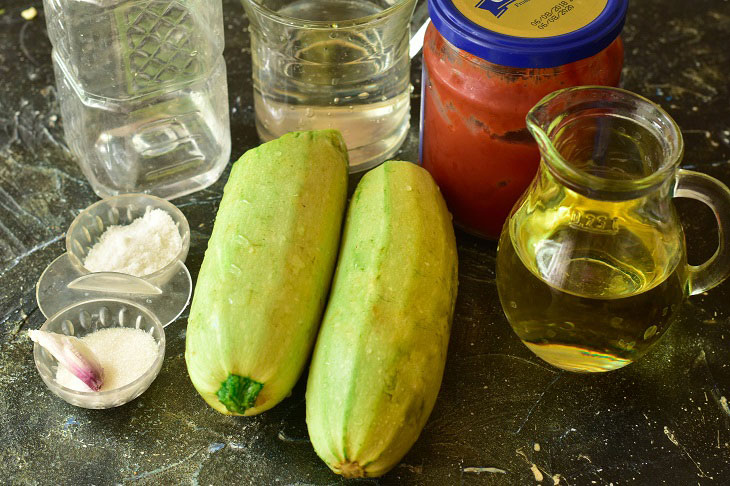 How to cook:
1. Wash the zucchini very thoroughly, cut off the peel and edges from both sides. Cut vegetables into medium sized cubes.
It is not advisable to cut the zucchini finely, as they will greatly decrease during the frying process.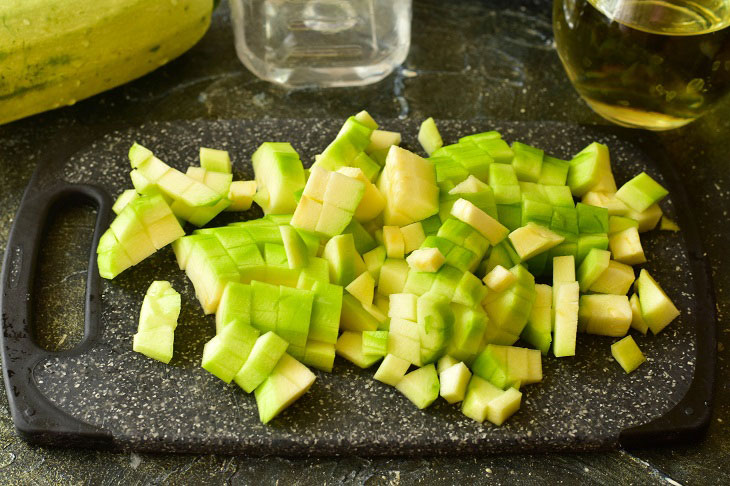 2. Pour water into a frying pan or cauldron, add salt and sugar, pour in vegetable oil there, put tomato paste, peeled garlic clove (it is not necessary to chop it).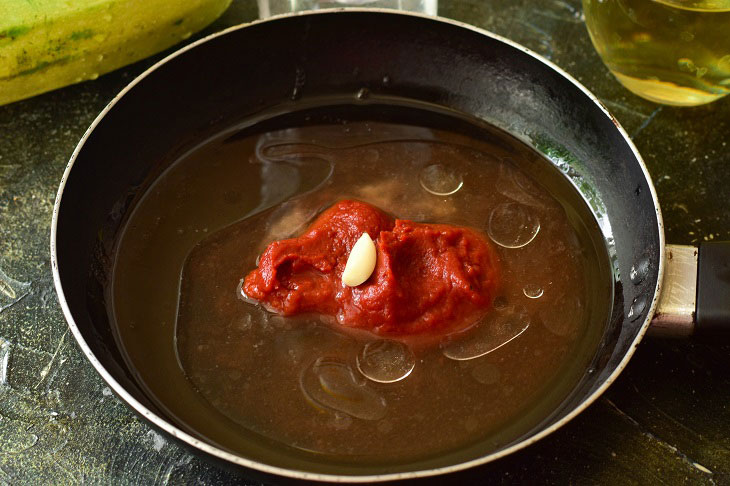 3. Put the diced zucchini on top.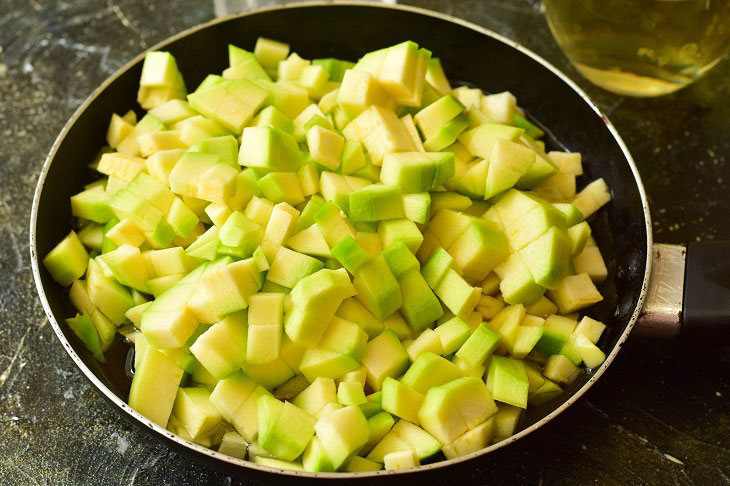 4. Send the pan to the stove. Simmer them for 15-20 minutes, stirring them occasionally with a spoon.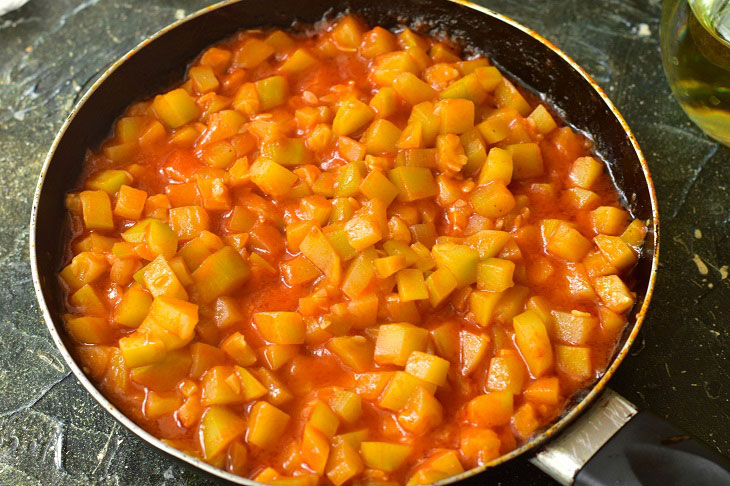 5. Pour in the vinegar. If you use acetic acid, then be sure to dilute it with water, according to the instructions on the package. Send the pan to the fire for another 3-4 minutes.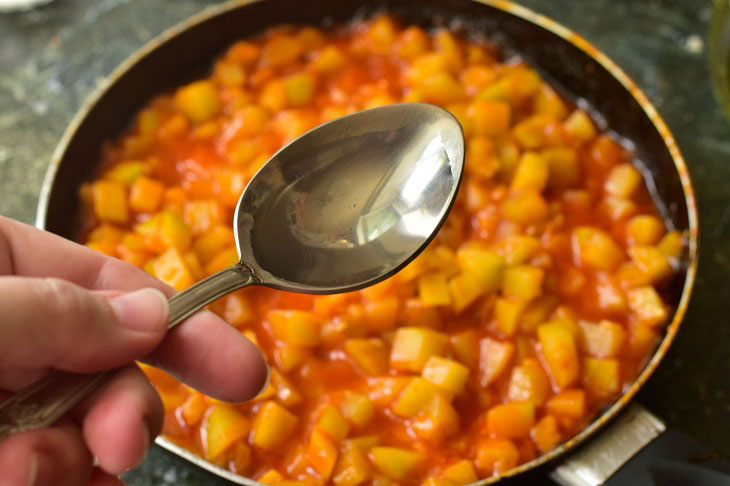 6. Put the zucchini with tomato paste in the prepared glass jar. For the indicated amount of ingredients, 1 can of 0.5 liters is required.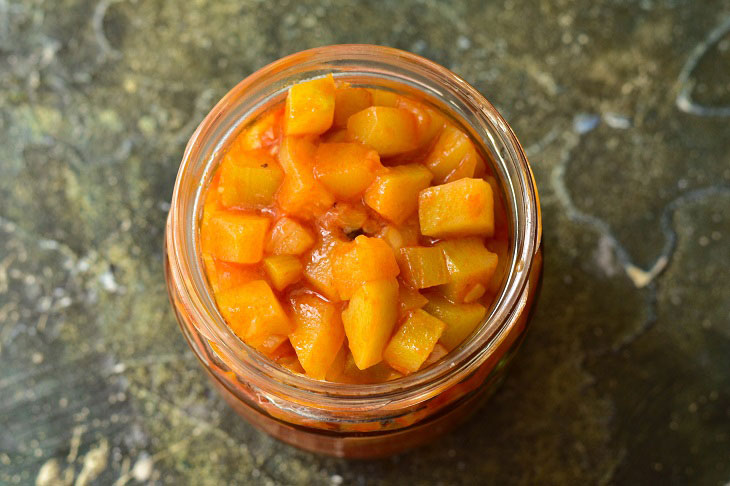 7. Screw the jar with a metal lid. If the jar is ordinary, then cork it with a regular lid using a special seaming key.
After a day, be sure to take the jar to the cellar for storage.
These zucchini with tomato paste came out for the winter!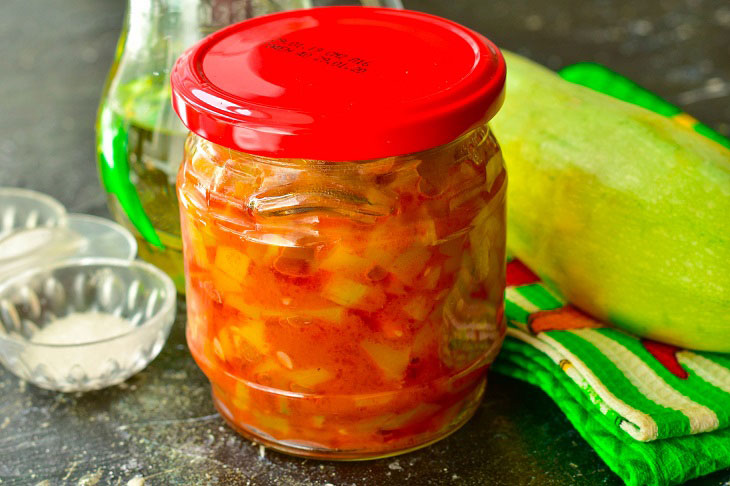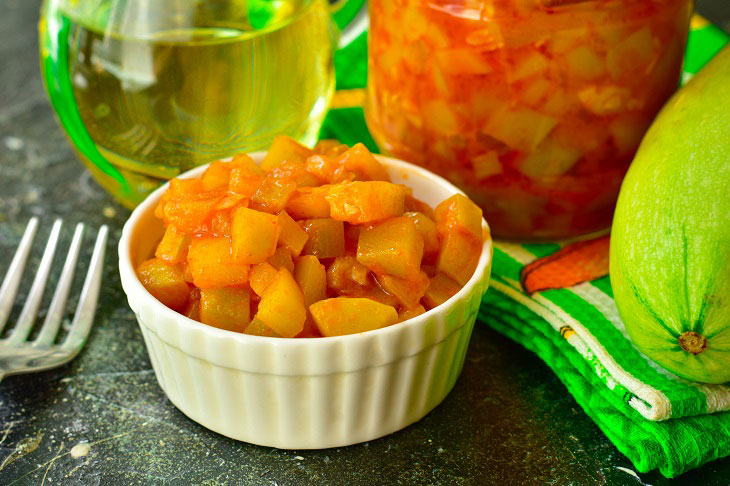 Enjoy your meal!