Adjika sweet for the winter is an original version of the popular blank, it can also be made spicy and even burning in combination. It will turn out an interesting tandem of flavors in one sauce, such adjika can be served with absolutely any meat or fish dish. It is quite possible to add sauce to gravy, dressing for soup, borscht, shurpa – it will turn out very fragrant. Vegetables for adjika are better to take juicy and fleshy – this also applies to tomatoes and peppers.
Ingredients:
Tomatoes – 500 g.
Sweet pepper – 2-3 pcs.
Bulb – 1 pc.
Garlic – 3-4 cloves.
Sugar – 2 tsp
Salt – 1/3 tsp.
Vegetable oil – 50 ml.
Table 9% vinegar – 25 ml.
Black ground pepper – 1/5 tsp.
How to cook:
1. Peel and wash a medium-sized onion. Also wash the tomatoes and bell peppers. In addition to sweet, you can take a whole hot pepper or half of it.
For a spicy aftertaste, you can use sweet peppers of the Ratunda variety – it will give a little spiciness.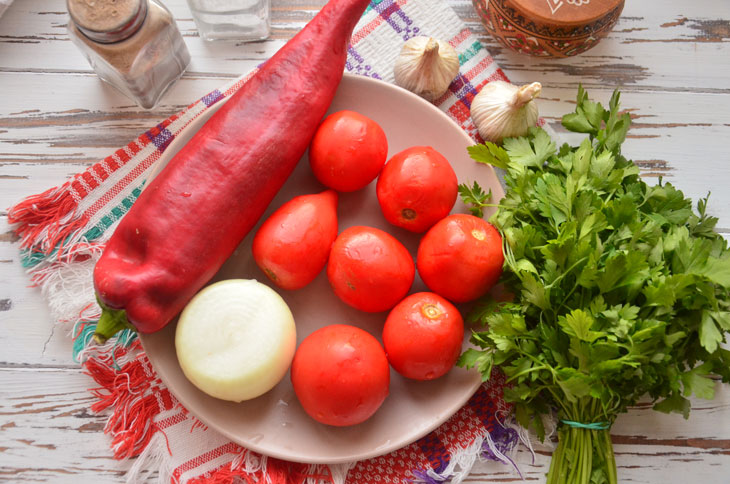 2. Cut the tomatoes into 3-4 parts, remove the place for attaching the stalk, put them in a blender or food processor.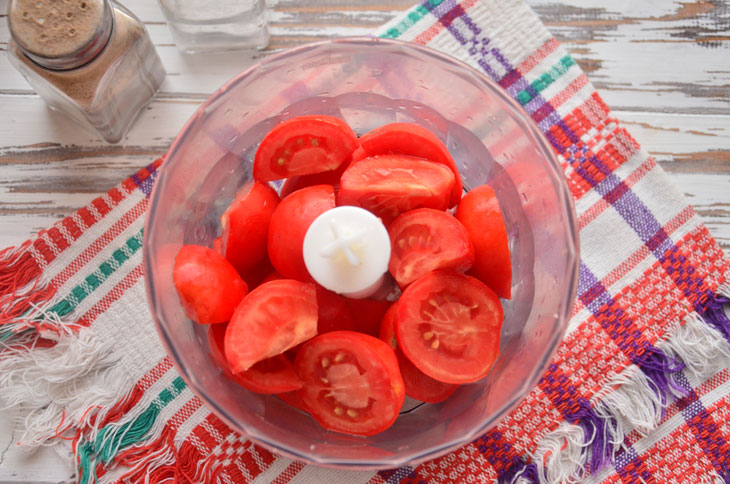 3. Cut the onion into 4-5 parts, send to the bowl. Do the same with sweet pepper, after removing the seeds and stalk.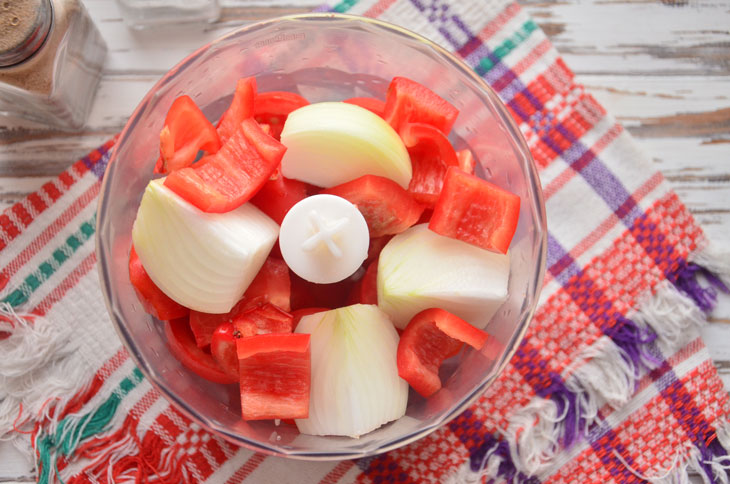 4. Close the blender lid and blend all the ingredients in the bowl at maximum speed. Send the adjika base to cook in a saucepan or saucepan, make the fire weak. Boil for 20 minutes, remembering to stir.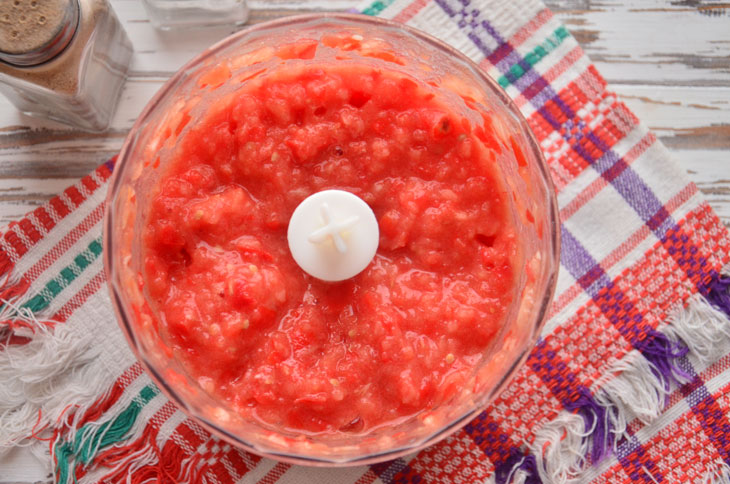 5. Peel and chop the garlic cloves in any convenient way. Send them to a saucepan along with salt, sugar, spices, vegetable oil and table vinegar. Stir and simmer adjika over low heat for another 10 minutes.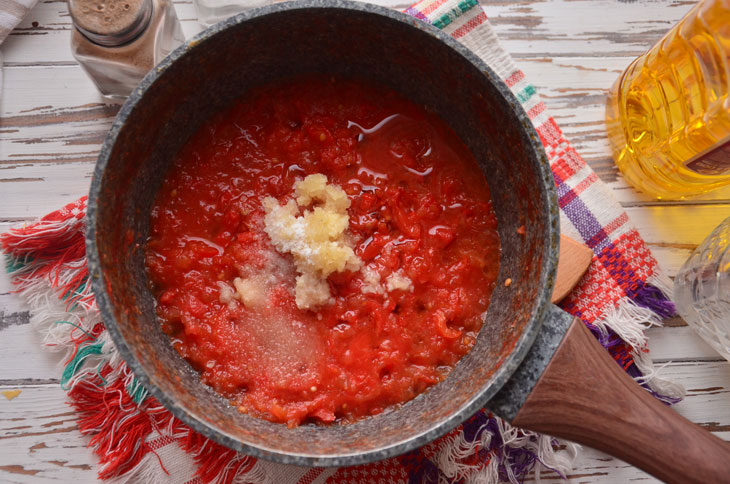 6. While adjika is cooking, sterilize jars and lids. Arrange the finished hot sauce in jars, cork and turn over.
It is better to let the blanks cool in warmth, under a blanket. After a day, rearrange the jars in a cool dark place.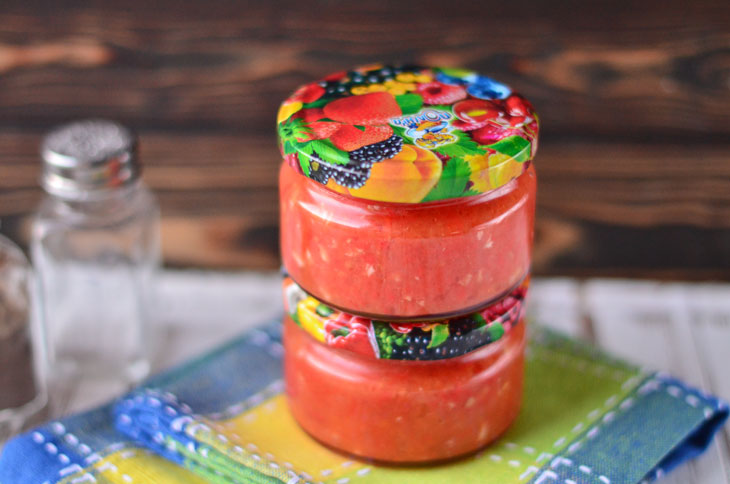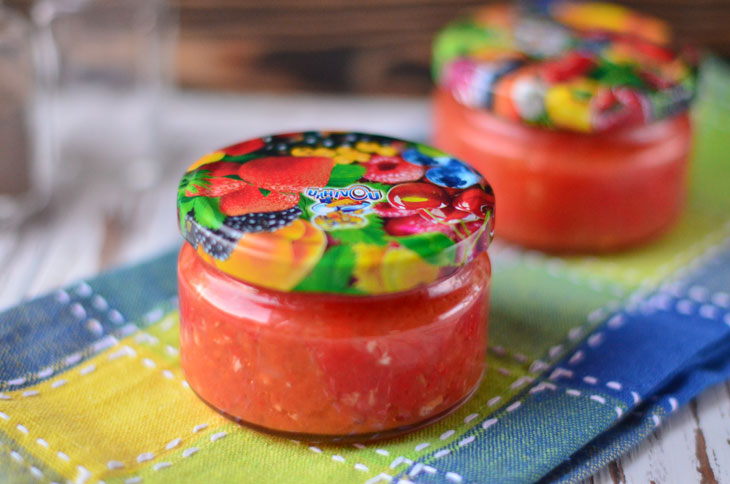 Enjoy your meal!