If you love vegetables paired with meat, then this hearty recipe is sure to please. Basma in Uzbek in a cauldron is perfect for a homemade lunch or dinner. The dish can be served as a second and first dish, as a lot of juice is formed after languishing. For cooking, a conventional oven or stove is suitable, as in this version. But the most delicious option is cooking on a fire.
Ingredients:
Meat – 1 kg.
Fat tail fat – 150 g.
Onion – 350 g.
Carrots – 260 g.
Tomatoes – 400 g.
Sweet pepper – 370 g.
Eggplant – 500 g.
Potato – 700 g.
Cabbage – 450 g.
Salt – to taste.
Zira – to taste.
Sweet ground paprika – to taste.
Ground black pepper – to taste.
Hot pepper – 2 pcs.
Garlic – 2 heads.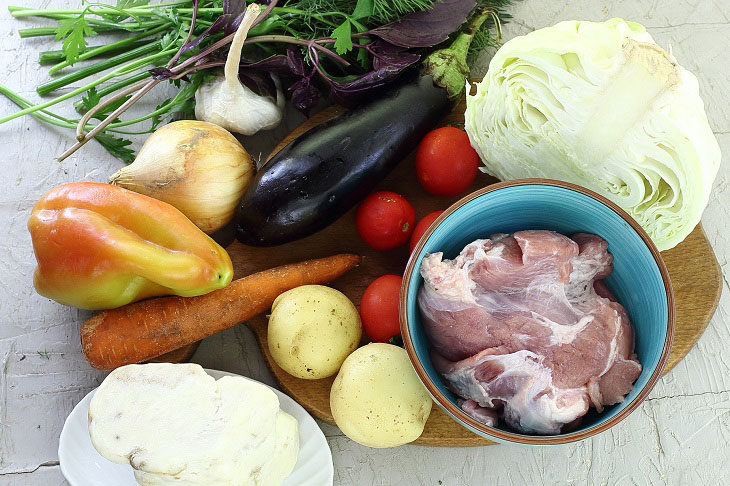 Cooking time: 2-3 hours. Servings: 10.
How to cook:
1. Prepare a cauldron. In this case, its volume is 6 liters. Cut tail fat into thin slices. Put in one layer on the bottom of the cauldron.
If there is no tail fat, you can take lard.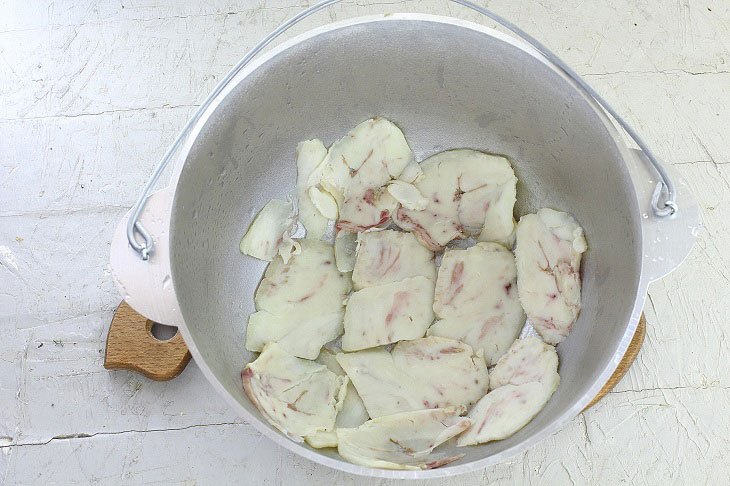 2. Beef, lamb, poultry or pork is suitable for cooking basma, as in this recipe. Rinse the meat and pat dry with a paper towel. Cut into random small pieces. Put on tail fat. Lightly salt, pepper and add a little cumin.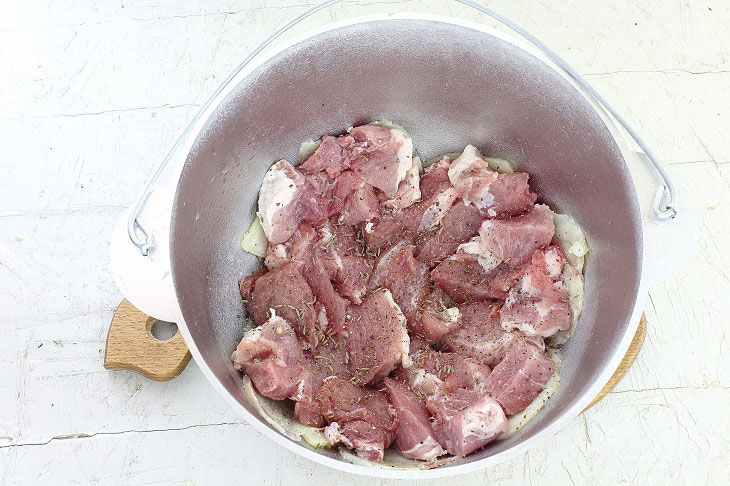 3. Peel and wash the onion. Cut into half rings. Salt a little and remember with your hands so that the onion starts the juice. Lay on a layer of meat.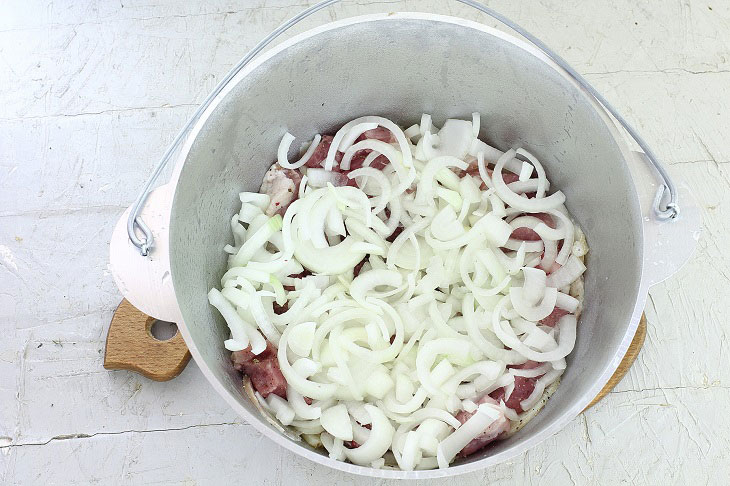 4. Peel and wash the carrots. Cut into large rings. Spread over the onion layer.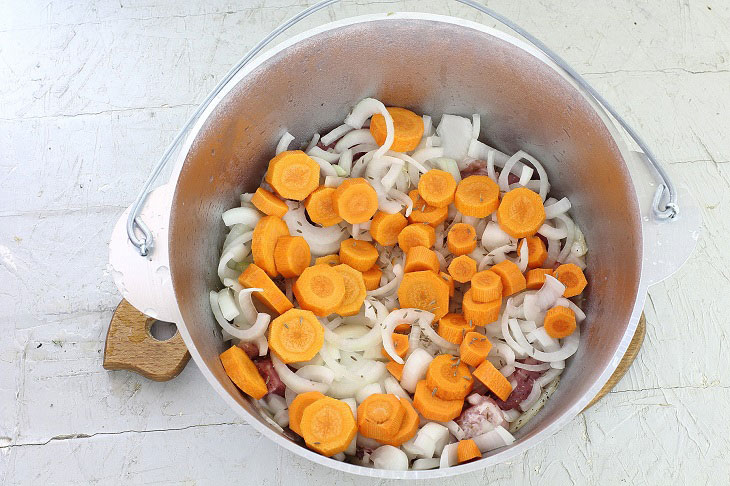 5. Cut the washed tomatoes into slices. If the tomatoes are small enough, cut in half. Lay on top of carrots. Sprinkle with salt and ground paprika.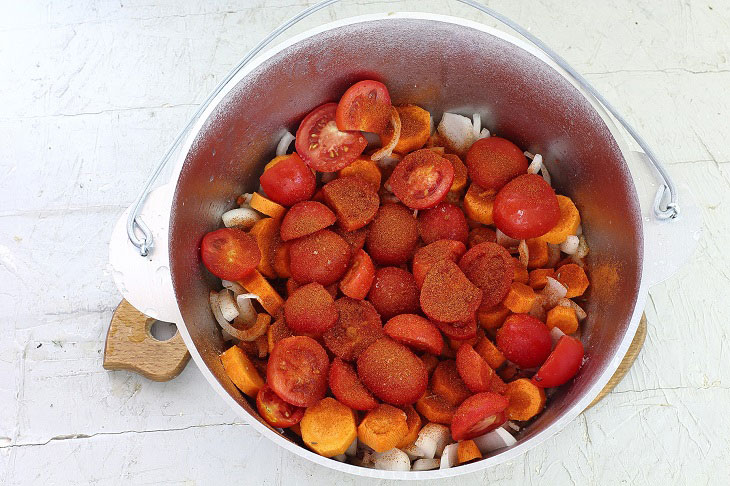 6. Peel the seeds from the sweet pepper. Rinse. Cut into large pieces. Spread over tomatoes.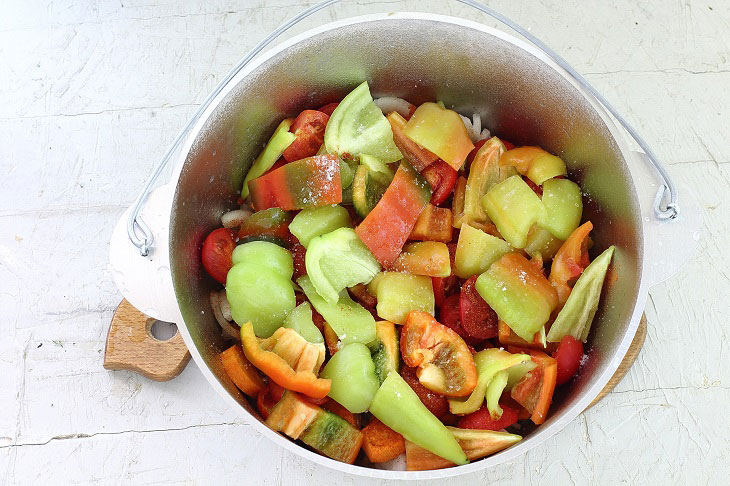 7. Rinse and dry the eggplant. Trim the ponytails on both sides. Cut into large rings or slices. Pour over peppers and season with a little salt.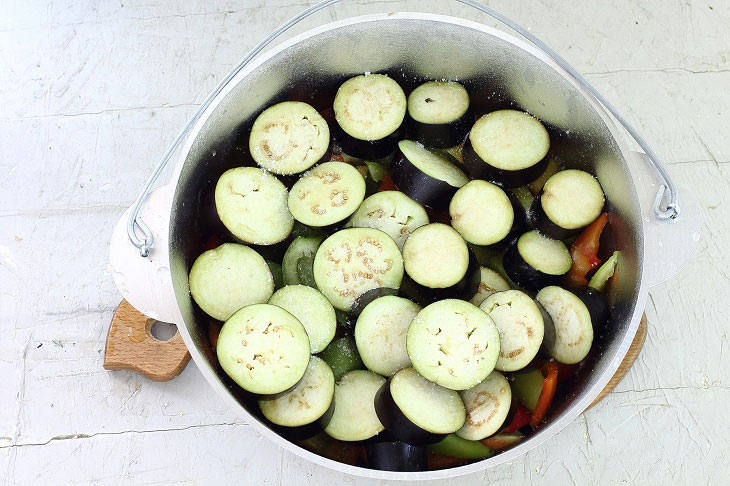 8. Peel medium sized potato tubers. Rinse. Rinse the garlic heads well. Spread the vegetables over the eggplant layer. Sprinkle with a little salt.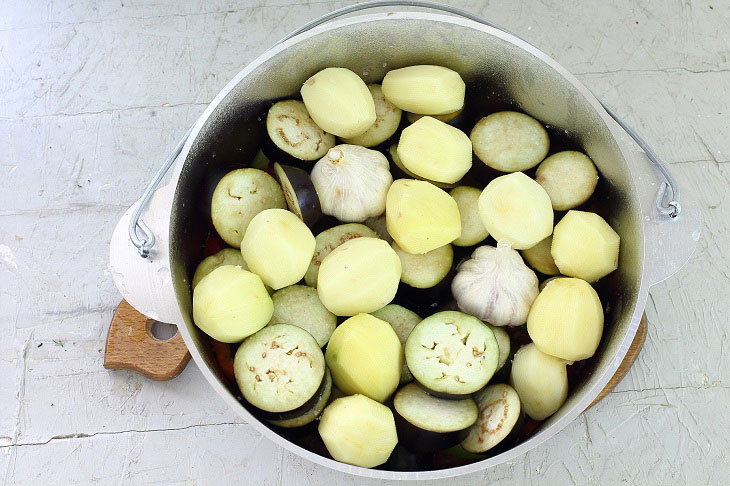 9. Carefully remove the whole leaves from the cabbage. It will take 4-6 sheets. Cut the rest of the cabbage into large strips. Salt a little, add cumin to taste. Remember with your hands so that the cabbage starts up the juice. Spread half of the cabbage on top of the potatoes.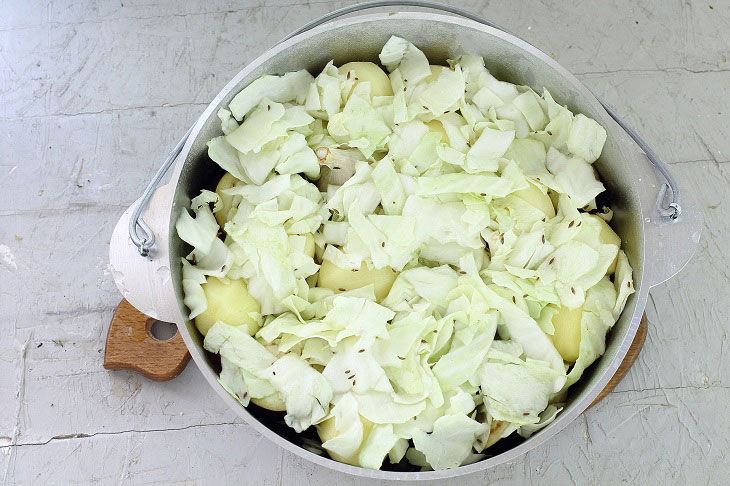 10. Add washed hot peppers.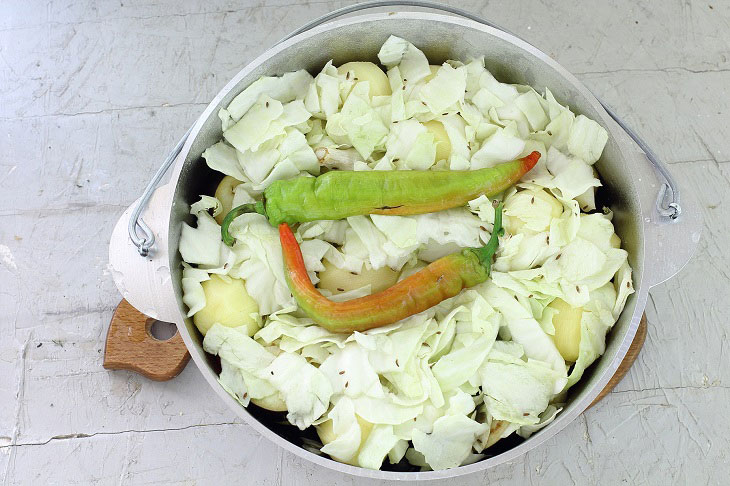 11. Top with the second half of the cabbage and washed greens.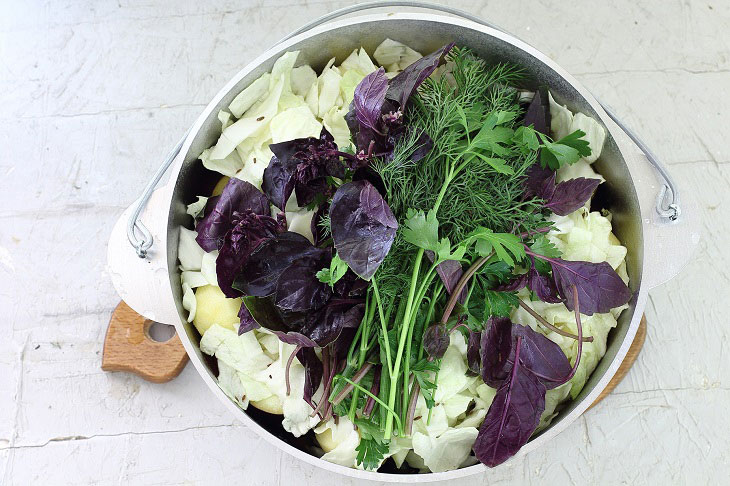 12. Cover with whole cabbage leaves.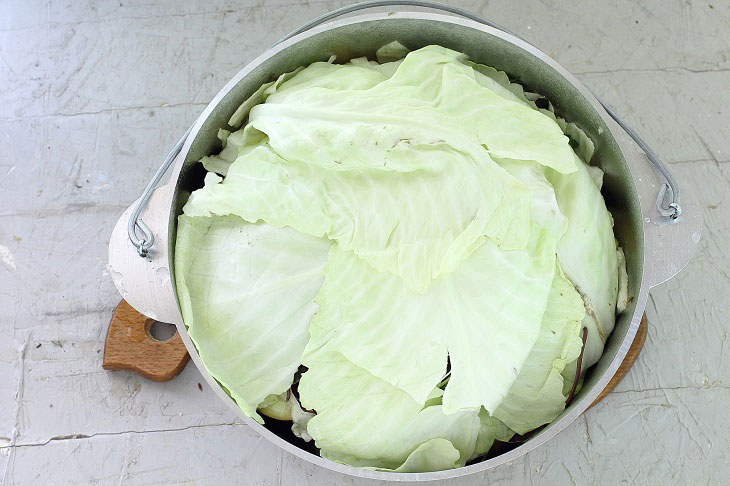 13. Place a flat plate and weight on top. Send to moderate fire. After 15-20 minutes, reduce the heat to the smallest, cover and cook for 1.5-3 hours.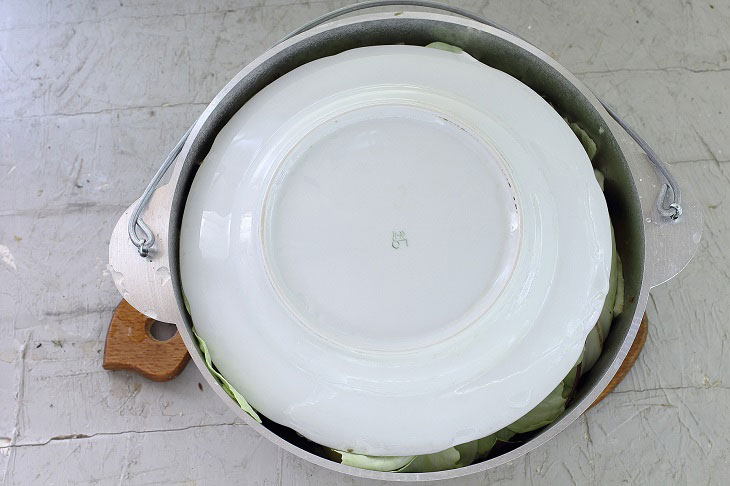 Basma in Uzbek in a cauldron is ready.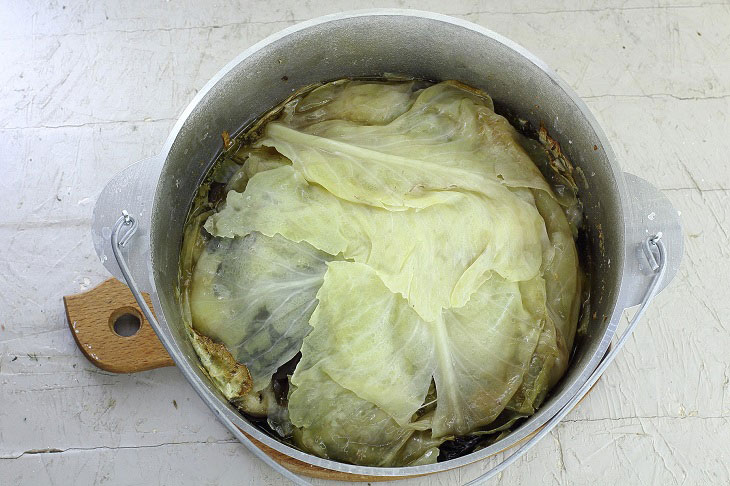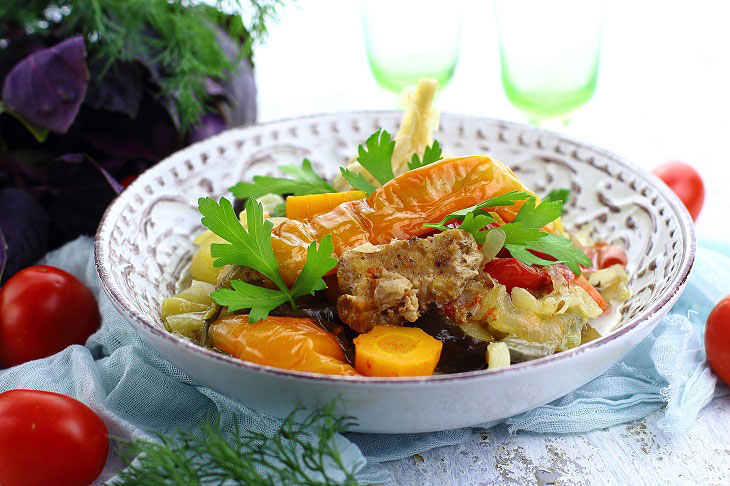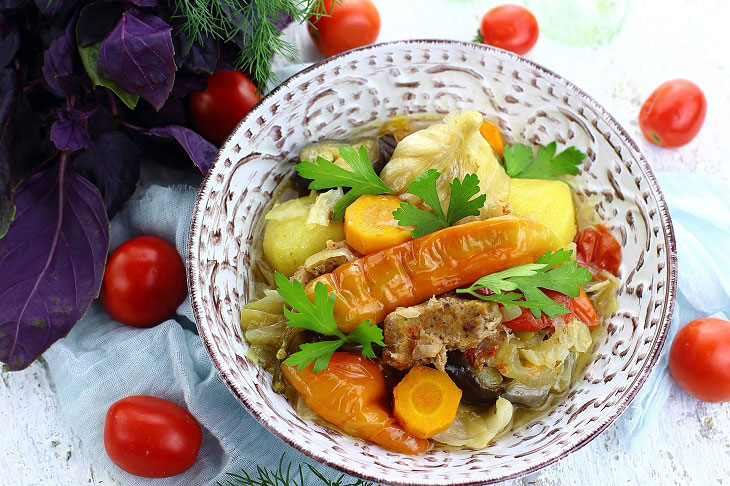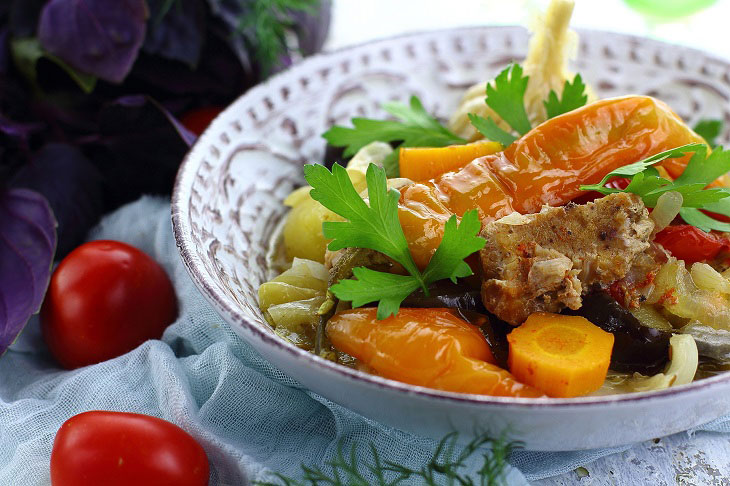 Enjoy your meal!