Beets are a very frequent guest in many cuisines, this vegetable is very useful and is used in a wide variety of dishes. Very original and tasty salads are obtained from beets, and not only the vinaigrette familiar to many, but also herring "under a fur coat".
Here, for example, is a beetroot salad called "The Riddle". It is very easy to prepare, it has a small amount of ingredients, but this does not prevent it from being very tasty and unique. He will be able to decorate not only the everyday table, but also be a real guest at the festive table. Such a salad is dressed with a small amount of mayonnaise, fat content, in principle, does not matter, you can take any. It is enough to cook such a salad once in order to "fall in love" with it. In subsequent times during cooking, you can experiment and add or replace one or another ingredient, because it is difficult to spoil a beetroot salad with something.
Ingredients:
Beets – 4 pcs.
Eggs – 3 pcs.
Garlic – 1 clove.
Melted cheese – 1 stick.
Walnuts – 1 handful (small).
Mayonnaise – ½ tbsp. l.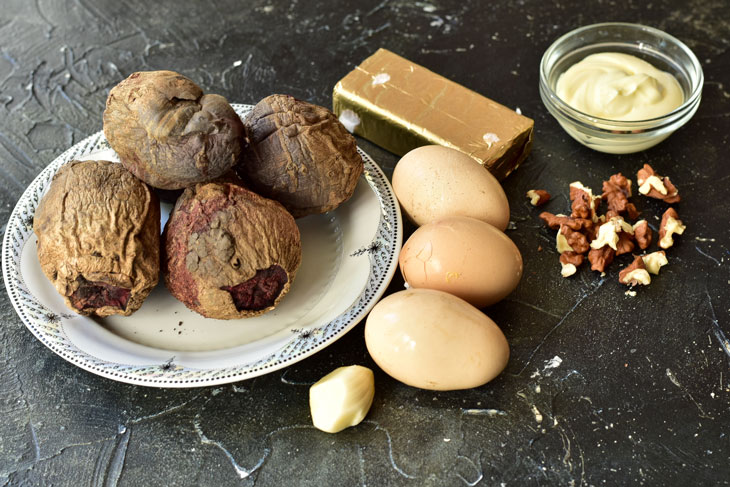 Cooking:
1. To prepare a salad, it is best to choose beets that are approximately the same size, since they need to be baked in the oven. If you choose vegetables of different sizes, the cooking time will be different, and this is not very convenient.
First you need to thoroughly wash the beets and cut off the tails. In order to make it more convenient and faster to bake it, each of them can be wrapped in foil and put in the oven, setting it to about 160-180 degrees. Bake until d1. Let the beets cool down.
Hard-boil eggs and chop in a convenient way. It is most convenient to grate all the ingredients, but this is individual and optional.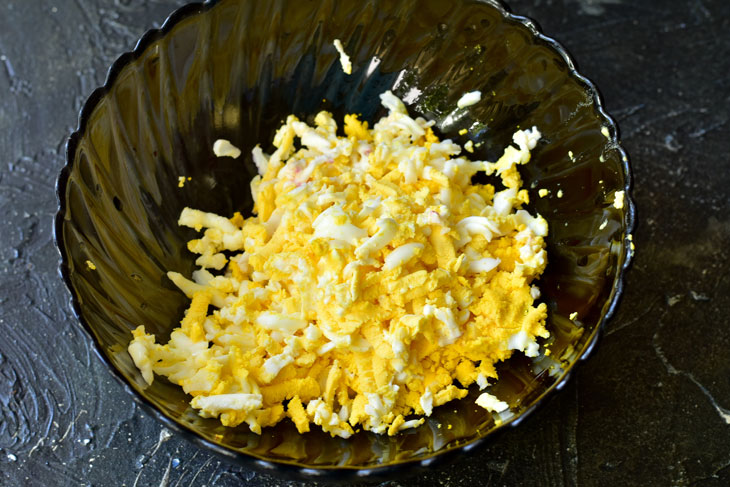 2. It is desirable to take processed cheese of good quality, with a rich creamy taste. It also needs to be crushed.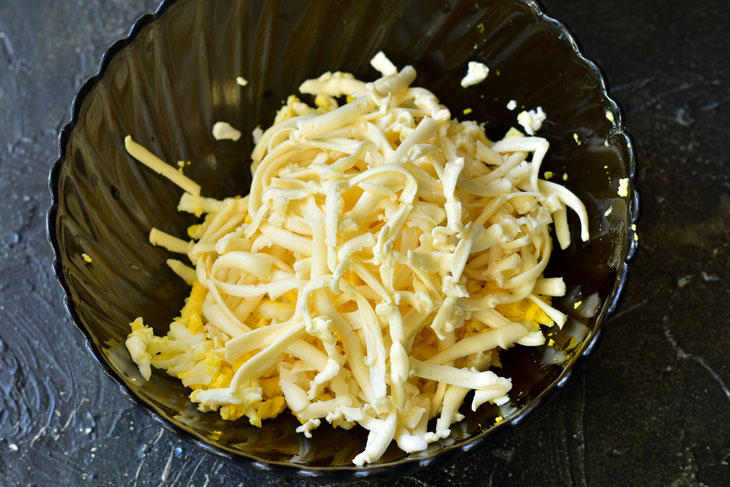 3. Then grate the finished beets, having previously cleaned them.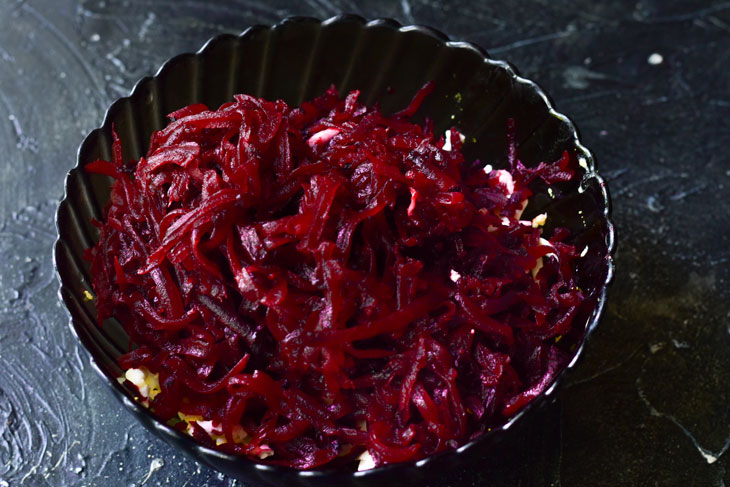 4. Next, you need to combine all the ingredients, squeeze out a clove of garlic, add peeled walnuts and season with mayonnaise.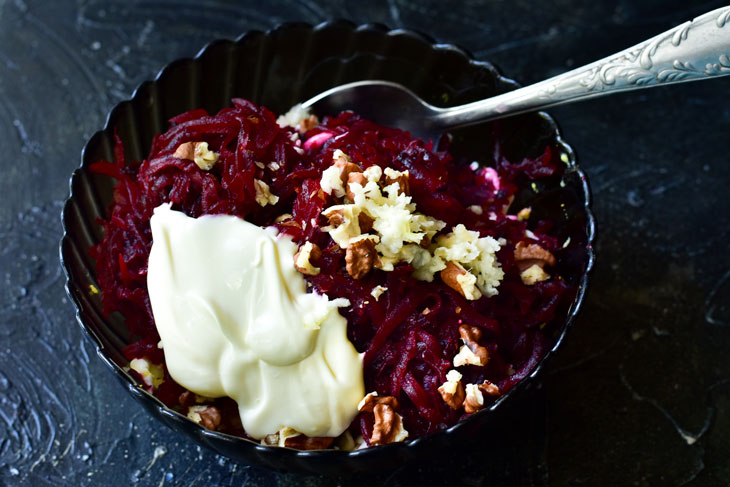 5. Stir the salad. Put it in a beautiful bowl and serve. If desired, you can decorate the salad with a sprig of fresh herbs when serving.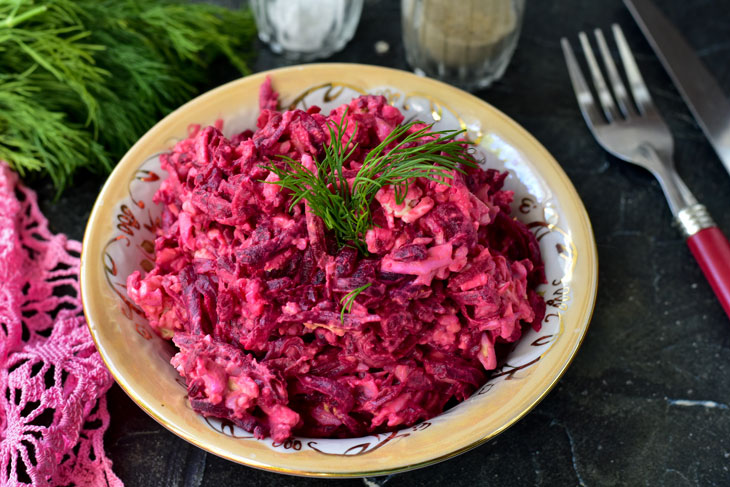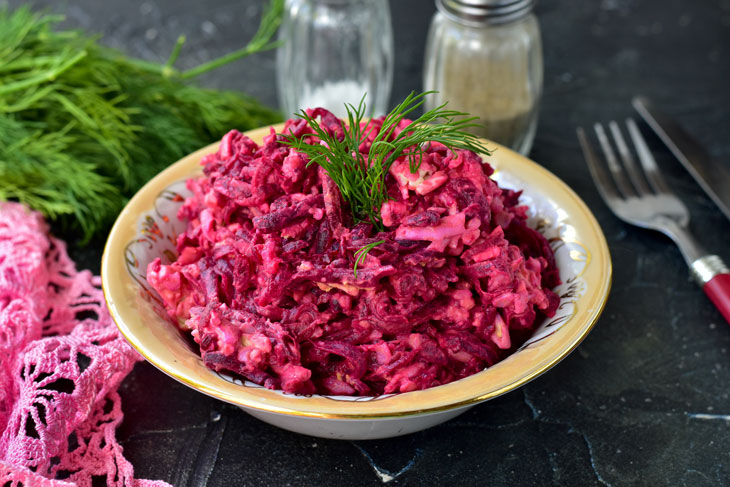 Enjoy your meal!