Blackberry is a tasty and vitamin berry, but almost tasteless in jam. So why not add a little fragrant currant to the company? Then the blackberry jam will turn out tastier and freeze better, because, as you know, currants contain a lot of natural pectin.
In today's recipe, we will cook the so-called "raw jam" without cooking, when the berries are simply ground with sugar until smooth. It does not need to be boiled or sterilized. The product is stored in the refrigerator under screw caps or under nylon lids for 2-3 months. It will remind you of the taste of summer, and also give you a lot of vitamins.
Blackberries without cooking, mashed with sugar – one of the most valuable and useful preparations for the winter. It can be eaten just like that, as a snack with tea or used for baking (blackberry pies are especially good).
Ingredients:
Blackberry – 400 g.
Black currant – 100 g.
Sugar – 750 g.
How to cook:
1. Prepare blackberries and currants: sort, remove twigs and other debris, clean the stalks. Rinse under running water (it is better to use a shower so that the brittle blackberries do not get crushed under the pressure of a jet from the tap). Dry for about half an hour. Put the berries in a bowl – made of food-grade plastic, glass, enameled or other material, but not aluminum.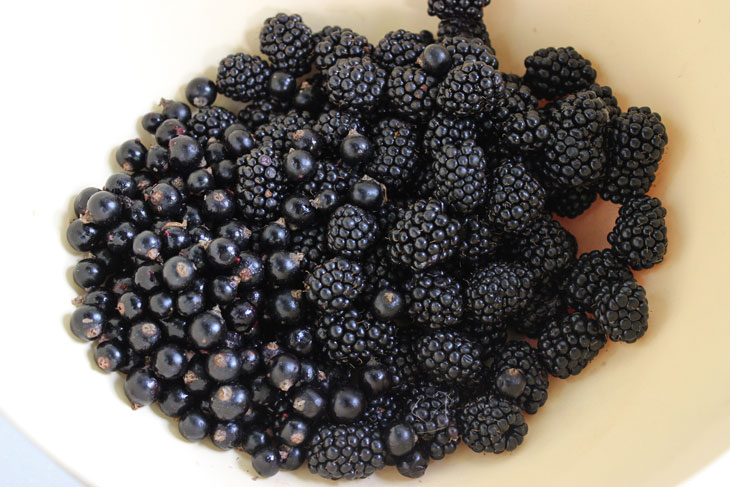 2. Next, the berries should be rubbed. You can do this by hand using a heavy pestle to form a slurry. Or grind through a sieve – this way you also get rid of the bones along the way. Well, the third, fastest way is to use an immersion blender, which will cope with the task in just a minute.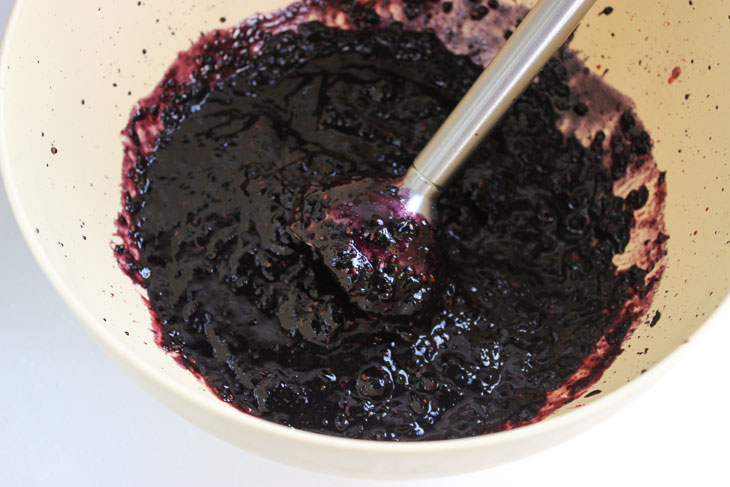 3. Pour sugar into the resulting berry puree. This recipe uses a lot of sugar – more than berries – as it will be responsible for the preservation of preservation for a long time.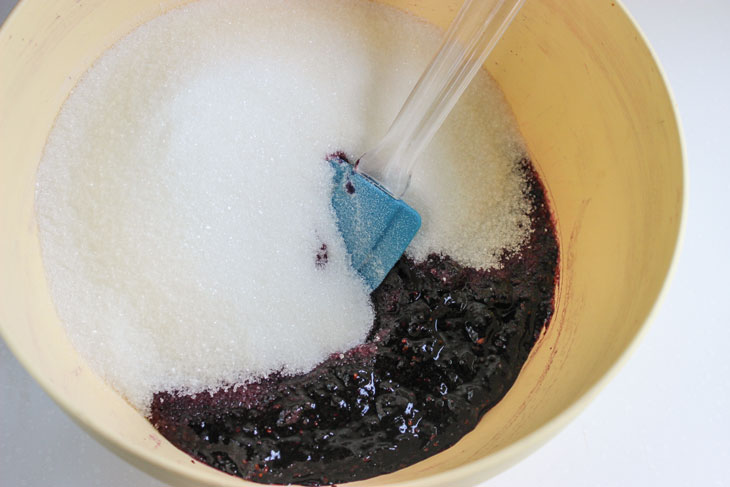 4. Stir – you will notice how the mixture becomes very liquid, but do not worry about it, as the puree cools, it will thicken. Leave the bowl of jam on the kitchen counter at room temperature for 2 hours. Stir from time to time so that the grains of sugar gradually dissolve.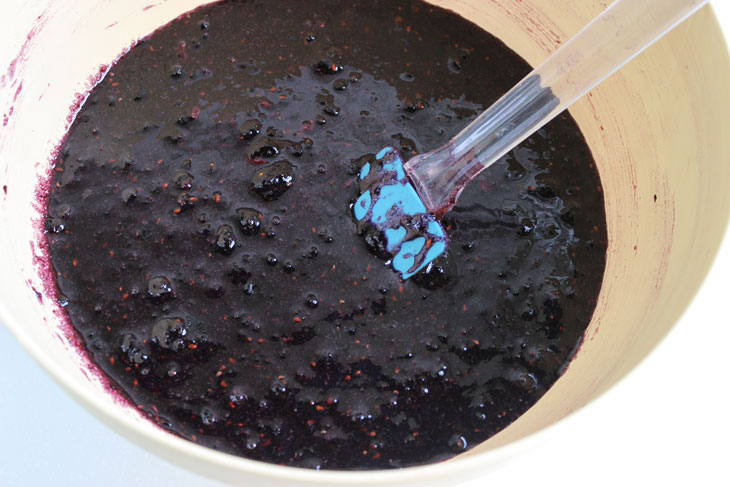 5. Sterilize the jars in any way convenient for you, if you use screw caps, then they need to be boiled, if they are nylon, then rinse with soda, and then pour over with hot water. Arrange the finished blackberry jam with currants in clean and dry (!) Jars. Fill them not to the very neck, but about 1-2 cm before reaching the top. In total, you get two cans of 0.5 liters each.
6. On top of the jam, pour 1 tablespoon of sugar into each jar – it will create a kind of "cork" on the surface, which will reduce air access to the jam and facilitate its storage. Then close the lids tightly.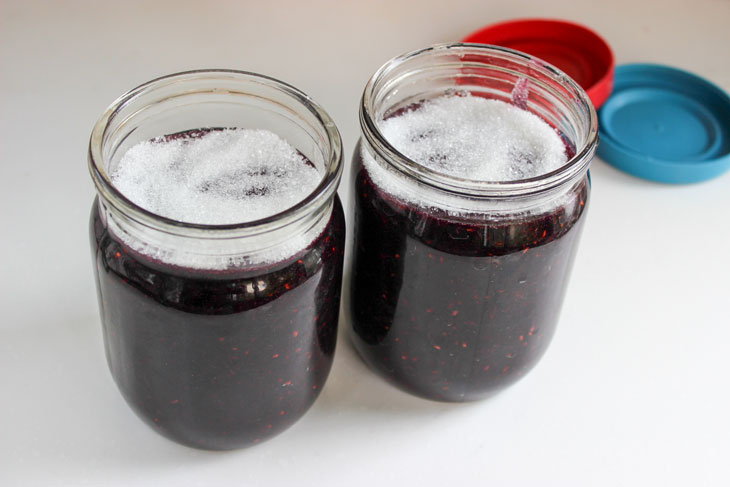 7. Remove the berry jam from the refrigerator. Its shelf life is at least 2 months (it can stand longer, it all depends on how watery the berry was).
That's all – vitamin preparation for the winter from blackberries and currants is ready! It can be used as a sauce for pancakes, cheesecakes and other desserts, as well as for baking pies.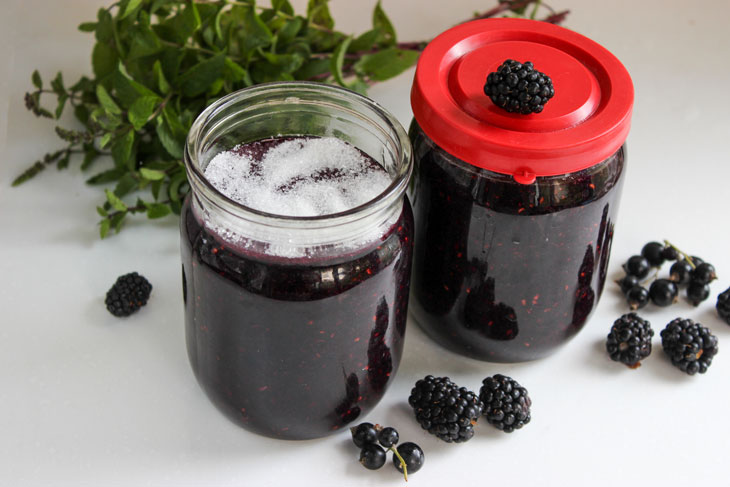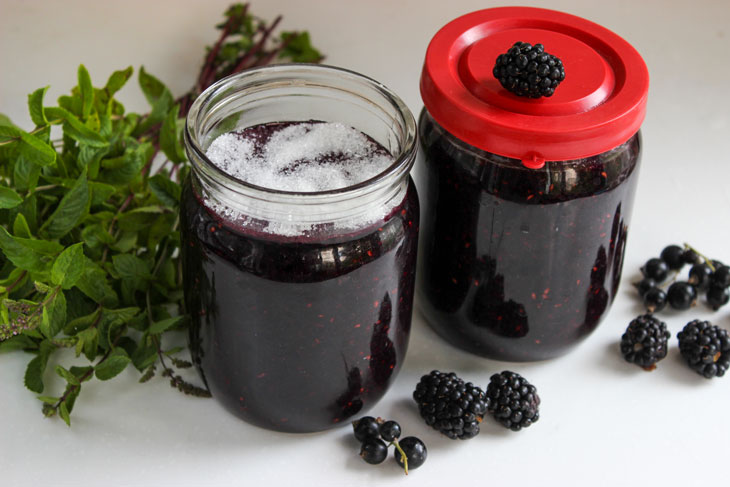 Enjoy your meal!