These lush buns with delicate custard are much tastier than any cake! And if you prepare the dough and cream in advance and put it in the refrigerator overnight, then it will not take long to cook a delicacy at all.
Products for dessert will be required inexpensive, so you can make buns at least every day.
Ingredients:
For test:
Flour – 4 tbsp.
Milk – 1.5 tbsp.
Eggs – 2 pcs.
Sugar sand – 3 tbsp. l. + 0.5 st. for the stuffing.
Salt – 1 tsp
Dry yeast – 10 g.
Vegetable oil – 4 tbsp. l.
Cinnamon – 0.5-1 tsp
For custard:
Milk – 250 ml.
Sugar – 2-4 tbsp. l.
Egg – 1 pc.
Flour – 1.5 tbsp. l.
Vanillin – 1.
Butter – 50 g.
How to cook:
1. First prepare the cream. Shake the egg with a whisk in a container with a thick bottom.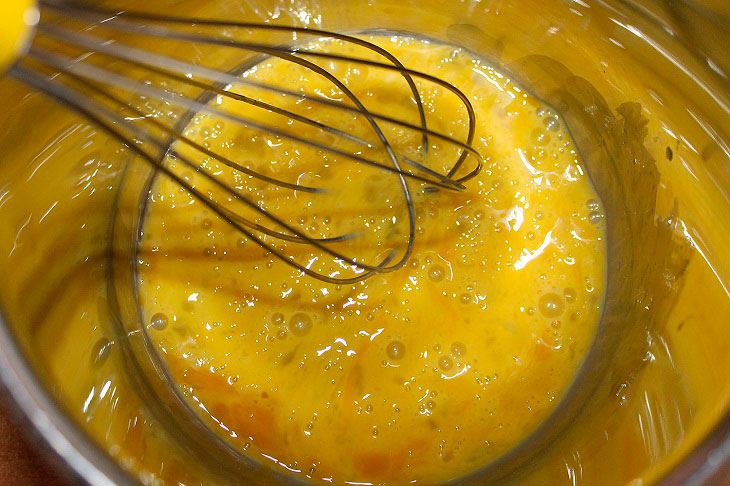 2. Add milk and granulated sugar.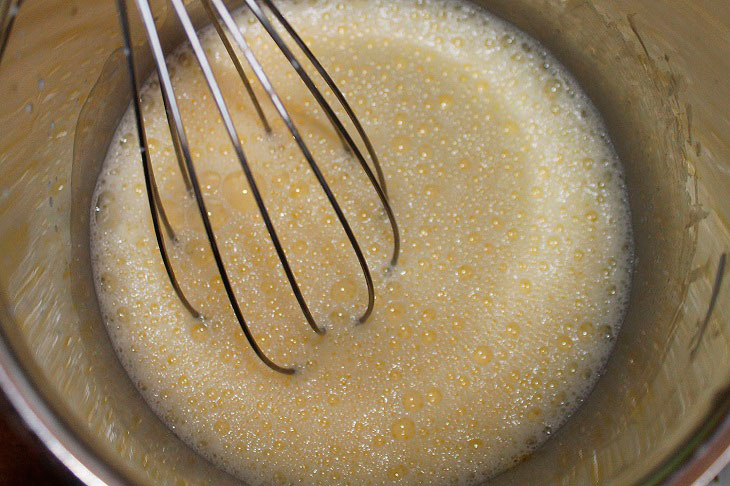 3. Enter flour and vanillin. It is necessary to mix so that there are no lumps, and put it on the stove to heat up, stirring.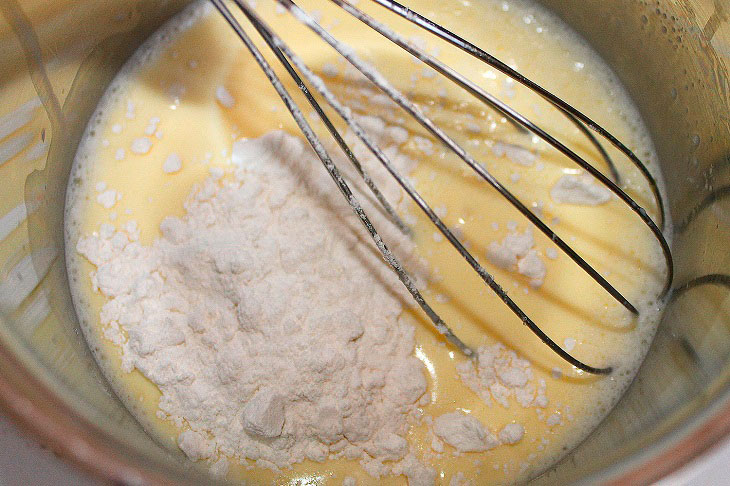 4. The cream will begin to thicken. When it becomes as thick as condensed milk, remove it from the stove.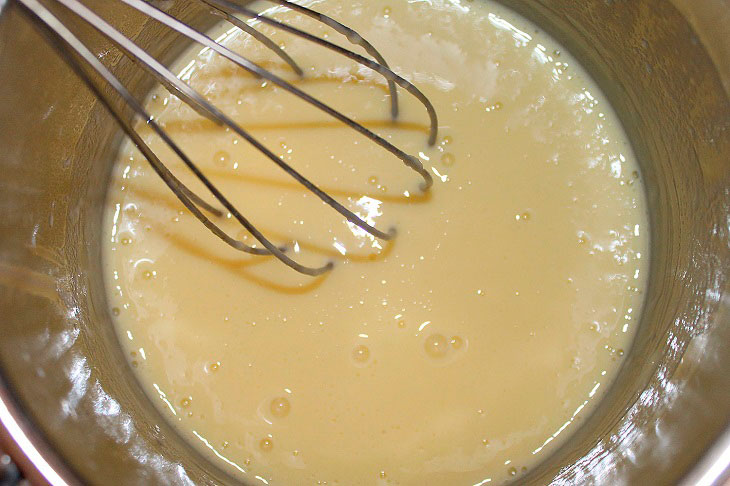 5. Transfer to another container.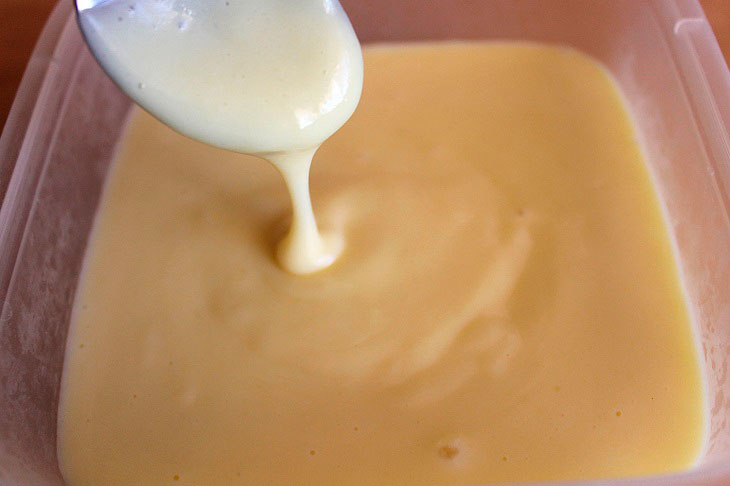 6. Add a piece of butter and stir. The cream is ready, let it infuse.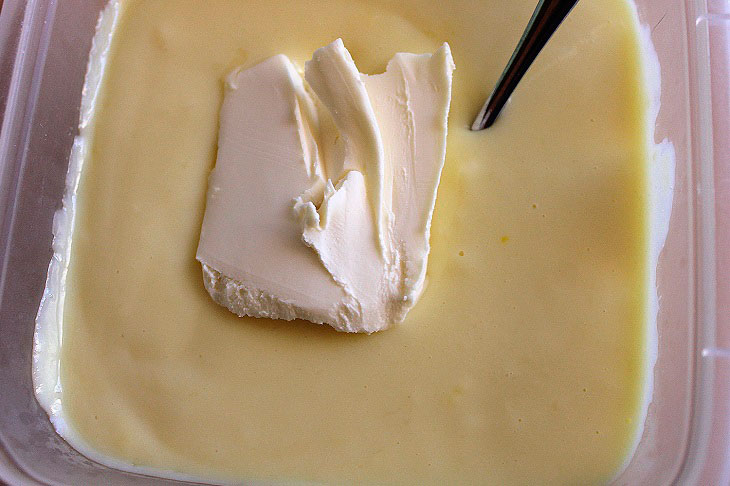 7. Now it's the turn of the filling for the buns. Mix cinnamon and half a glass of sugar.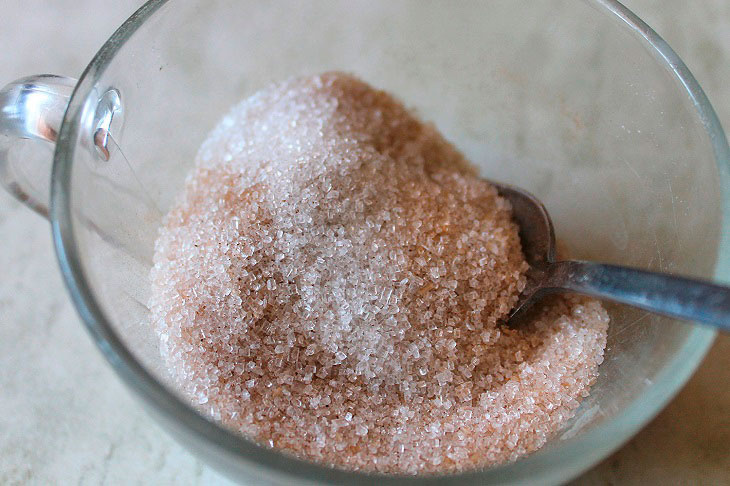 8. For the dough, combine flour, warm milk, eggs, 3 tbsp. l. sugar, salt, yeast.
If you can't bring the dough together, add more flour.
Lastly, add vegetable oil and mix well.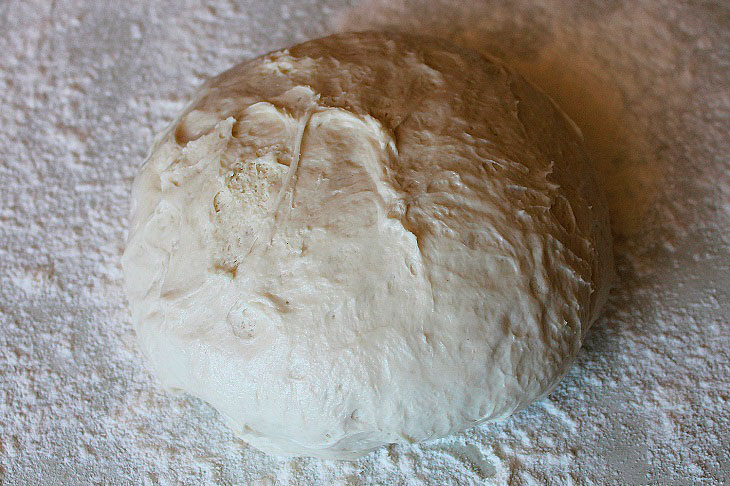 9. Let the dough stand for 10-15 minutes and roll it into a layer on the table. Sprinkle with cinnamon sugar. Spread evenly over the surface of the dough with your hand. Roll the roll.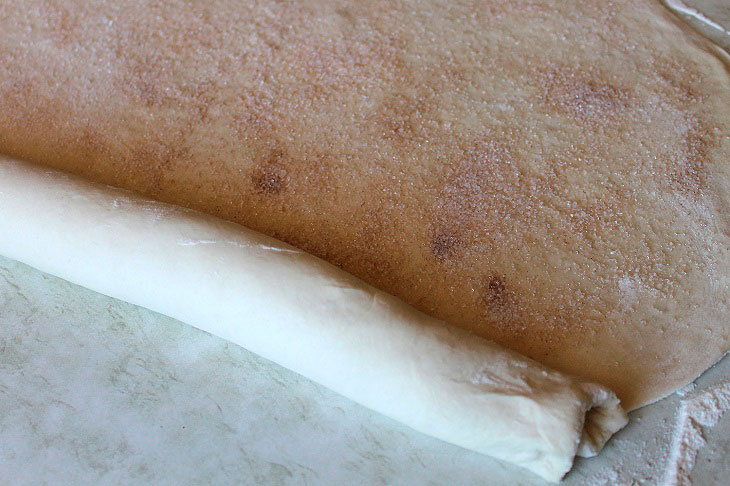 10. Cut the roll into washers, closing each on one side (so that the filling does not fall out).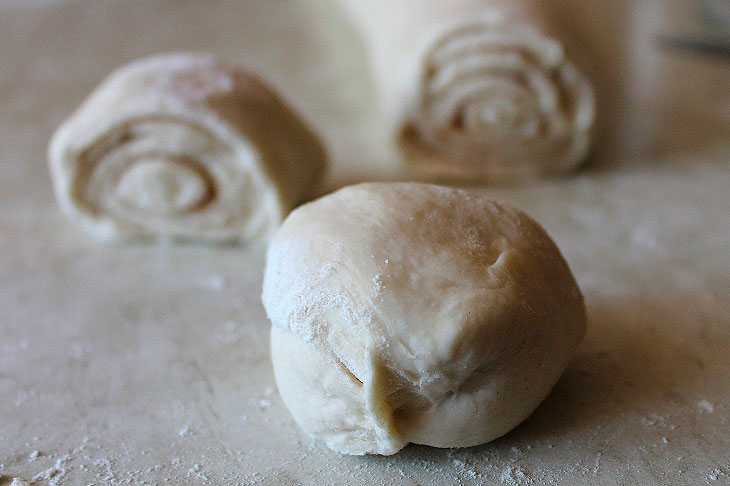 11. Put the tail down on a greased pan.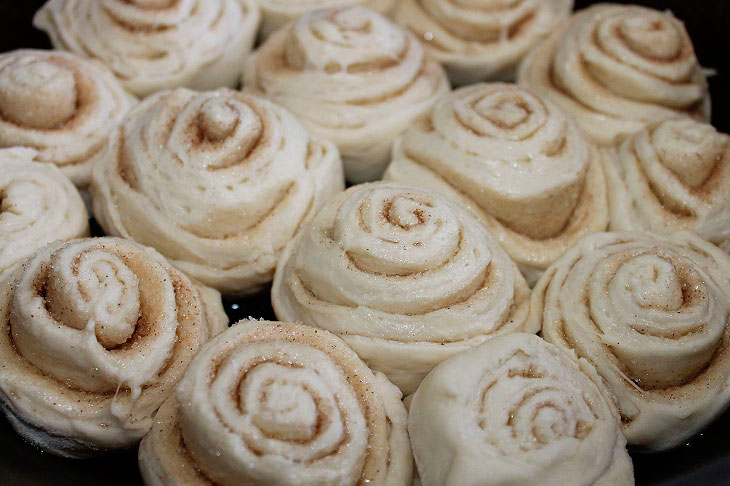 12. Let the dough rise. The buns should spread apart and increase in volume.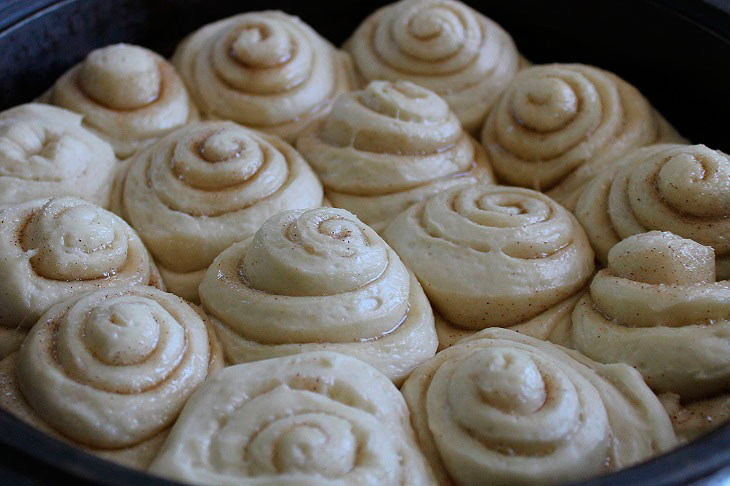 13. Bake for 20-25 minutes in an oven preheated to 220 degrees. Then let the cake cool down a bit.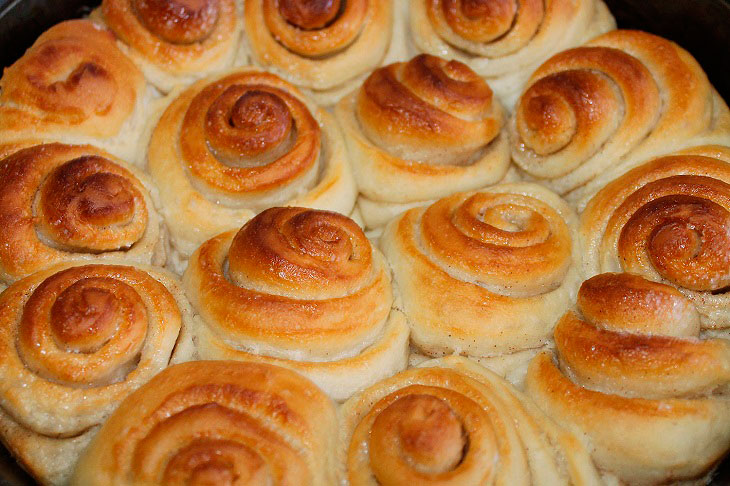 Cover the finished buns with custard and serve. The buns are good when warm, and even when cold, when the cream soaks the tender dough, they are completely incomparable!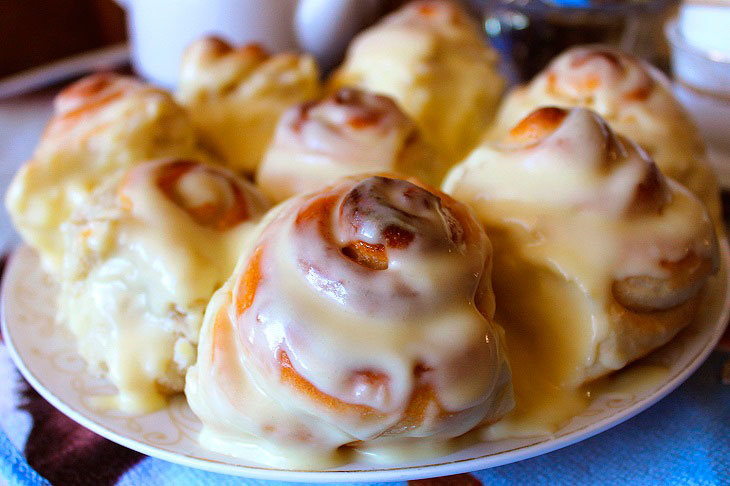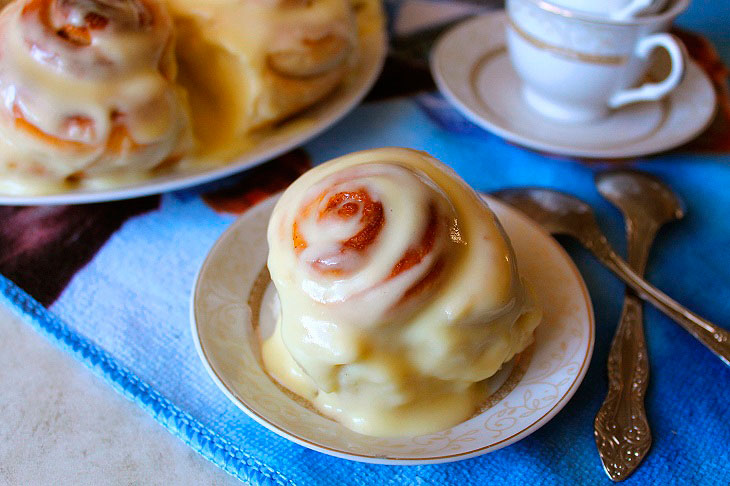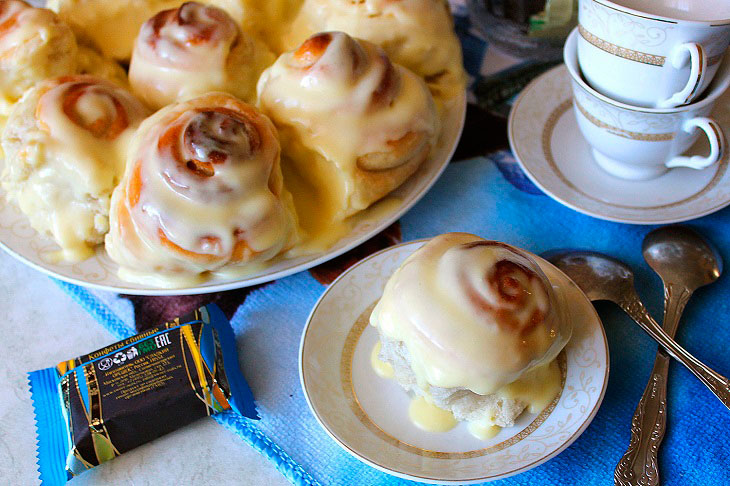 Enjoy your meal!