Forest mushrooms are a fragrant and healthy dish with a high protein content. In the ripening season, you should not only cook them, but also stock up for future use.
We offer a simple recipe for cooking chanterelles for the winter. This dish goes well with boiled potatoes and rice, suitable as a cold snack. Preservation is prepared without sterilization, so it is important to comply with the requirements for cleanliness and cooking time.
Ingredients:
For a 0.5 liter jar:
Fresh chanterelles – 0.4 kg.
Water – 0.7 l.
Salt – 0.5 tbsp. l.
Sugar – 1 tsp
Vinegar – 1.5 tbsp. l.
Garlic – 1 clove.
Bay leaf – 2 leaves.
Carnation – 4 buds.
Allspice – 2 peas.
Hot pepper (small) – 1 pc.
Parsley – 2-3 sprigs.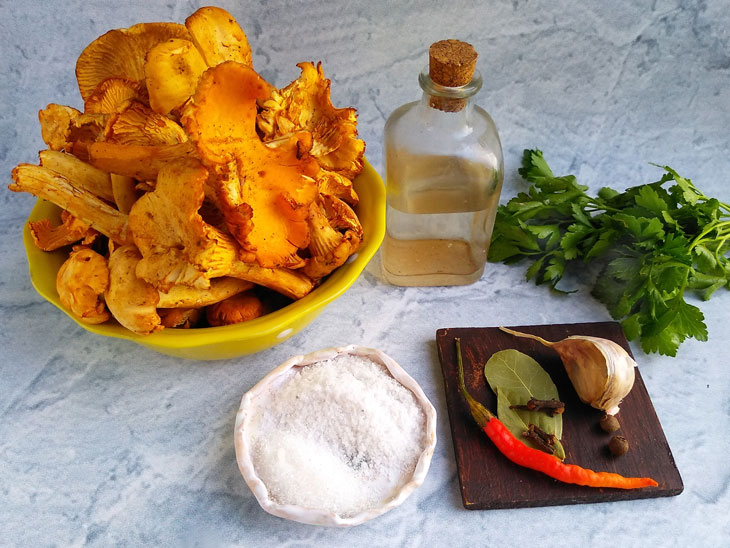 How to cook:
1. Sort the chanterelles, remove spoiled specimens, soak briefly in cool water. Rinse the mushrooms in running water.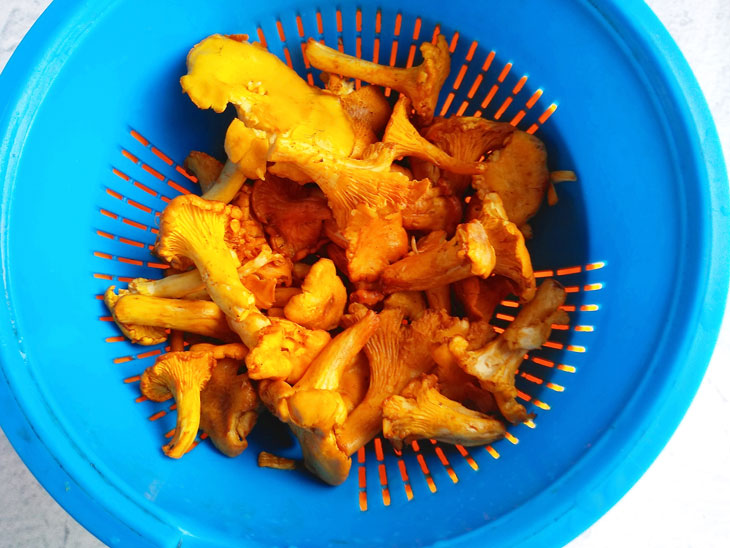 2. Cut large mushrooms into small pieces, do not cut small ones.
3. Put the chanterelles in a saucepan and pour an arbitrary amount of water. Bring to a boil, drain the water, rinse the mushrooms.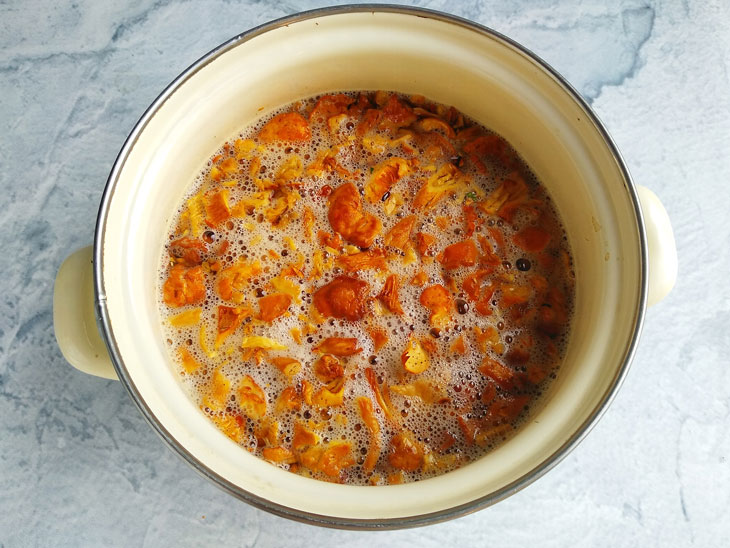 4. Put the mushrooms back in the pan, add water according to the recipe, cook for 10-15 minutes until tender over low heat. Collect foam if necessary. Chanterelles should sink to the bottom.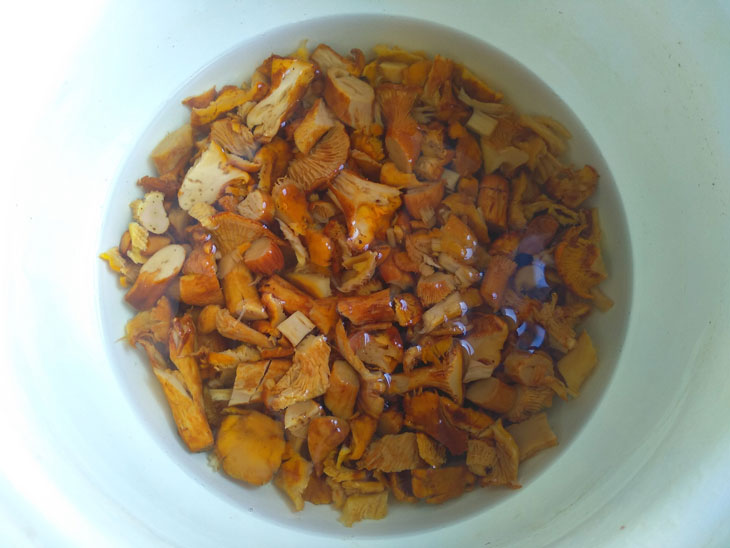 5. Add salt, sugar, finely chopped garlic, hot pepper and spices. Continue to cook for 2-3 minutes.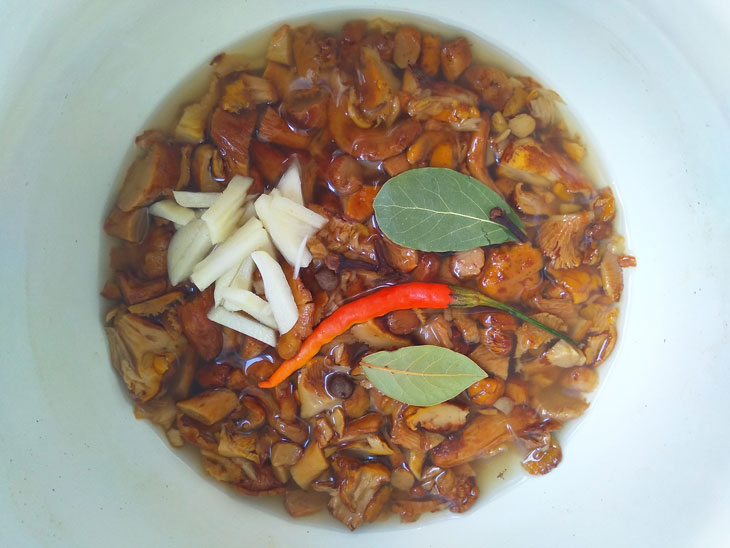 6. Pour in vinegar, put finely chopped parsley, continue to cook for 3 minutes.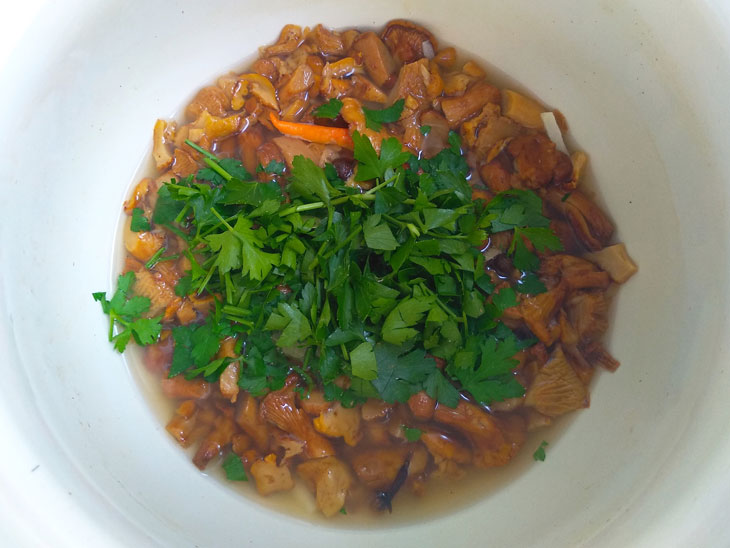 7. Put the mushrooms in a sterilized jar, roll up with a scalded lid, check for leaks. Wrap the workpiece for 12 hours. Store mushrooms at room temperature in a dry, dark place for no more than 2 years.
When serving, rinse the chanterelles, add onions, pour vegetable oil. This blank is suitable for a festive and everyday table.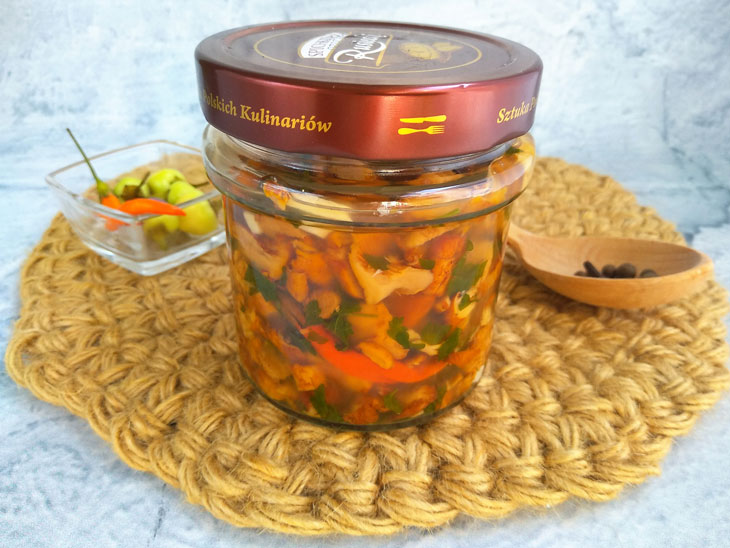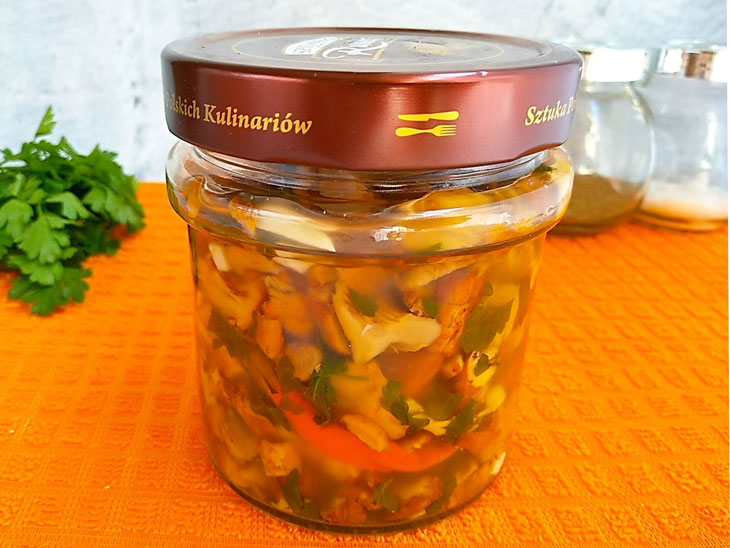 Enjoy your meal!