Cheesecakes with strawberries are a delicious, satisfying, and undoubtedly healthy dessert. It is quite possible to prepare this dish according to the classic recipe, and add pieces of strawberries to the finished curd dough.
However, if the recipe that you often use has its own nuances and differs from the one given, you can take it as a basis. In any case, the result will please. These cheesecakes can be served with tea or coffee.
Ingredients:
Cottage cheese – 250 g.
Chicken egg – 1 pc.
Wheat flour – 4 tbsp. l.
Salt – 3 pinches.
Sugar – 3 tbsp. l.
Strawberries – 1 handful.
Vegetable oil (for frying) – 2 tbsp. l.
Powdered sugar (for serving) – ½ tsp
How to cook:
1. Transfer fresh cottage cheese of any fat content to a deep bowl.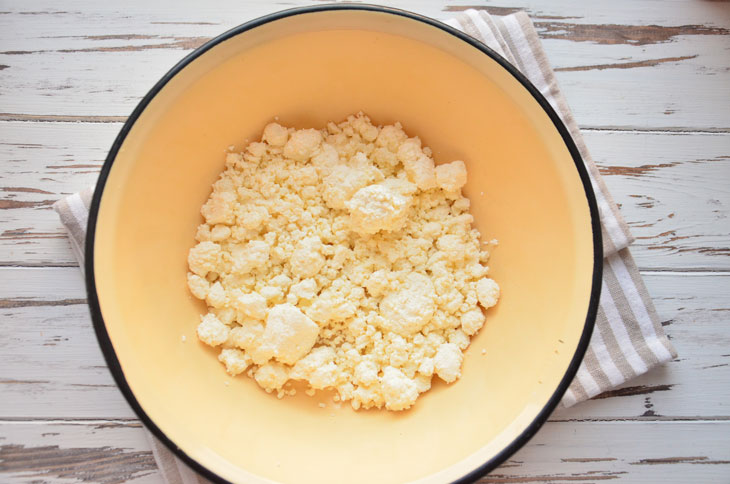 2. Beat a fresh chicken egg, preferably a large one, into a bowl with cottage cheese.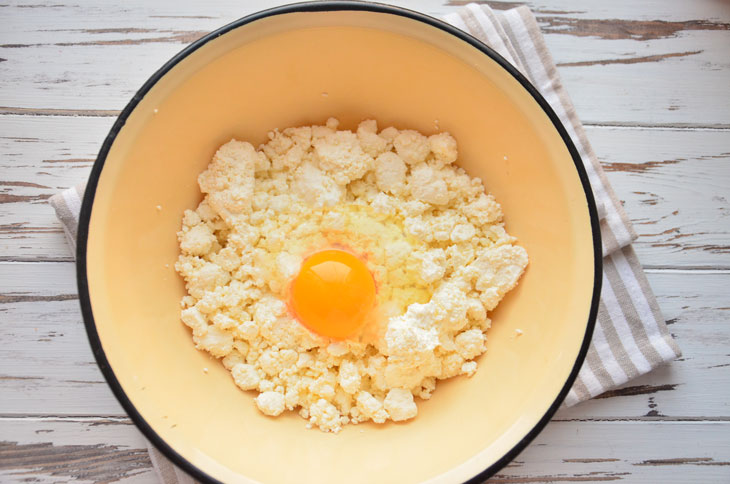 3. Now add granulated sugar and a pinch of salt for flavor balance.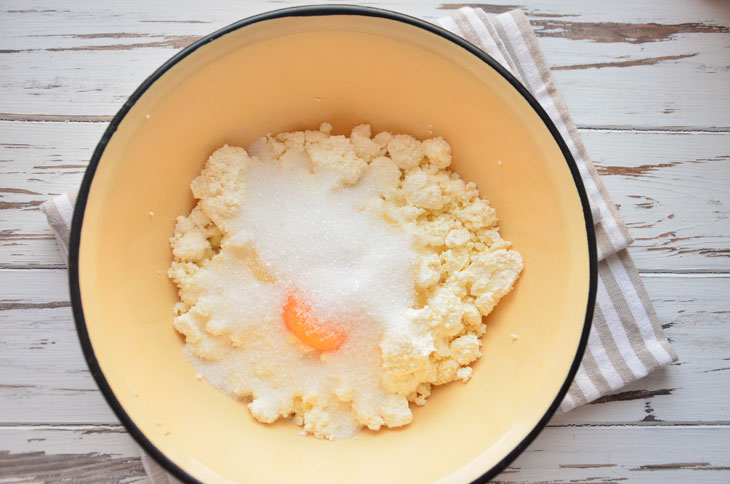 4. To make the curd mass for cheesecakes more homogeneous, you can lightly grind all the ingredients in a bowl using an immersion blender. If there is no blender, you can intensively rub everything with a tablespoon for 5-7 minutes.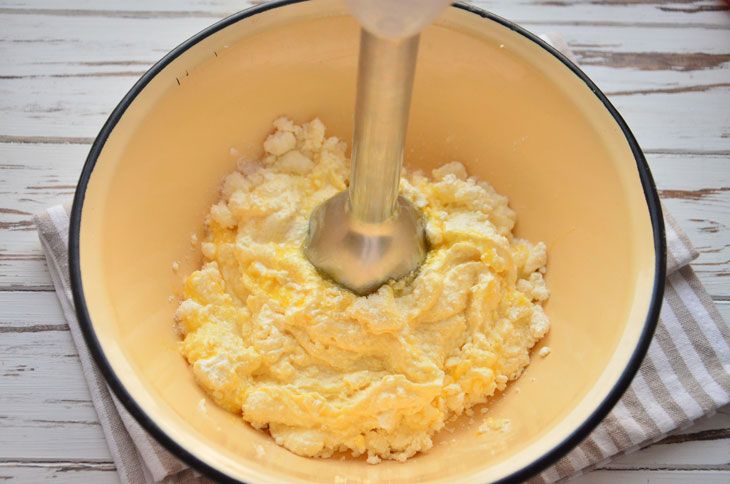 5. Now pour the sifted wheat flour into a bowl.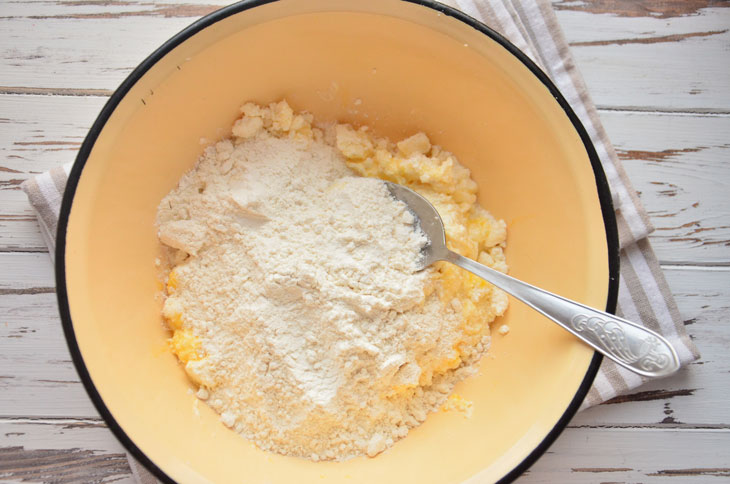 6. Continue stirring until the curd mass is as homogeneous as possible. Wash the strawberries, remove the sepals. Cut the berries into 2-4 parts, then send them to a bowl.
7. Gently fold the strawberries into the cheesecake batter. Heat a couple of tablespoons of refined oil in a frying pan.
It is more convenient to form neat cheesecakes with wet hands.
Put them in the pan.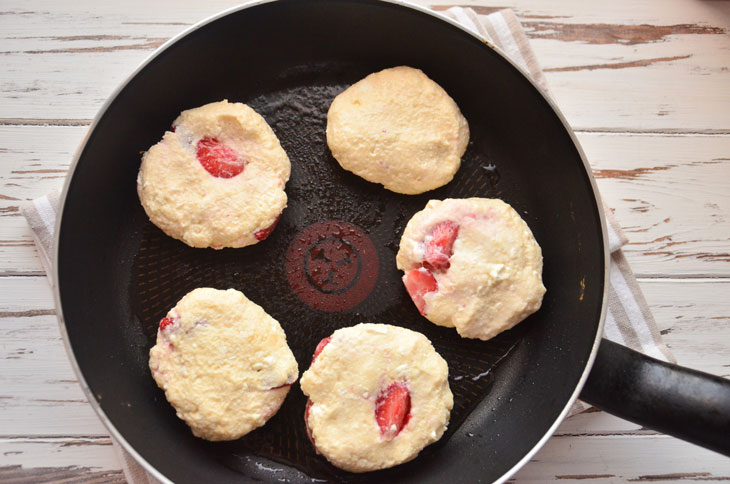 8. Fry on low heat for 3-4 minutes. Turn the cheesecakes over with a spatula and fry for another 3-4 minutes. Cover the pan with a lid.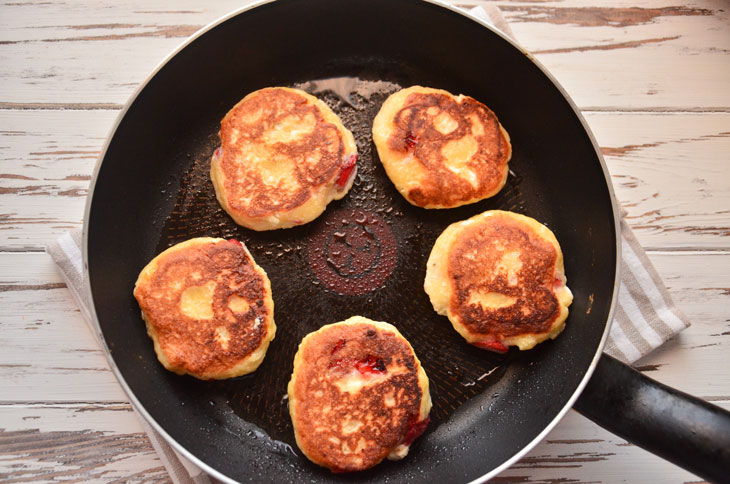 Serve the cheesecakes as soon as they are d1. It will turn out tastier if, before serving, sprinkle with powdered sugar, pour over sour cream or topping.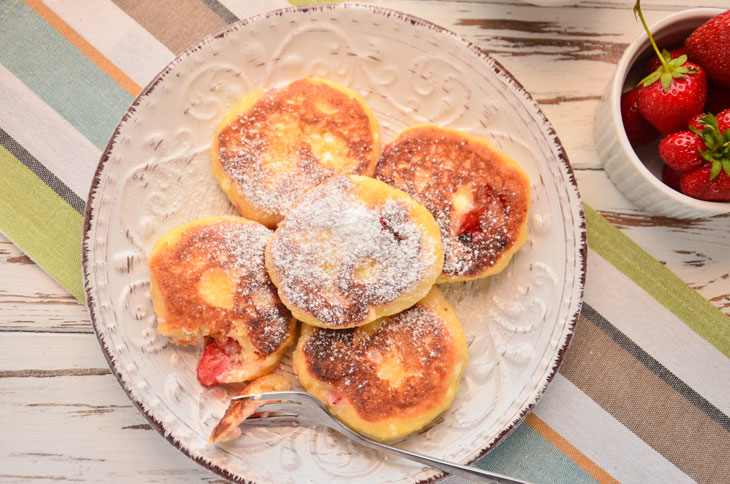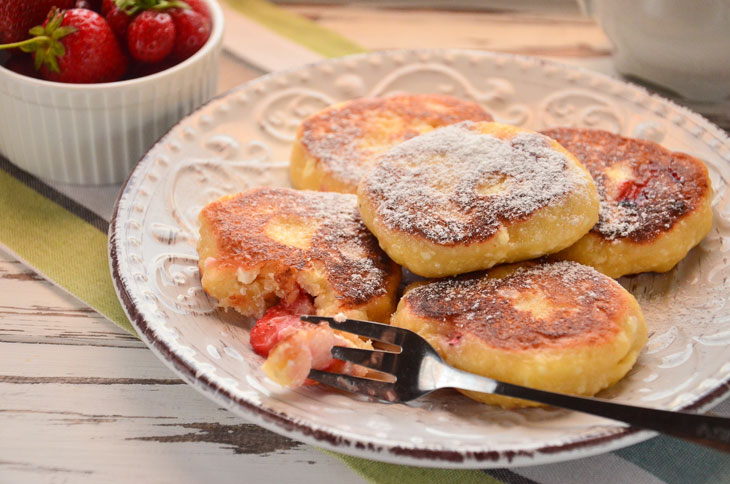 Enjoy your meal!