Spicy and spicy beef cooked in soy sauce with vegetables is a real must-have for a romantic dinner with the family. This dish looks absolutely amazing. The taste of the meat is both juicy and soft, thanks to the marinade and frying in starch. If you are not yet a fan of Chinese food, then you definitely need to try cooking this dish.
Ingredients:
Beef tenderloin – 300 g.
Onion bulb – 100 g.
Red bell pepper – 100 g.
String beans – 100 g.
Fresh garlic – 4-6 cloves.
Soy sauce – 100 ml.
Rice vinegar – a couple of tbsp. l.
Starch – as needed.
Black pepper, red pepper, paprika – to taste.
Vegetable oil – for frying.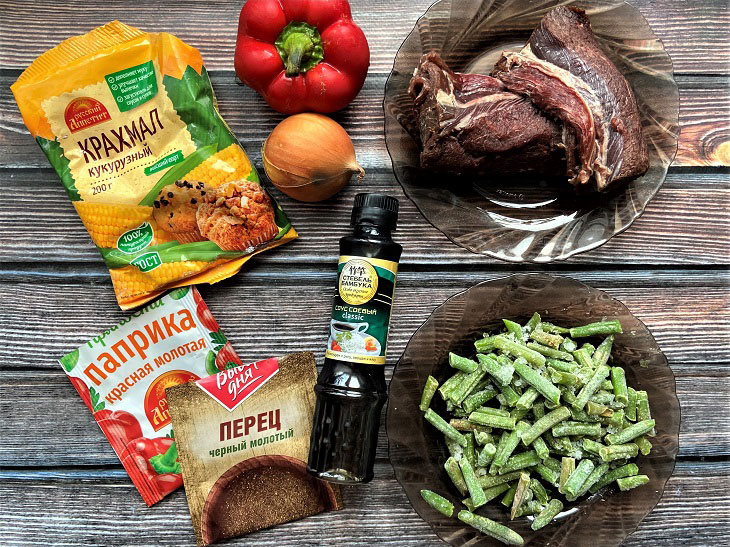 How to cook:
1. First of all, you need to cut the meat. Using a sharp knife, cut the tenderloin into strips, it is best to do this along the fibers.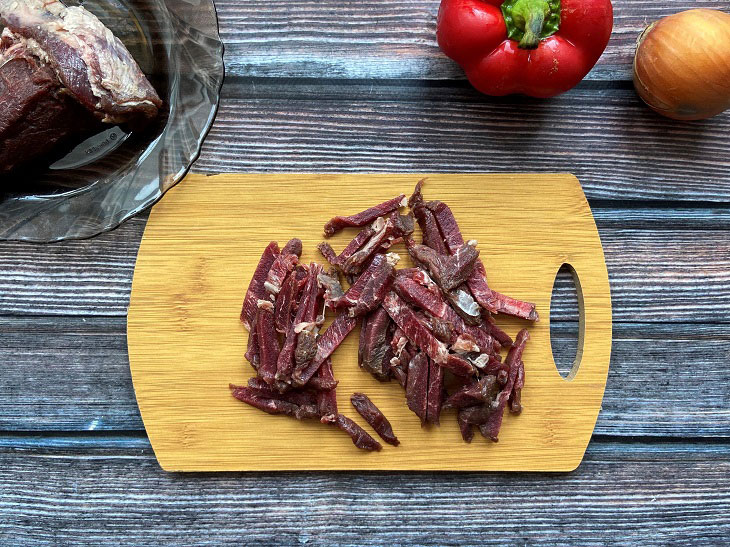 2. Pour soy sauce into a bowl, about half of the total.
3. Pour a couple of tablespoons of rice vinegar to the soy sauce.
If you do not have such a product, then do not rush to replace it with table vinegar. It is better to take apple, it is more gentle and not so sharp in smell.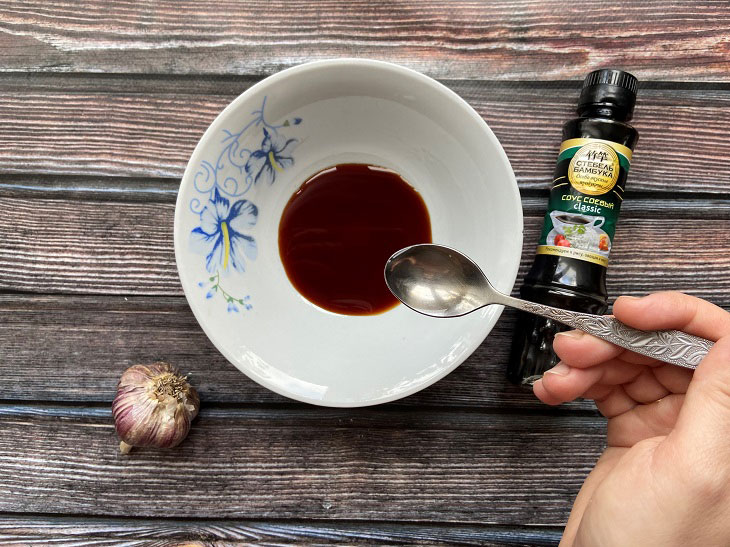 4. Mince the garlic and add to the bowl with the soy sauce. You can use two or even four cloves, depending on your taste.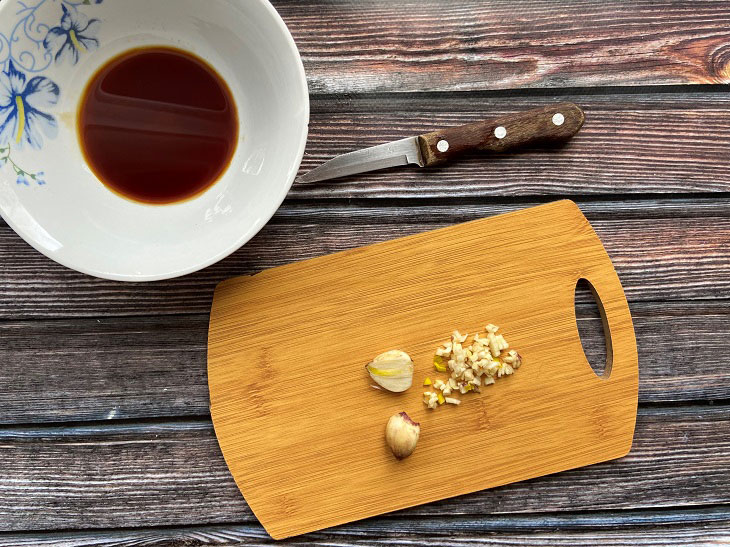 5. Pour this dressing over the meat and mix well. Salt is not required, as soy sauce itself is quite salty.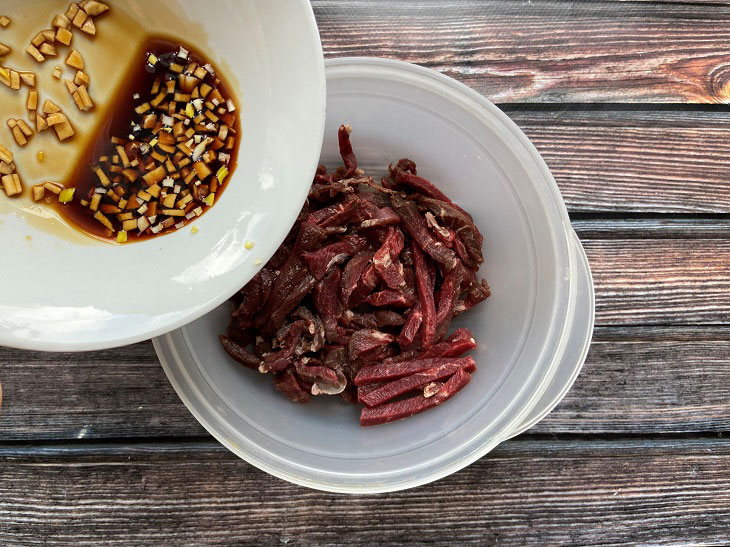 6. But you can add paprika to the meat, as well as black pepper. These spices will add piquancy and bright flavor to your dish. After you have added spices to the meat, you need to marinate for about forty minutes.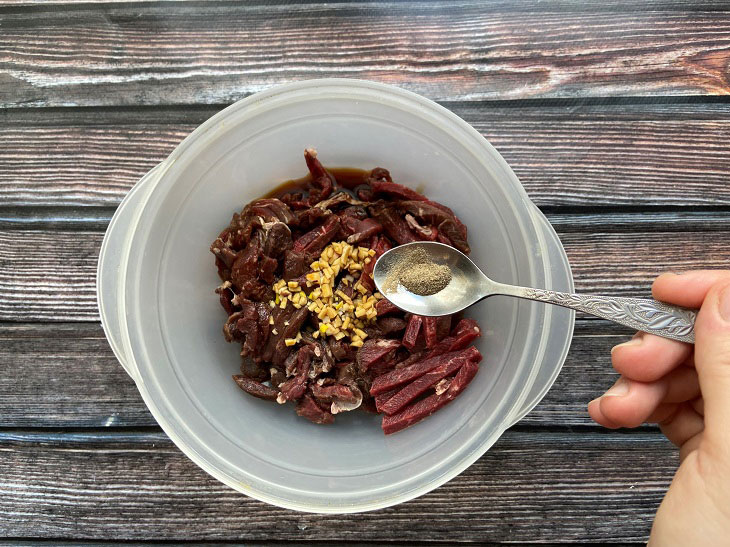 7. Sweet peppers should be taken in bright red or yellow colors – these are the colors used in traditional Chinese cuisine. Moreover, this way the dish will look more appetizing. Peppers need to cut off the stalk and cut the pulp into strips.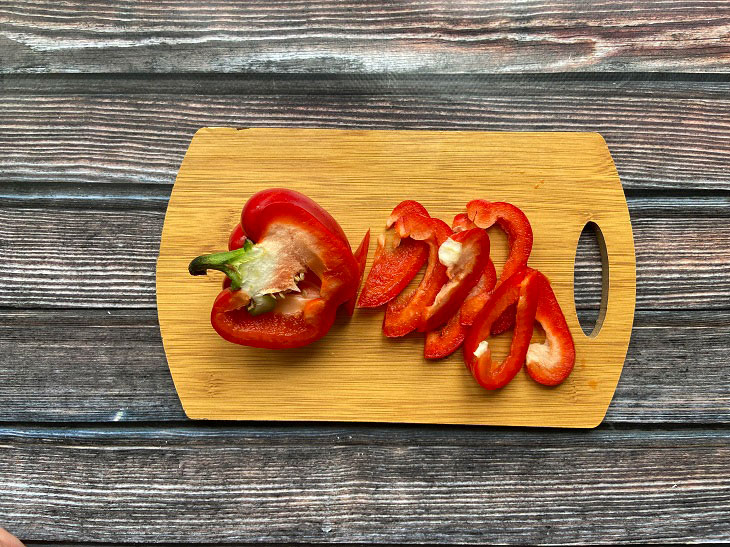 8. Onions are also peeled and cut into large pieces, it is better if they are half rings, or something similar.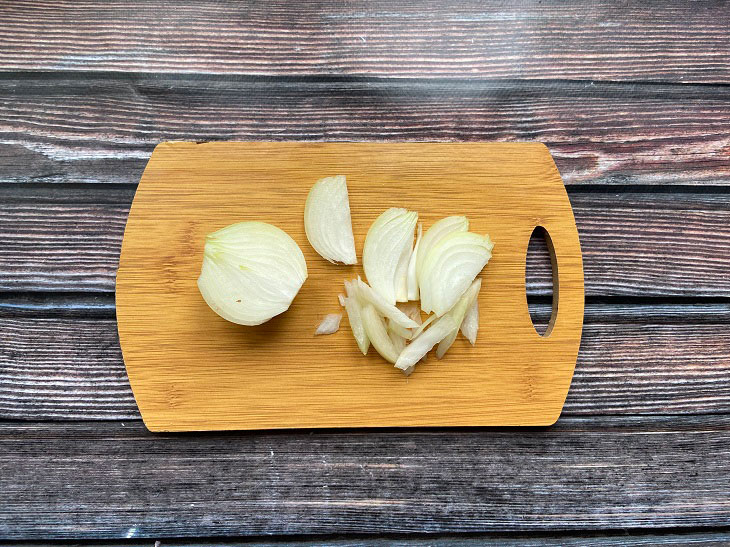 9. You also need to prepare the dressing. To do this, mix the garlic. soy sauce, and hot chili peppers.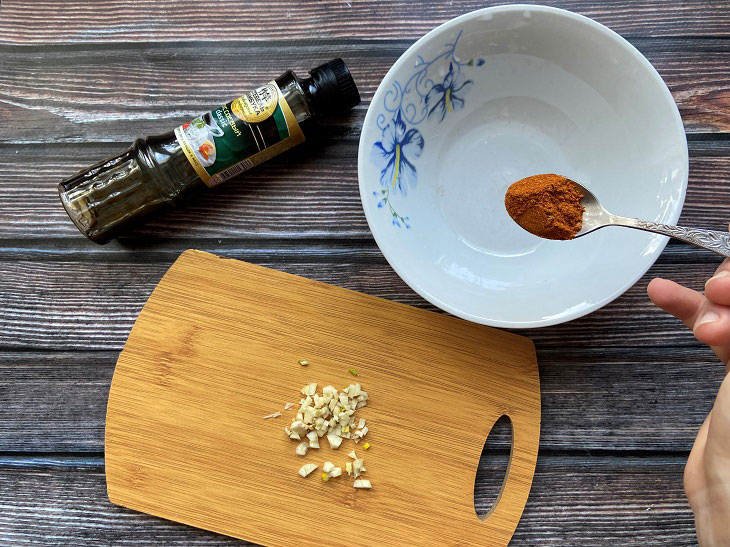 10. Before frying, each piece of meat must be rolled to starch. It will not allow the juice to flow out and the meat will turn out to be the most tender and soft.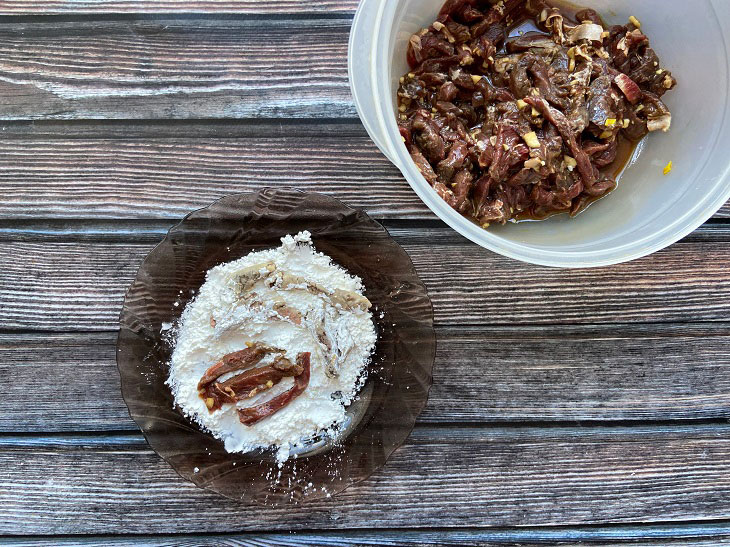 11. Fry the meat in a large amount of oil and stirring. When the beef becomes with a beautiful fried crust, it should be removed from the pan.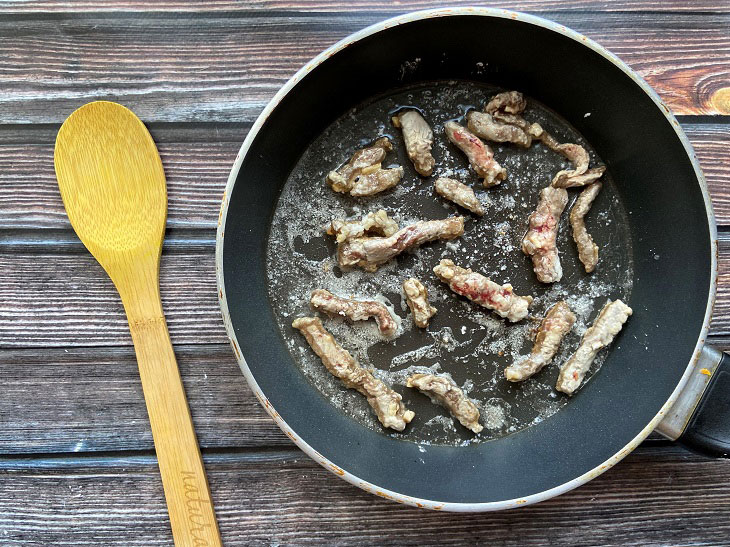 12. When the meat has already been taken out, you need to add a little vegetable oil and pour Bulgarian pepper into the pan. Fry it for a couple of minutes.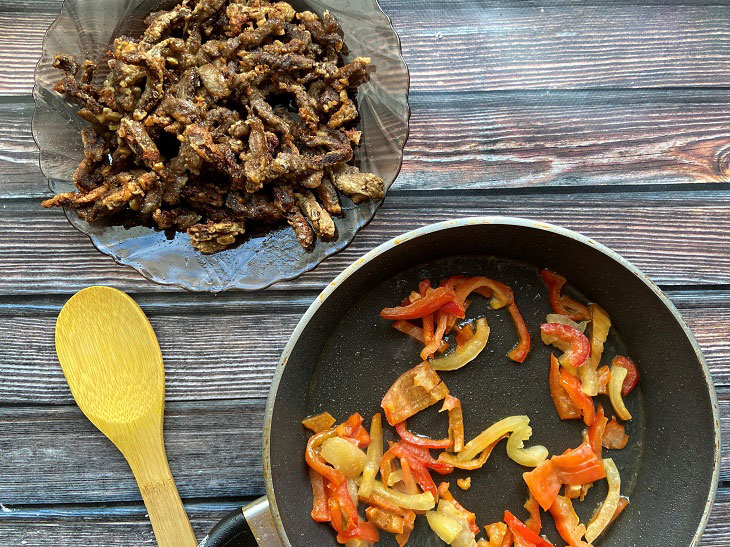 13. When the pepper becomes soft, add the onion to it. Saute vegetables together for about 3 minutes.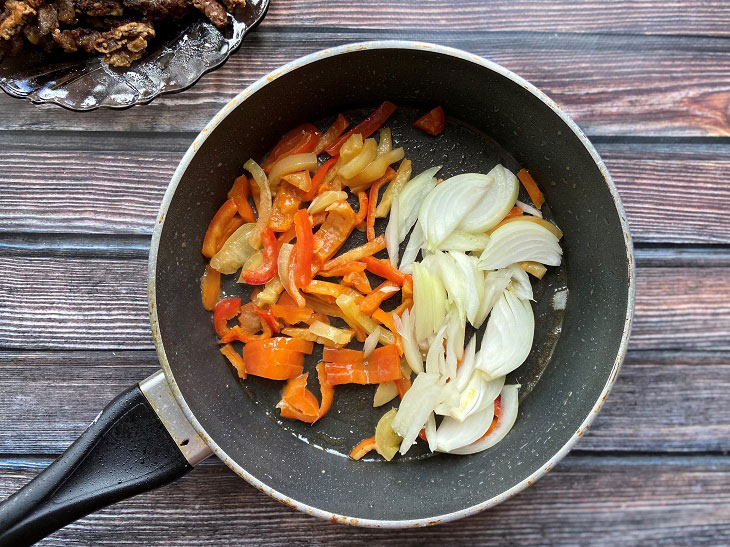 14. When the pepper becomes soft, add the onion to it. Saute vegetables together for about 3 minutes.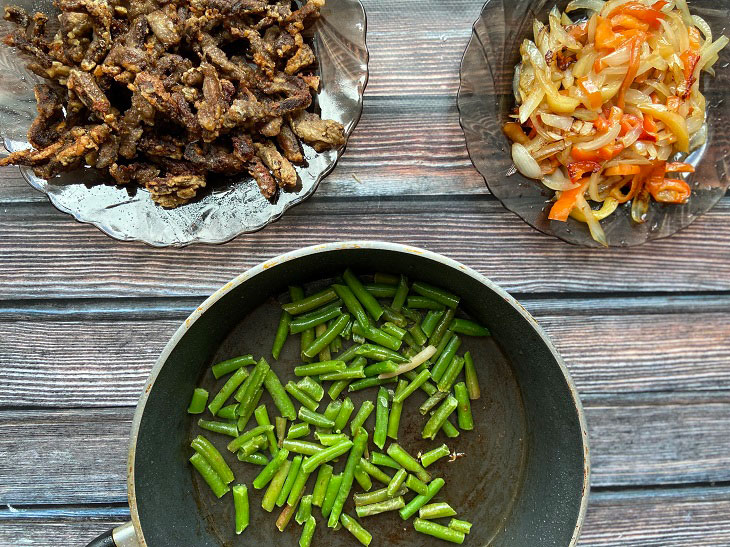 15. Now it remains to combine all the ingredients together and add the red pepper sauce that you prepared in advance.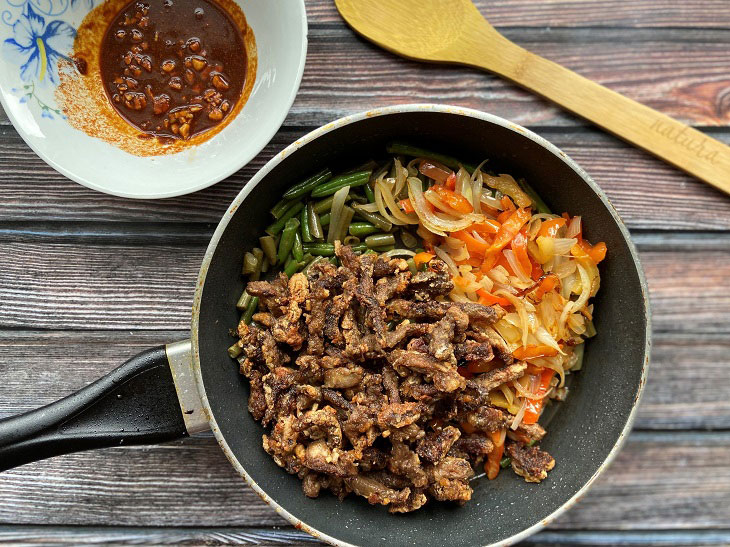 This dish is best served warm. It can be consumed without a side dish, as it already contains enough vegetables.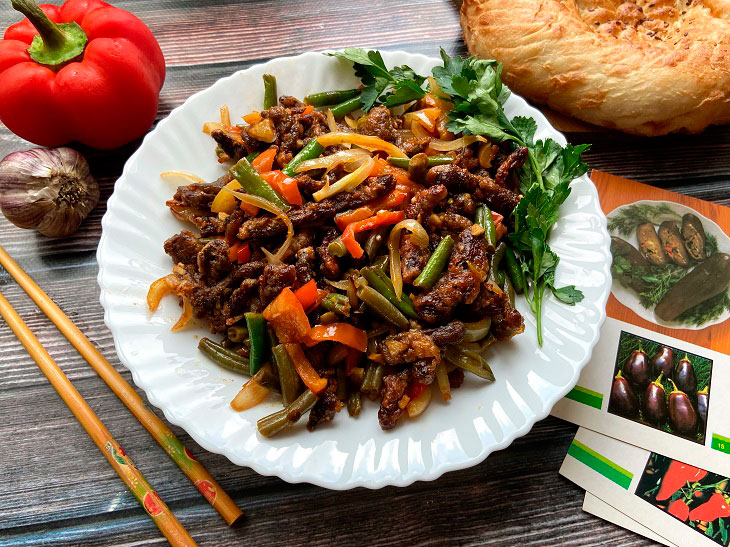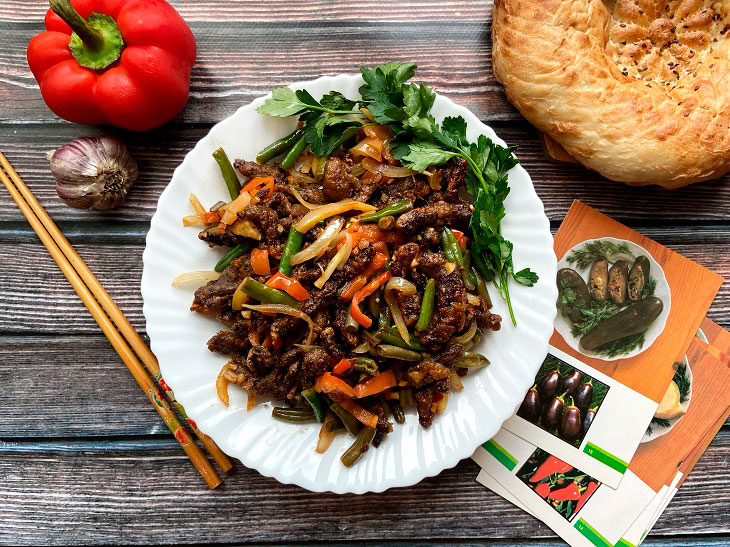 Bon appetit!