Tuna is a valuable commercial fish, whose meat is considered a delicacy in many countries. But, since, as we just mentioned, tuna meat is a delicacy, the cost of this fish is quite high. Therefore, fresh red tuna dishes are included in the menus of leading restaurants, for example, tartare, canapes or ceviche are prepared from it.
Well, in supermarkets you can buy canned tuna – in its own juice, in oil, in one piece or in small pieces. But buying salted tuna is quite difficult. But, you can pickle tuna at home using our recipe. Moreover, it is absolutely easy to do so.
You only need three ingredients – the tuna itself, salt and sugar.
By this method, you can pickle other red fish: salmon, chinook, salmon, etc.
Do you know?
Red tuna meat contains a lot of iron (11 mg of iron per 1 kg of fish).
White meat, from which canned food is made, is fatter and denser, less watery.
Ingredients:
Frozen red tuna meat (fillet) – 500 g.
Salt – 5 tbsp. l.
Sugar – 2 tbsp. l.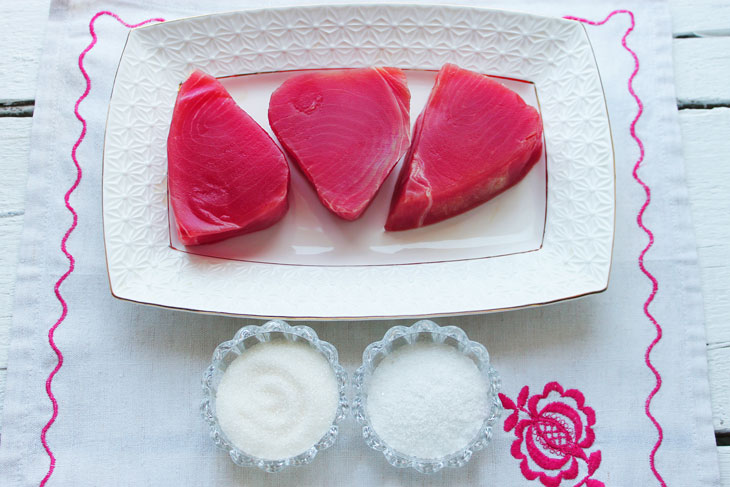 How to cook:
1. Defrost the tuna meat. It is not necessary to wash the fish after defrosting, just pat it dry with paper towels. Tuna, as a rule, is sold in the form of portioned pieces, so it is not necessary to cut it. Mix salt and sugar in a bowl.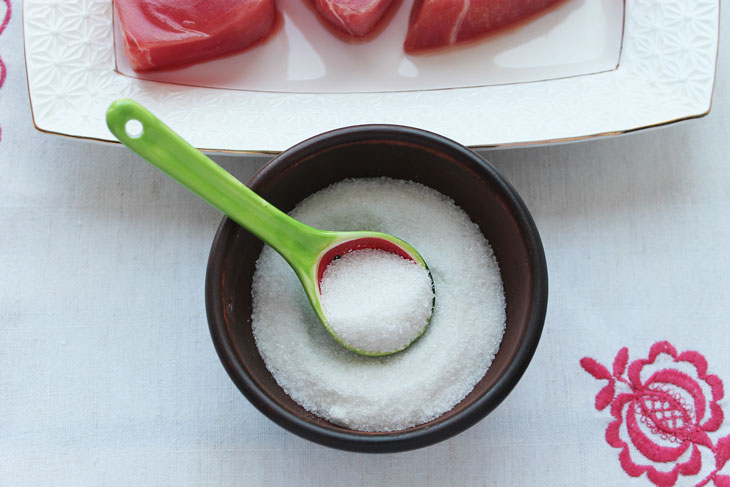 2. Prepare dishes for salting. It can be, for example, a ceramic or glass mold. Pour half of the mixture of sugar and salt in an even layer into the salting container.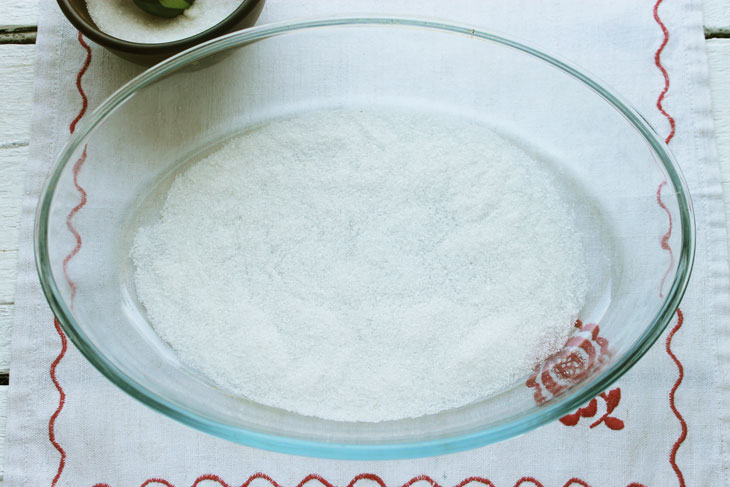 3. Lay out the fish.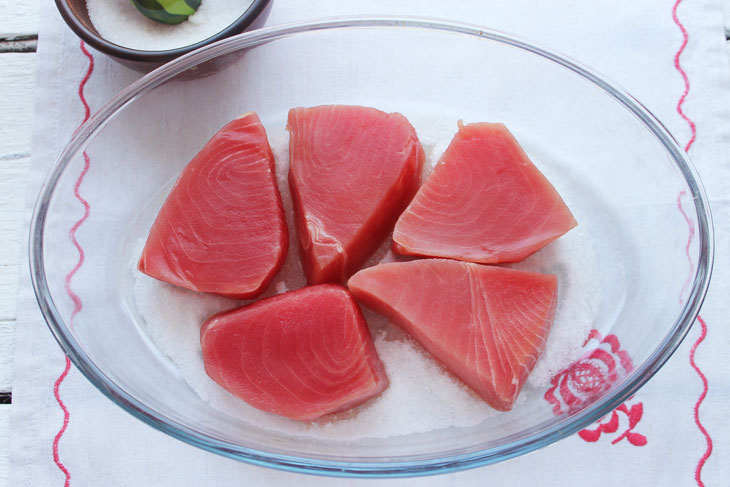 4. Pour the rest of the mixture over the tuna.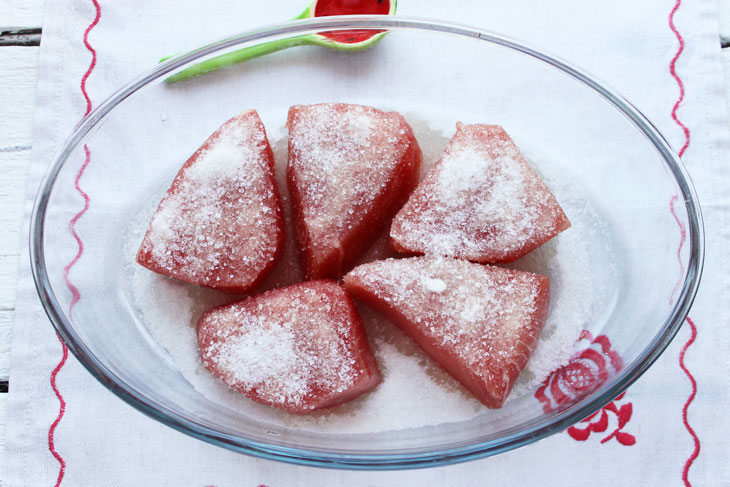 5. Tighten the container with tuna with cling film and refrigerate for a day. After 12 hours, turn the pieces of fish over.
After the specified period, drain the liquid formed during salting. And use tuna pieces to make salads or sandwiches.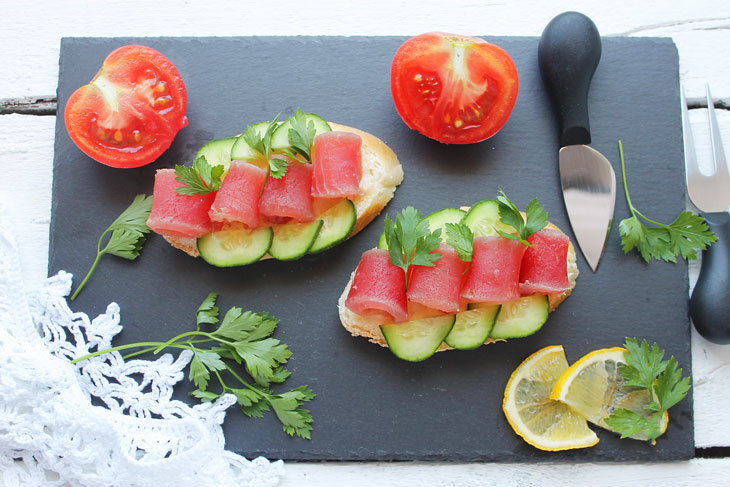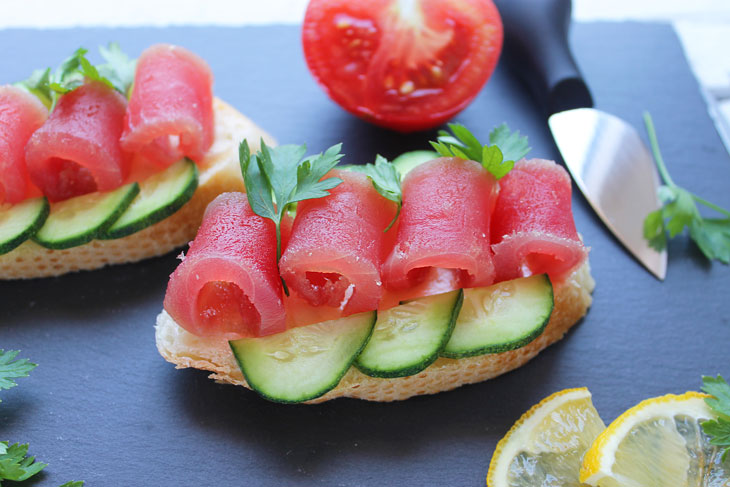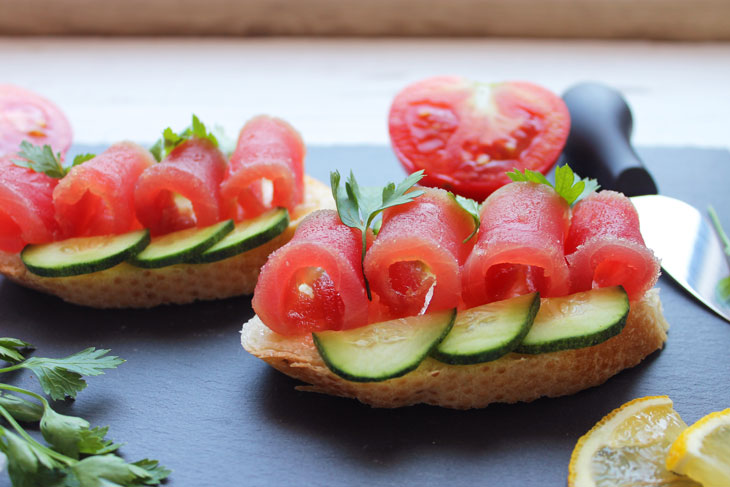 Bon appetit!