How do you pickle cabbage? Grind with salt, add carrots, apples or lingonberries, or maybe you even prefer instant recipes with vinegar? Each housewife has her own recipe, tested over the years. We will share one of these with you today – we will tell you how to ferment cabbage in brine so that it is crispy and very tasty.
Cabbage forks need to be chopped and mixed with grated carrots. Then tamp into a 3-liter jar, pour salt into it and pour water from the tap. Sour cabbage for three days. Then drain the brine and boil, adding sugar to it. Refill the jar with cabbage and wait until it cools down. For more information on how to cook sauerkraut in brine, read the step-by-step recipe with a photo below.
Ingredients:
White cabbage – 1.5-2 kg (how much will go into the jar).
Carrots – 60 g.
Bay leaf – 1-2 pcs.
Black peppercorns – 4-6 pcs.
Dill seeds – 1 tsp
For brine:
Water – 1.2-1.5 liters (how much will go into the jar).
Non- iodized salt – 2 tbsp. l.
Sugar – 1 tbsp. l., add after 3 days of fermentation.
How to cook:
1. For sauerkraut, white cabbage is suitable, of course – late varieties!
Peel the forks from the top leaves, chop with a special or ordinary kitchen knife. Peel, rinse and chop one medium-sized carrot on a coarse grater (no need to put more carrots than indicated in the recipe). Mix everything, but do not grind and squeeze with your hands!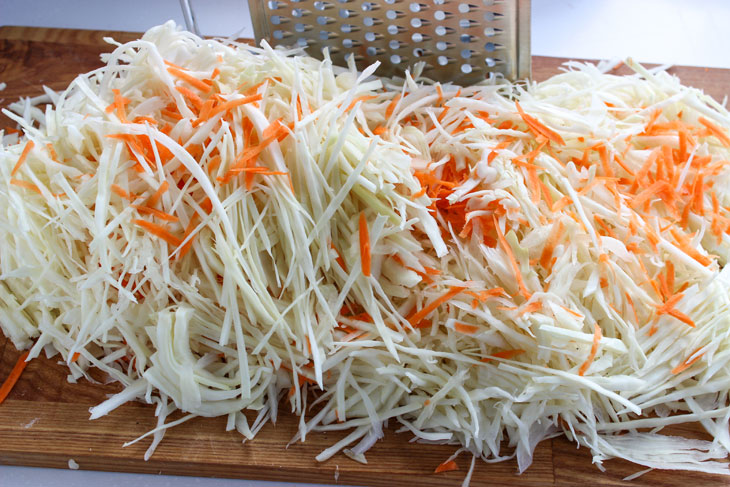 2. Transfer the vegetable mixture to a 3 liter clean jar that has been rinsed with baking soda. Pack tightly, tamp with your hands (but not hard) or with a wooden potato masher. Between the layers, add a couple of black peppercorns, a few small pieces of bay leaves and a little bit of dill seeds (this additive is optional, not everyone likes the taste, so it's up to you to add or not).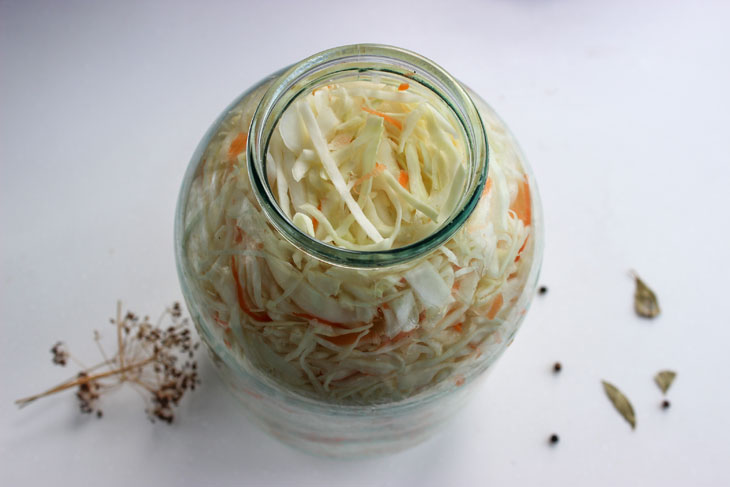 3. Fill the jar not to the very neck, but so that there is a small indent – by 2 fingers. Sprinkle 2 heaping tablespoons of salt on top of the cabbage. Salt is suitable exclusively non-iodized! Take the most common table rock salt of medium grinding.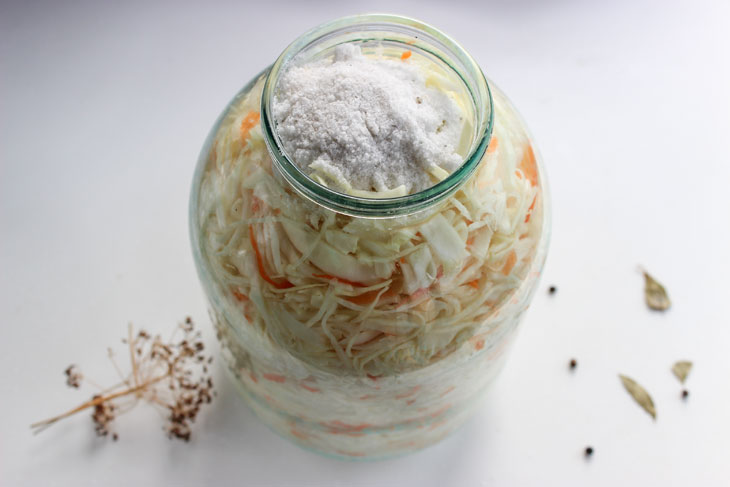 4.  Pour everything with water so that the liquid covers the cabbage completely and reaches almost to the neck. Depending on the packing density and how thinly you chopped the vegetables, you will need from 1.2 to 1.5 liters of water. What water to use? You can pour cabbage with raw water – from the tap, but only if you have water flowing in the city or in your home well that you can drink without boiling. If you doubt its quality, then take a spring. And the third option – you can play it safe and boil the water, and then completely cool it to room temperature. Which option you choose will affect the fermentation process, if you use raw water, the process will be more active, if boiled, you will have to wait a little longer until the cabbage ferments.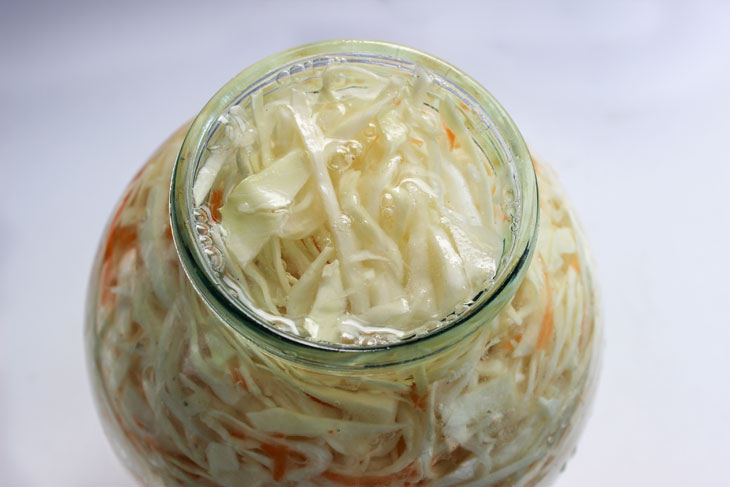 5. When you fill it with water, immediately poke it with a long wooden skewer so that the brine (and the salt will dissolve in the water gradually) goes to the very bottom and soaks all the cabbage. Cover the jar with a lid (but do not close it!) Or gauze folded in several layers. Place a deep plate under the bottom to drain the brine, which will rise and drain through the neck of the jar. In this form, leave the cabbage somewhere in a secluded place in the kitchen, where it is not too hot (up to 20 degrees) and it has not peroxide. Sour 3 days. Poke it every day with a wooden skewer or spoon to the very bottom – you need to release gases so that they do not accumulate and the cabbage does not taste bitter. Drain the brine that will drain into the bowl back into the same jar.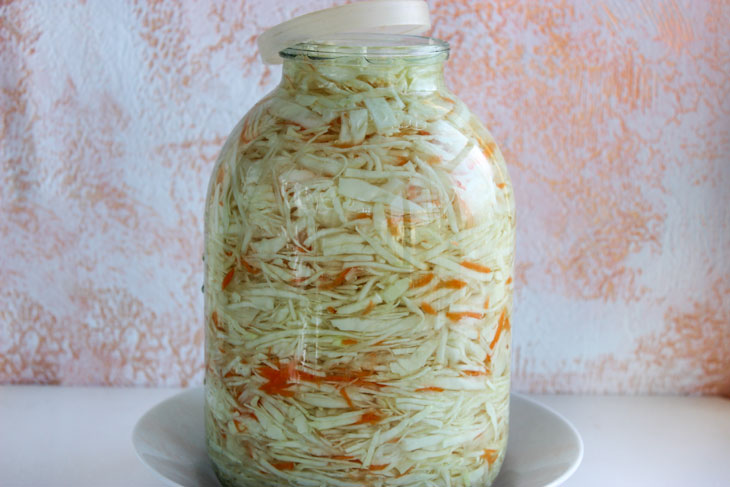 6. On the 3rd day, drain all the brine from the jar into a large saucepan. Pour 1 tablespoon of sugar into it and boil (be sure to remove the foam!). Pour the cabbage in the jar with hot brine (that is, with the same brine that you boiled – after boiling, pour it into the jar again). Cover the top with a saucer and wait for the cabbage to cool completely.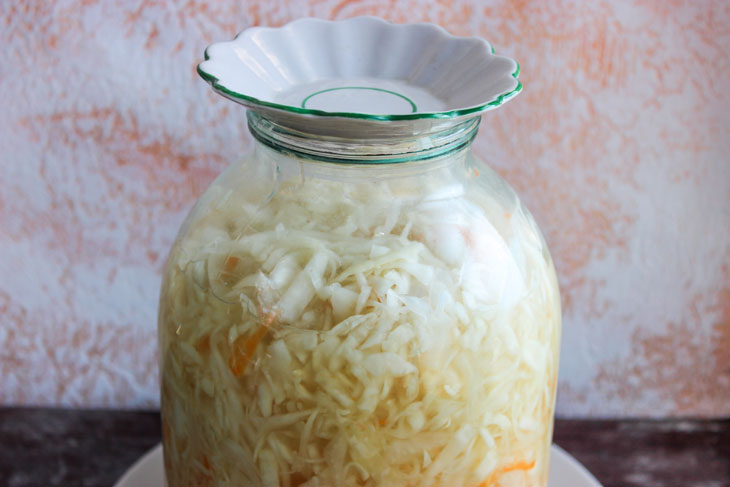 7. Then you can send the jar for storage in the refrigerator. And you can immediately treat yourself – take a portion of sauerkraut from a jar, decant the brine, add chopped onion and season everything with fragrant homemade oil. And finally, one more piece of advice: if you want the finished cabbage in the jar to stand longer and not change in taste, then pour a spoonful of vodka on top, close it with a nylon lid and put it in the cold for storage.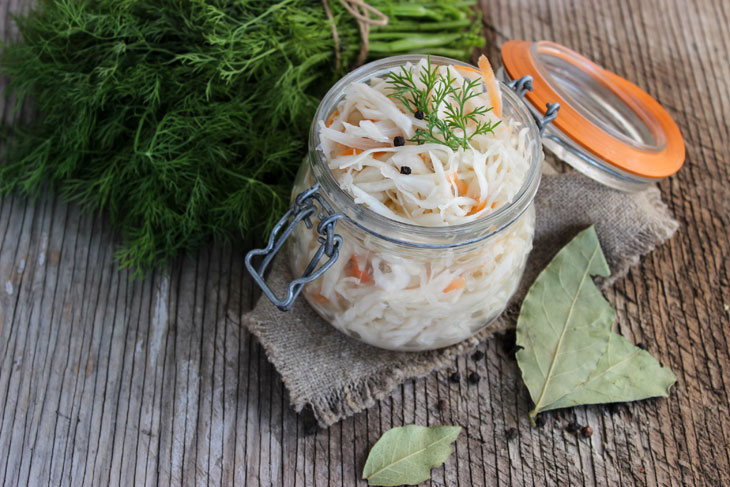 Enjoy your meal!