Khychiny (stuffed cakes) is a national dish of the peoples of the North Caucasus. Products can be served as an independent dish or instead of bread. The dough for khychin is kneaded with kefir and flour. For the recipe, it is important to choose high-quality flour with a high degree of gluten – this is a guarantee of a strong dough.
Khychiny are prepared with fillings, which include cheese. You can use such combinations – boiled potatoes + cheese, garlic + herbs + cheese, minced meat + cheese + fried onions. For the filling, you can choose hard cheese with a classic taste and (or) young cheeses such as "Adyghe" in various proportions and combinations. Products are formed in the form of a thin cake of a round shape. Khychins are fried in a dry frying pan, and when served, they are smeared with butter.
Ingredients:
Fatty kefir – 115 ml.
Flour – 150-170 g.
Baking powder – 12 g.
Adyghe cheese – 80 g.
Hard cheese – 50 g.
Butter – 20 g.
Potato – 130 g.
Greens – 1 g.
Bay leaf – 1 pc.
Granulated garlic – 1 g.
Salt, pepper – to taste.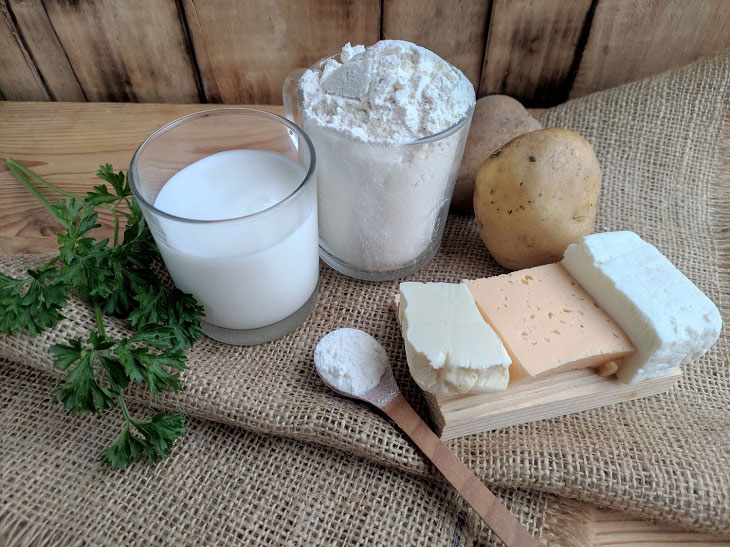 How to cook:
1. Kefir is heated in a microwave oven to 40°–50°.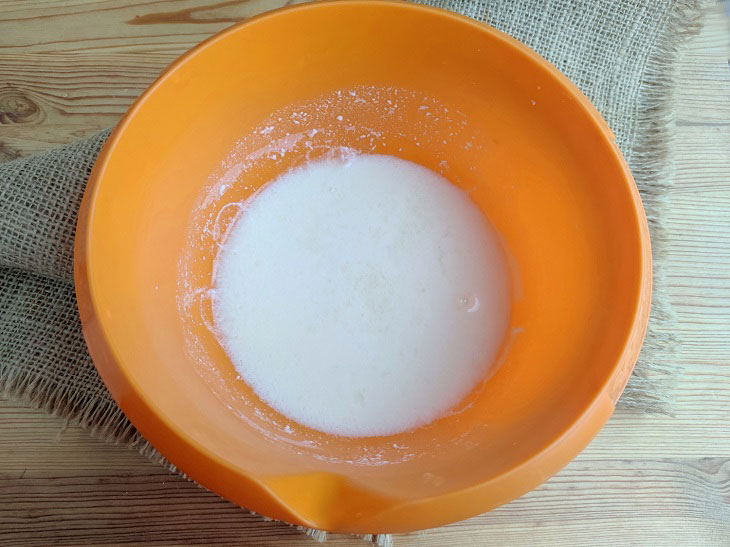 2. Pour the baking powder, a little salt and part of the sifted flour (120 g).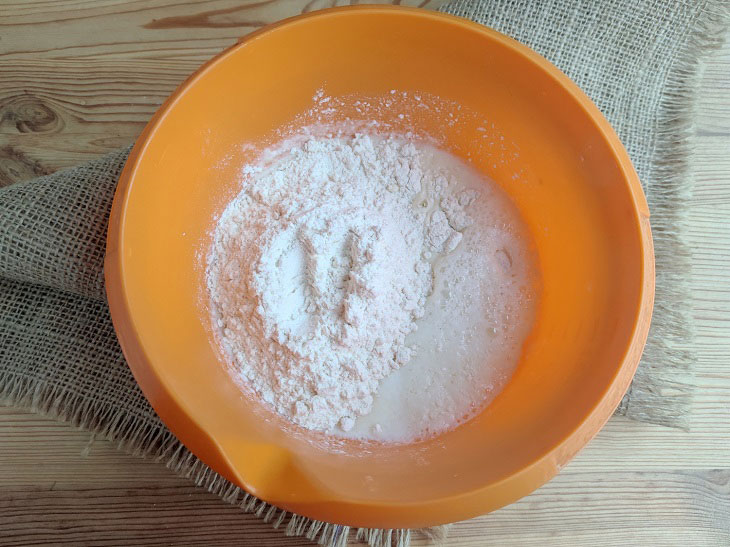 3. Knead the dough with a spoon. Knead the dough on a hard board, gradually adding the remaining flour. The dough should be soft and not sticky. Cover the dough with a bowl and leave for 10 minutes.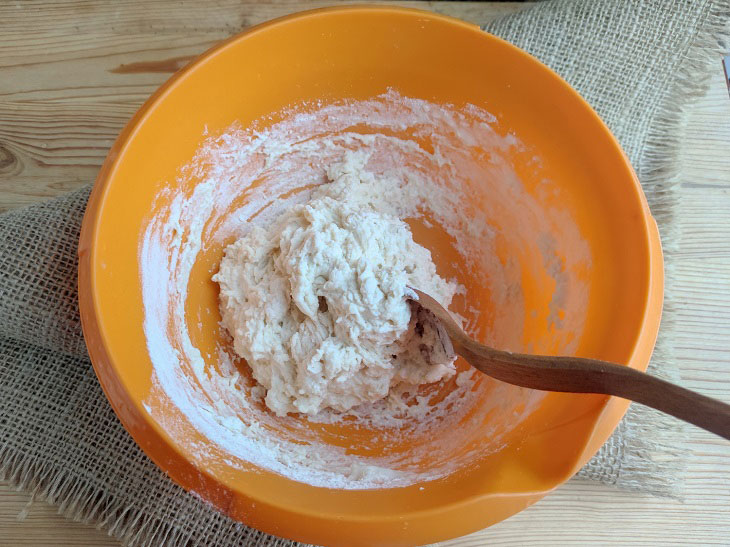 4. Remove skin from potato tubers. Boil vegetables in water with bay leaf and salt. Drain the water, mash the potatoes with a potato masher.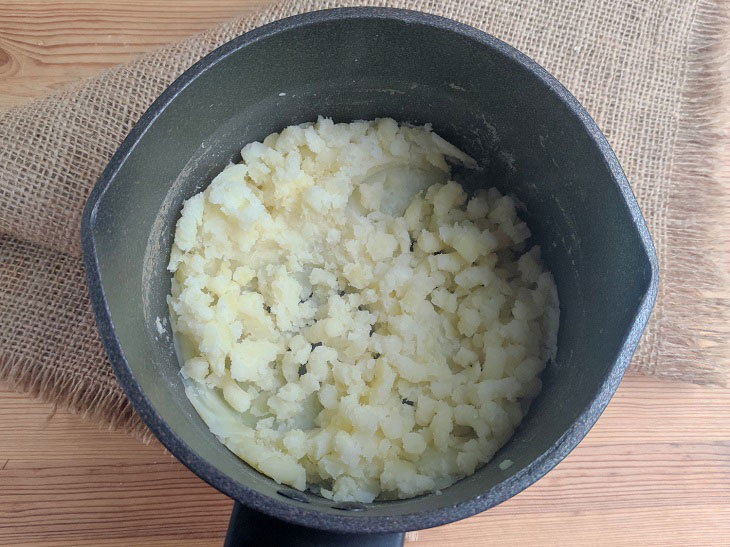 5. Grind the cheeses with a grater.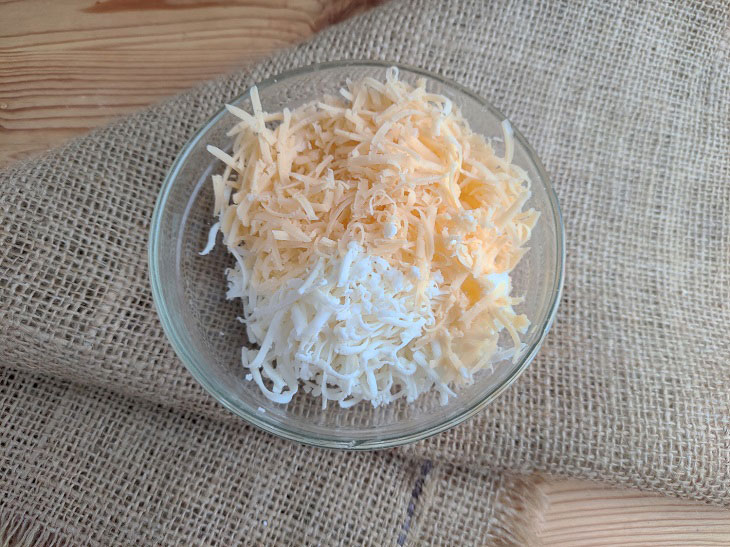 6. Pour the cheese ingredients into the hot potatoes. Add chopped herbs, garlic, salt, pepper. Mix stuffing.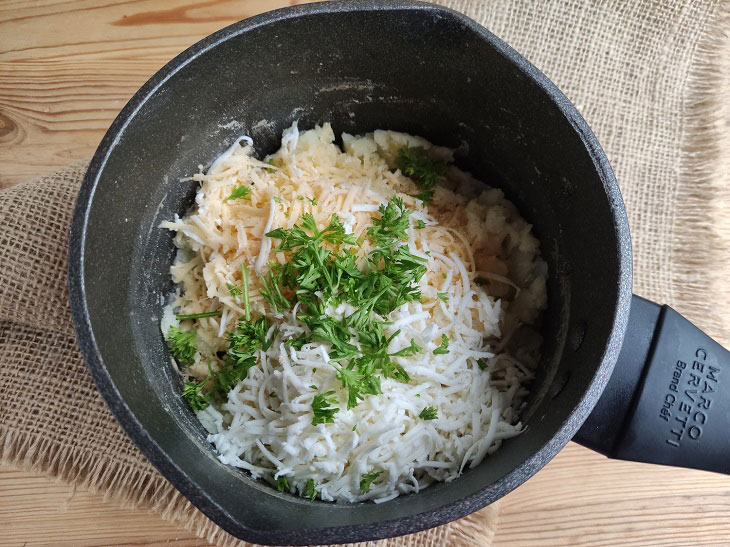 7. Divide the dough into 4 parts.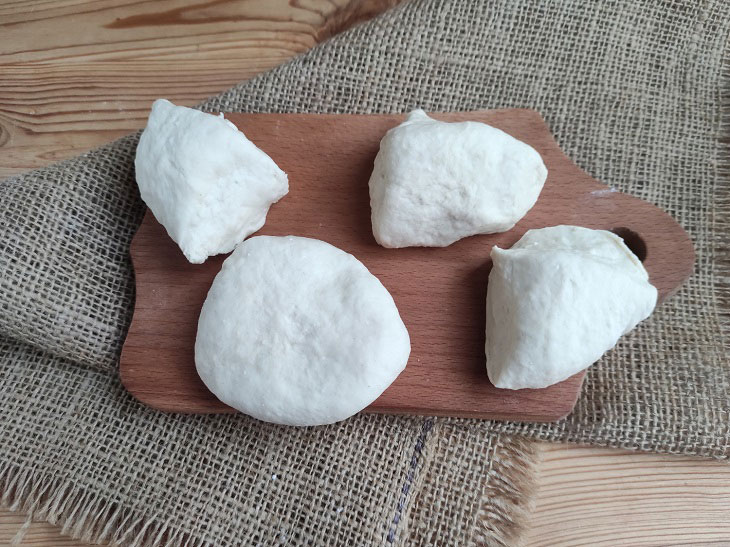 8. Roll out each part into a cake. Place ¼ of the filling in the center.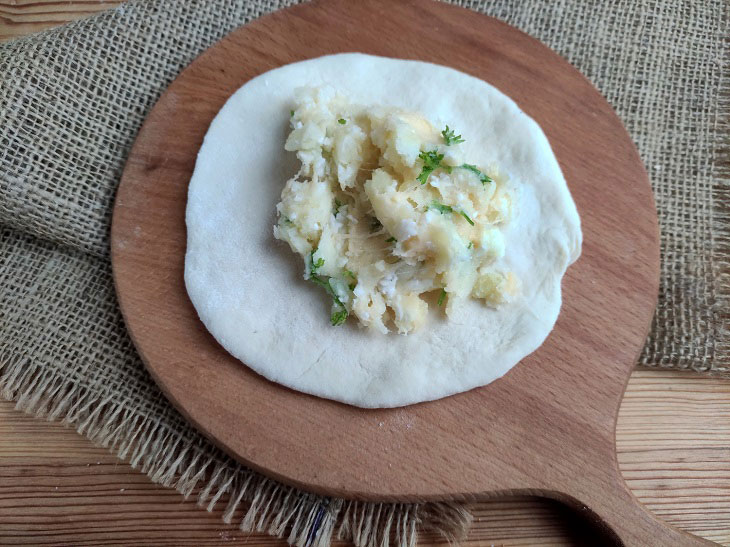 9. Blind the edges as in the photo.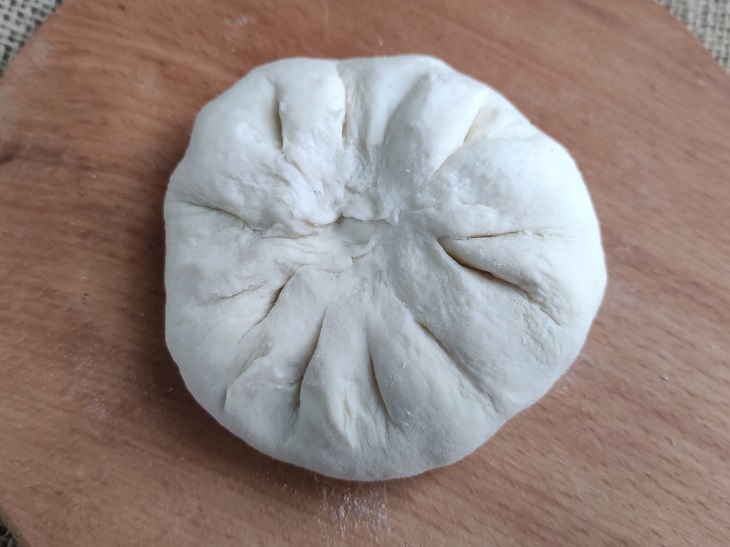 10. Turn the product over, flatten with the palm of your hand. Carefully, being careful not to damage the dough, roll out the cake to a diameter of 20 cm.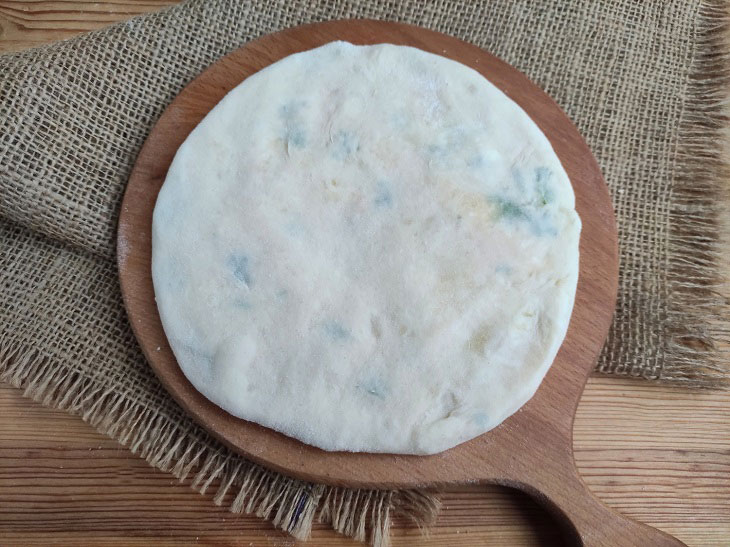 11. Fry the tortilla until brown appetizing spots appear in a dry frying pan for about 2 minutes per side.
Khychins can inflate, after cooling, the finished cakes will settle.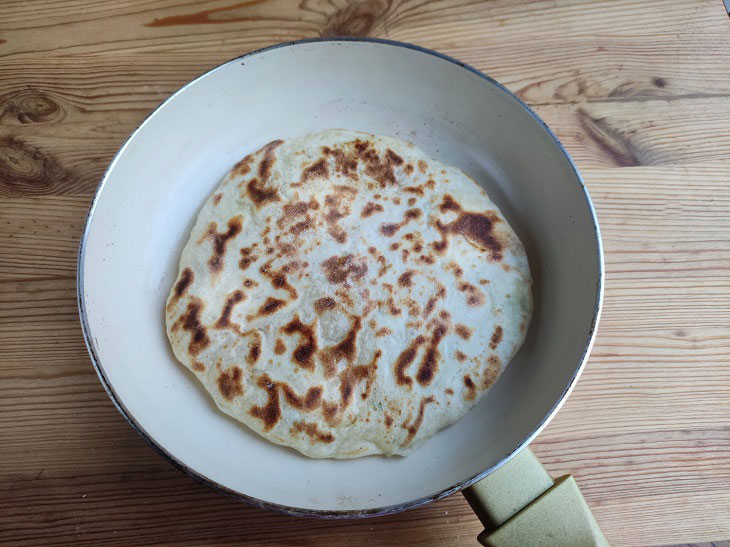 12. Transfer the products to a serving plate, generously grease with melted butter, pay special attention to the edges. Fold the hychins in a pile and cut into small portions when serving.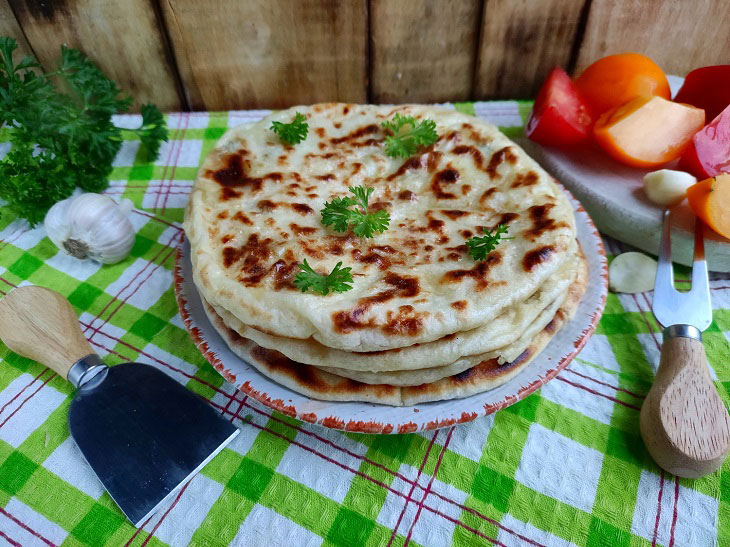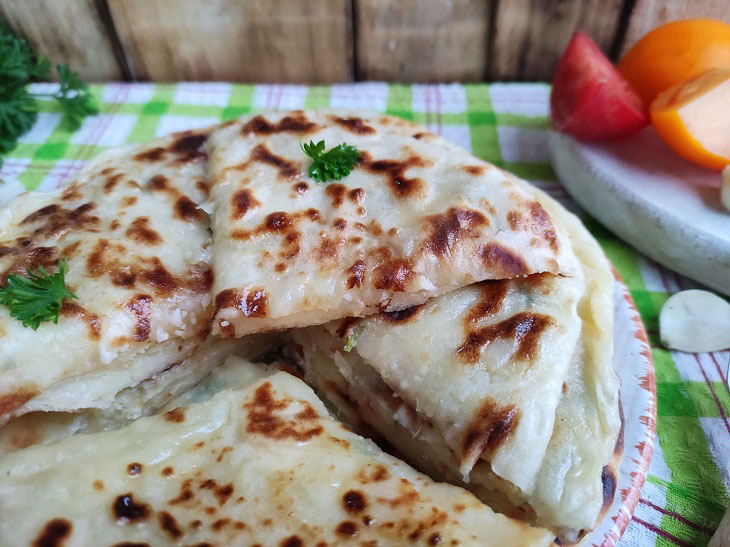 Bon appetit!