One, two – voila! Just some 20 minutes of your time and the Christmas tree avocado appetizer is ready. This dish will decorate any festive table, especially New Year's or Christmas.
The "protagonist" of the proposed snack is a tropical avocado. Because avocados have a neutral flavor, they pair well with many foods. In this case, with spicy red onion, lemon juice, tender sour cream and pink pepper. As a substrate, you can use figuratively cut slices of white bread, crackers or puff pastry baskets. But, in the latter case, you still need 20 minutes of extra time.
If you use puff pastry baskets as a substrate, then you will need to roll out 350 g of dough into a layer 3 mm thick. Then cut into 10 squares and line them with cupcake tins. Pour dry peas on the bottom of the molds and bake the baskets at 200 degrees for 15 minutes.
Ingredients:
Avocado – 1 pc.
Red onion – 1 small head.
Lemon is half.
Sour cream 20-25% fat – 150-170 g.
Ground black pepper – to taste.
Pink peppercorns – 2 tbsp. l.
Salt – to taste.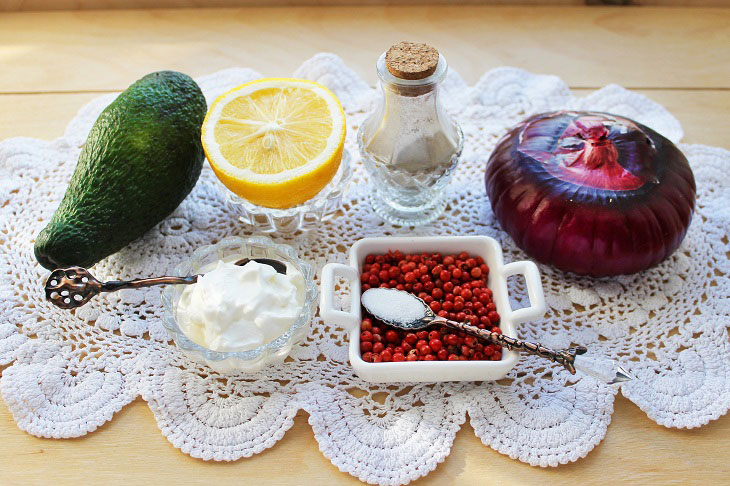 Cooking time: 20 minutes. Yield: 5 servings (2 pieces per serving).
How to cook:
1. Cut one thin circle from half a lemon, you will need it to decorate the dish.
Peel the onion, rinse and chop very, very finely.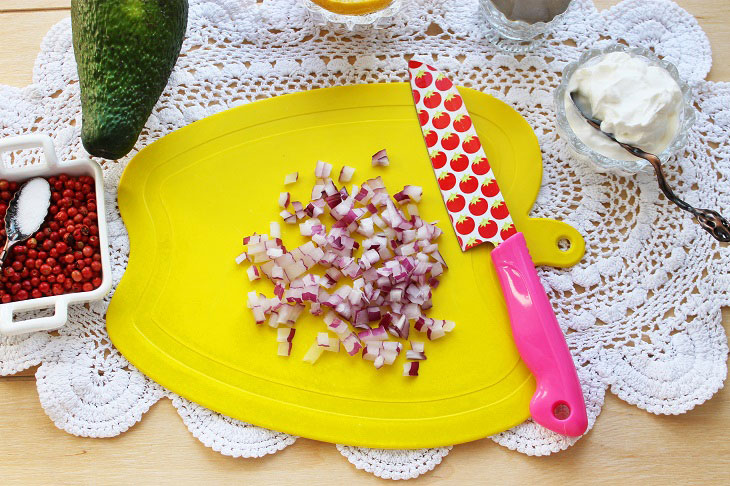 2. Wash the avocado. Cut in half lengthwise. In one of the halves there will be a b1.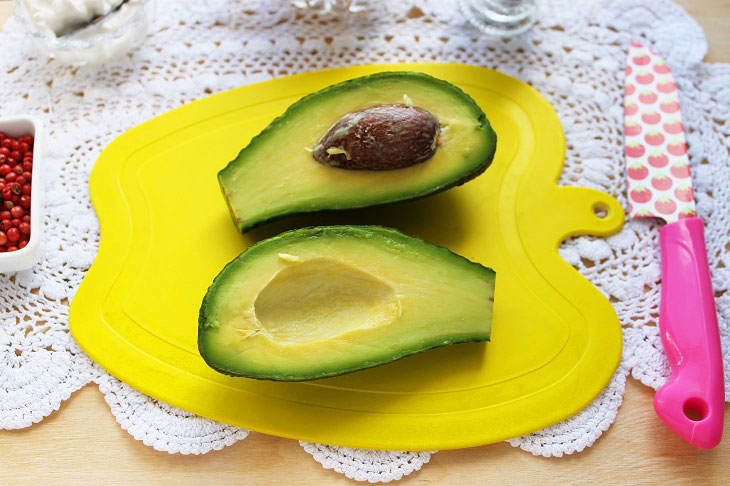 3. To remove a pit, strike it with the blade of a knife and pull it out.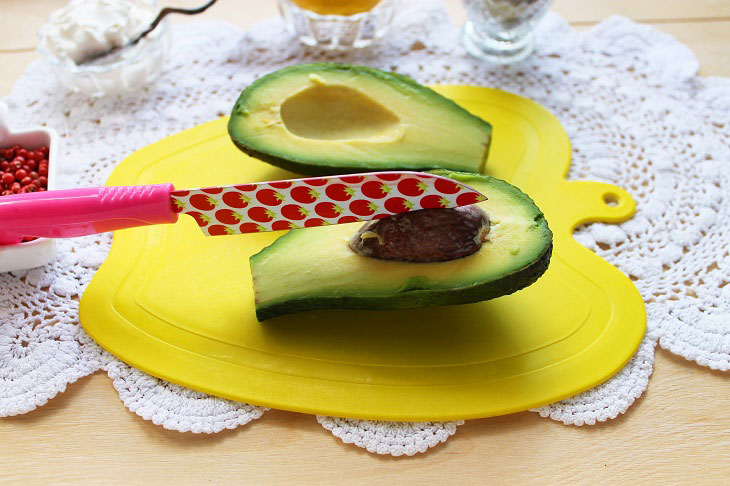 4. Remove the pulp from the peel with a spoon. Then mash the pulp with a fork and immediately squeeze the juice from half a lemon into a bowl. Stir.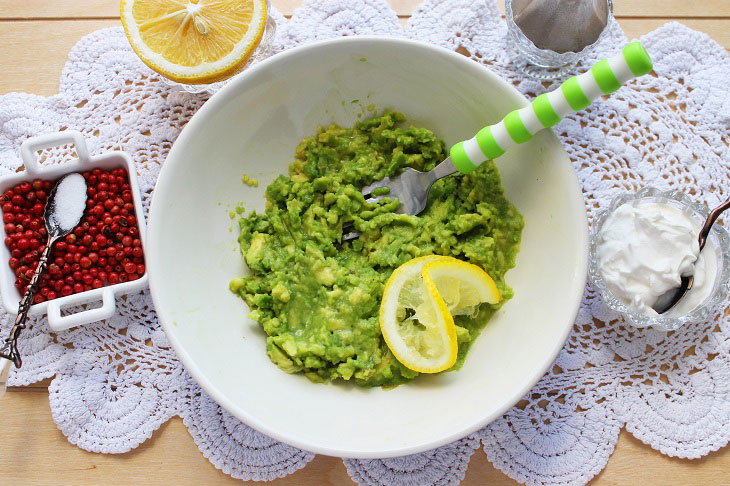 5. Add chopped onion and 1 tablespoon pink peppercorns to the avocado. Stir again.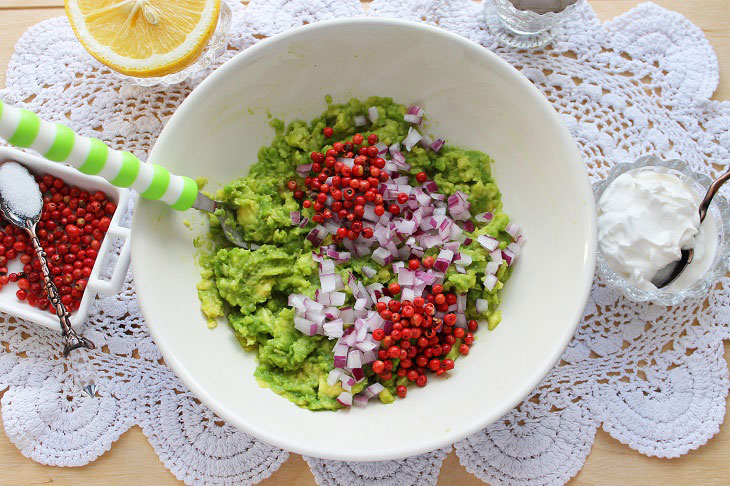 6. Add sour cream and pepper to taste. And stir again.
If you want to get a spicier taste of the dish, you can add half a hot pepper pod to the avocado mass.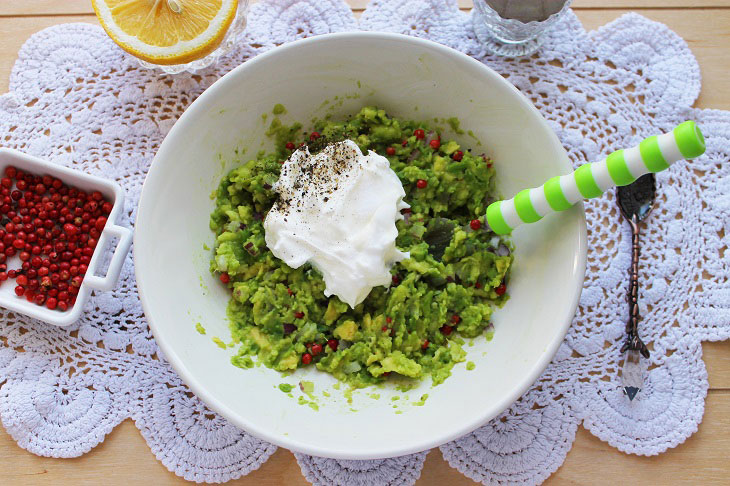 7. Next, put the resulting mass in the form of "Christmas trees" on crackers or figuratively cut slices of bread, as in the proposed recipe. Garnish each Christmas tree with the remaining pink peppercorns. Cut a circle of lemon into sectors according to the number of "Christmas trees" and decorate them with an appetizer.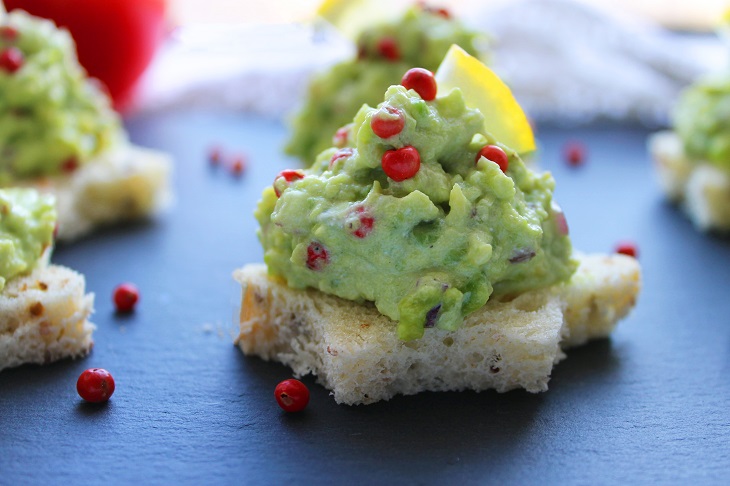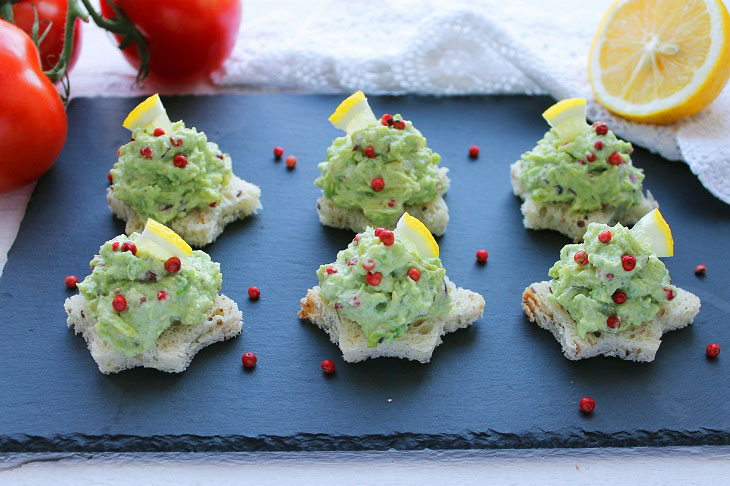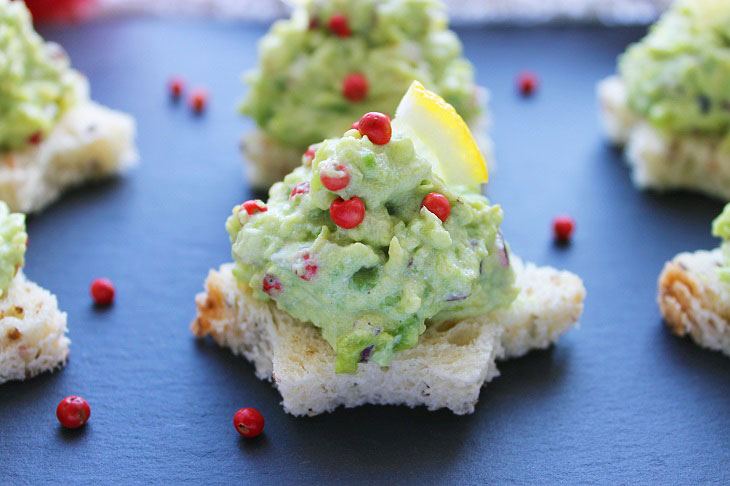 Bon appetit!