Korean cauliflower for the winter is a healthy and tasty preparation. In the season of vegetables, be sure to prepare such an appetizer.
Slightly spicy cauliflower has an excellent aroma and taste. Cabbage jars hold up well all winter and don't explode. To do this, boil the marinade with vinegar – it is an excellent preservative.
For the recipe you will need cauliflower, carrots, garlic and spices for Korean vegetables. Classic marinade – water, salt, sugar, vegetable oil and 9% table vinegar.
Ingredients:
Cauliflower – 0.5 kg.
Carrots – 100 g.
Garlic – 3-4 cloves.
Korean seasoning for vegetables – 1.5 tsp.
Water – 350 g.
Vinegar 9% – 40 g.
Sugar – 1.5 tbsp. l.
Salt – 0.5 tbsp. l.
Vegetable oil – 30 g.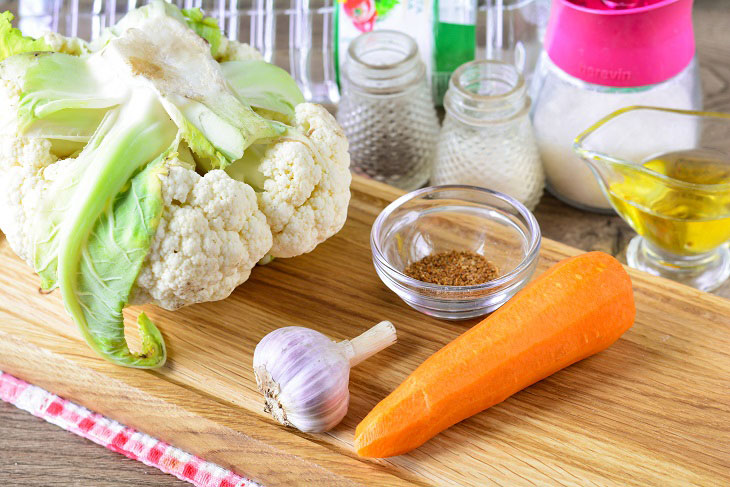 Yield: 2 jars of 0.5 liters.
How to cook:
1. Divide the cabbage into small inflorescences – separate from the central stalk with a knife.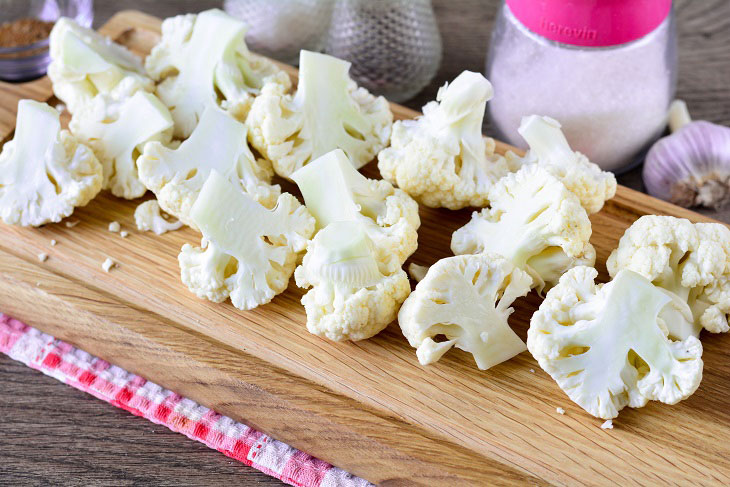 2. Transfer the cabbage to a mixing bowl, add Korean vegetable seasoning, it will add a bright flavor to the cabbage.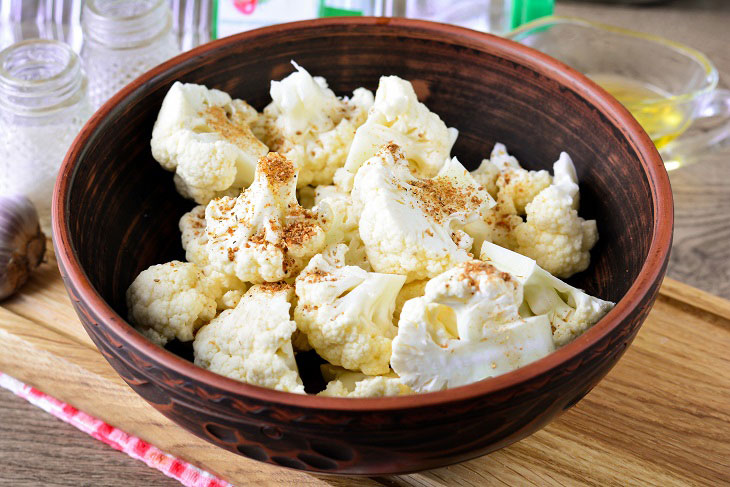 3. Grate carrots on a Korean grater, mix with cabbage. Also squeeze the garlic through a press and mix again. Leave the cabbage for 20 minutes, let it marinate a little.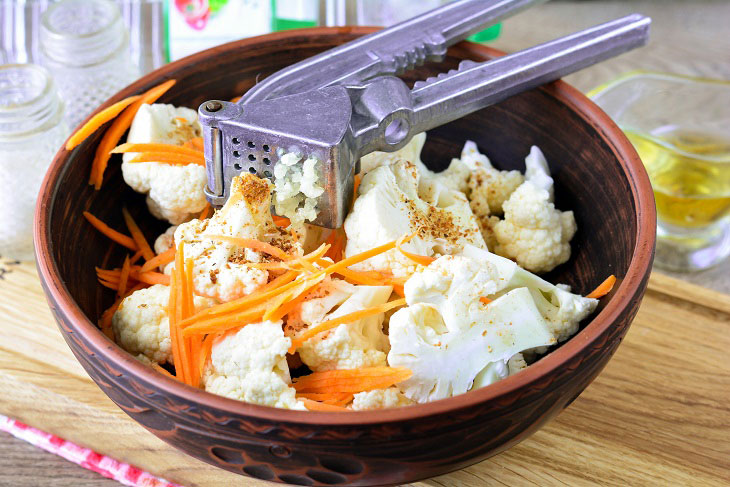 4. Then put the cabbage with carrots in clean, sterilized jars.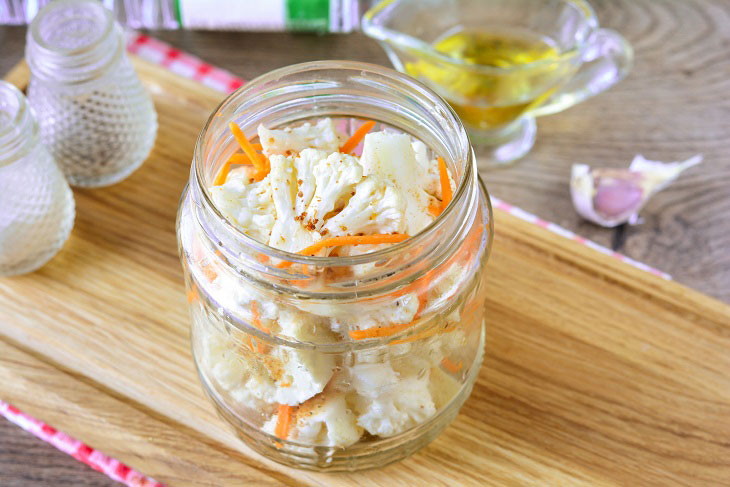 5. Cook the marinade – mix water, sugar, salt, vinegar and vegetable oil. Bring to a boil and you're d1.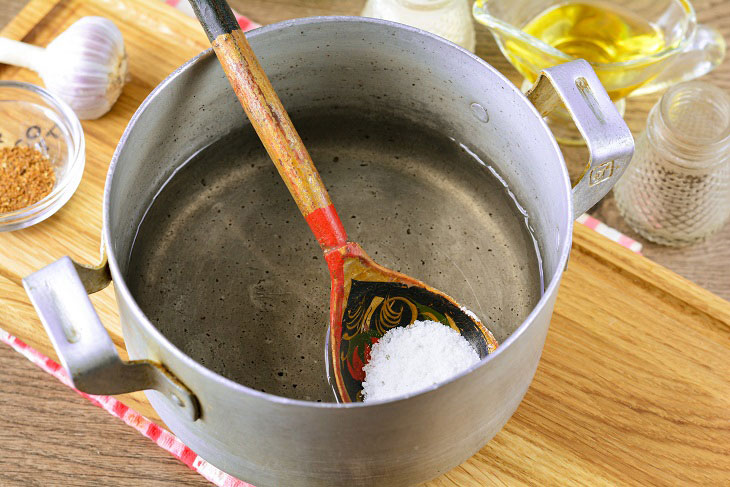 6. Pour cabbage in jars with hot marinade, fill to the top.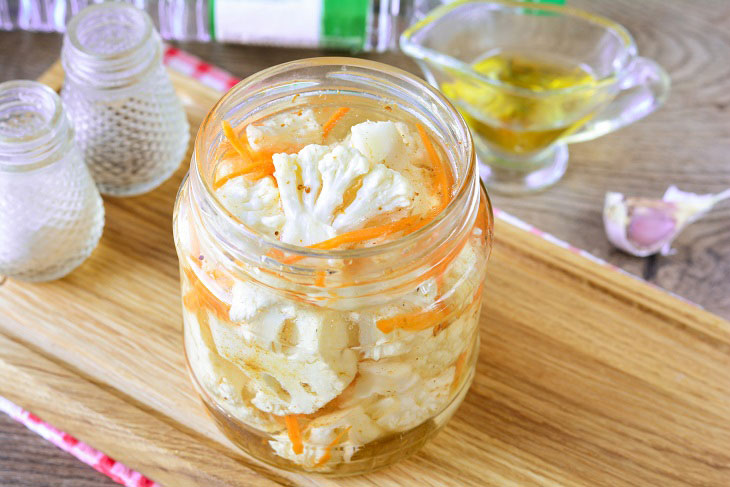 7. Put a clean cloth in the pan, pour in warm water and set the cabbage jars. Sterilize the appetizer 10-12 minutes after the liquid in the pot comes to a boil.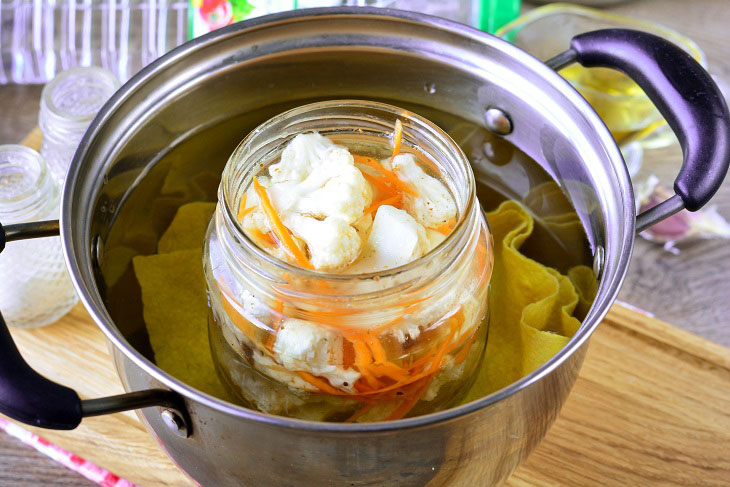 8. Roll up the jars with lids, turn upside down – check that nothing leaks. Insulate the finished snack in jars with a blanket and let cool completely. Thanks to hot filling and sterilization, after cooling, the cabbage will become soft, but slightly crispy.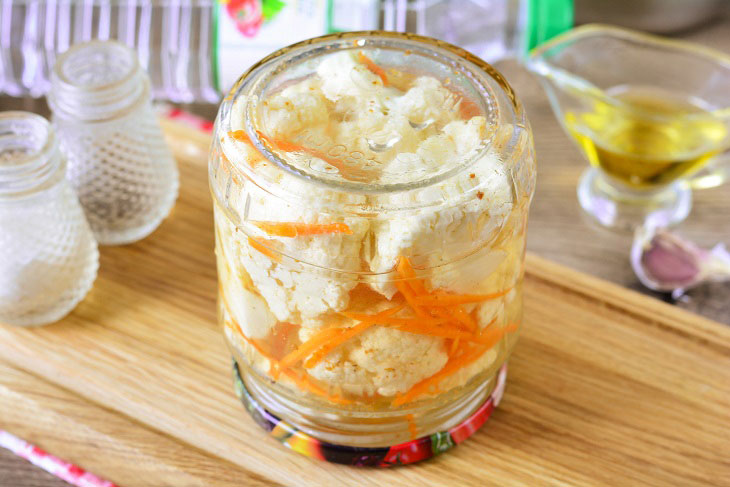 Store Korean-style cauliflower in a cool pantry or cellar. Before use, put the jars in the refrigerator and after 30 minutes you can serve.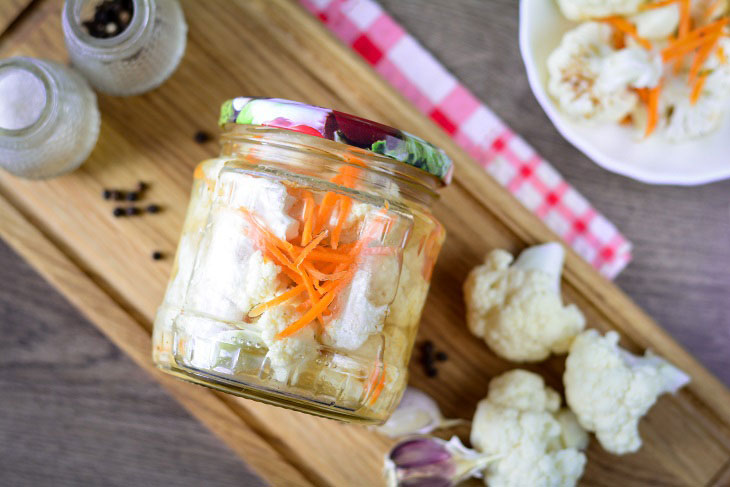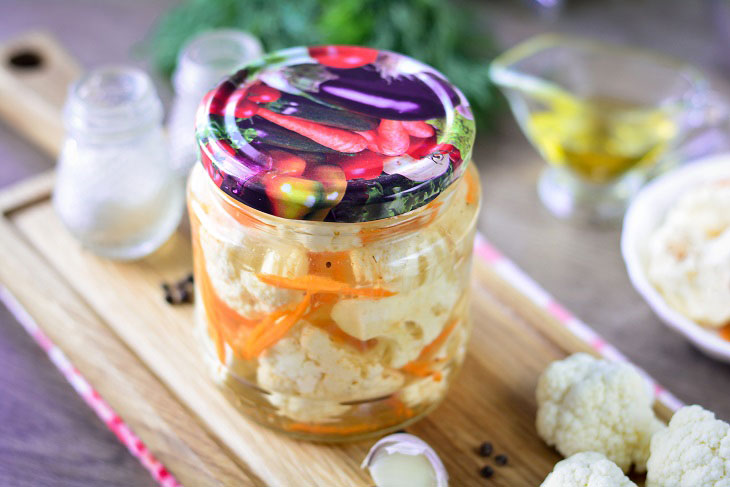 Bon appetit!