Lean pasties with potatoes can be easily prepared without milk and eggs. For unleavened dough, you only need flour, water and salt. For the filling, take potatoes, onions and dill for flavor. Easy-to-prepare chebureks are tasty and satisfying, ideal for fasting. Pasties are fried in ordinary vegetable oil, when frying, a lot of bubbles form on them – it's so appetizing!
Ingredients:
Water – 150 g.
Wheat flour – 400-450 g.
Salt – 0.5 tsp.
Vegetable oil – for frying.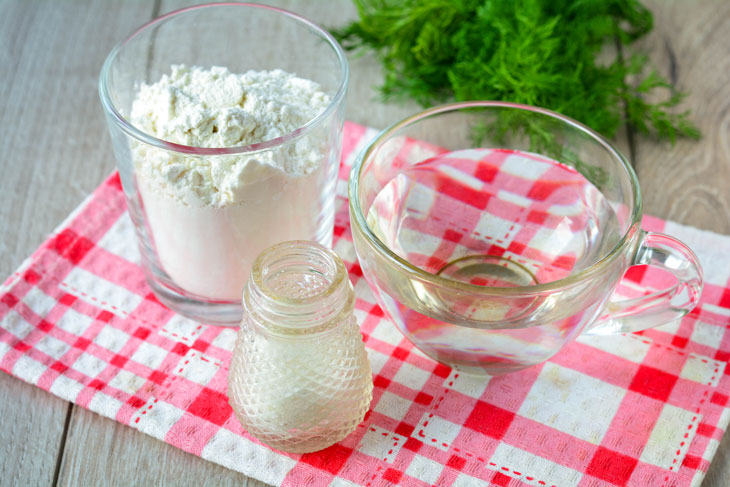 For filling:
Potatoes – 450-500 g.
Onion – 100 g.
Dill – 5 g.
Salt, black pepper – to taste.
Vegetable oil – 40 g.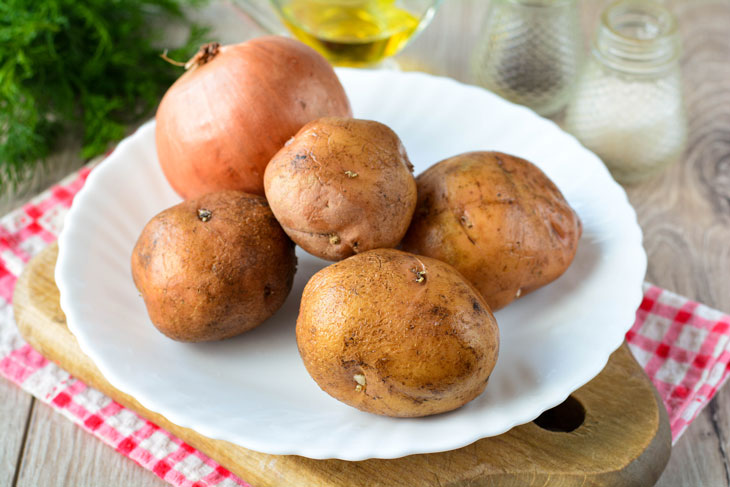 Cooking:
1. First of all, knead the dough: pour water into a bowl and dissolve salt in it, mix.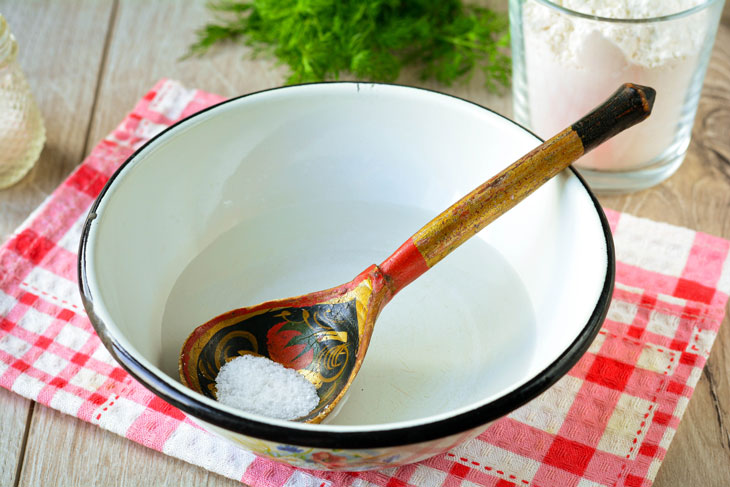 2. Pour the flour sifted through a sieve. First add 350-400 grams, the rest will go for the final batch.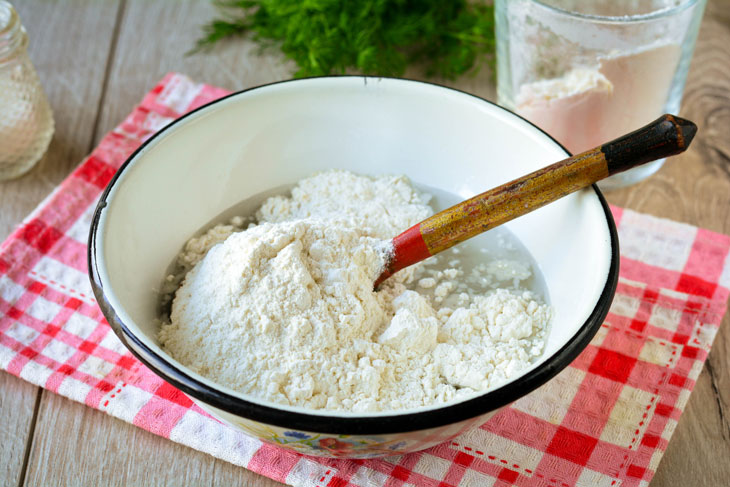 3. Knead the dough so that it does not stick to your hands, is elastic and elastic, sprinkle a little flour on top so that it does not dry out, cover with a clean cotton towel and set aside, let it rest.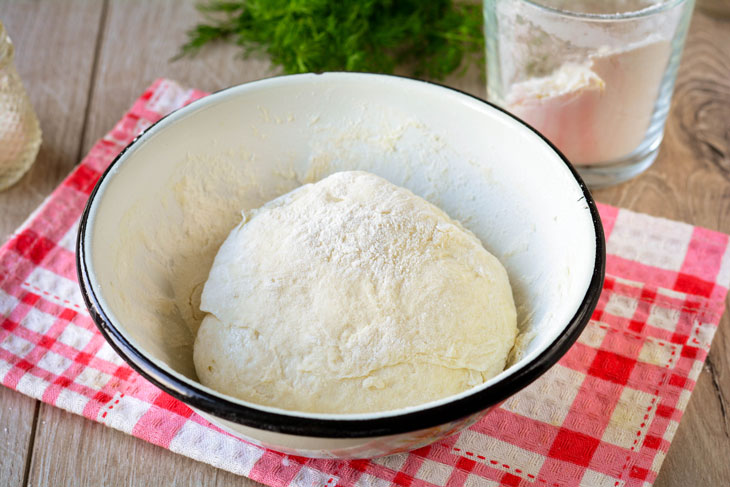 4. In the meantime, prepare the filling: peel the potatoes and cover with water, add salt to taste and cook until soft, about 20-25 minutes.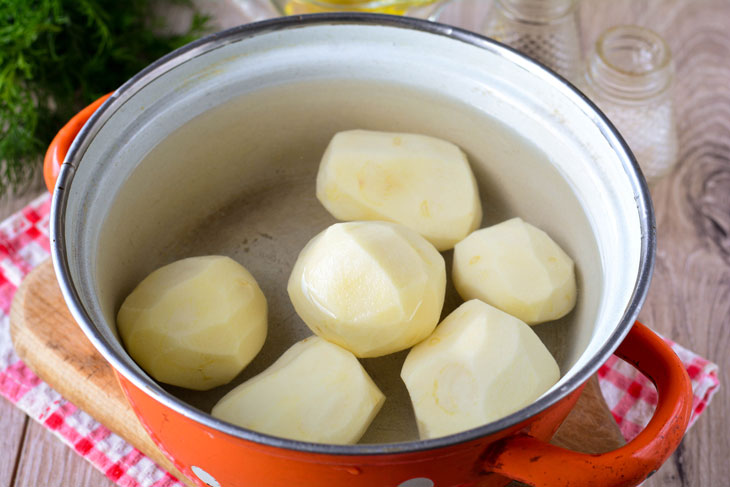 5. While the potatoes are cooking, dice the onions.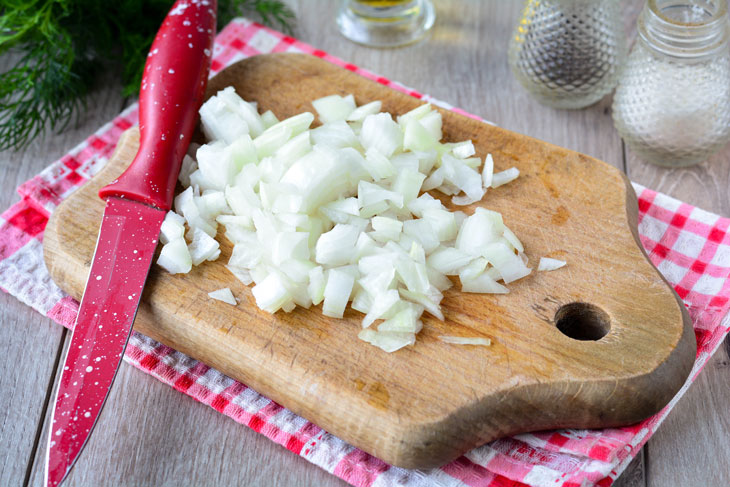 6. Fry the onion in a pan with vegetable oil. Fry until golden brown.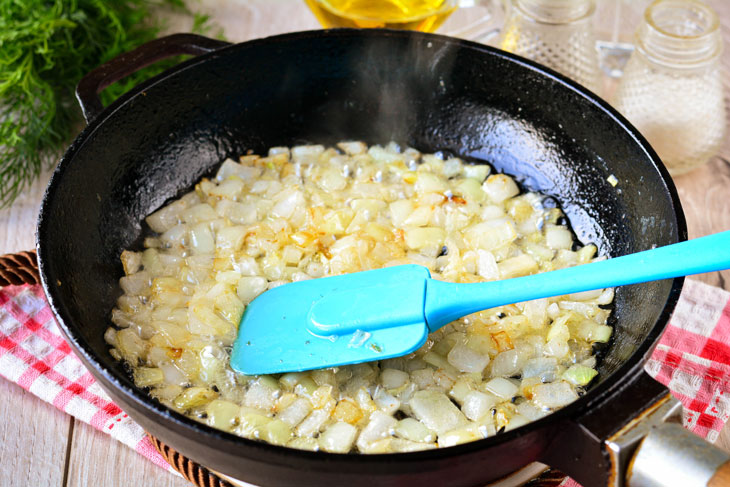 7. Mash the finished hot potatoes into a puree.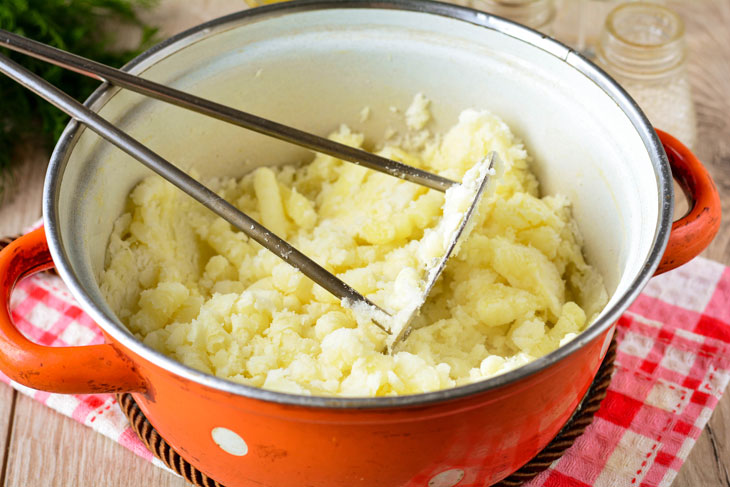 8. Add onion along with butter and finely chopped dill.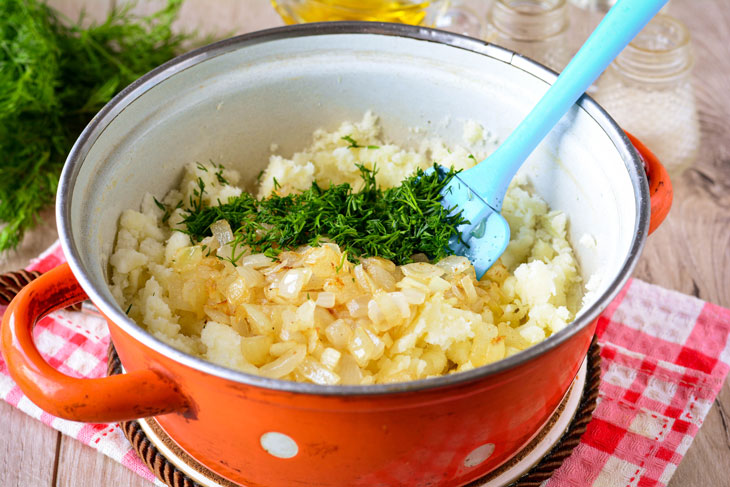 9. Stir the potato filling, taste it – you can add a little more salt. Cool slightly to lukewarm or room temperature.
10. Divide the dough into 6-7 balls, each roll into a thin round cake.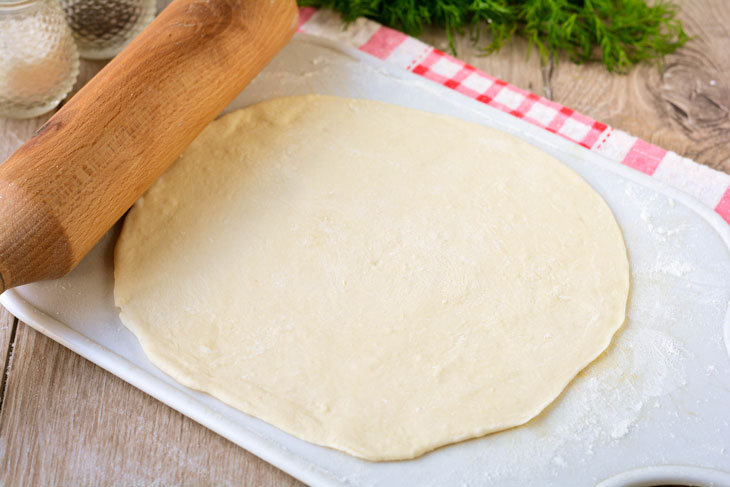 11. Put 1-1.5 tbsp on one half. l. potato filling.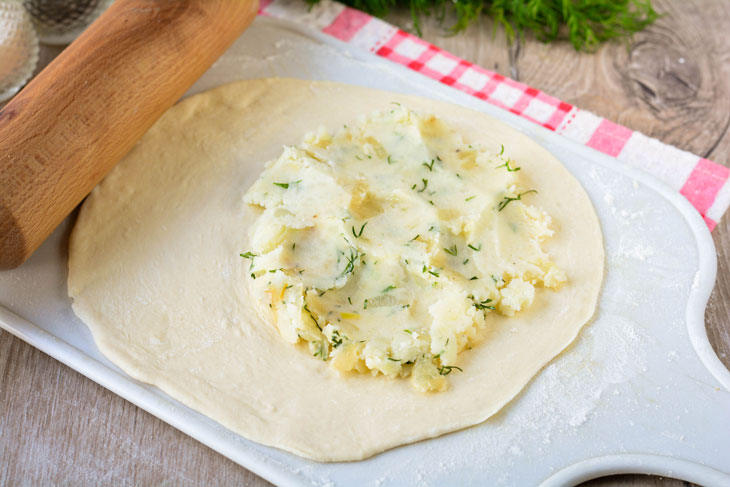 12. Wrap the free edge and pinch the dough. The edge can be processed with a fork to make beautiful patterns.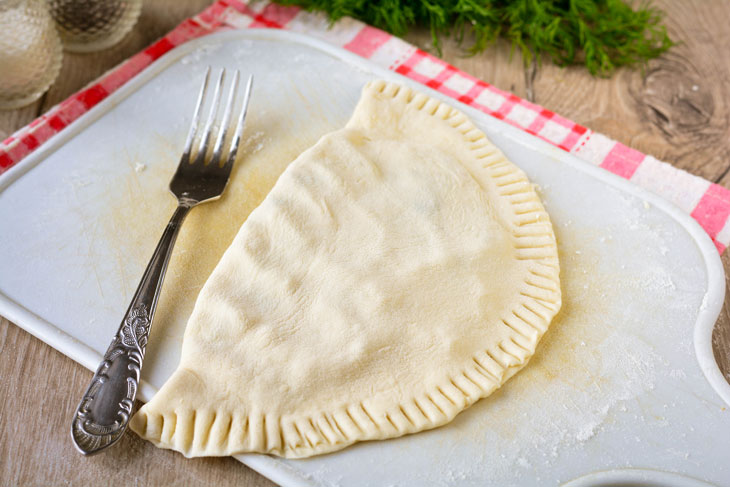 13. Heat the oil in a frying pan – about 80-100 g, put the pasties and fry on both sides over medium heat until browned.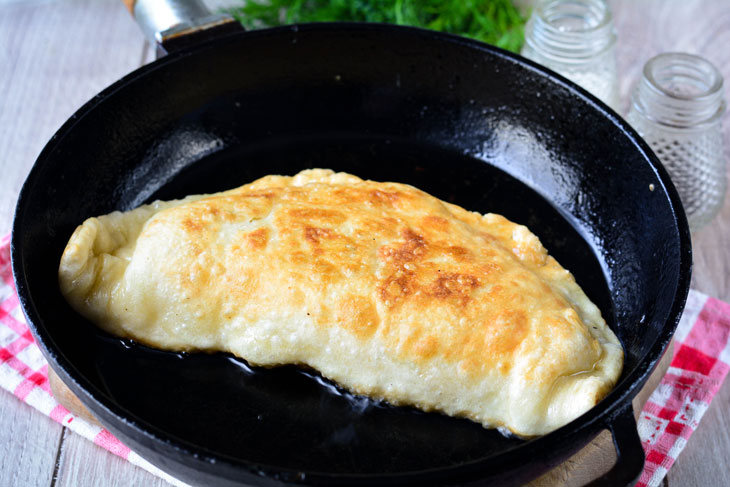 14. Stack hot pasties on top of each other on a wide plate.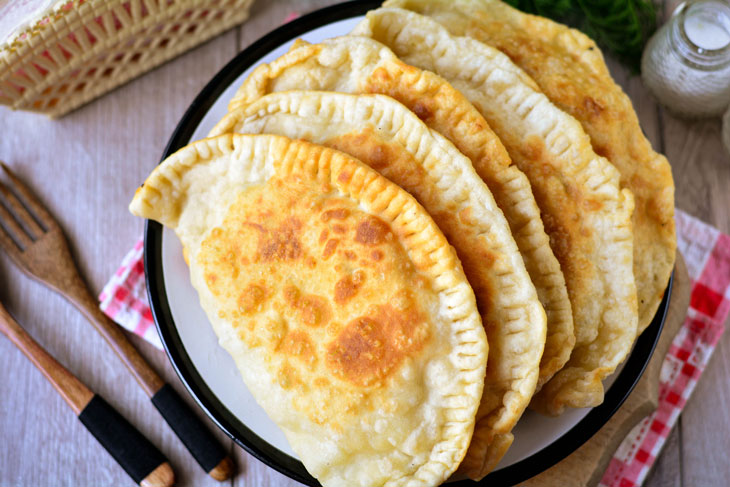 15. Serve hot immediately.
The dough comes out crispy on the outside and soft on the inside. Potato filling is very tasty, and affordable for any family budget.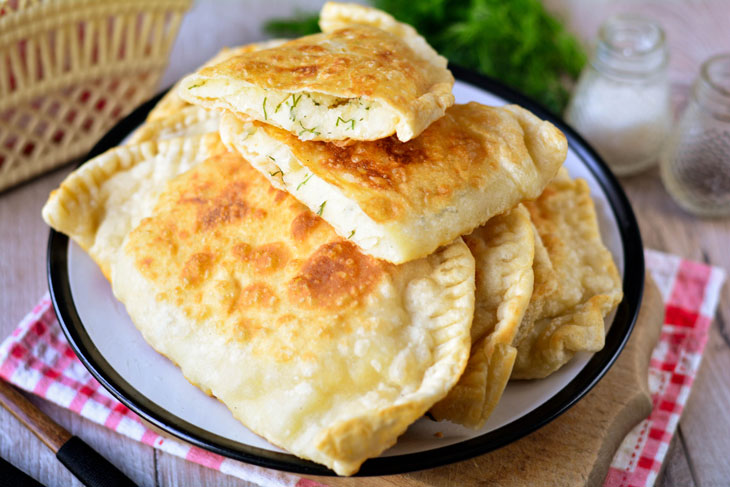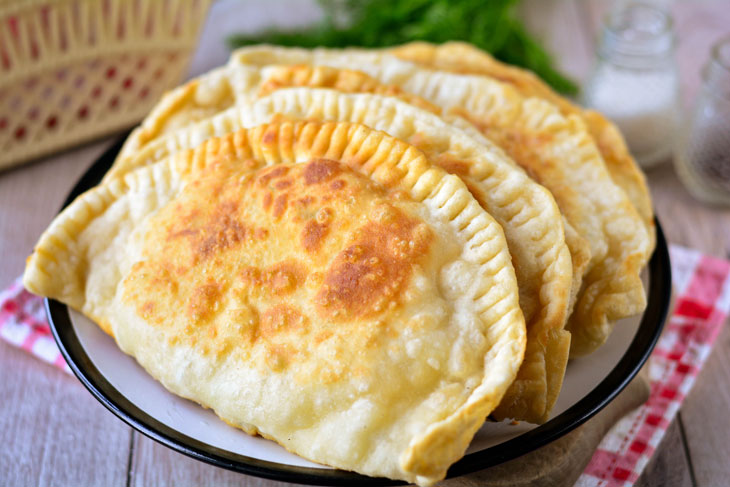 Enjoy your meal!