On a holiday, you always want to surprise your invited guests with some original, bright and colorful dish. This is exactly what a beetroot appetizer is, which looks just excellent and very appetizing.
For its preparation, beets are used, not large in size. It must first be baked in the oven or boiled for 1-1.5 hours. During this time, the vegetable will become soft. In order not to spend a lot of time on this procedure, it is worth doing it in advance.
You can serve ready-made beetroot balls to the table immediately after cooking or put them in the refrigerator. If you wish, then inside each ball you can add prunes, dried apricots, a piece of processed cheese and other ingredients. It is best to serve such a vegetable appetizer to the table as an independent dish, although it goes well with any side dishes and meat.
Ingredients:
Beets – 2 pcs.
Salt – to taste.
Walnuts – 5-10 pcs.
Mayonnaise (it is better to use a sauce with a high percentage of fat content) – 1 tbsp. l.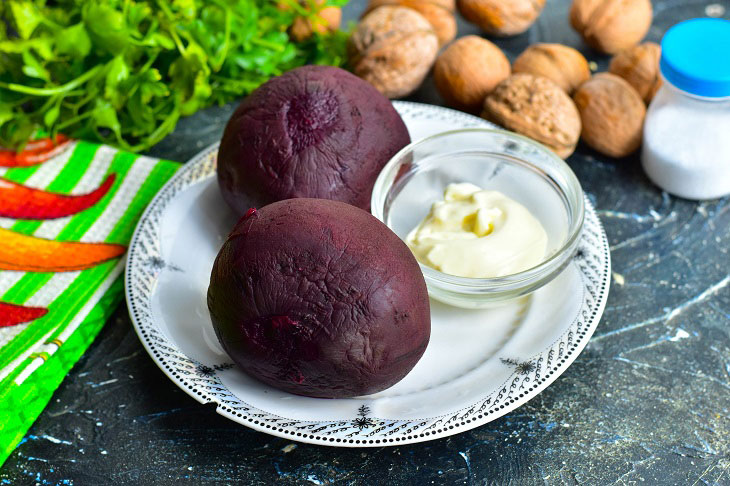 How to cook:
1. So, if you have raw beets, then pre-boil or bake them in the oven. In time, it will take from 1-1.5 hours.
Larger beets take longer to bake in the oven than smaller ones, so this is a point worth paying attention to.
After that, let it cool, cut off the peel, grate the vegetables on the grater on the side where there are large holes.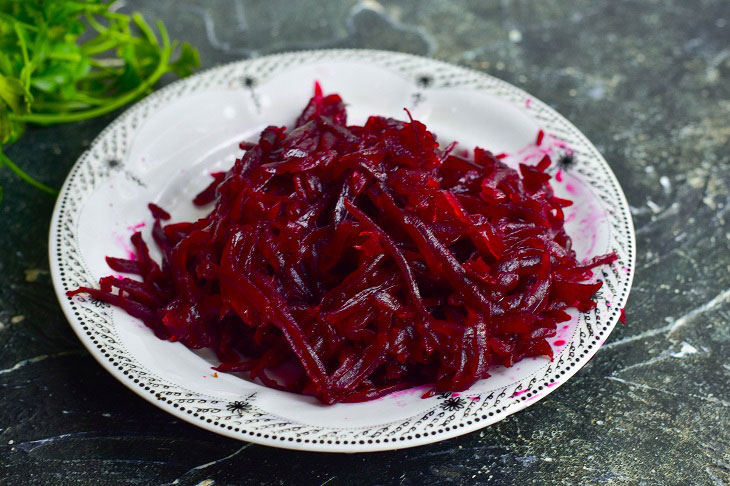 2. Now add mayonnaise. It can be safely replaced with homemade sour cream or store-bought with a high percentage of fat.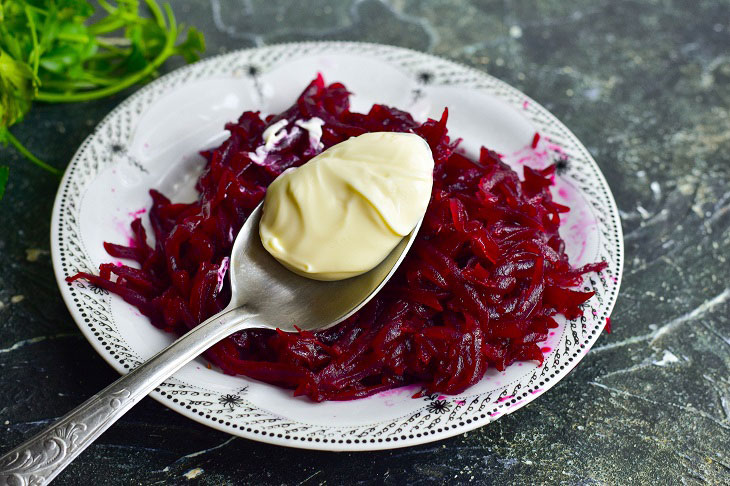 3. Mix the beetroot mass and form balls of the same size out of it with your hands.
If this procedure is difficult to do, then you can add a little semolina or flour, and ordinary starch will do.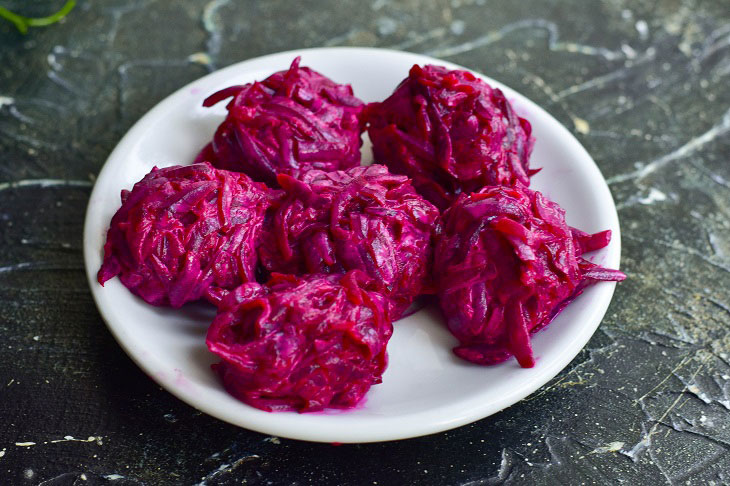 4. Peel the walnuts from the shell. Now grind them in a convenient way.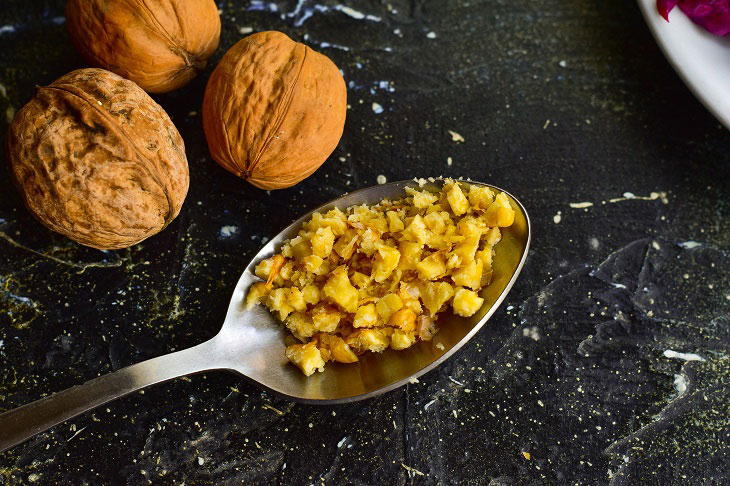 5. Put all the beetroot balls on a beautiful dish. Sprinkle them with walnuts on top. For a more effective serving, insert a skewer into each ball.
Here is such a bright, beautiful, and most importantly – a very tasty vegetable appetizer turned out!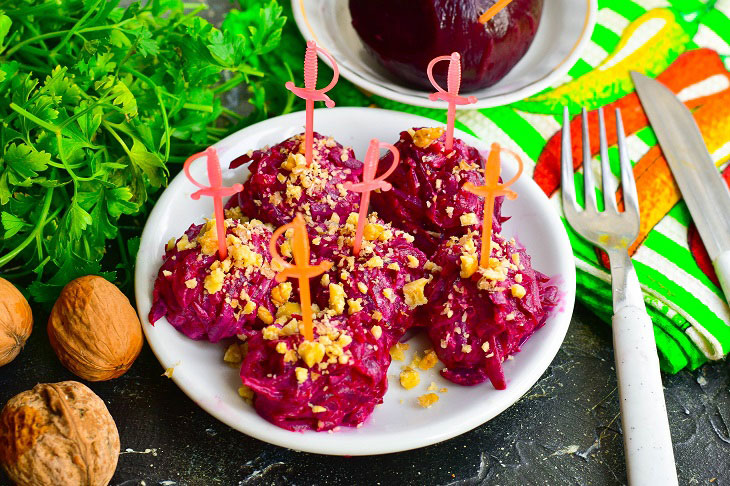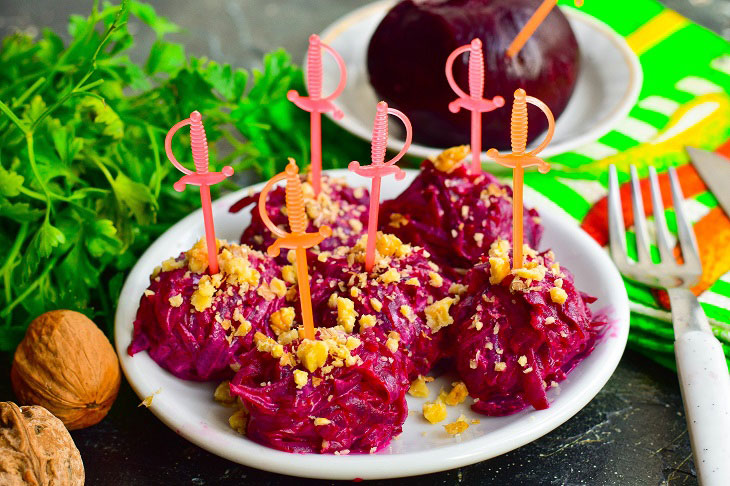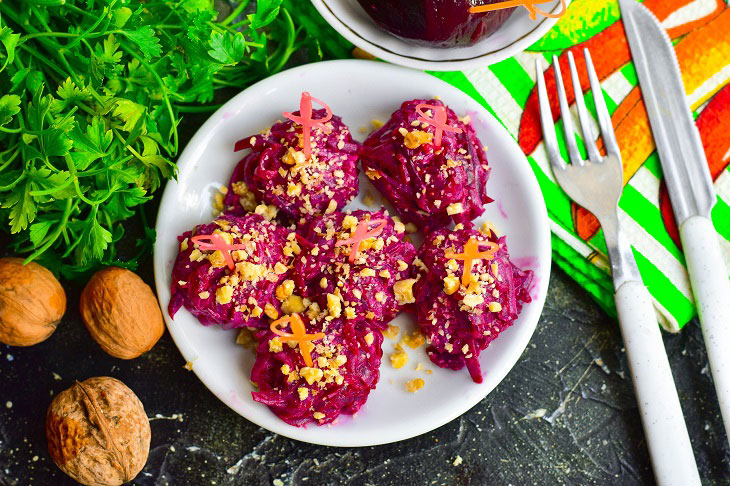 Enjoy your meal!