Mushrooms "Table" is simply an indispensable snack at any festive feast. You can cook them both before the holiday itself, and much earlier. They keep well in a jar or container with a lid in the refrigerator. The mushrooms themselves are very tasty and fragrant. And the recipe for their preparation is quite easy and fast.
When choosing ingredients, I immediately want to note that any mushrooms will do. For example, the choice can be stopped on oyster mushrooms, champignons or some kind of forest mushrooms. Of the listed spices, you can safely supplement them with those that you are used to using.
Ingredients:
Mushrooms (I had frozen champignons) – 150-250 g.
Onion – 0.5 pcs.
Garlic – 1 clove.
Sugar – 1 pinch.
Salt – 0.5 tsp.
Ground black pepper – to taste (this ingredient is optional).
Vinegar 9% – 2 tbsp. l.
Vegetable oil – 20 ml.
Fresh greens – to taste.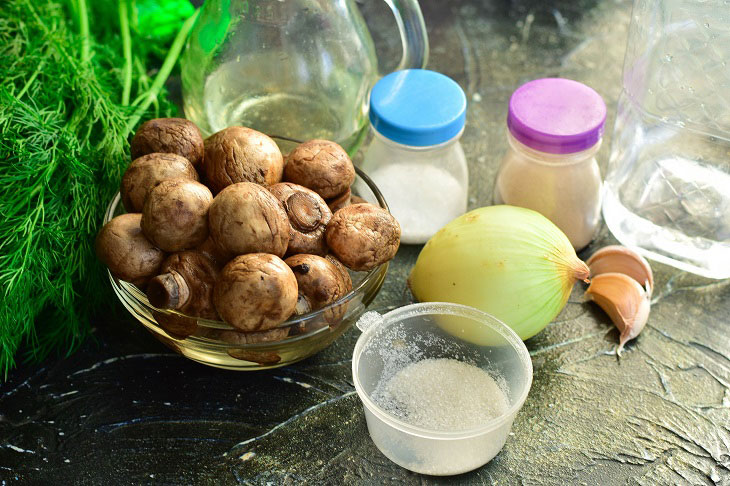 How to cook:
1. So, first of all, chop the onions and garlic, which are pre-peeled. Wash greens and finely chop.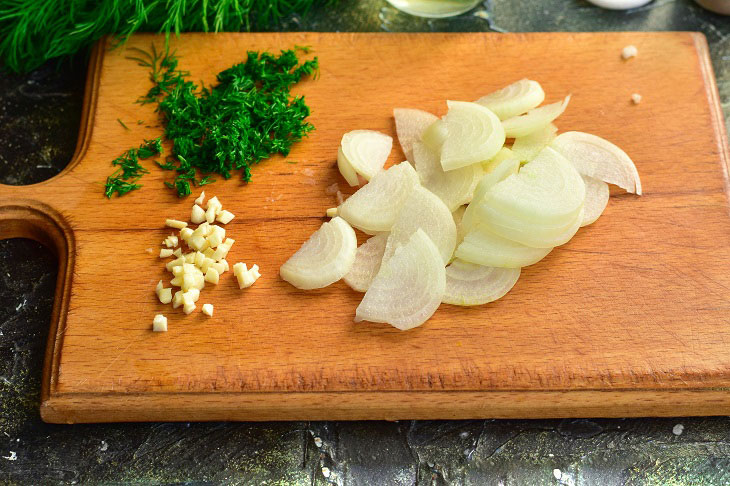 2. Put the prepared ingredients in a deep bowl.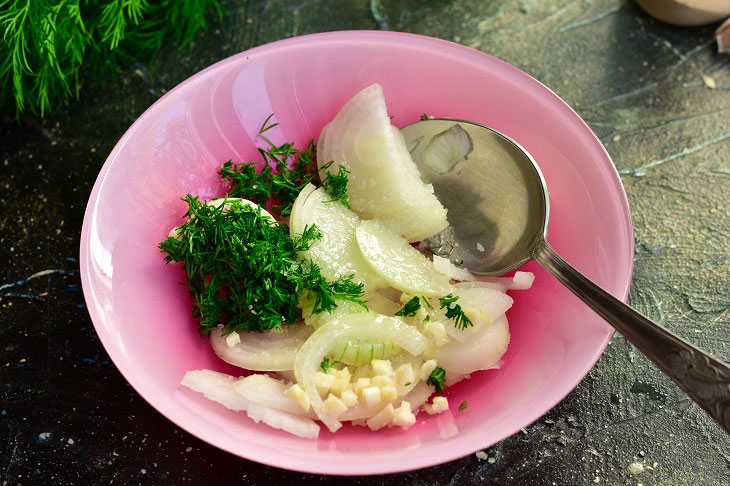 3. Pour vegetable oil into them (it is better to use it without a pronounced smell) and 9% vinegar or apple cider vinegar. Add sugar and ground black pepper (I did not add the last ingredient, because no one in the family likes it). Mix well.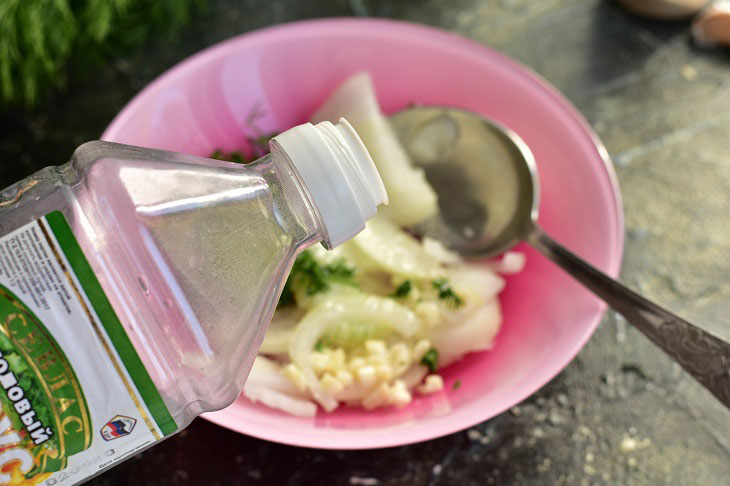 4. Fill the mushrooms with water. Boil them for 15-20 minutes. Pour the specified amount of salt into the water.
Salt can be added directly to onions, garlic and herbs.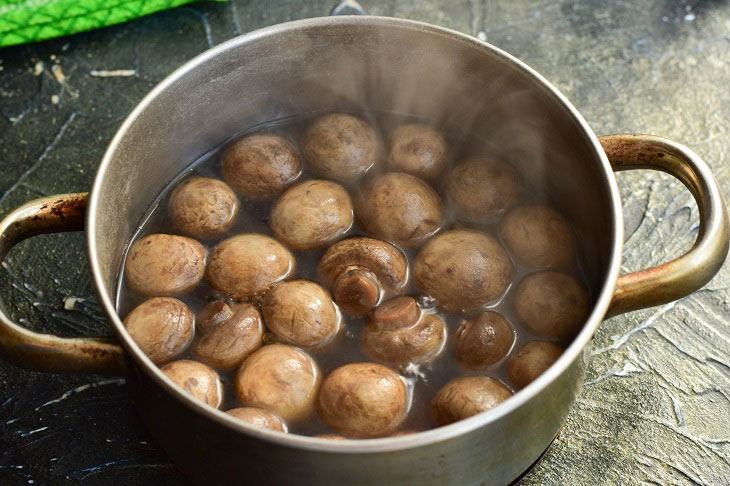 5. Drain the water from the mushrooms and put the prepared vegetables on top of them.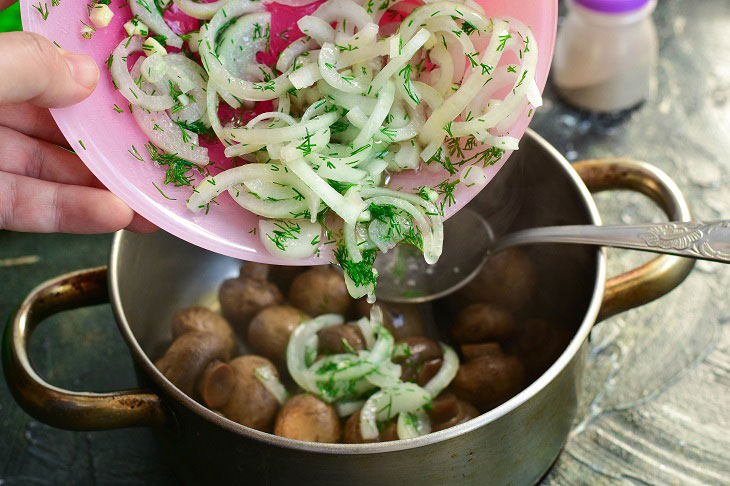 6. Mix everything very well with a spoon and let the mushrooms stand for at least 30 minutes, or it is better to send them to the refrigerator overnight.
Do not forget to cover the container in which you make mushrooms with a lid. Otherwise, the refrigerator will smell of vinegar, onions, and garlic.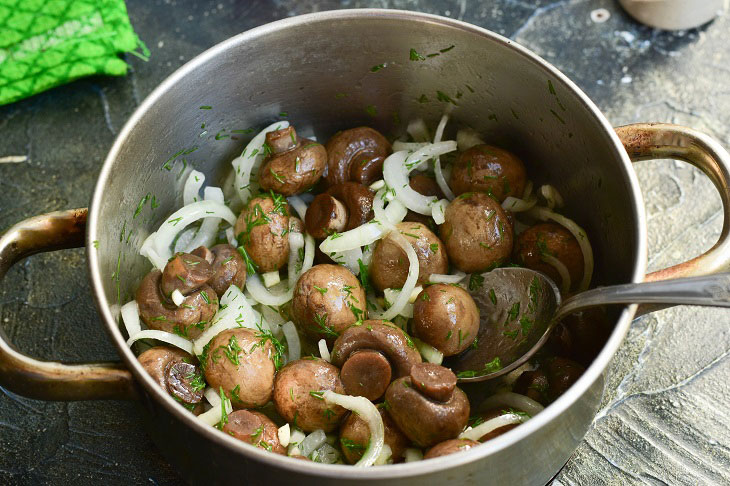 These mushrooms "Table" came out! Be sure to cook them, and be sure that everyone will like them without exception!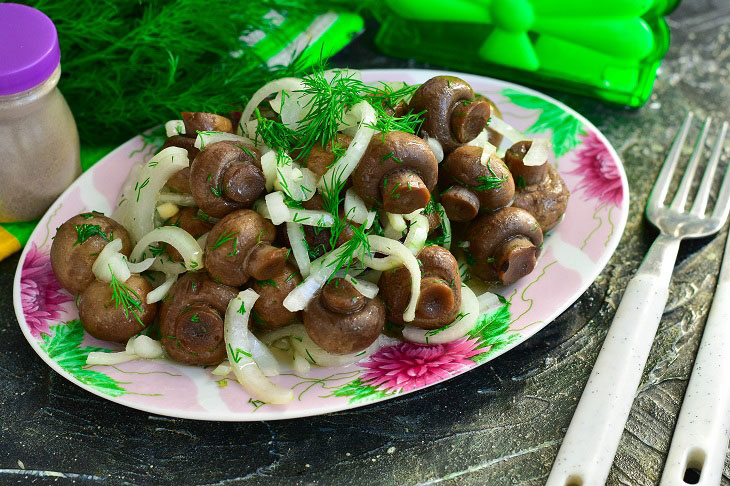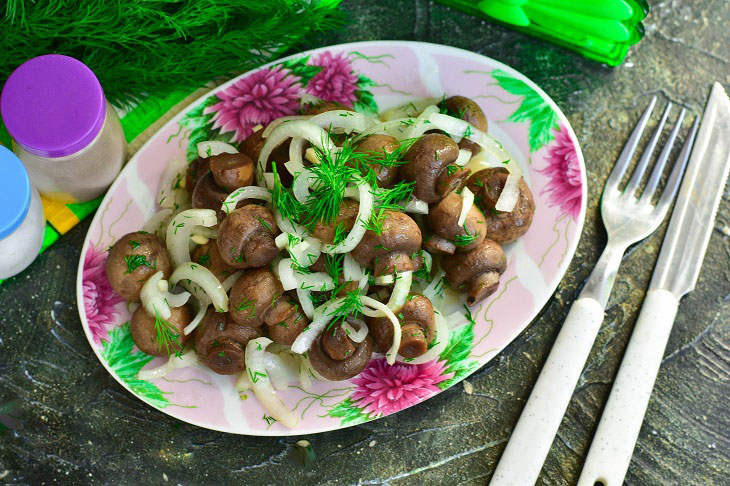 Enjoy your meal!