An amazing dish of inexpensive and affordable products – an omelette with zucchini, will diversify your daily menu and delight your household. Vegetable omelettes can be made at any time of the year, but in the summer, when zucchini is freshest, with tender skins, they are most delicious. Zucchini is best cut in the form of spaghetti using a special vegetable grater or thin transparent ribbons. In this case, the vegetables will become soft in a matter of minutes. Squeeze out excess liquid or not – it's up to you. We did not squeeze, the omelette turned out to be moist, with pleasant vegetable juice. The splendor of an omelet is the main condition for a properly cooked dish. Stick to simple rules:
Remove the ingredients from the refrigerator in advance, they should be warm.
The milk-egg mixture is not beaten, but simply mixed with a fork or whisk.
The best dish will turn out on a thick-walled pan.
The product is baked slowly, under the lid.
Spread the dish necessarily on a warmed plate, and immediately serve an omelet.
The dish is not stored and not prepared for the future.
Ingredients:
Chicken eggs – 3 pcs.
Milk (3.2%) – 150 ml.
Butter – 25 g.
Salt – a pinch.
Zucchini – 150 g.
Cherry tomatoes, greens – for serving.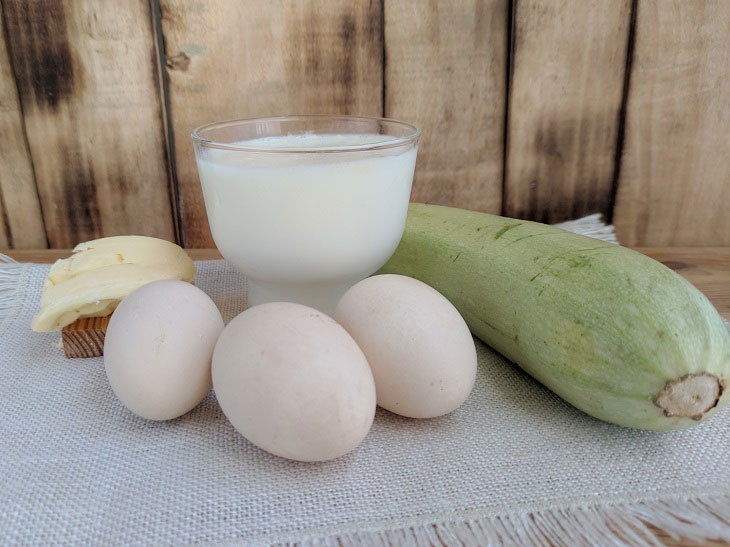 How to cook:
1. Wash the egg shells well in warm water with baking soda. Place the eggs in an omelet mixing bowl, add a pinch of salt.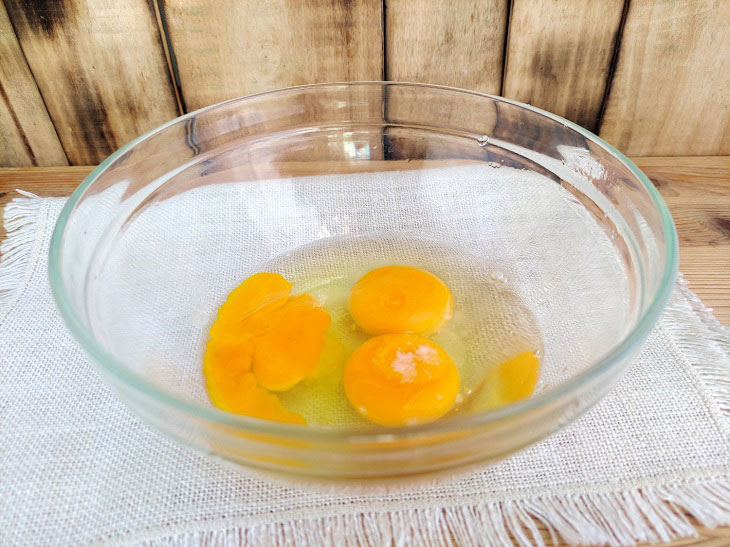 2. Pour in the milk, mix the milk-egg mass.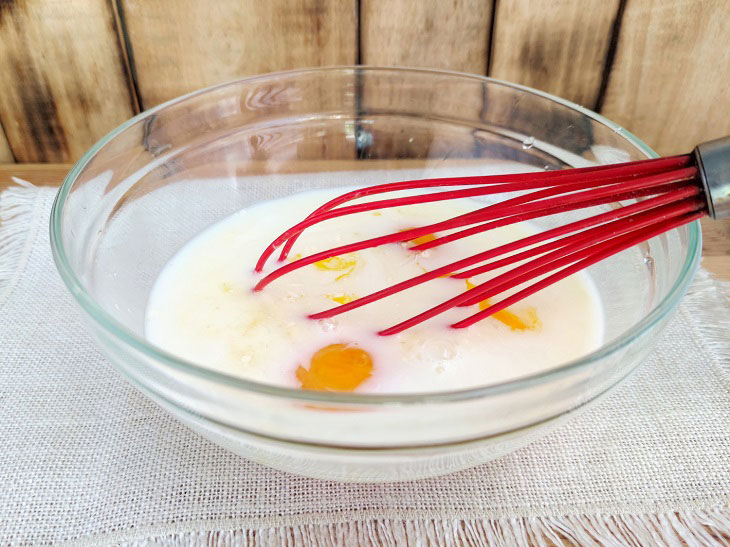 3. Rinse the zucchini, cut off the ends. Grate it on a Korean vegetable grater into long thin strips.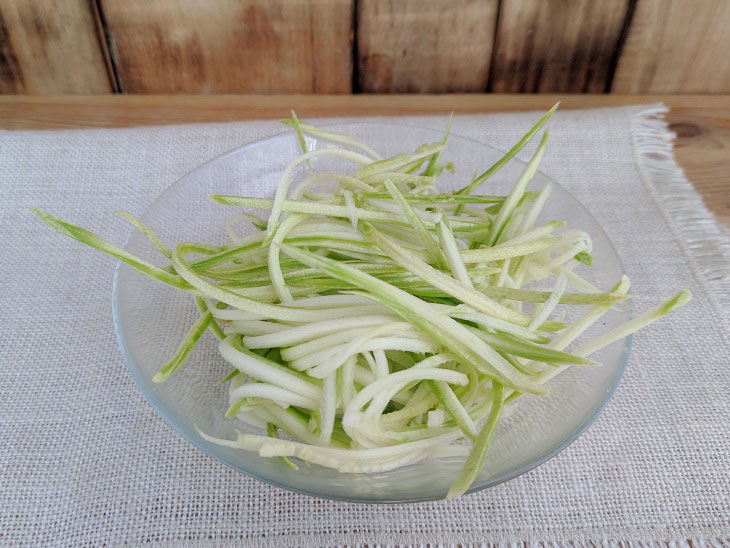 4. Heat up the pan, melt the butter. Lay the prepared zucchini spaghetti. Cook for about 1.5 minutes with constant stirring over high heat.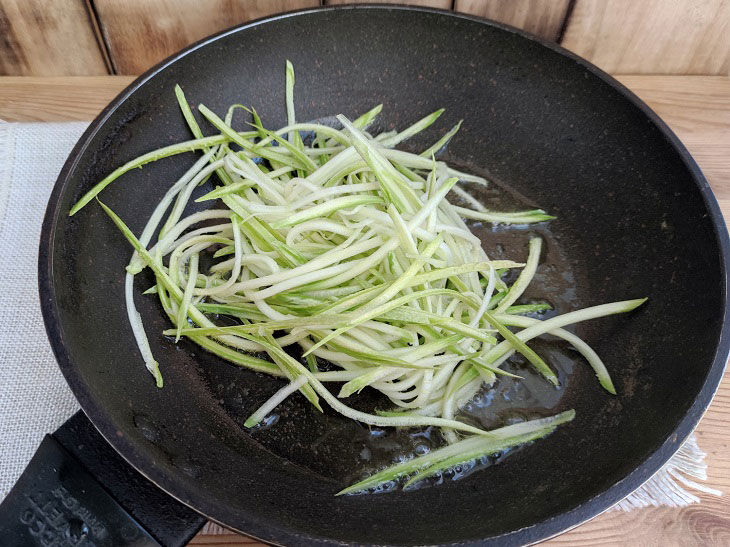 5. Pour in the omelet mixture. Cook for about 30 seconds.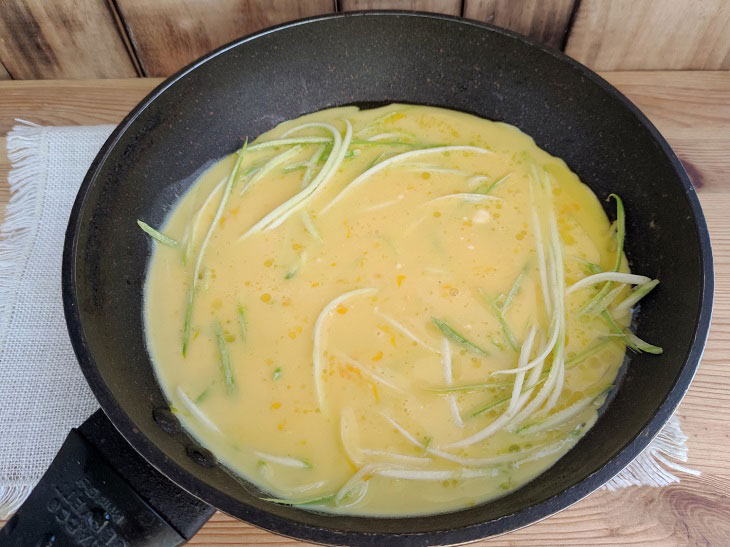 6. Close the pan tightly with a lid. Continue to bake the omelette on the quietest fire until the structure of the dish stabilizes. This may take about 5 to 8 minutes.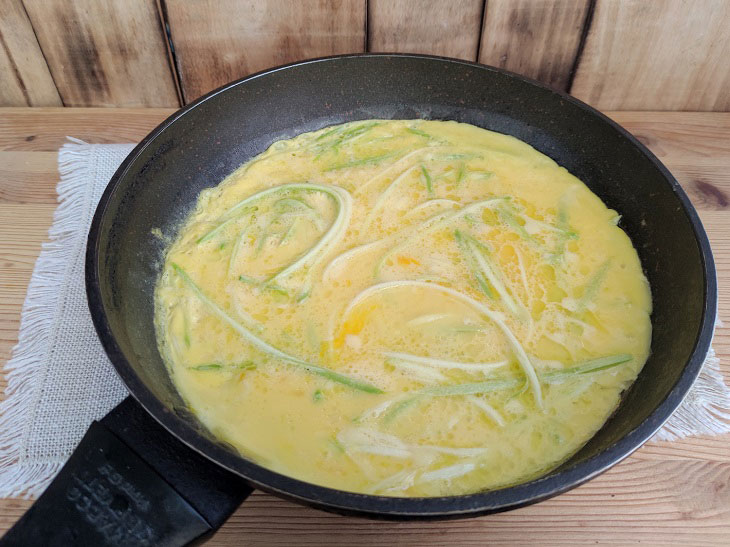 7. Warm up the serving dish in the microwave oven. Carefully transfer the omelette with a silicone spatula.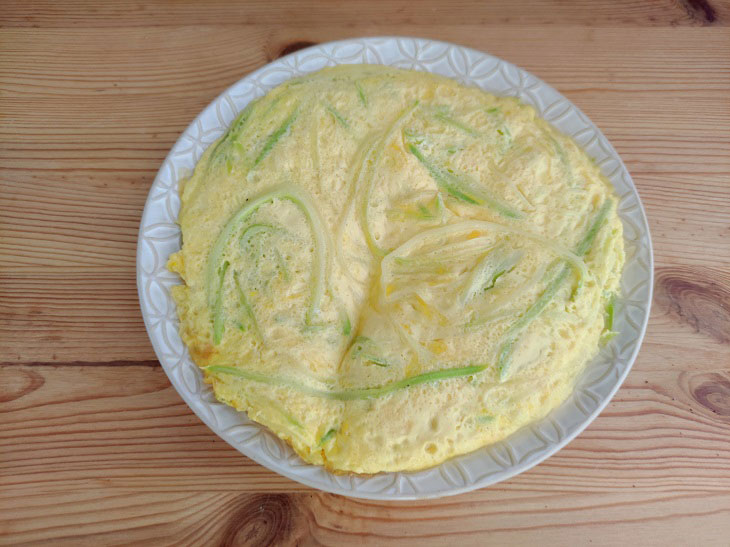 8. Garnish the dish with basil leaves and fresh tomatoes.
The omelet has the most delicate structure with many holes and a pleasant delicate taste. When cooling, the dish loses its taste and lush structure. The product can be sprinkled with grated cheese, supplemented with sauces and salads.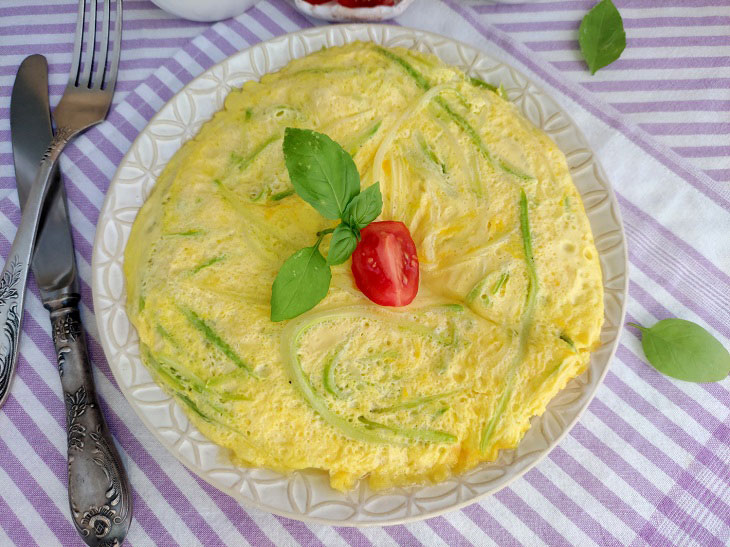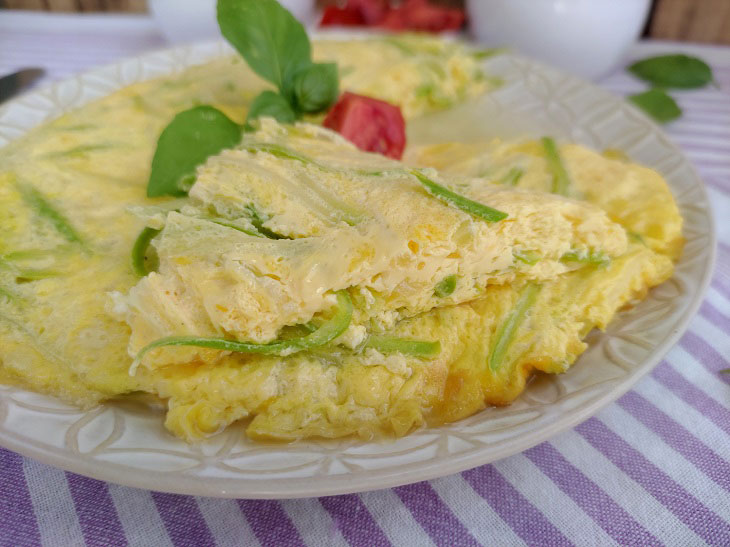 Bon appetit!