Hot sandwiches "Ala julienne" with mushrooms and sweet peppers may well replace breakfast or dinner, if you are running out of time for cooking and you need to quickly and satisfyingly feed your household. A juicy filling on a white soft slice of bread with a delicious cheese crust will not leave anyone indifferent, especially if a cup of aromatic tea or coffee is attached to such a sandwich.
Let's prepare the recipes. It is better to take white wheat bread sliced ​​​​or cut a whole loaf into slices of suitable size.
We cut all the ingredients into a small cube so that the filling is then more convenient to distribute on slices of bread.
Ingredients:
Slices of white bread – 5-6 pcs.
Champignons – 200 g.
Hard cheese – 100 g.
Vegetable oil – 2 tbsp. l.
Onion – 50 g.
Sour cream – 30 g.
Sweet red pepper – 100 g.
Garlic (optional) – 1-2 cloves
Salt, spices to taste, herbs – for serving.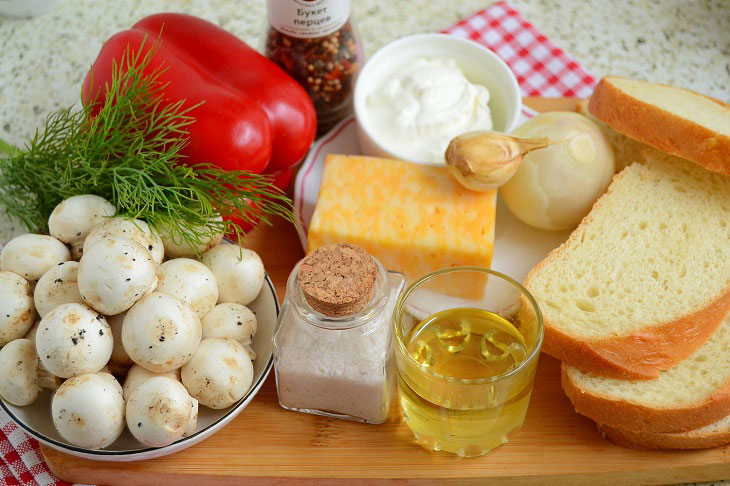 How to cook:
1. On high heat, fry the champignons with onions, cut into cubes, in vegetable oil. Cook for about 4-5 minutes with constant stirring.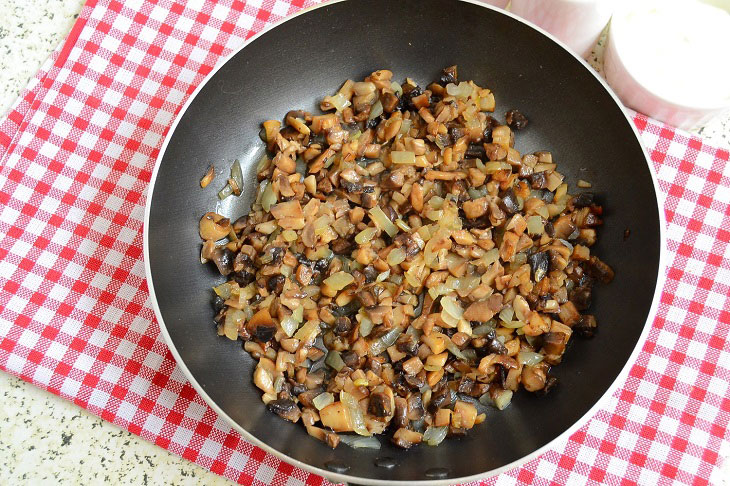 2. In a bowl, combine the fried mushrooms with onions, cubes of sweet red pepper, more than half of the cheese according to the recipe (three on a coarse grater), a little garlic, if you like.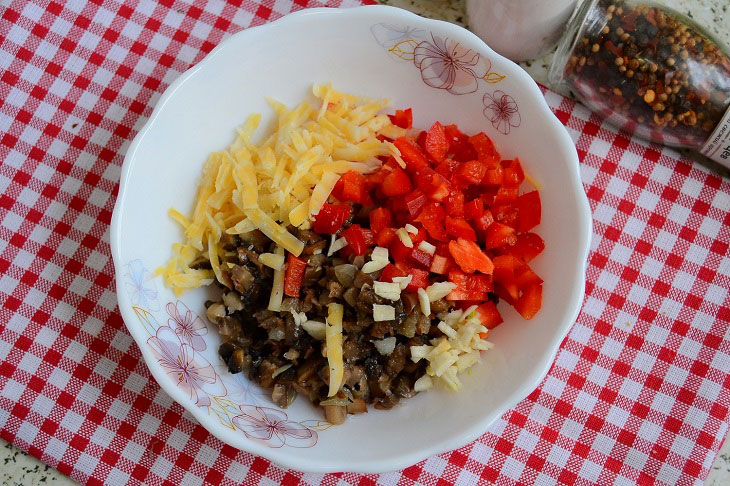 3. Add a couple of tablespoons of high-quality sour cream, a mixture of peppers or herbs to your taste and a little salt.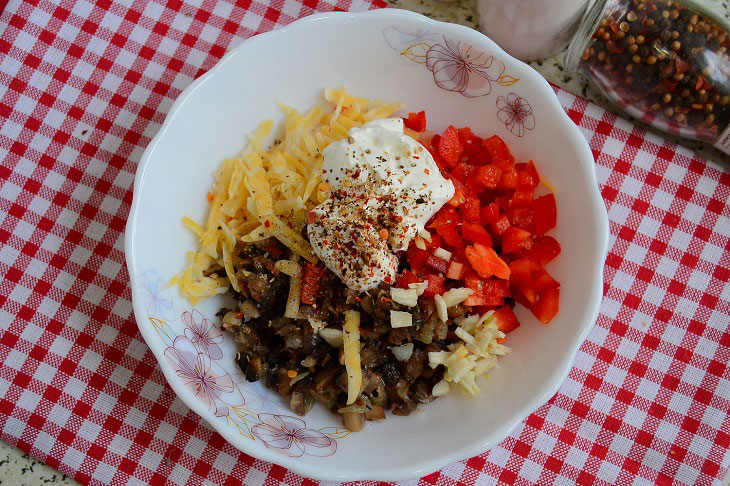 4. We mix everything well. The filling for sandwiches "A la julienne" is ready. We turn on the oven to warm up to 180-190 degrees.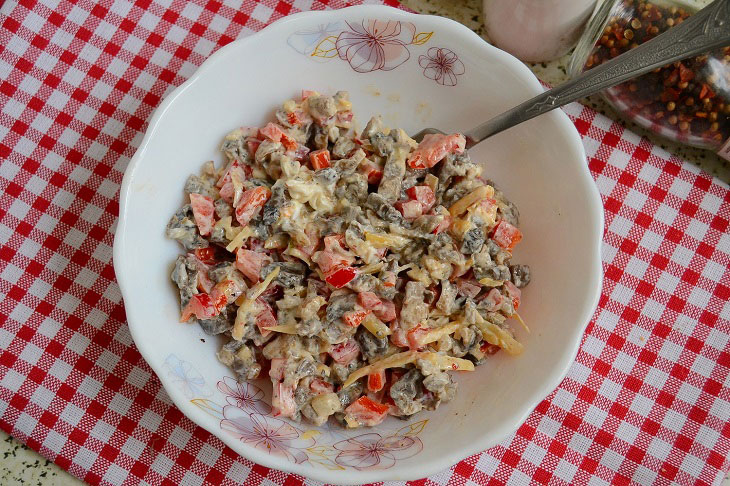 5. We spread the filling on slices of bread and sprinkle the remaining grated cheese on top. We place sandwiches on a baking sheet covered with baking paper and send to the oven for 10-12 minutes.
Sandwiches should not be kept in the oven for too long, otherwise the bread will become too dry and the cheese crust will become hard.
As soon as the cheese starts to melt, we immediately take our yummy out of the oven and serve it to the table.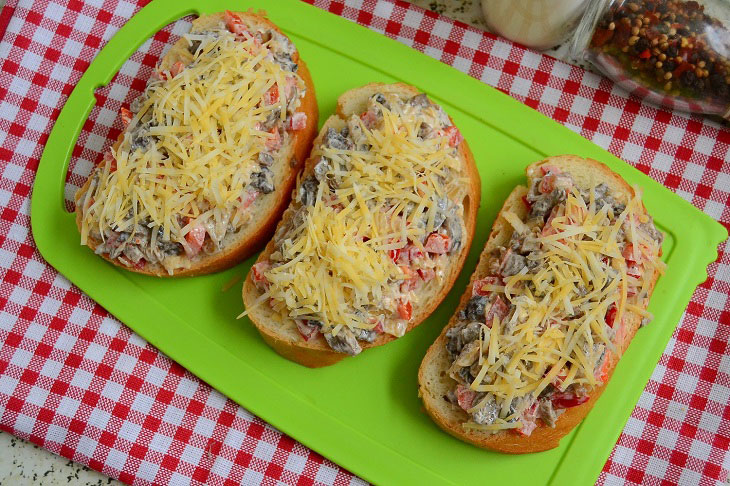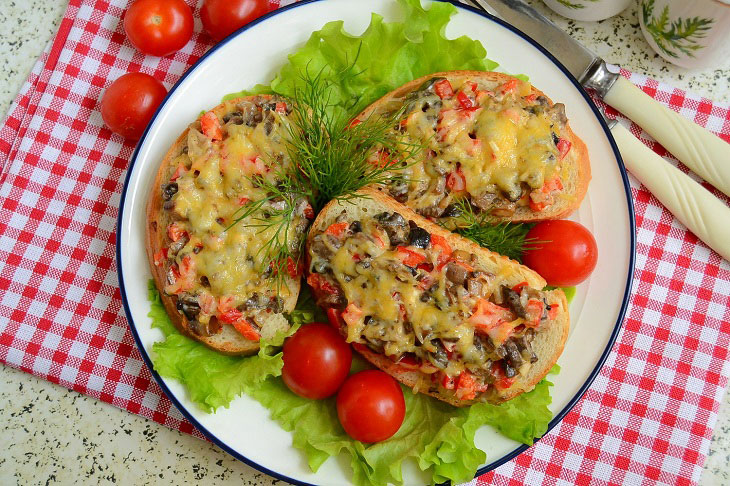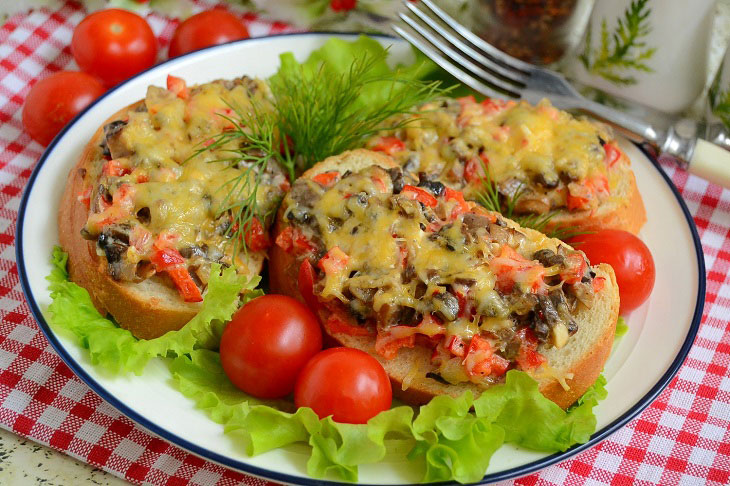 Bon appetit!