Korean-style pickled cabbage is a quick snack option for those who do not have time to cook regular sauerkraut and for lovers of spicy. Ready cabbage will be in 10-12 hours, during which time it will have time to soak in a rich marinade, but remain dense, crispy.
The taste is very pleasant: moderately sour, spicy with a sweetish aftertaste. We adjust the spiciness by adding hot chili peppers – if the appetizer should be spicy, follow the recipe. If moderately spicy, put half the pepper. In order for the cabbage to marinate evenly and quickly, mix it several times and make sure that it is completely covered with marinade.
Ingredients:
White cabbage – 600 g.
Carrot – 1 pc.
Onion – 1 small head.
Garlic – 3-4 cloves.
Fresh chili pepper (small size) – 2 pcs.
Allspice – 4-5 peas.
Ground coriander – 2/3 tsp
Coriander beans – 0.5 tsp.
Vegetable oil – 2 tbsp. l.
Salt – 1.5 tbsp. l.
Sugar – 4 tbsp. l.
Vinegar 9% strength – 4 tbsp. l.
Water – 1 l.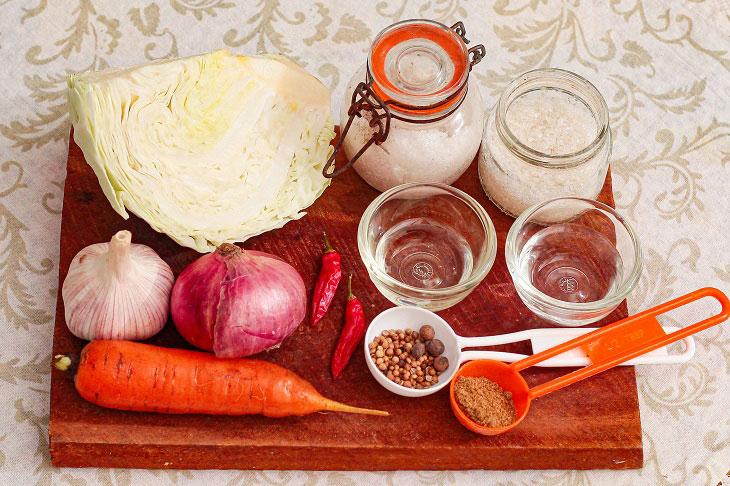 How to cook:
1. Cut slices 3-4 cm wide from the cabbage fork. Then cut into small squares and disassemble into thinner pieces. Pour into a deep bowl.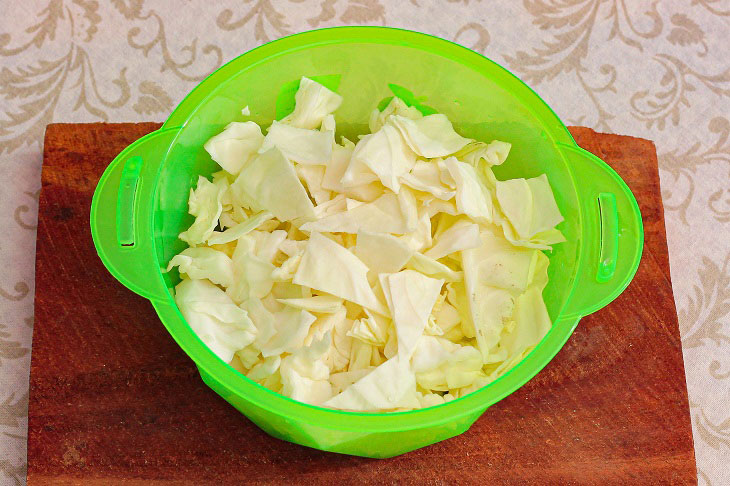 2. Cut the onion into half rings or feathers, not very thin. Grind the carrots on a Korean grater into short strips. Or three through a coarse grater. Add onions and carrots to cabbage.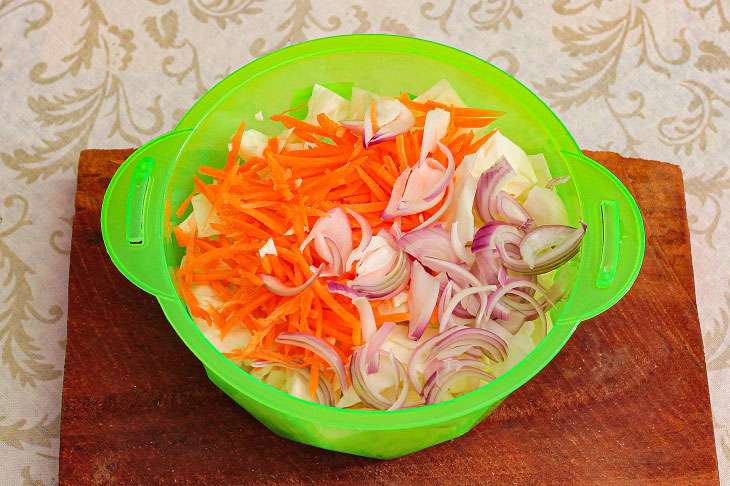 3. Cut hot peppers into rings.
To reduce the spiciness, we remove the seeds, if we cook spicy cabbage, leave it.
Cut the garlic cloves into slices.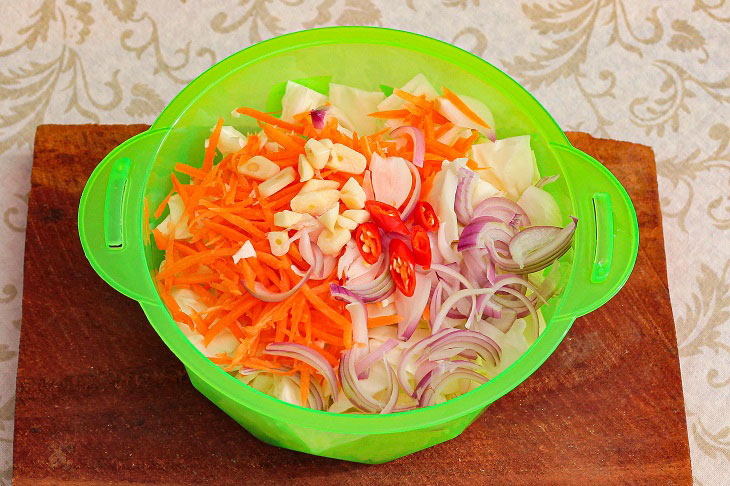 4. Pour ground coriander. Add allspice peas and whole coriander grains to the vegetable mixture.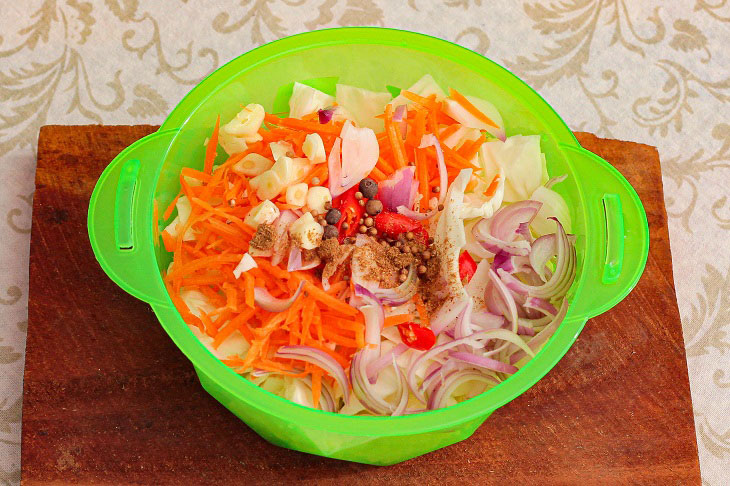 5. Pour refined vegetable oil into the cabbage. Mix everything well and set aside.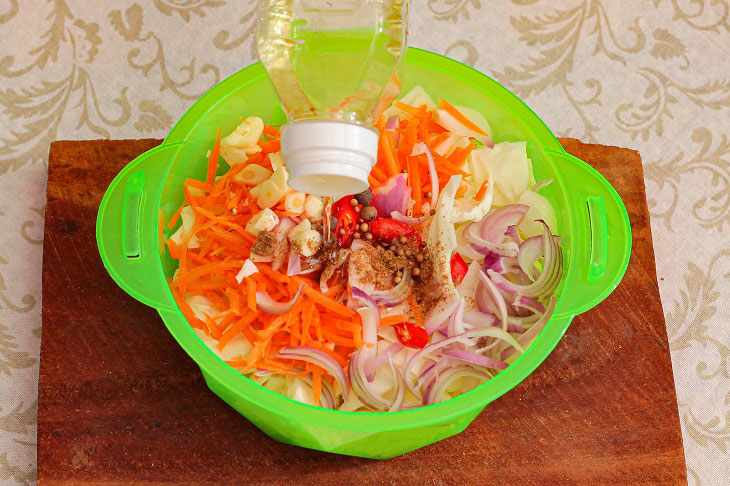 6. Cooking hot marinade for cabbage. Pour a liter of water into a saucepan, add salt and sugar. After stirring, bring to a boil and cook for two to three minutes.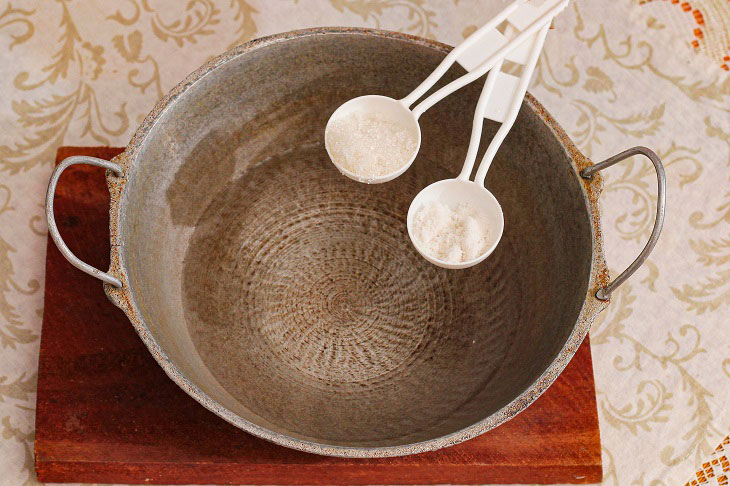 7. After removing the pan from the heat, pour 9% table vinegar into the marinade. We stir.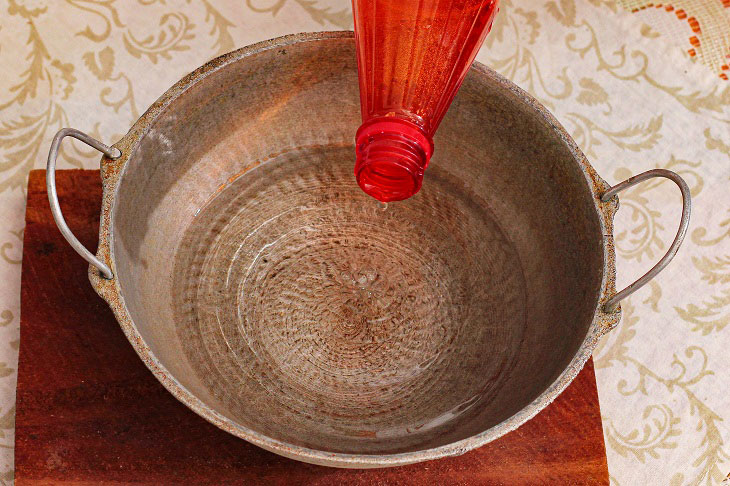 8. Pour cabbage with hot marinade, completely covering vegetables.
If the marinade is not enough, put a saucer or plate on top and put a load – the marinade will come out on top of the vegetables, they will be closed.
In this form, leave the cabbage for 10-12 hours at room temperature.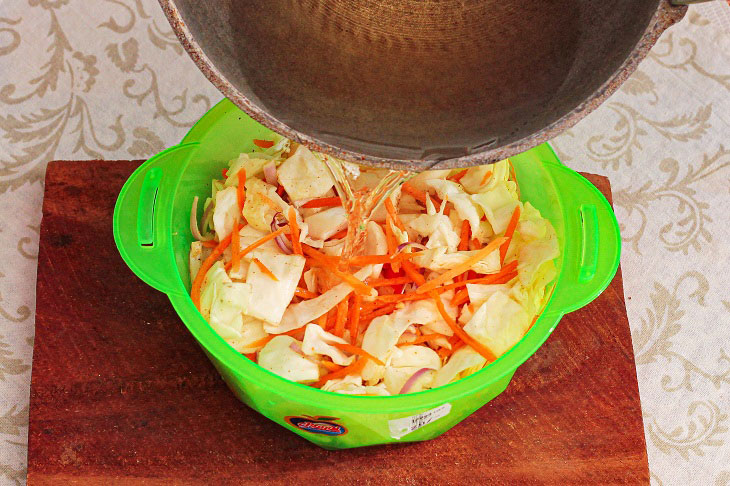 9. After marinating, we rearrange the container with cabbage in the refrigerator.
Korean-style pickled cabbage is already ready, but it's better to let it stand for another day so that the pieces are evenly saturated with a fragrant spicy marinade. Serve slightly chilled.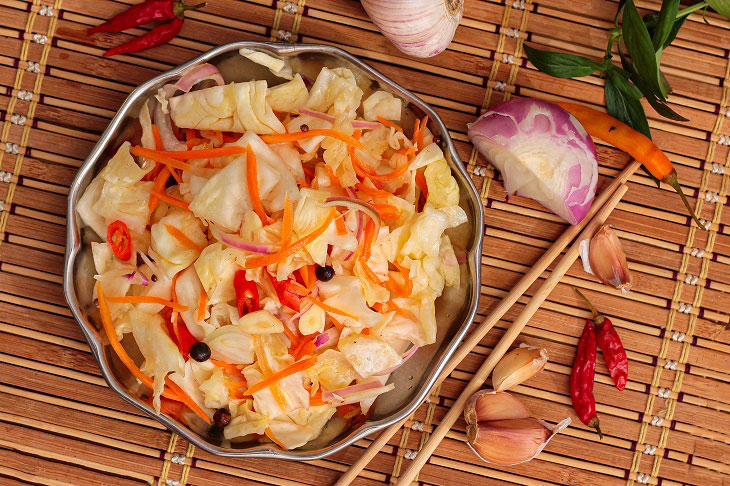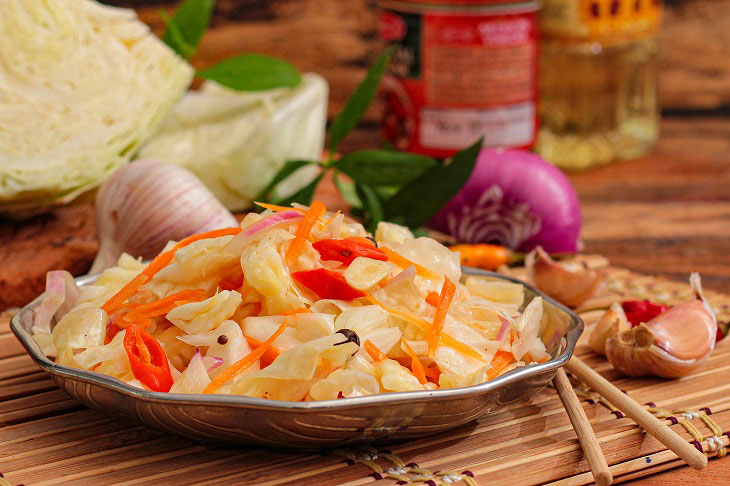 Bon appetit!