Steppe-style pork is a tasty and hearty dish, ideal for both a family dinner and a festive dinner. Guests and all your loved ones will be satisfied. This recipe takes a little fiddling, but it's worth it.
Cooking pork will take some of your time, but you get tasty and fragrant meat. For the recipe, you can use pork with fat without cutting it off, the meat after baking will turn out to be more juicy and soft. Steppe-style pork is meat in a "fur coat". For a "fur coat" you will need potatoes, eggs, sour cream, onions, a little dill, garlic, flour and chicken eggs. The meat is first fried, and then baked in the oven with the addition of milk. It will just melt in your mouth.
Ingredients:
Pork – 450-500 g.
Potatoes – 350 g.
Onion – 50 g.
Chicken eggs – 1 pc.
Wheat flour – 50 g.
Sour cream – 50 g.
Dill – 3 g.
Garlic – 1 clove.
Milk – 150-180 g.
Vegetable oil – 40 g.
Salt, black pepper – to taste.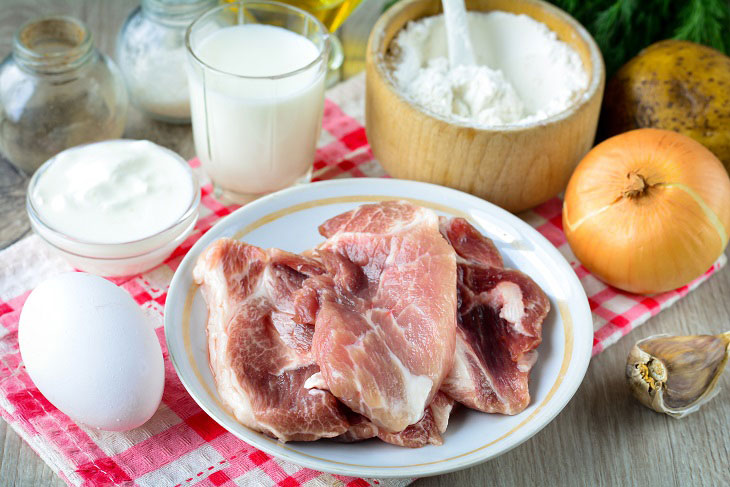 How to cook:
1. Rinse the pork and cut into plates of medium thickness.
For the recipe, you can use the neck, tenderloin or shoulder blade.
Pound the meat with a mallet, then season with salt and pepper.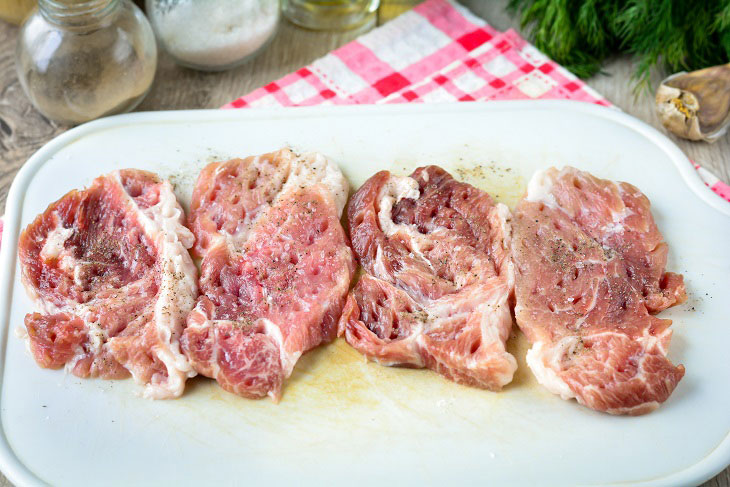 2. Peel and grate the potatoes on a coarse grater, put in a deep bowl.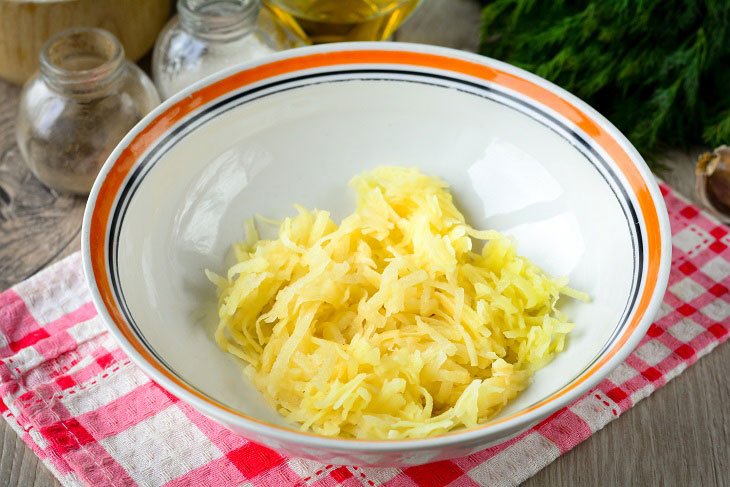 3. Peel the onion, rinse in water, then cut into small cubes.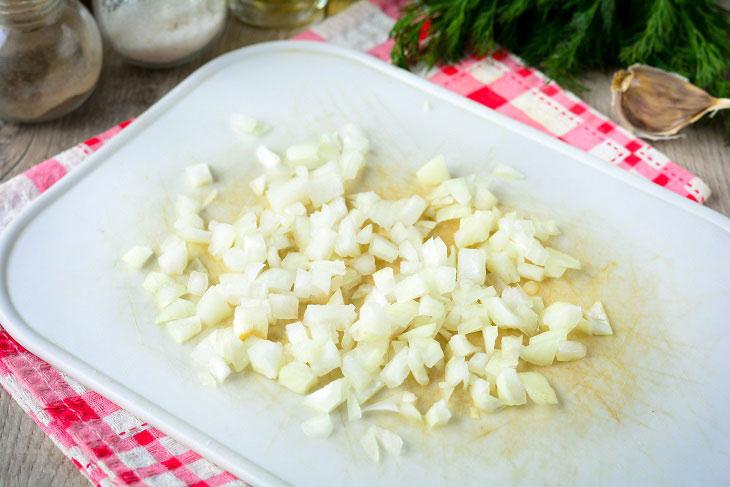 4. Pour the onion to the potatoes.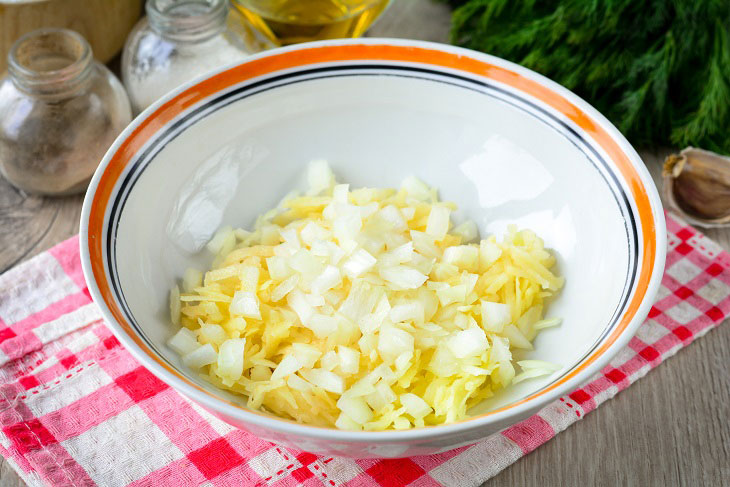 5. Finely chop the dill, pour into a container with vegetables. Squeeze garlic through the press there. With garlic, you get a more aromatic dish.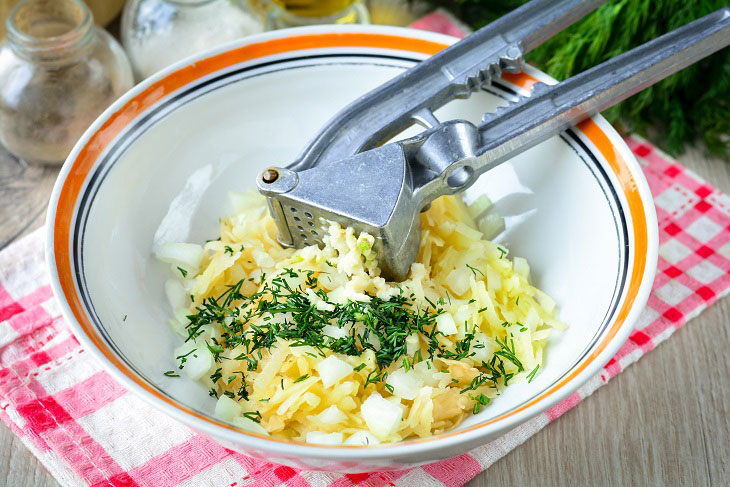 6. Beat in a chicken egg – it will hold all the vegetables together.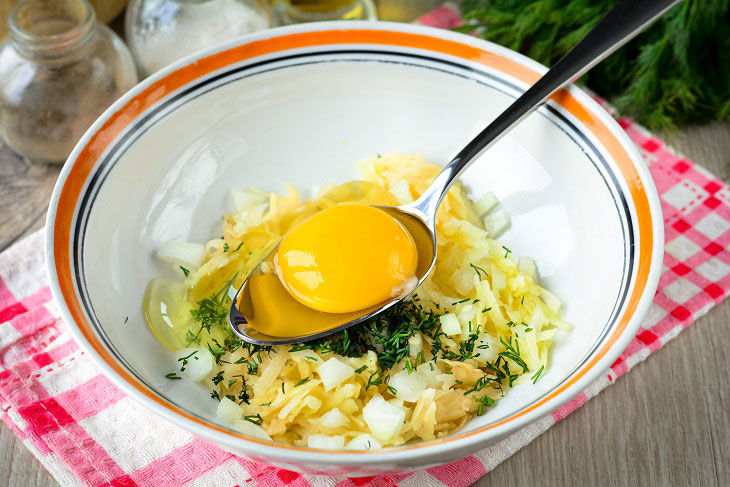 7. Add wheat flour and sour cream. Use sour cream of any fat content.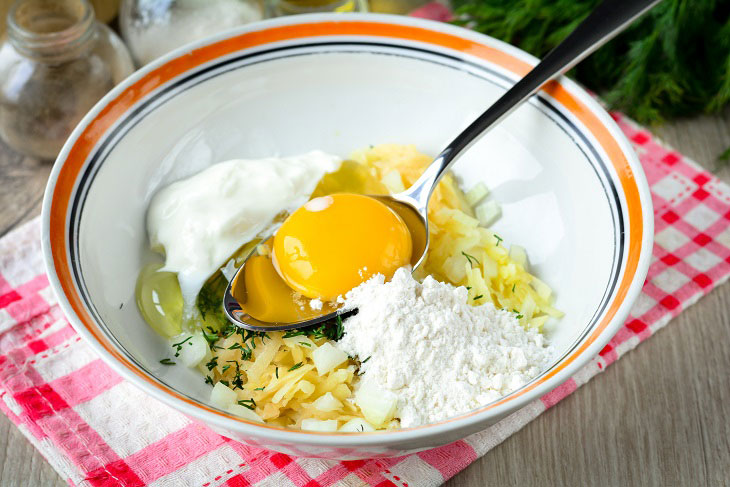 8. Stir the resulting potato mass, lightly salt and pepper.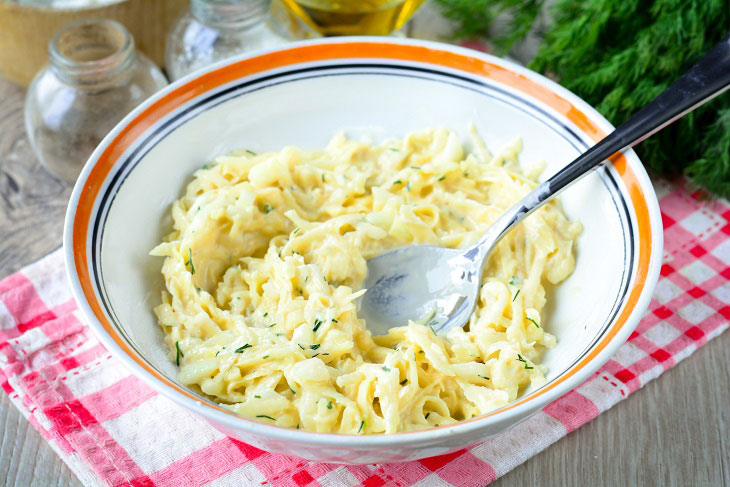 9. Put the potato mass on one side for the time being.
10. Heat the oil in a frying pan, put the pork "fur coat" down. Start frying over medium heat.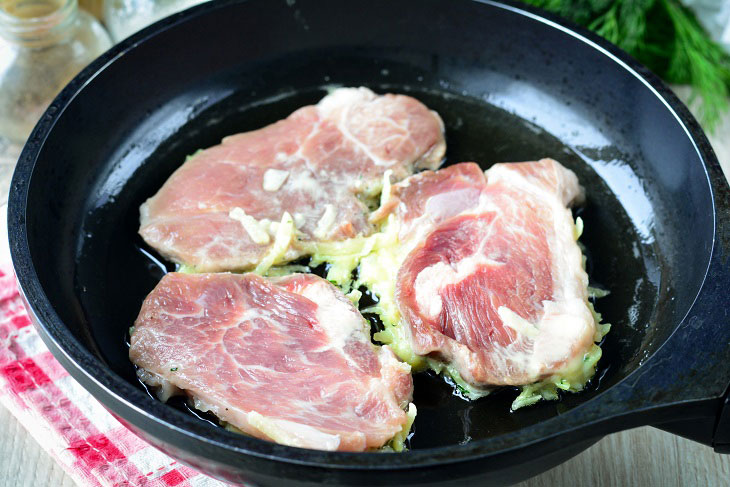 11. Now put all the remaining potatoes on top of the pork. It turned out such a kind of breading for meat.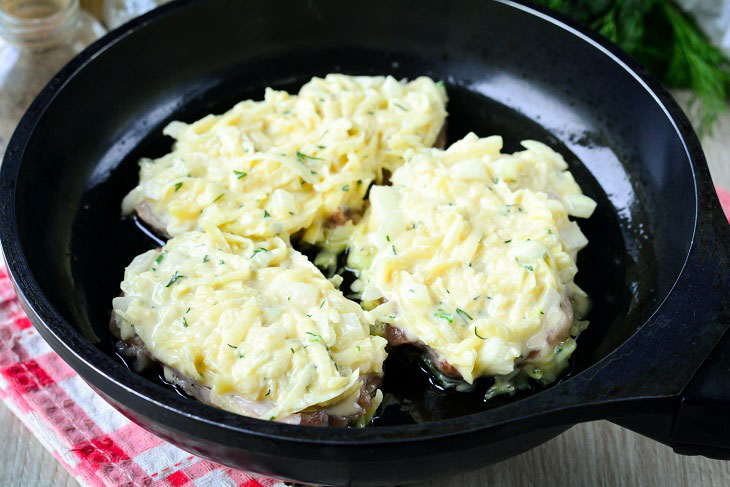 12. After 3-4 minutes, the underside of the meat is browned, turn the pork over. Potatoes are perfect for meat.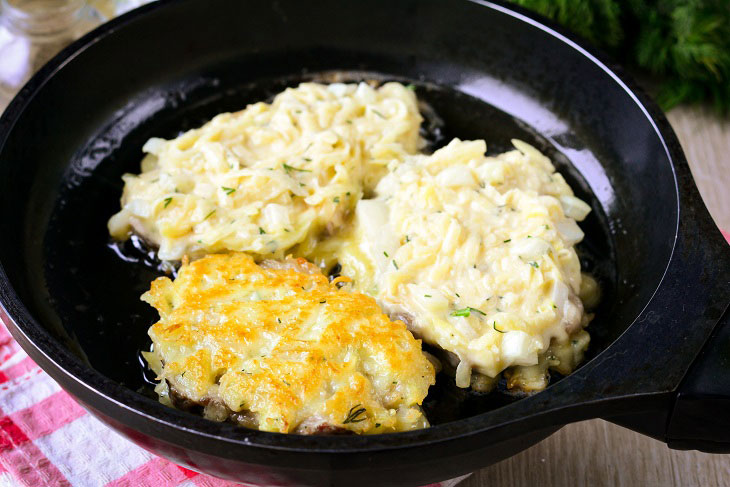 13. Put the fried pork in a baking dish and pour milk over it. Send to bake in the oven for 40-45 minutes at 180C.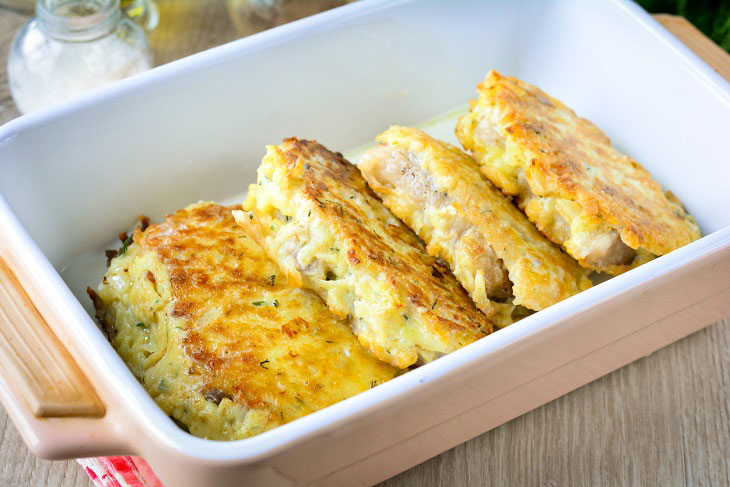 Serve the finished dish immediately to the table on its own or with a vegetable salad, it will turn out very tasty and unusual.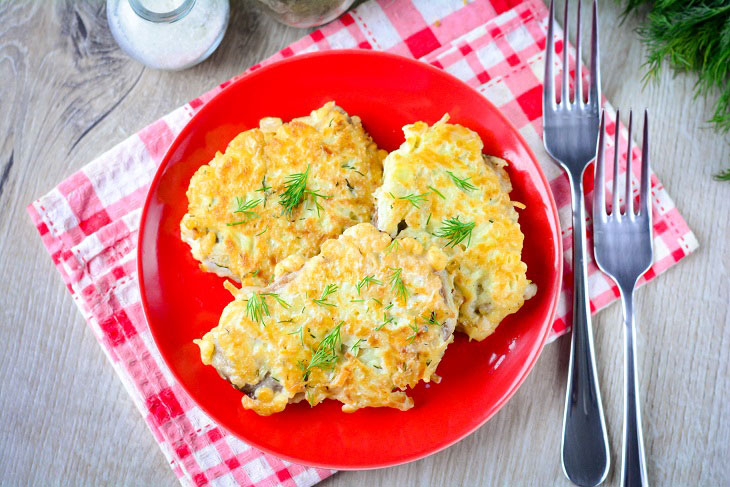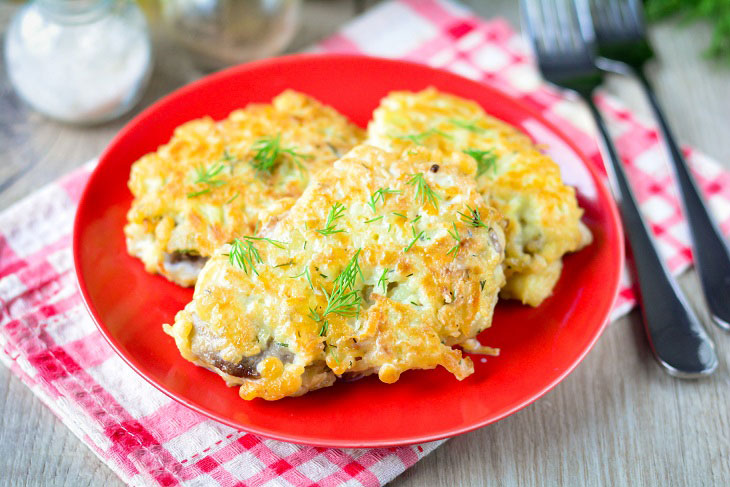 Bon appetit!