As soon as you did not cook potatoes in your kitchen. Today we offer another option for cooking this vegetable – make potatoes in sour cream batter. Outside, a piece of potato turns out to be crispy with a crust, and inside it is soft in texture. Sour cream batter can be made neutral by simply adding salt to it, or you can use spicy aromatic spices for a brighter taste.
Ingredients:
Boiled potatoes – 3-4 pcs.
Potato starch or flour – 2 tbsp. l.
Chicken egg – 1 pc.
Sour cream for batter – 3-5 tbsp. l.
Carbonated water – 25 ml.
Cornmeal – 3-4 tbsp. l.
Salt – to taste.
Spices – to taste.
Vegetable oil for frying – 150-200 ml.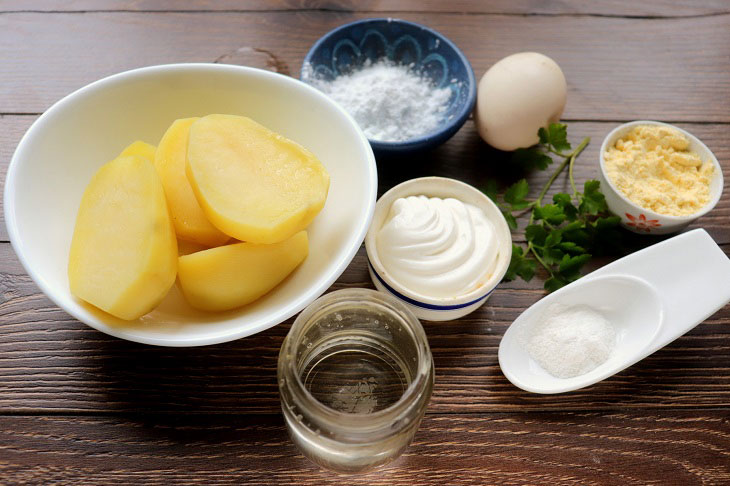 How to cook:
1. Boil potatoes until half cooked. To do this, peel the tubers and cut into two parts. Salt the water and add bay leaf or dill sprigs to make the potatoes fragrant.
We recommend using potatoes of a variety for this dish that does not boil soft and keeps its shape well after boiling or frying.
Drain the water from the pan and now cut the potatoes into small pieces, cubes or strips.
2. Sprinkle potato slices with potato starch or flour and set aside for a while.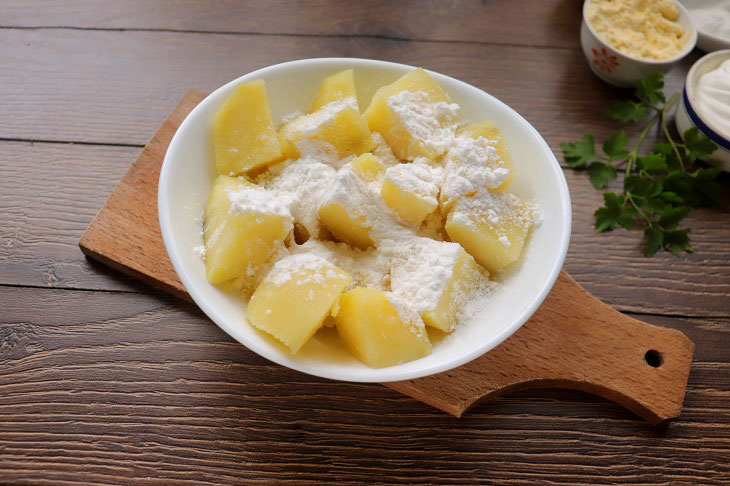 3. Prepare sour cream. To do this, in a bowl, combine a chicken egg, a few tablespoons of sour cream, cornmeal and cold sparkling water. Cornmeal can be substituted for regular wheat or almond flour. Use salt and spices to your liking.
You can add dry ground garlic, paprika, nutmeg to the batter. The batter should not turn out liquid, in this case, add flour and more sour cream.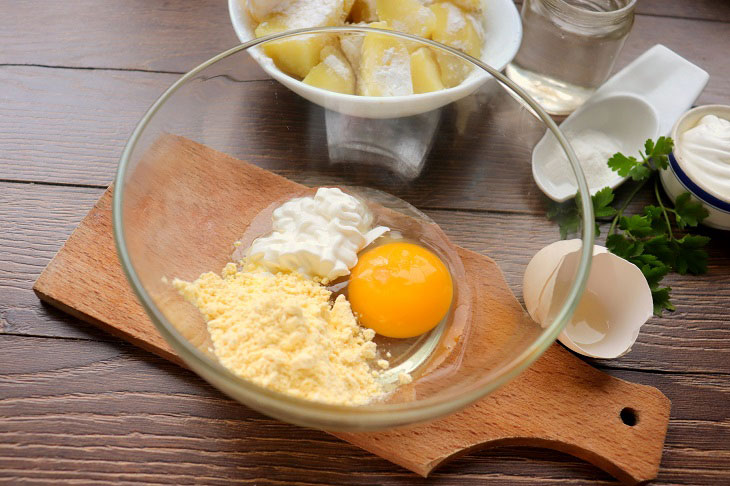 4. Send potatoes to sour cream batter and mix gently with two spoons.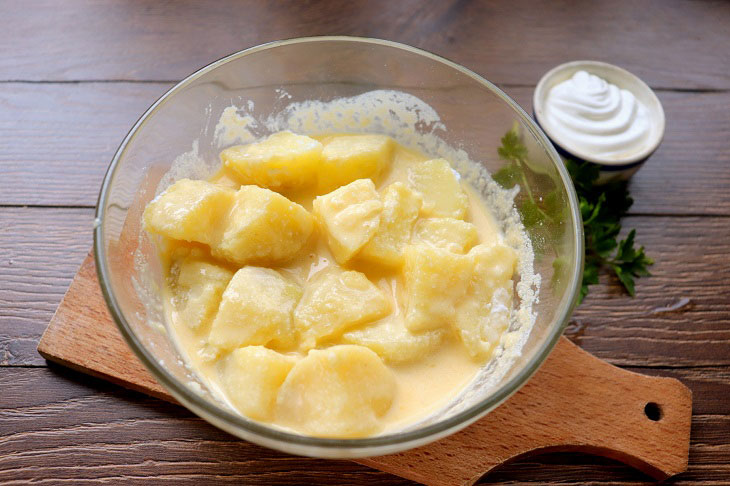 5. Heat vegetable oil for deep frying in a small deep frying pan or saucepan. Only then send in small portions to fry the potatoes until golden brown. Put the finished potatoes in sour cream batter on a paper towel to remove the remaining oil.
Serve such potatoes immediately after cooking with sour cream or kefir.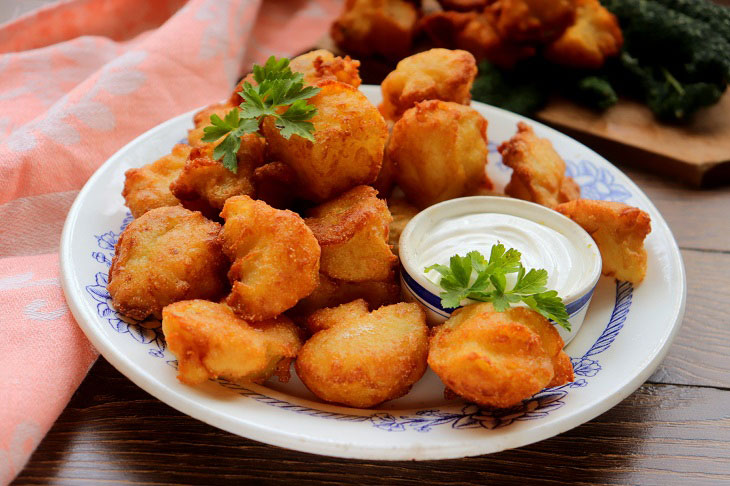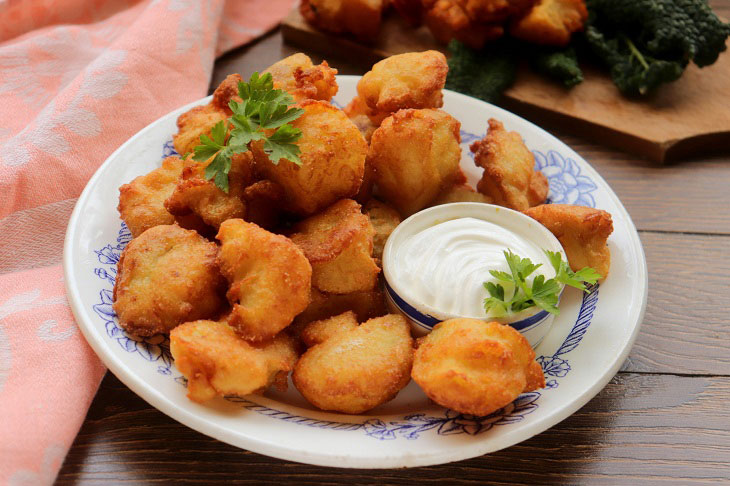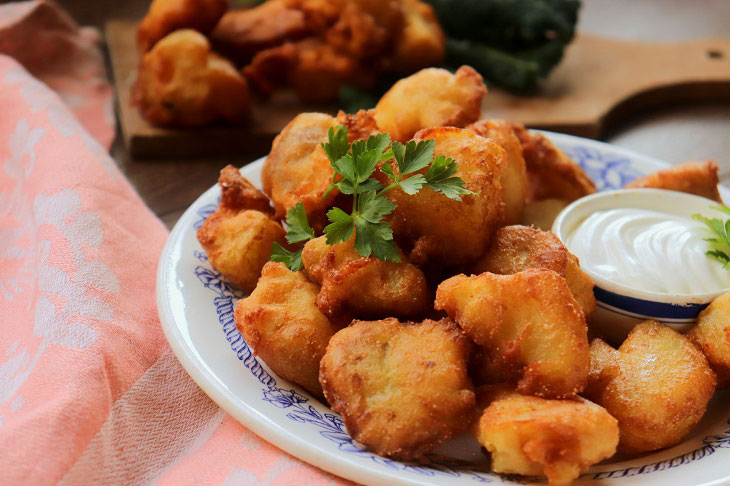 Bon appetit!