Profiteroles are small balls of choux pastry filled with various fillings or simply without filling. Today we will prepare delicious profiteroles with a delicate chocolate cream inside and coconut flakes, which will give our delicacy a light tropical taste and aroma. Instead of a dark chocolate bar, you can use good quality cocoa powder to add to the cream, but I prefer chocolate. In this case, the taste of the cream is simply amazing.
Let's prepare the necessary products for the preparation of profiteroles with chocolate cream and coconut flakes.
Ingredients:
Filtered water – 250 ml.
Premium wheat flour – 150 g.
Butter or margarine – 100 g.
Salt – 1/3 tsp.
Sugar – 1 hour. l.
Chicken eggs CO – 4 pcs.
Cream 10% – 250 ml.
Sugar (for cream) – 100 g.
Vanilla sugar – 10 g.
Corn starch – 3 tbsp. l. with a small hill.
Chicken egg (for cream) – 1 pc.
Butter 82.5% fat – 150 g.
Dark chocolate – 80 g.
Coconut flakes – 50 g.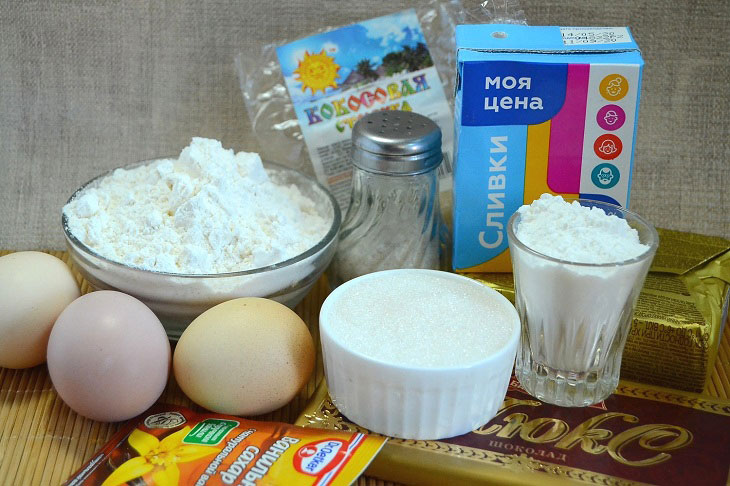 Cooking time: 2 hours. Servings Per Container: 8-10.
How to cook:
1. Water, salt, sugar and butter are placed in a thick-walled saucepan and heated to a boil.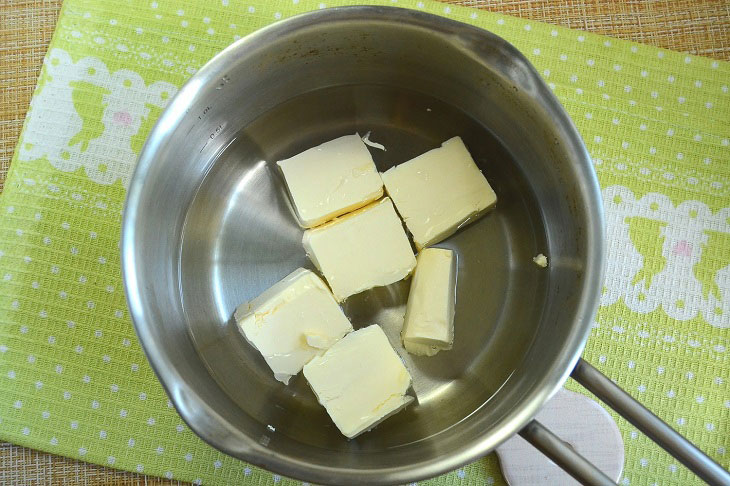 2. Remove from the stove and immediately pour all the flour into the boiled liquid. Knead the dough quickly without lumps. It is convenient to do this with a wooden spoon or spatula. We return the saucepan to the stove and over medium heat with constant stirring, dry the dough for about 1-2 minutes. When a thin film of flour appears on the bottom of the stewpan, the dough is ready. Turn off the stove and let the dough cool down a bit.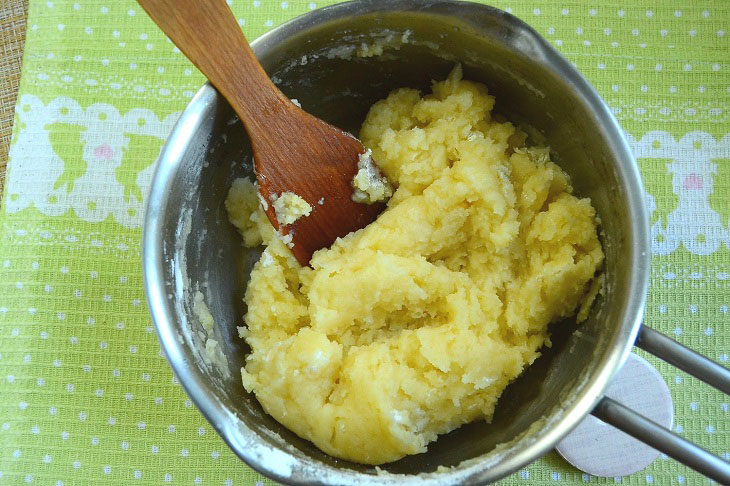 3. Lightly shake the eggs with a fork in a separate bowl.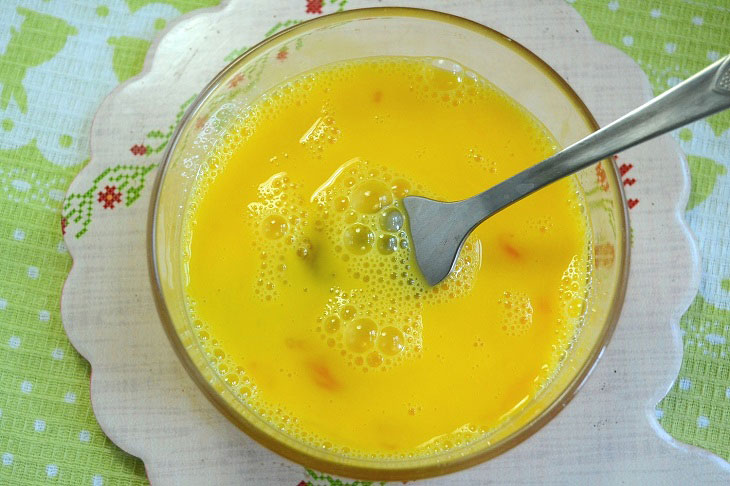 4. Add eggs to the brewed dough in several stages and carefully stir the whole mass each time.
The result should be such a medium-density, viscous dough that slowly slides off the shoulder blade, leaving a "tongue" on it.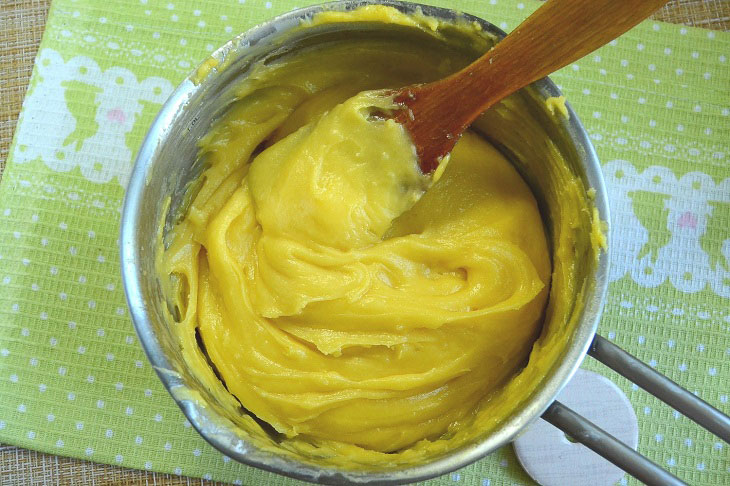 5. We transfer the dough into a pastry bag with a metal nozzle and place on a baking sheet, greased with a thin layer of vegetable oil, small round buns at a distance of 2 cm from each other. We bake future profiteroles at a temperature of 220-230 degrees until golden brown for about 25-35 minutes. Consider the characteristics of your oven.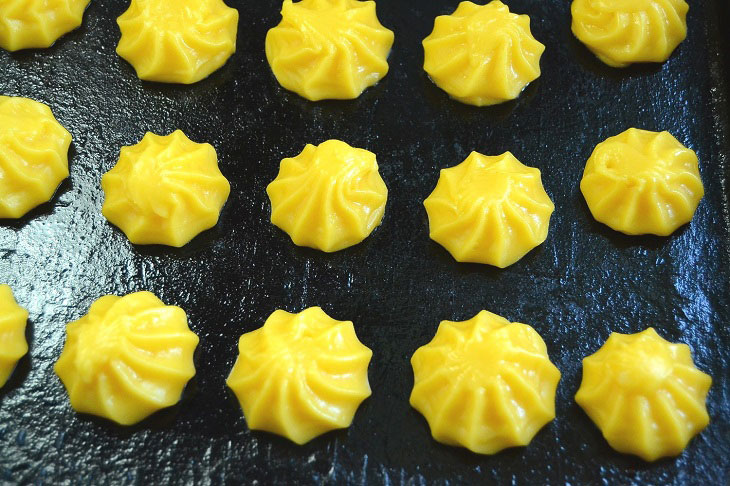 6. Transfer the finished profiteroles to the wire rack. They should increase well in volume, have a dense thin shell and a cavity inside.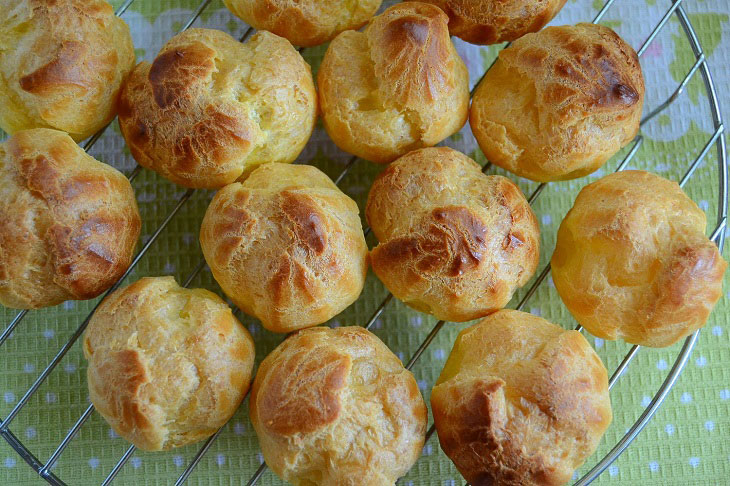 7. For the cream, first prepare the custard base. In a saucepan, combine the egg, sugar, vanilla sugar and starch. Blend everything with a whisk until smooth. Pour in the warmed cream and bring the milk mixture to a boil, stirring constantly so that nothing burns. Remove the thickened custard from the heat and add a piece of butter (about 30 g).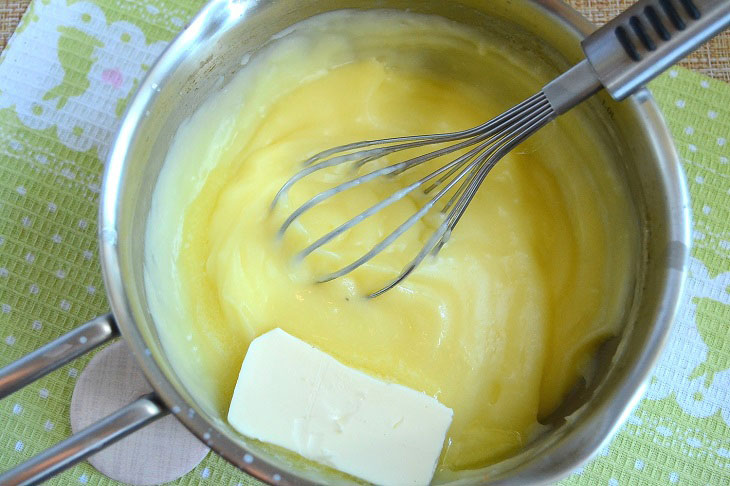 8. Stir the mass with a whisk, cover with cling film and cool the cream to room temperature.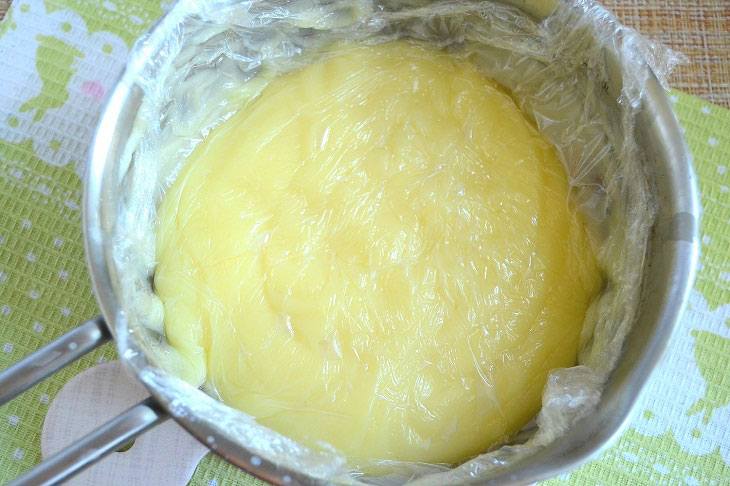 9. Beat soft butter with a mixer for a couple of minutes until fluffy and gradually add 1 tablespoon of custard to it, continuing to beat. The finished cream for profiteroles is lush and light.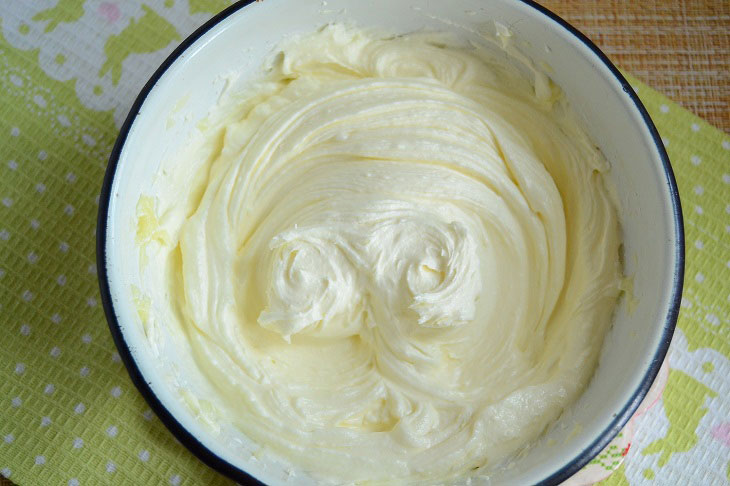 10. Dissolve dark chocolate to a liquid state in the microwave or in a water bath, cool slightly to a warm state and add to the cream. With a mixer, mix everything until combined for a few seconds.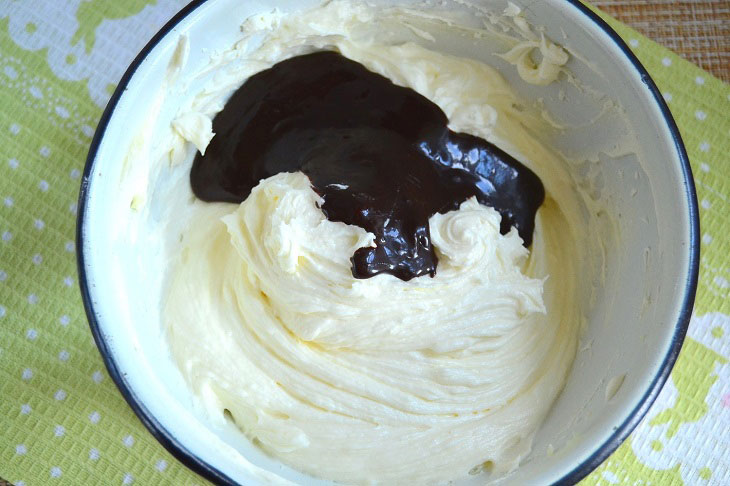 11. Pour coconut into the cream and mix with a spoon until smooth. We leave a part of the chips to decorate the profiteroles.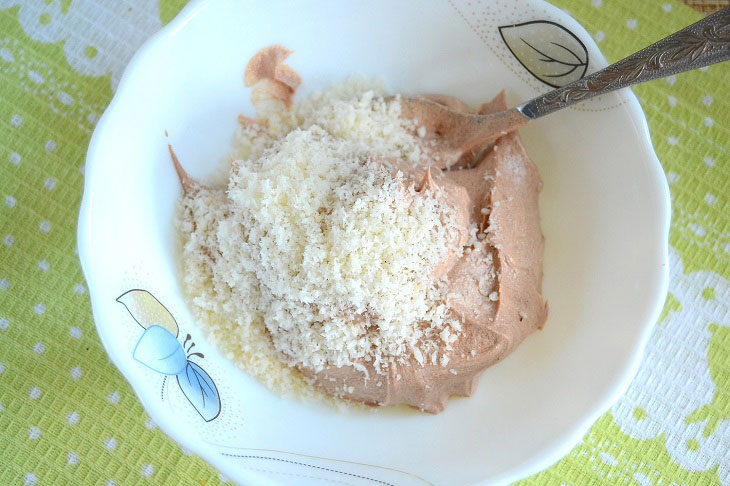 12. Using a pastry syringe, fill with cream from the side of the bottom, piercing it with a knife.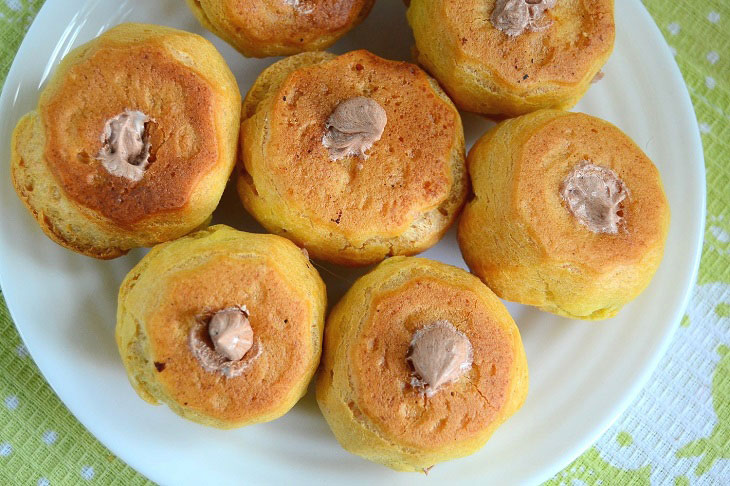 13. Lightly grease the top of the cakes with cream and sprinkle generously with coconut flakes.
We place the profiteroles filled with cream in the refrigerator for an hour so that the cream stabilizes.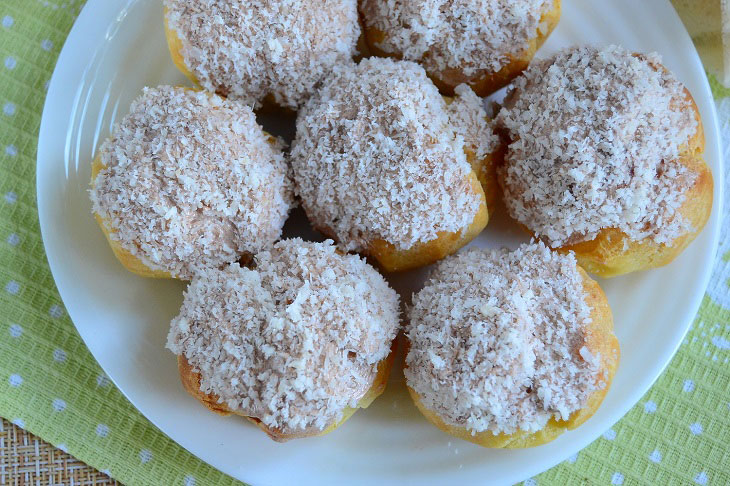 Profiteroles with chocolate cream and coconut flakes are ready.
Before serving, you can additionally decorate the surface of the cakes with melted chocolate, but this is optional. We brew fragrant tea and invite everyone to try a wonderful delicacy prepared by our own hands.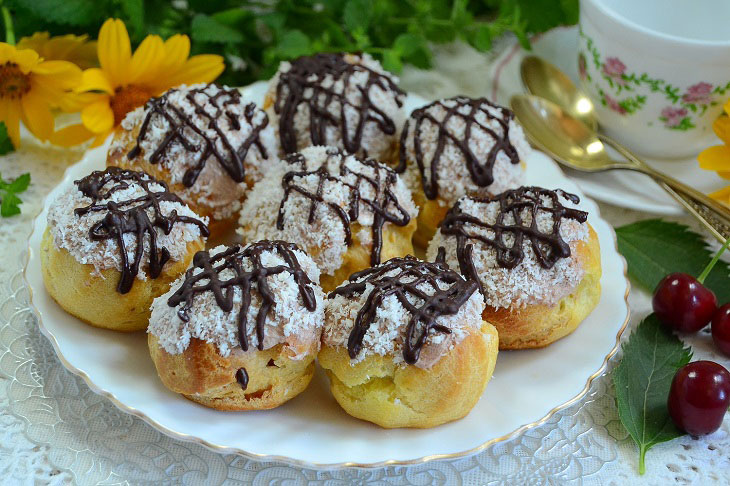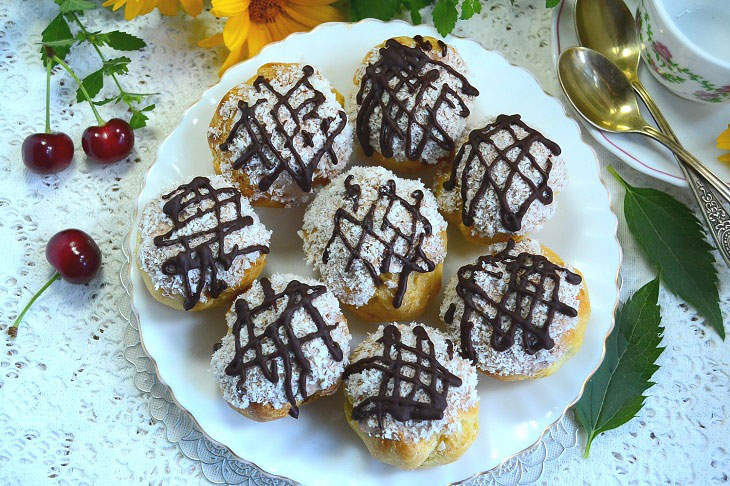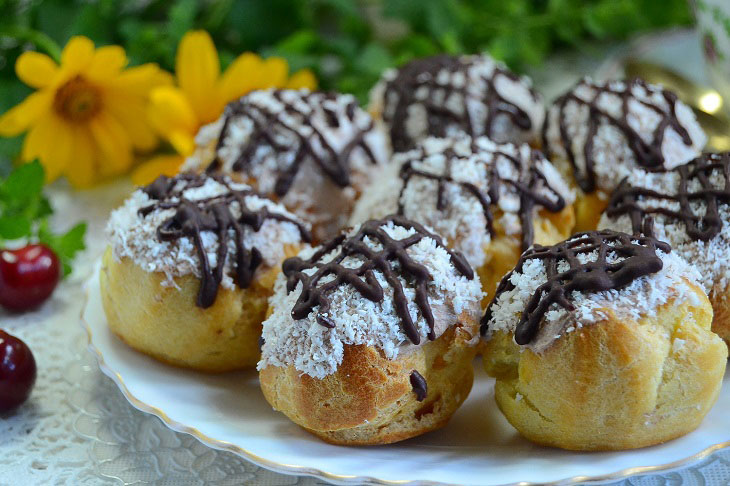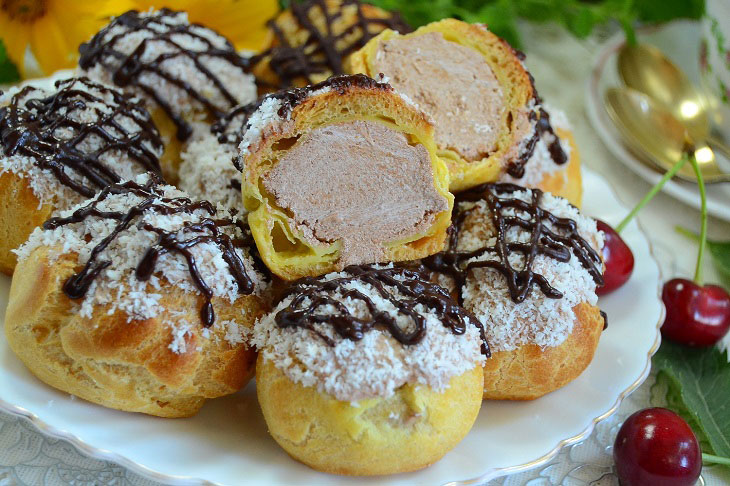 Bon appetit!