Puff salad with sprats is tasty and quite satisfying. Thanks to its neat and appetizing appearance, it is ideal for a festive table.
For laying out layers, a deep salad bowl or a culinary shape (round, square) is suitable. You can also prepare the salad in small portions in bowls, however, this will take more time.
Ingredients:
Potatoes – 2 pcs.
Onion – ½ pc.
Sprats – 10 pcs.
Pickled cucumbers – 1-2 pcs.
Hard cheese – 70 g.
Salt – 2 pinches.
Mayonnaise – 2.5 tbsp. l.
Fresh herbs – 3-4 sprigs.
Olives – 3 pcs. (for decoration).
Cooking time: 40 minutes. Servings Per Container: 2.
Cooking:
1. Boil the potatoes in advance in their skins and cool them in cool water – then the vegetable will be easier to peel. Grate it.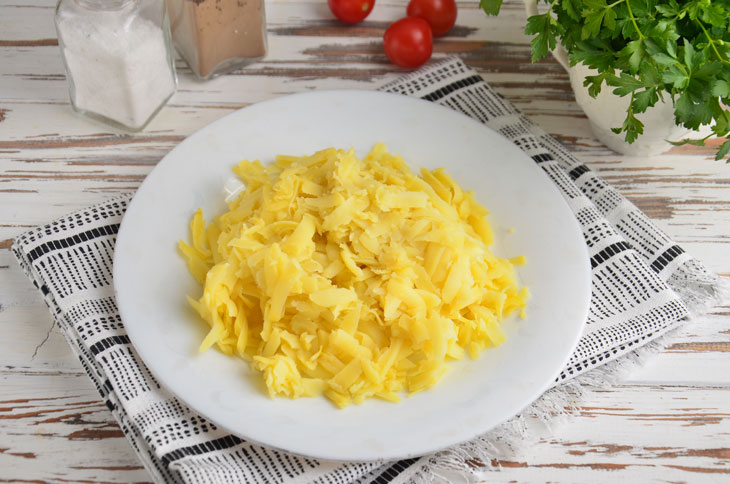 2. Take a beautiful deep salad bowl. Put half of the grated potatoes on the bottom, smooth with your hands or with a spoon, apply a layer of mayonnaise.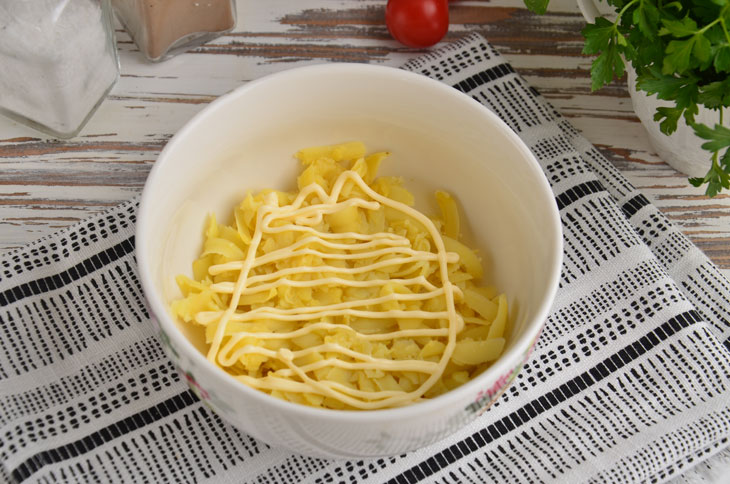 3. Peel a small onion, rinse. Cut half into small cubes.
So that the vegetable does not give bitterness, you can scald it with boiling water.
Spread the onion over the potato layer.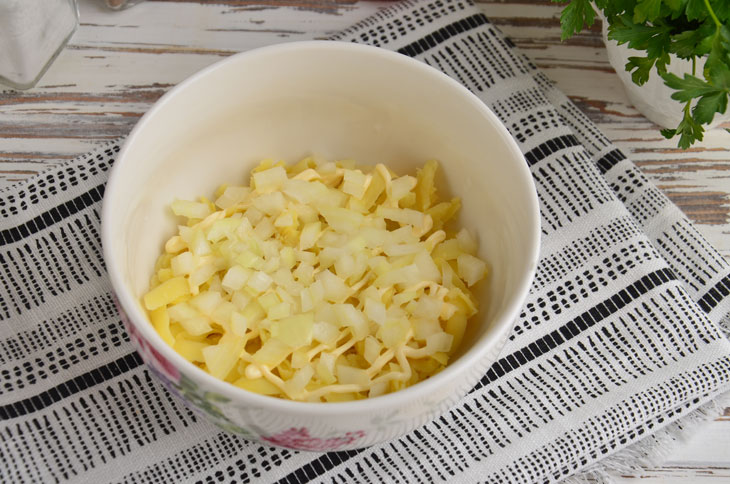 4. Mash the sprats with a fork or peel (if the peel is hard, the backbone). Send on top of a layer of potatoes and onions. Mayonnaise is not needed here.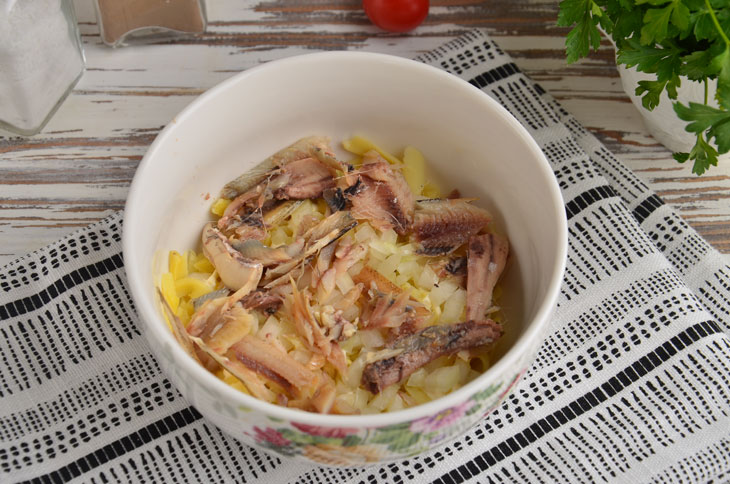 5. Chop pickled or pickled cucumbers into small cubes, make the next layer.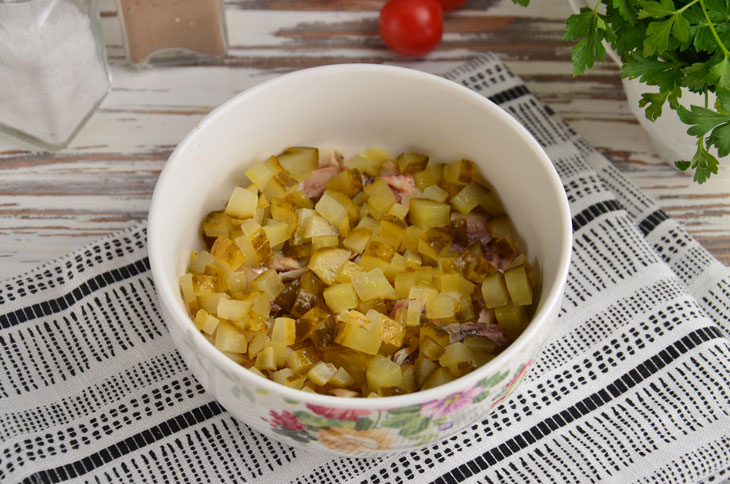 6. Next, you need to use the remaining potatoes, making the next layer. Don't forget to make a mayonnaise net.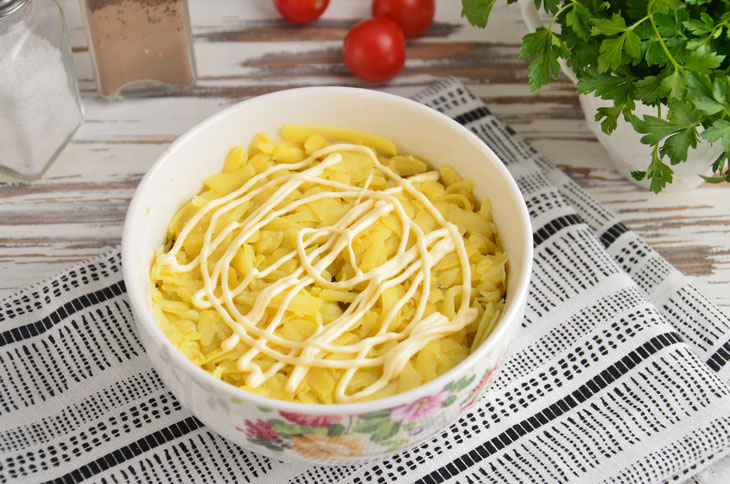 7. The choice of cheese is up to you. You can just use the one that is in the refrigerator, whether it be fresh or salty. Grind the product with a grater and put on top of the potatoes. Cheese needs to be crushed, and then make a mayonnaise net.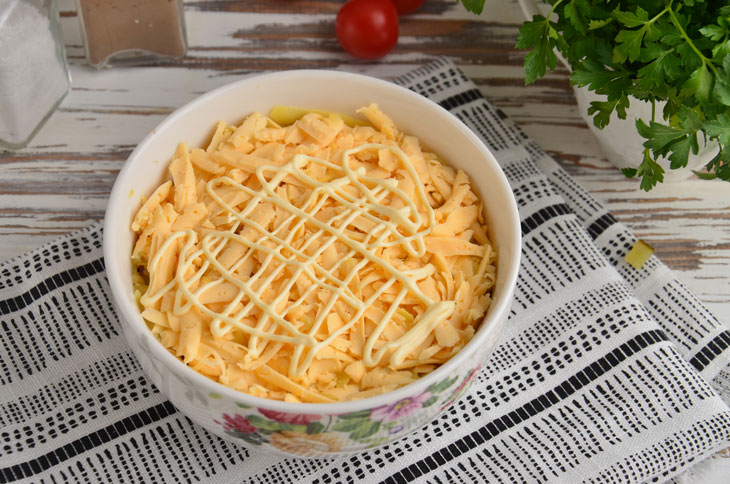 Let the salad brew for at least an hour, then garnish with fresh herbs, olives and you can taste.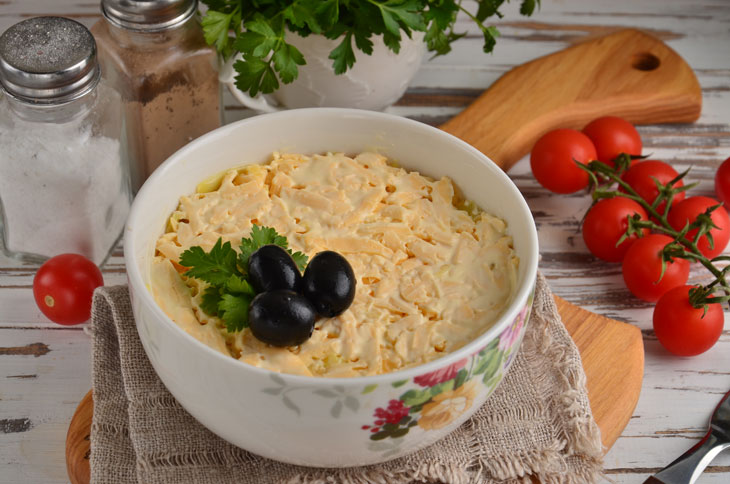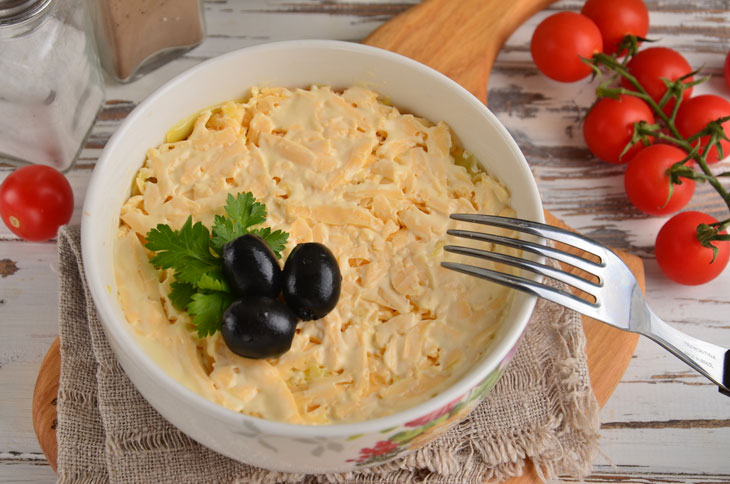 Enjoy your meal!