Salad "Blondie" turns out to be very satisfying, tasty and quite bright in appearance. It is not difficult to prepare and quite quickly.
Of the ingredients, the main one is smoked sausage, which is why when choosing it in a store, you should give preference to the highest quality and not cheap in price. The highlight of this salad is that its top layer is fried potatoes. It is he who gives the appetizer a peculiar originality and a rather interesting taste. Having prepared this salad once, you will definitely want to add it to the list of the most original and noteworthy.
The very name of the salad is due to the fact that it looks like curly blond hair from above. And this is not surprising, because for such an unusual effect, potatoes are specially grated for carrots in Korean, and then fried to a beautiful color. By the way, you can make the potatoes less fried, then it will be lighter in color.
Ingredients:
Potato – 1 pc.
Smoked sausage of excellent quality or ham – 100 g.
Fresh tomato – 1 pc.
Hard cheese – 70 g.
Garlic – 1 clove.
Mayonnaise – 2 tbsp. l.
Vegetable oil – 150 ml.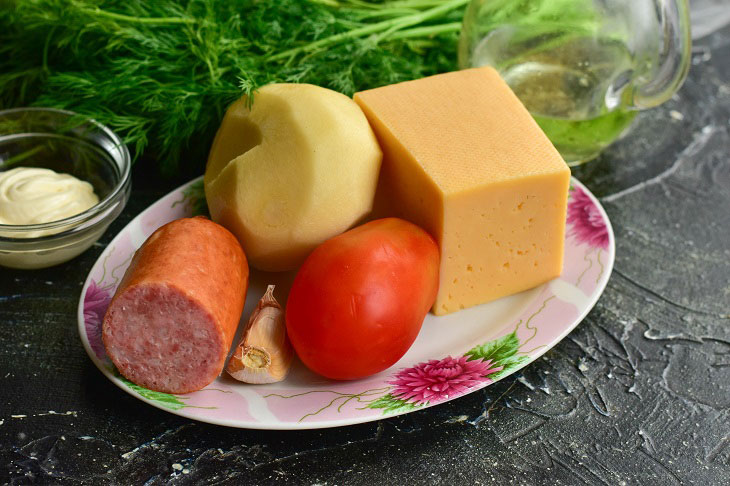 How to cook:
1. Wash, peel and grate potatoes on a Korean carrot grater.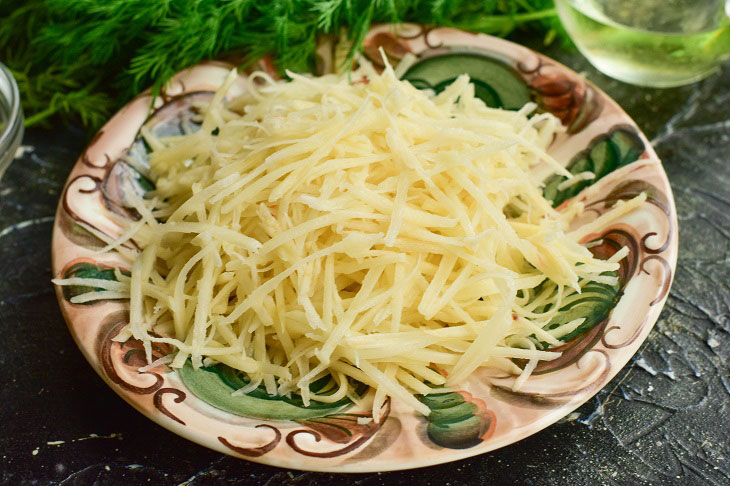 2. Heat vegetable oil in a bowl or ladle. Put the grated potatoes into it in parts and fry it until a beautiful and golden color.
This procedure is quite fast, so moving away from the stove is highly undesirable. And the most important point – it is necessary to fry potato straws in parts.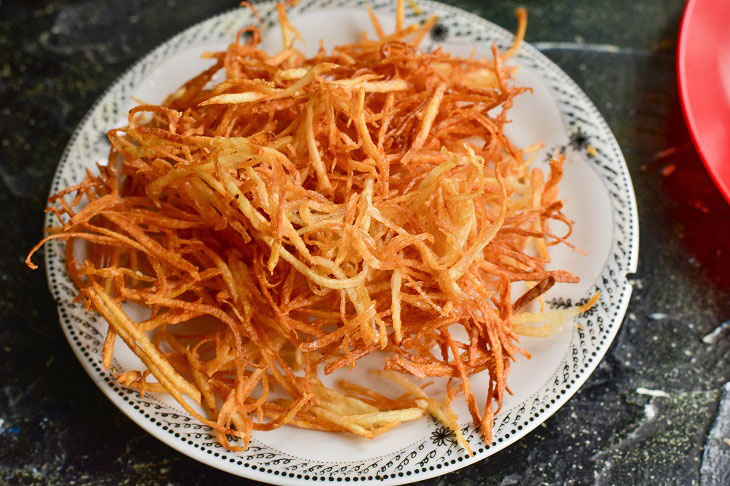 4. Place a forming circle or square on the dish. Lay out the first layer of sliced ​​\u200b\u200bfresh tomatoes. Lubricate it with mayonnaise, into which squeeze garlic through a press.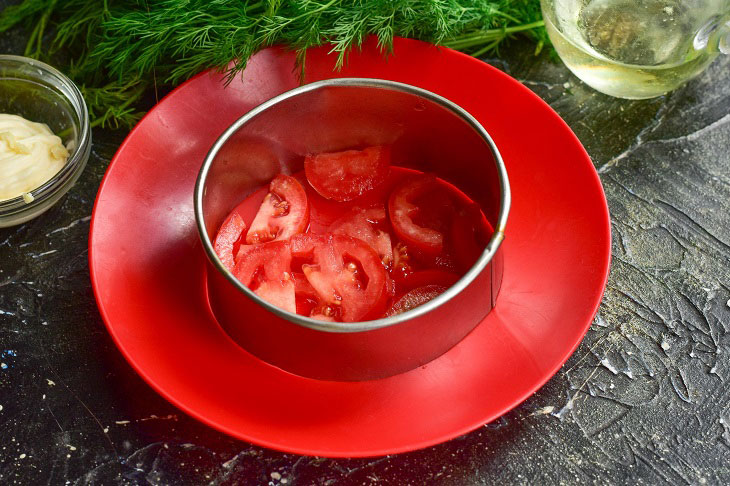 5. The next layer will be smoked sausage. Be sure to cut it into strips. Don't forget the garlic sauce.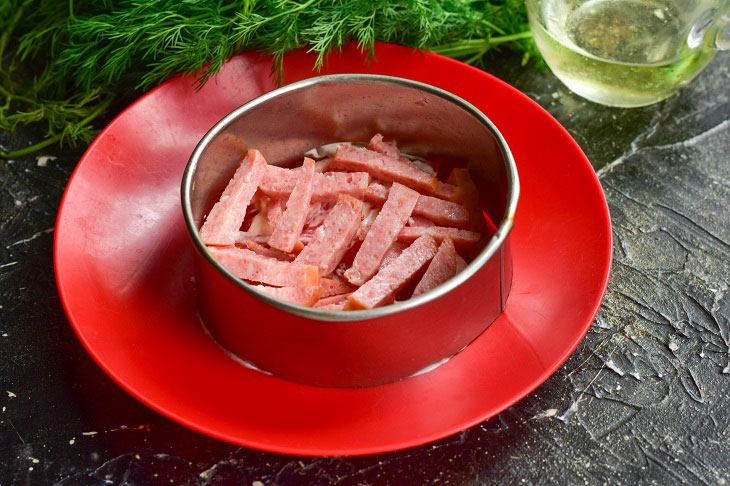 6. Now grate hard cheese on a coarse grater. Also brush it with plenty of sauce.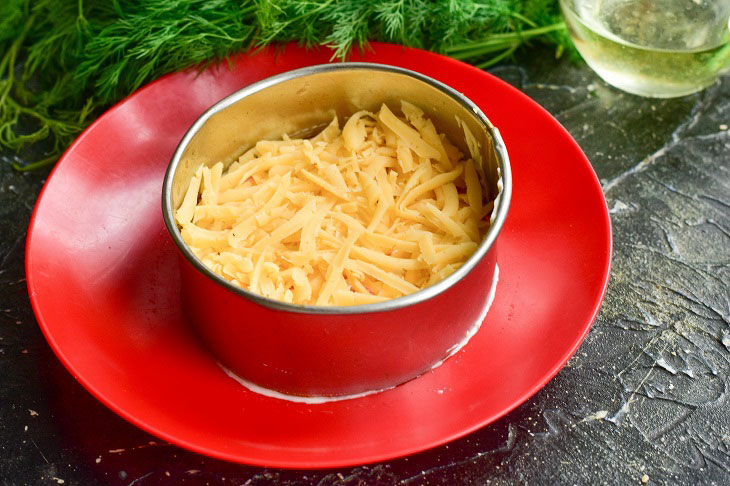 7. Lay out the fried potatoes carefully. Remove the forming ring.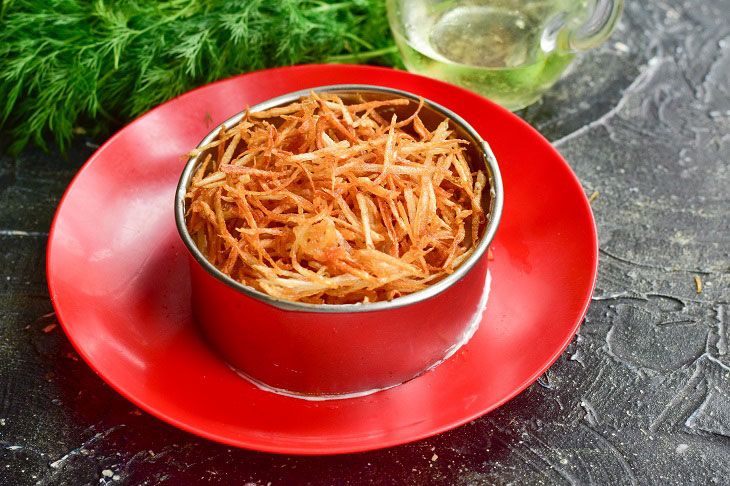 8. Decorate the Blondie salad as you wish and boldly serve it immediately to the table.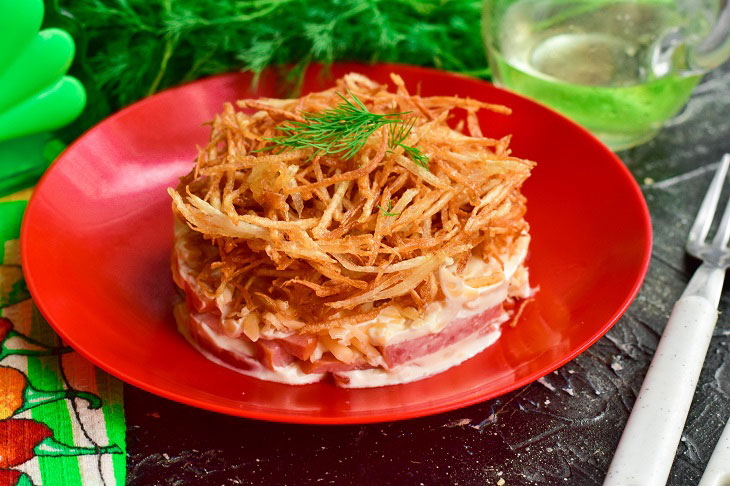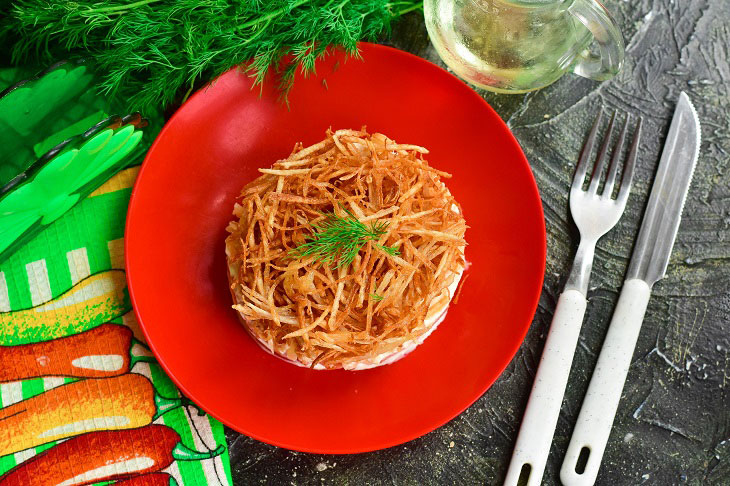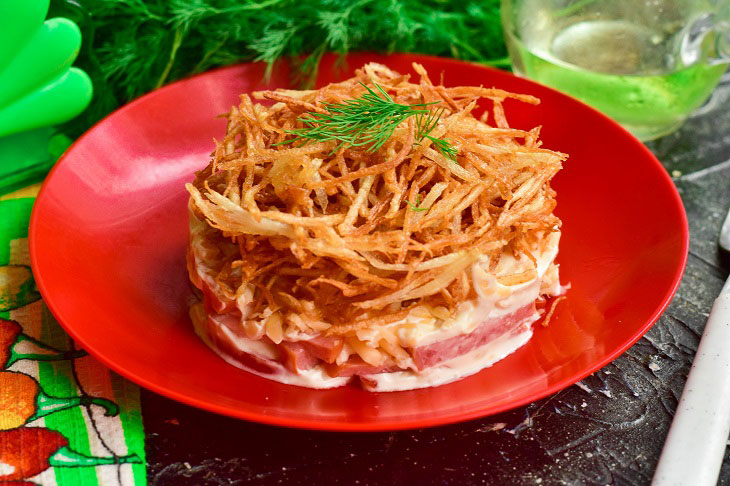 Enjoy your meal!