Surprisingly beautiful salad "Red Poppies" is made from products that you can buy in any market and in every supermarket. The basis of the dish is boiled chicken fillet. Pickled champignons go well with it, giving the dish piquant notes. The combination of juicy tomatoes with dense pulp and cheese subtly set off the taste of the salad and harmoniously fit into the overall composition. Green onions complement the taste sensations, and mayonnaise is used as a dressing.
To decorate the salad, you will need small tomatoes, sprigs of fragrant dill, a few olives and poppy seeds.
Ingredients:
Chicken fillet – 300 g.
Pickled champignons – 300 g.
Tomatoes (medium size) – 3 pcs.
Hard cheese – 100 g.
Green onion – 0.5 bunch.
Mayonnaise – 150 g.
Salt – to taste.
Allspice peas – to taste.
Bay leaf – to taste.
To decorate the salad:
Small round tomatoes – 3 pcs.
Pitted olives – 3 pcs.
Dill greens – 3 fluffy sprigs.
Poppy seeds – 1 tsp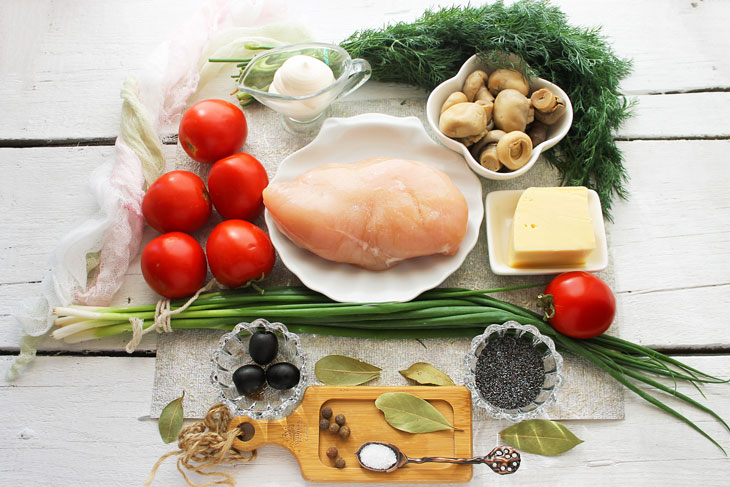 How to cook:
1. Rinse the chicken fillet and boil in salted water with the addition of allspice and bay leaf. Cooking time is about 30-35 minutes. Remove the fillet from the broth and set aside.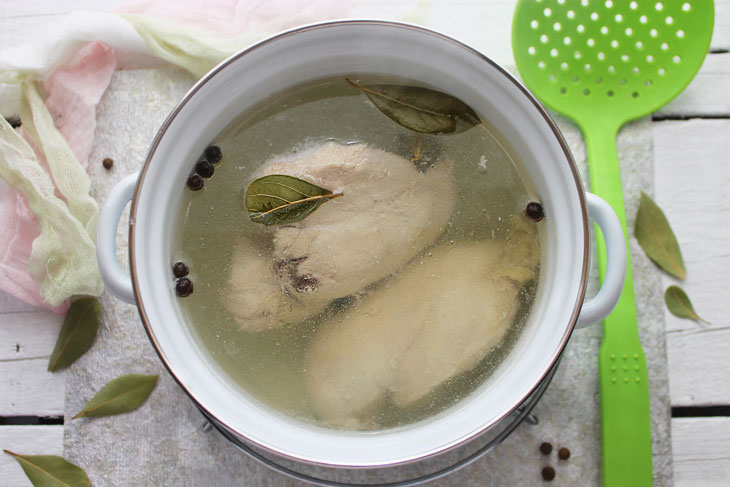 2. Place a serving ring on a large flat dish.
This recipe uses a serving ring from a cake mold with a diameter of 20 cm.
Lubricate the inner side of the ring with a thin layer of sunflower oil. Cut the chicken fillet into small cubes or disassemble with a fork into fibers. Spread the chicken in an even layer in the ring and tamp down well.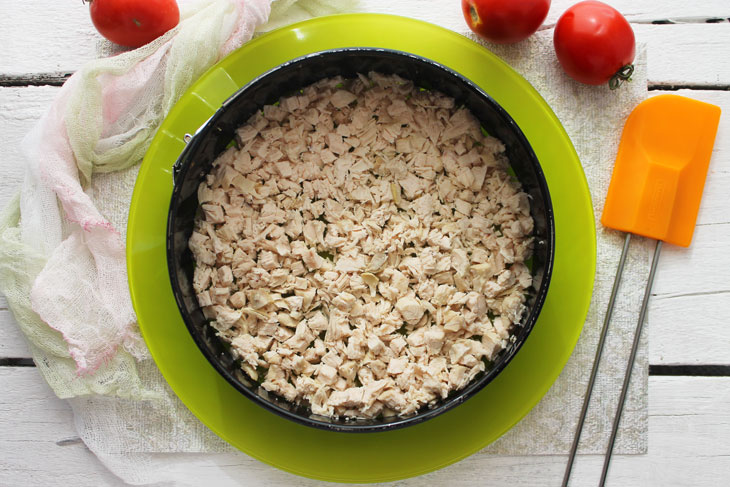 3. Cover with mayonnaise.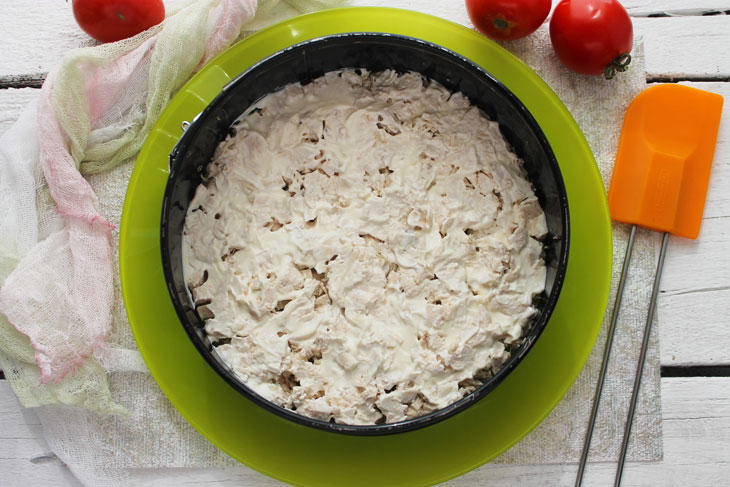 4. Remove the mushrooms from the jar, cut into thin plates and put in the ring with the next layer.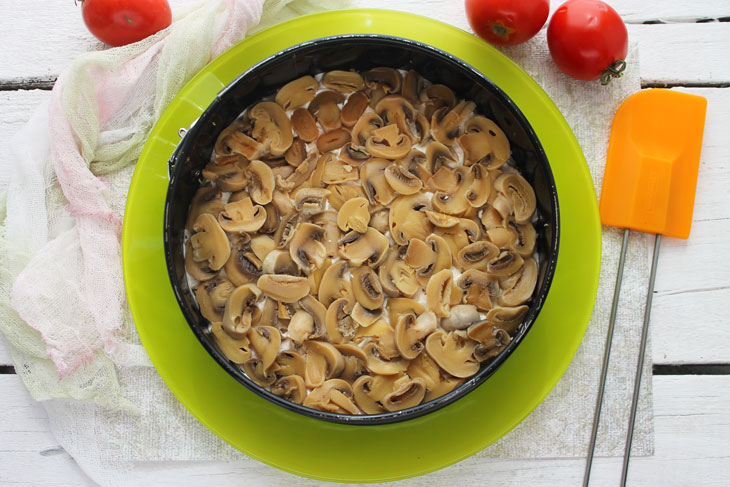 5. Rinse the green onions, shake off the water and cut into thin rings. Put on the mushrooms.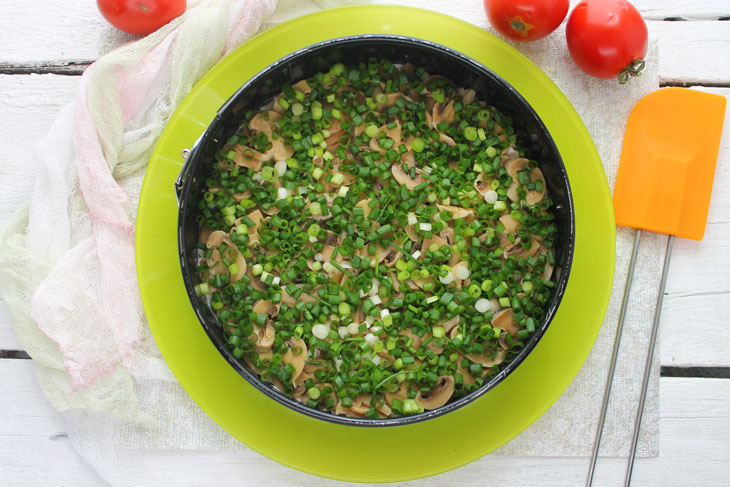 6. Lubricate with mayonnaise.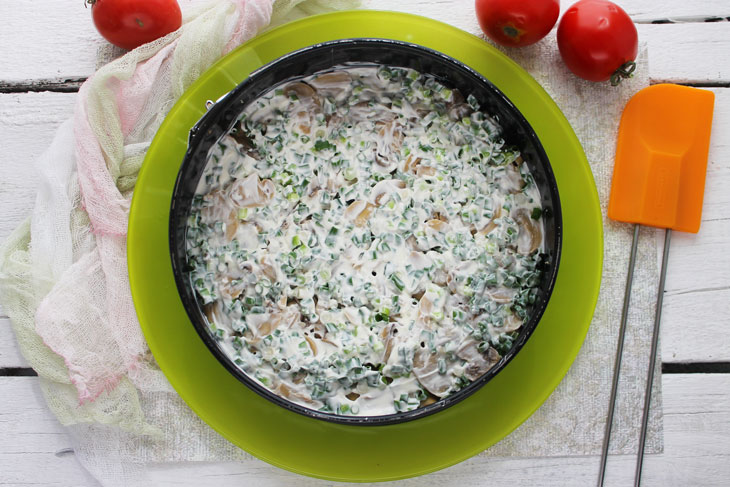 7. Wash the tomatoes, cut into small cubes and place in a ring.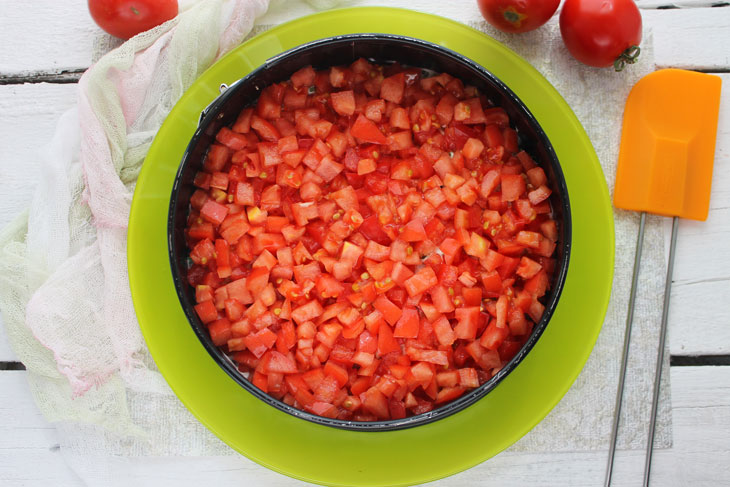 8. And again cover with a layer of mayonnaise.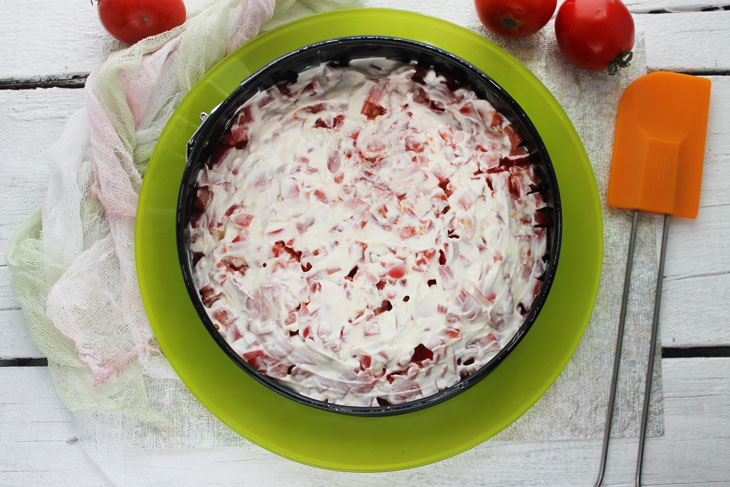 9. Grate the cheese on a fine grater and lay out the next layer.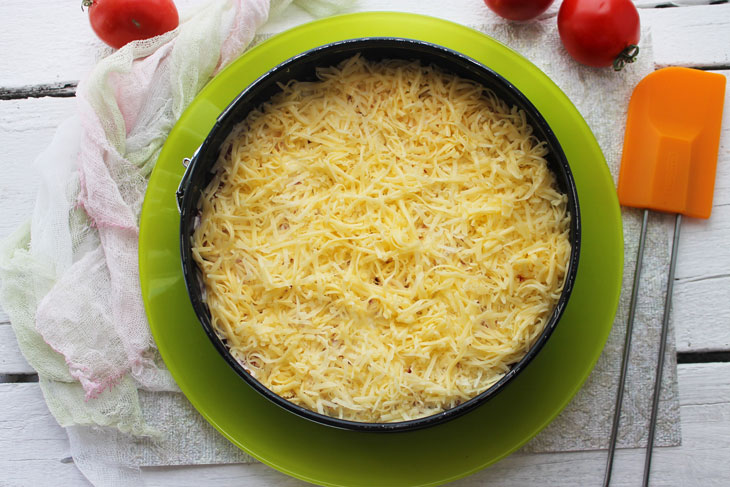 10. The salad is almost ready, it remains only to decorate it. Wash the tomatoes and pat dry with paper towels. Then cut the tomatoes into thin circles and lay out 3 poppy flowers overlapping them.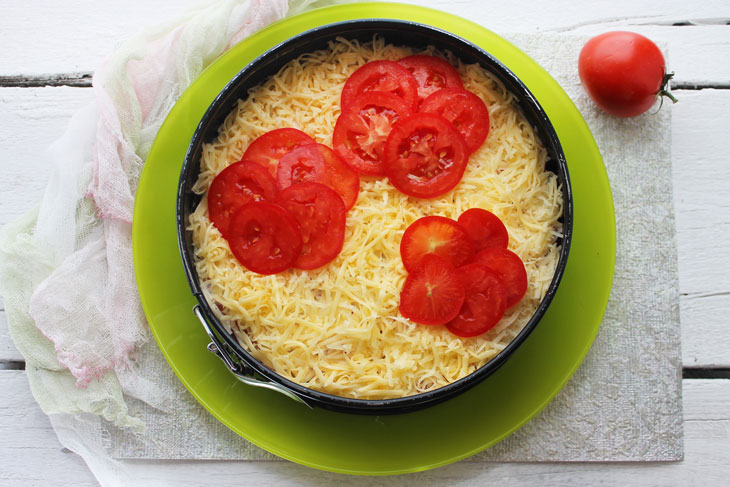 11. Cut the olives in half and make the hearts of the flowers out of them.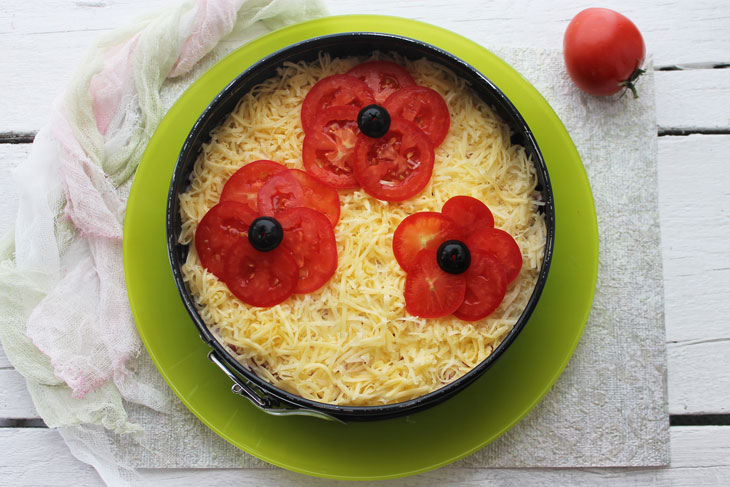 12. Sprinkle the flowers with poppy seeds.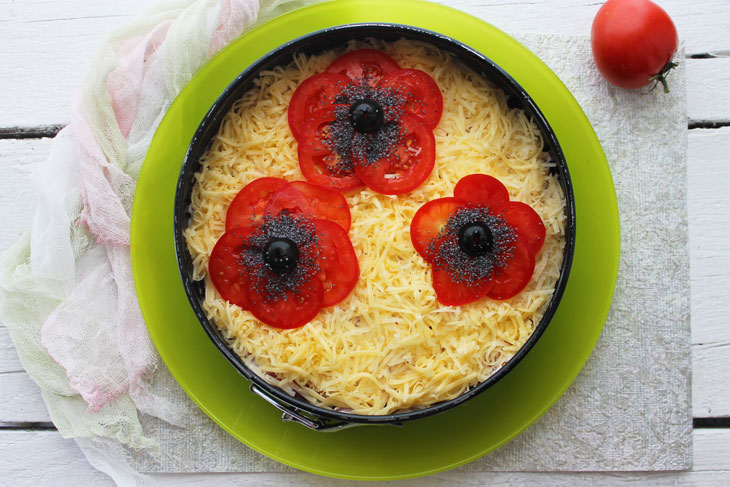 13. Make poppy stems from washed and dried dill sprigs.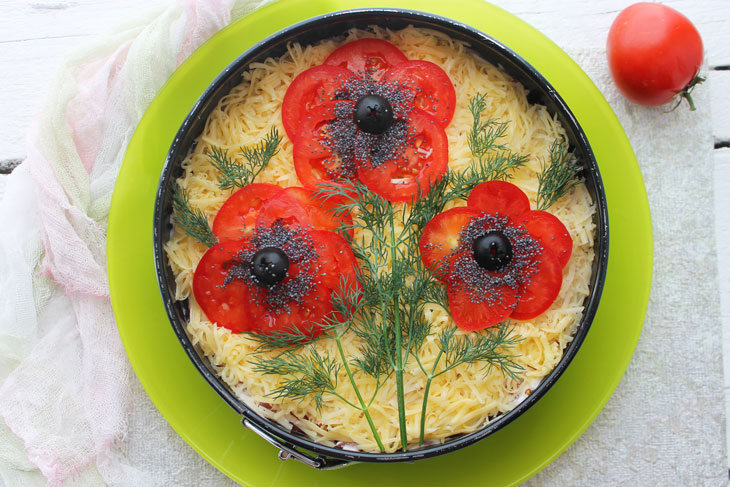 14. Carefully remove the serving ring. Place the salad in the refrigerator for several hours to soak.
Serve the Red Poppies salad to the table and treat your household and guests.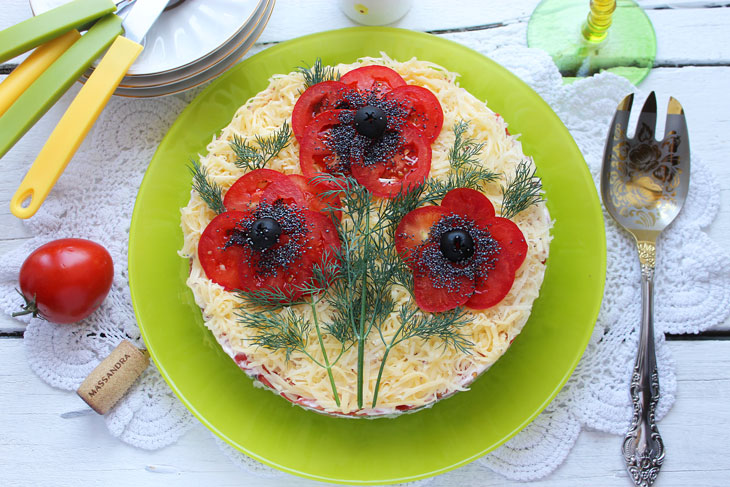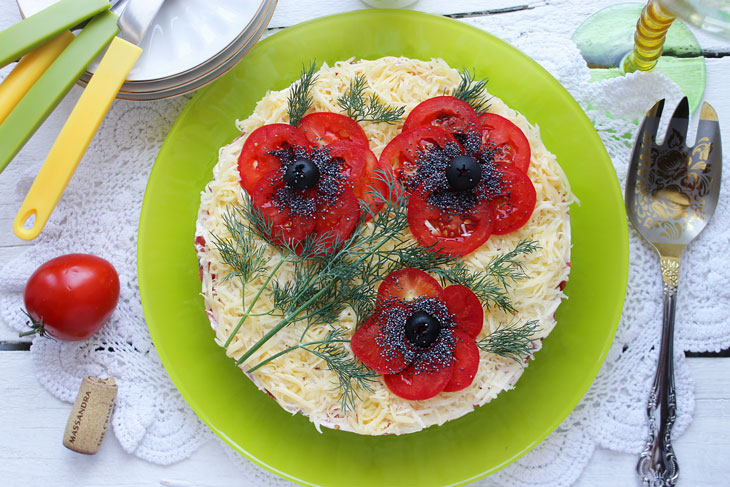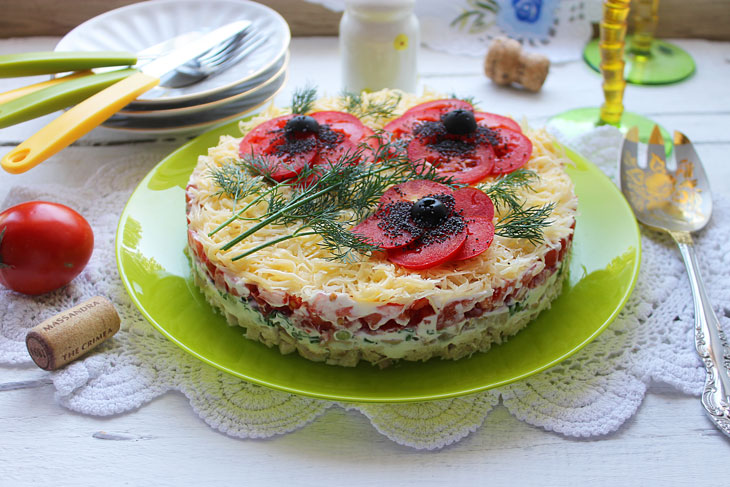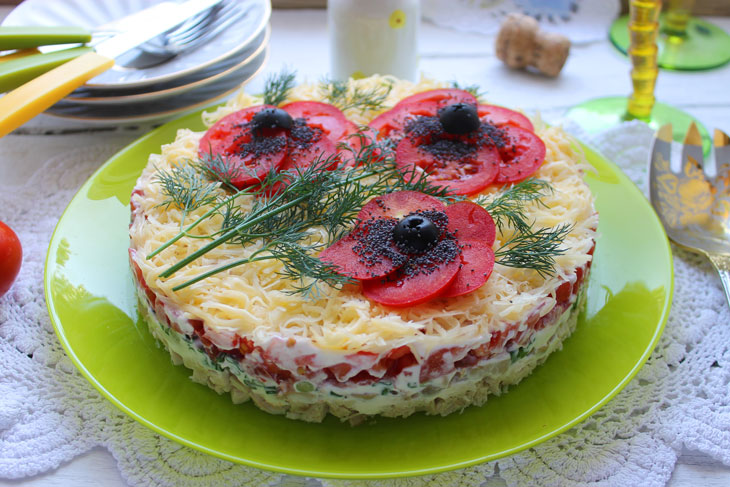 Enjoy your meal!