Salad "Brilliant" turns out to be quite beautiful in appearance, which is why it can be safely served even on the festive table. For its preparation, chicken breast is used, which must first be boiled. Also, a fresh cucumber is added to the salad, thanks to which the finished dish is juicy.
The addition of an egg pancake, which is pre-fried and then cut into strips, brings a special originality to the salad. All of these ingredients are perfectly harmonized and combined. In addition to them, you can safely add your favorite greens to the finished salad, so the dish will come out more fragrant and much healthier.
Ingredients:
Fresh cucumber – 1 pc.
Chicken eggs – 2 pcs.
Chicken breast – 250-350 g.
Salt – to taste.
Black pepper – to taste (this ingredient can be omitted).
Mayonnaise – 1-2 tbsp. spoons (you can replace it with sour cream).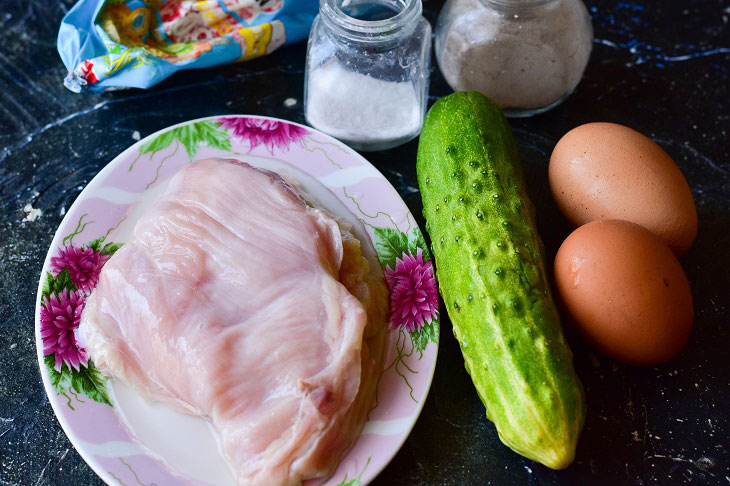 How to cook:
1. Wash chicken eggs thoroughly with soda. After that, beat them into a deep bowl and beat them a little with a fork.
2. Heat up the pan.
If you have a frying pan without a Teflon coating, then lightly grease it with any oil.
Pour some of the egg mixture into the hot skillet. Fry an egg pancake.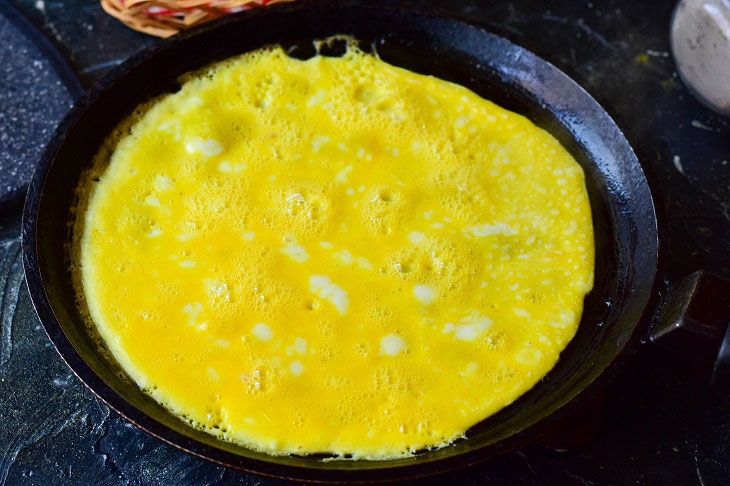 3. Do the same with the remaining egg mass. Fold the finished pancakes one on top of the other, roll up and cut into strips.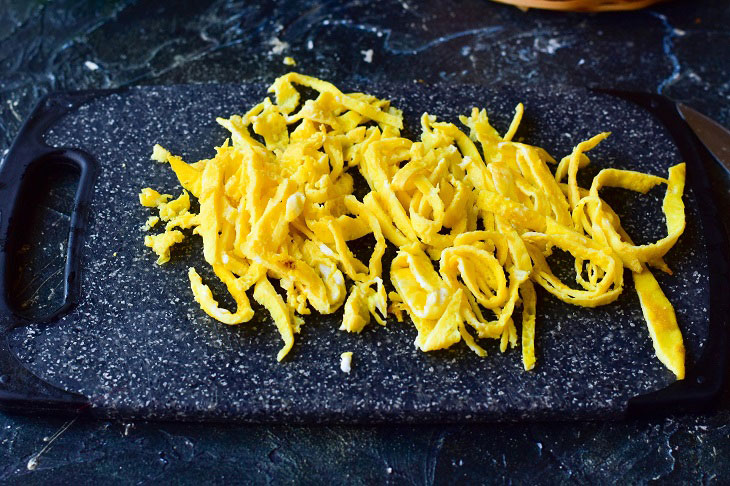 4. Wash the fresh cucumber. After that, cut it into strips.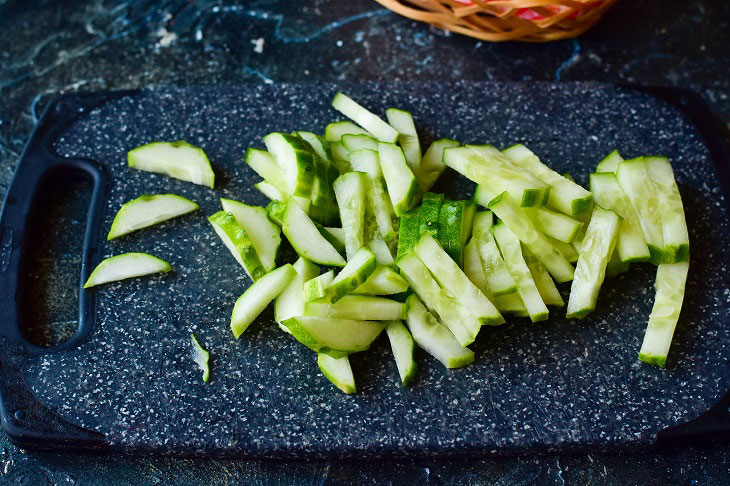 5. Put the chicken breast in a saucepan, fill it with clean water, add 1 teaspoon of salt to the water. Boil the breast for 40 minutes over moderate heat, covering the pot with a lid to keep the water from boiling away. Cut the boiled breast or tear it into pieces with your hands.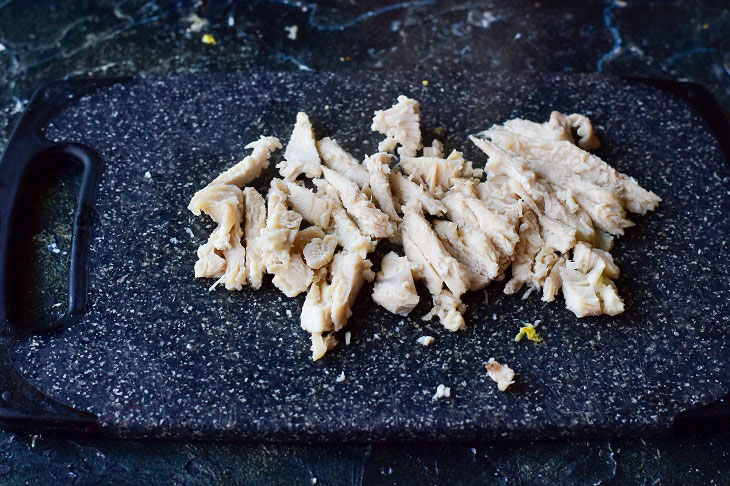 6. Put all the prepared ingredients in a bowl, add sour cream or mayonnaise with any percentage of fat content.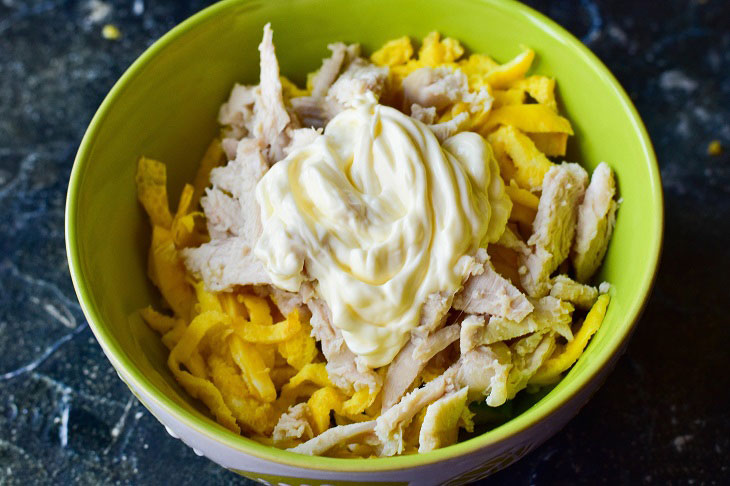 7. Mix the salad very well with a spoon. Leave it to infuse for 30 minutes, putting it in the refrigerator.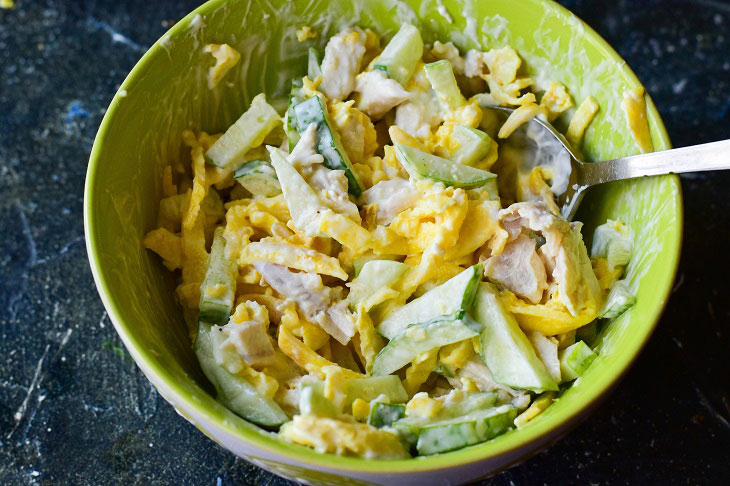 8. After that, put the salad in a beautiful bowl and serve it boldly to the table.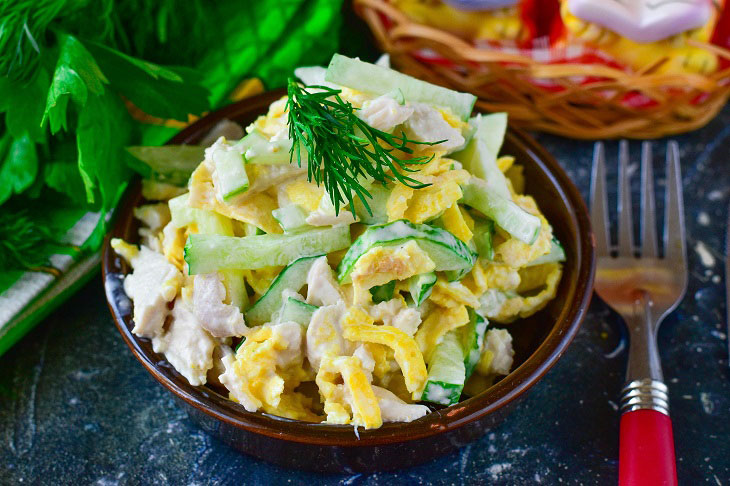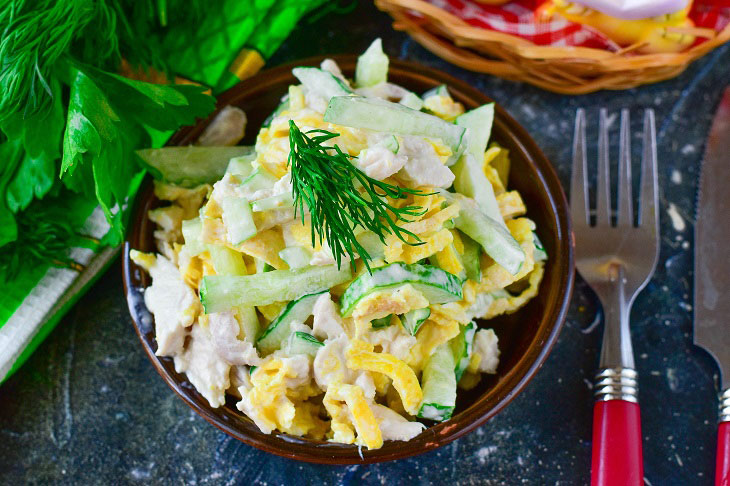 Enjoy your meal!