Magnolia salad is a very unusual dish, as it turns out to be original in taste. And all this is achieved by the fact that the salad is not dressed with mayonnaise, like all other salads. An unusual mass is used as a dressing, which is prepared from corn juice, mustard, eggs and crab sticks. These ingredients are simply finely chopped with a blender, and each layer of the salad is smeared with the resulting mass.
Its main ingredients are crab sticks and meat. Due to these components, the salad turns out to be very tender and satisfying in taste. Chicken eggs should be used at home, they have a much better taste, and the yolk is brighter than store-bought ones.
Ingredients:
Chicken eggs – 2 pcs.
Crab sticks – 2 pcs.
Chicken fillet – 30 g.
Canned corn – 1 tbsp. l.
Mustard – ¼ tsp
Apple cider vinegar – ¼ tsp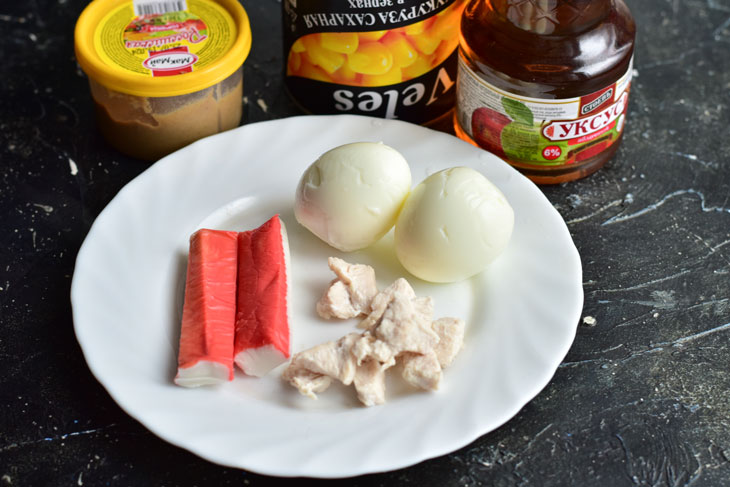 Cooking:
1. Put the crab stick into a deep bowl, break it into several pieces with your hands. Add a chicken egg there, do the same with it as with a crab stick. Add mustard.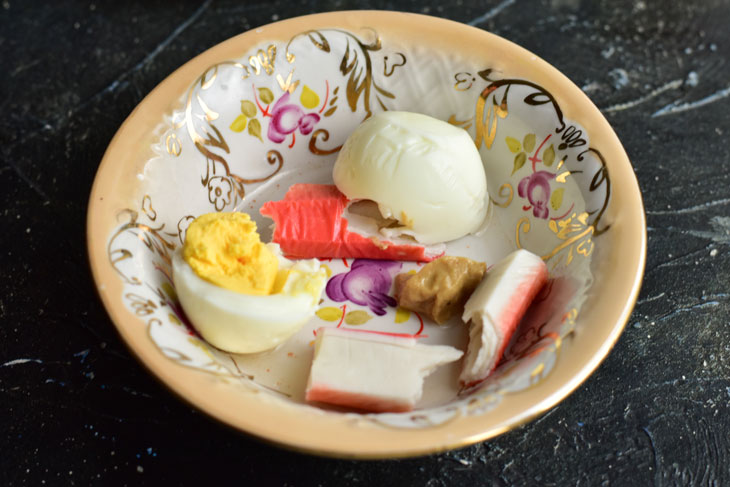 2. Now pour in 1 tbsp. a spoonful of corn juice.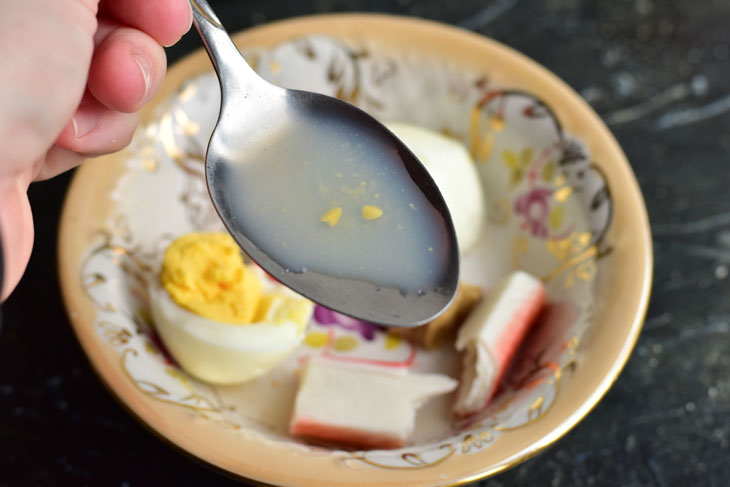 3. Then pour in the apple cider vinegar.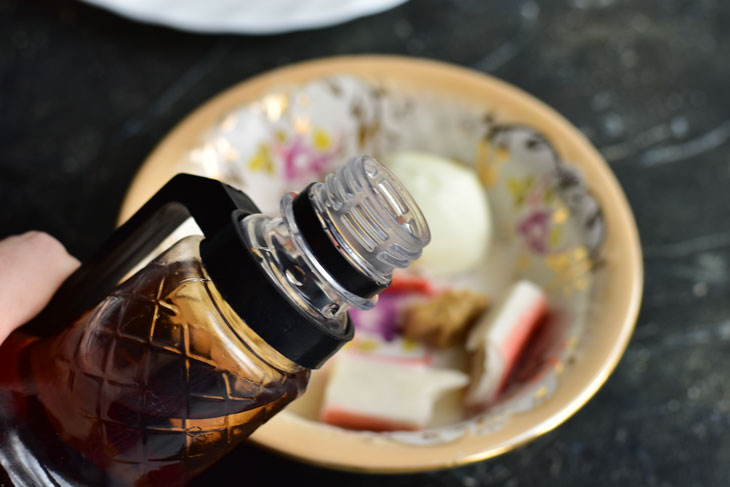 4. Using a blender, turn the ingredients into a homogeneous slurry. If it comes out too thick, then pour in more juice from canned corn.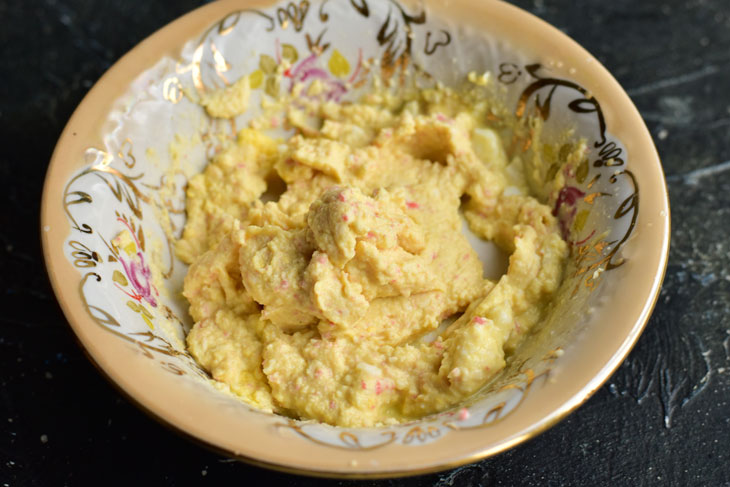 5. Put the boiled chicken fillet in a bowl on the bottom, which is most convenient to cut into cubes in advance and boil in salted water for 20 minutes.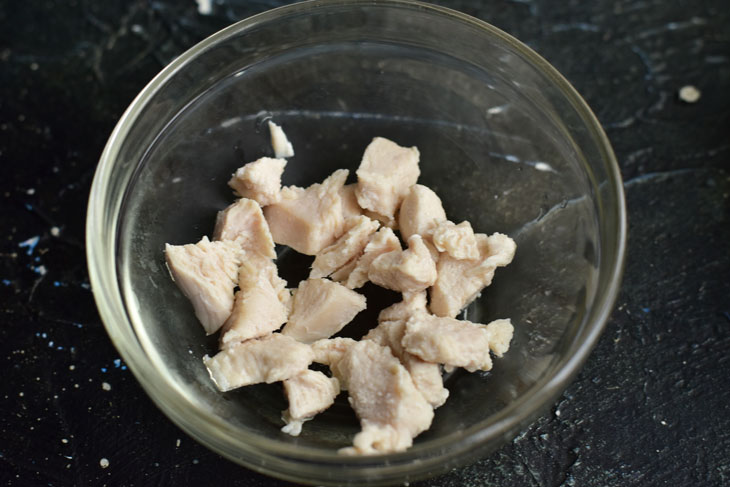 6. Brush the meat with a well prepared spread.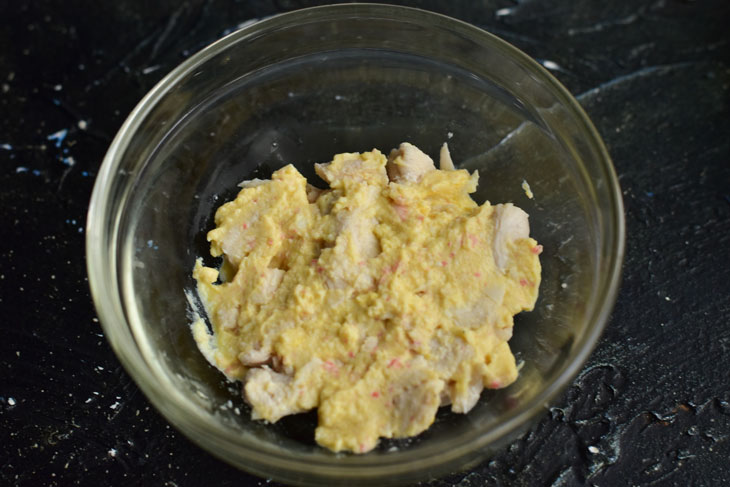 7. Cut the boiled chicken egg into cubes.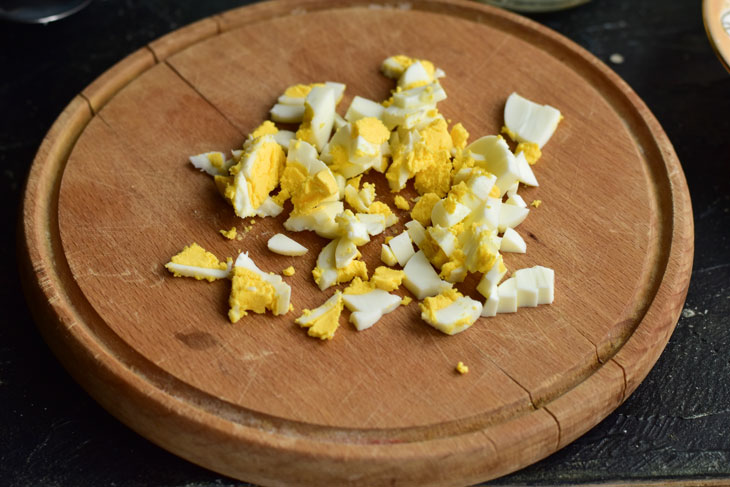 8. Put it on top of the meat.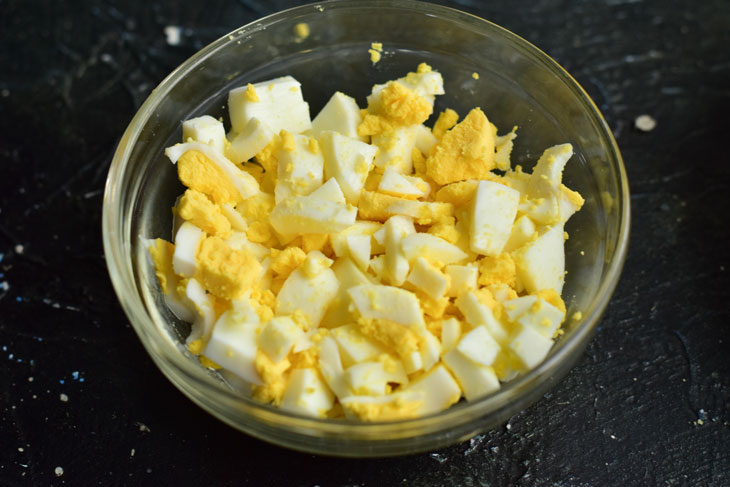 9. Also coat with a spread.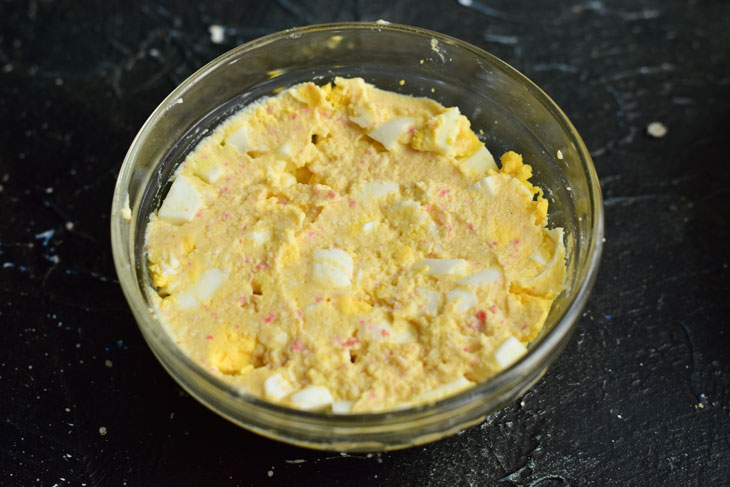 10. Put the corn in a colander first, let the excess liquid drain. Then lay the corn kernels on top of the egg.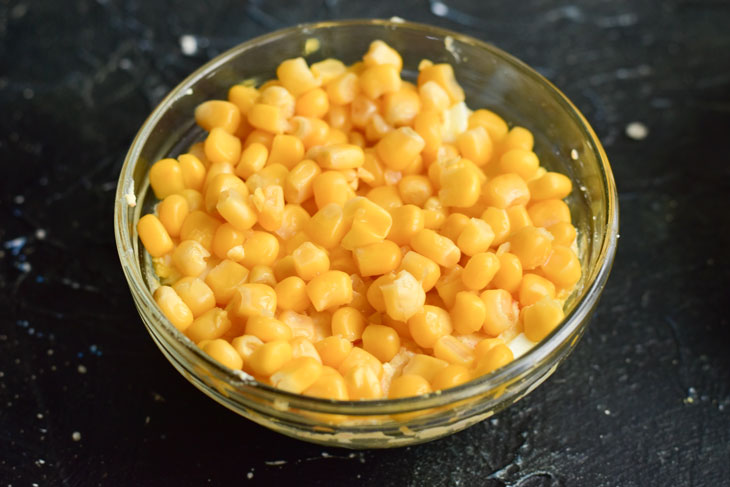 11. Cut the crab sticks.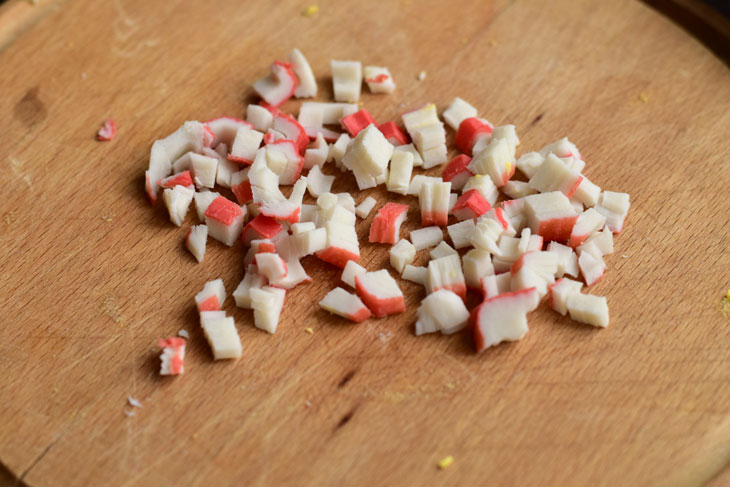 12. Put them on top of the corn.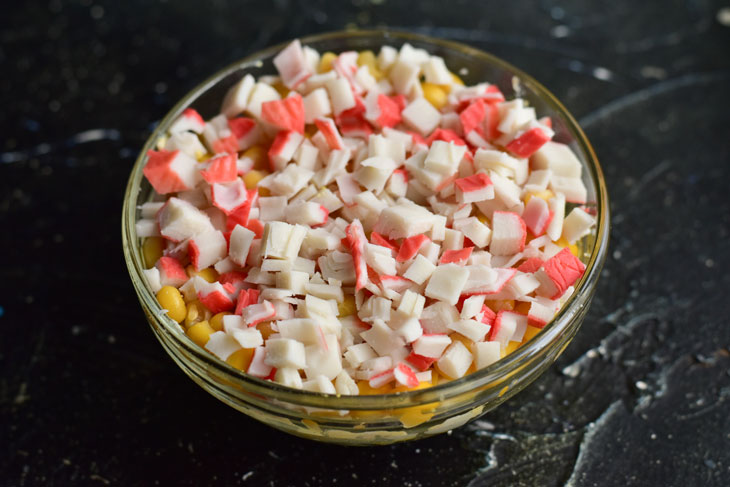 13. Now put the remaining spread in a disposable pastry bag with a Star nozzle. Squeeze the topping over the crab sticks.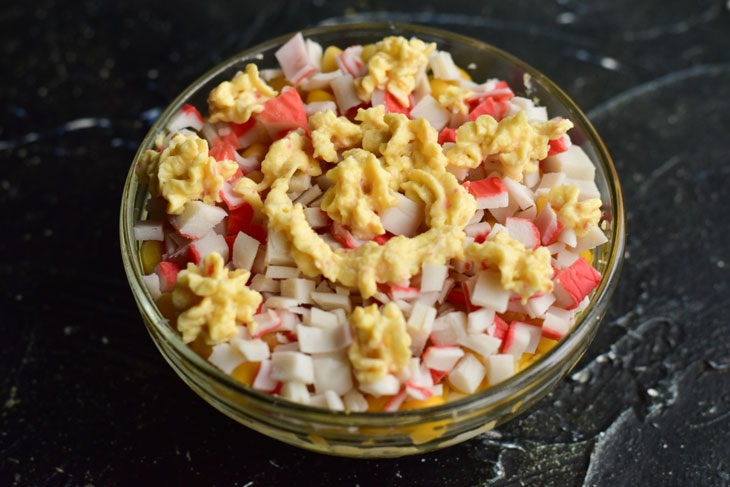 This is such an unusual Magnolia salad!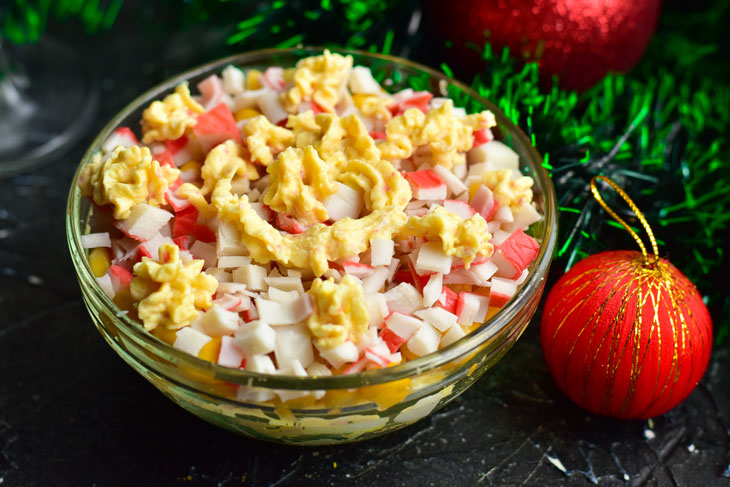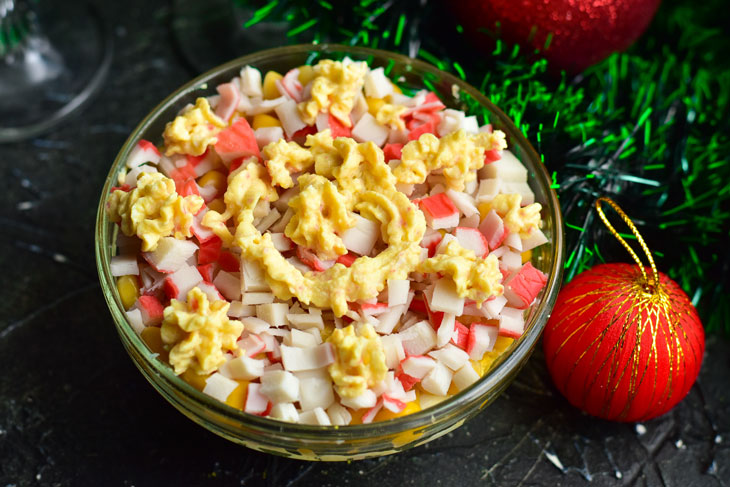 Enjoy your meal!