Sherlock salad always turns out to be very original in taste, and all because of the fact that walnuts are added to it. It is thanks to them that the dish comes out unique in taste, despite the fact that it is prepared from the most affordable, not expensive and ordinary products.
You can serve a ready-made salad to the table immediately after its preparation. However, it can be safely prepared in advance, if necessary. Also, if you wish, you can pre-fry mushrooms and meat. It is these moments that take up most of the time in cooking. If you have time and you don't need to rush anywhere, then everything should be done sequentially as in the recipe described below.
When choosing meat, you can stop the choice not only on chicken breast, but also on turkey. Mushrooms can be fried or even pickled. And with those, and with others, the salad will turn out very tasty. Therefore, stop at the option that you like best or based on what mushrooms you have available.
Ingredients:
Walnuts – to taste.
Chicken fillet – 200 g.
Onion – ¼ pcs.
Mushrooms – 70 g.
Chicken egg – 2 pcs.
Salt, pepper – to taste.
Mayonnaise – 0.5 tbsp. l.
Vegetable oil – 40 ml.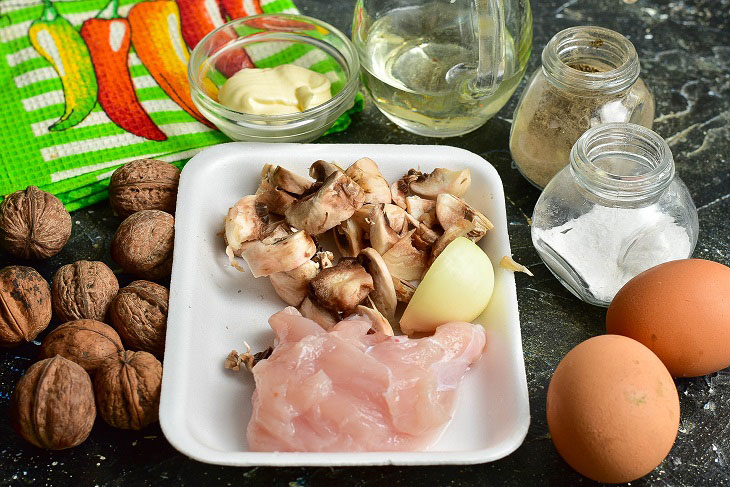 How to cook:
1. Cut mushrooms and onions. Put in a frying pan, pouring half of the specified vegetable oil into it. Be sure to salt everything so that the vegetables are not tasteless. Roast everything.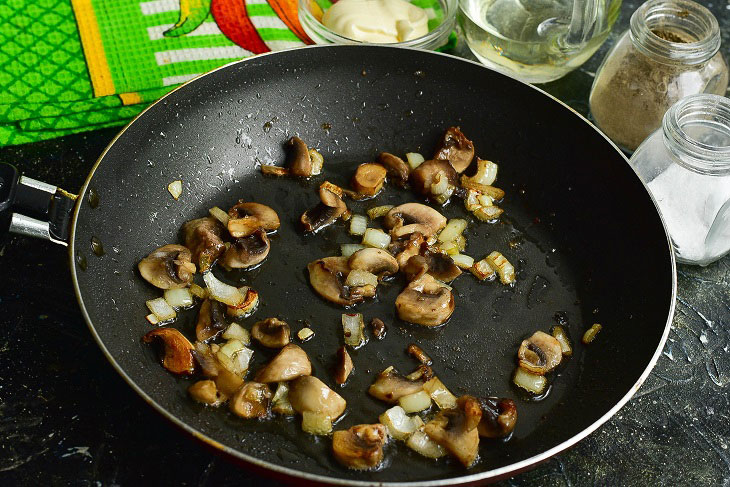 2. Cut the chicken breast in the same way. If there is a skin on top of it, then be sure to cut it off. If there are bones, cut them out with a sharp meat knife. Put the pieces of meat on another pan. Pour in vegetable oil. Fry the meat until fully cooked, just do not overdry it, it should be soft.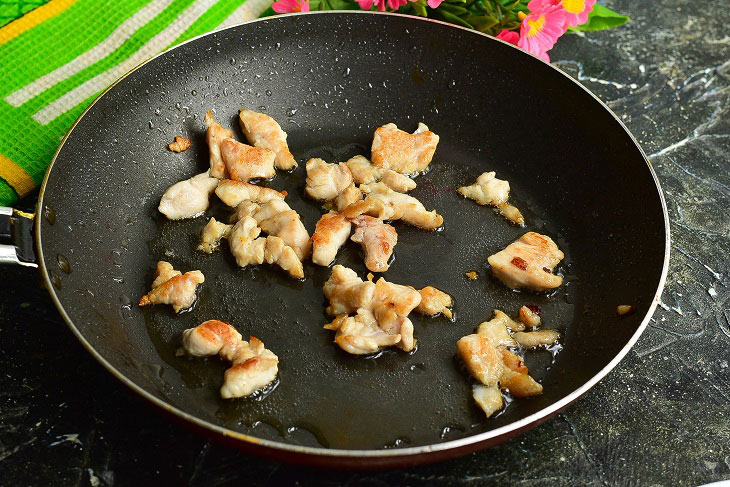 3. Hard boil chicken eggs. Be sure to cool them down and only then cut them into medium-sized cubes.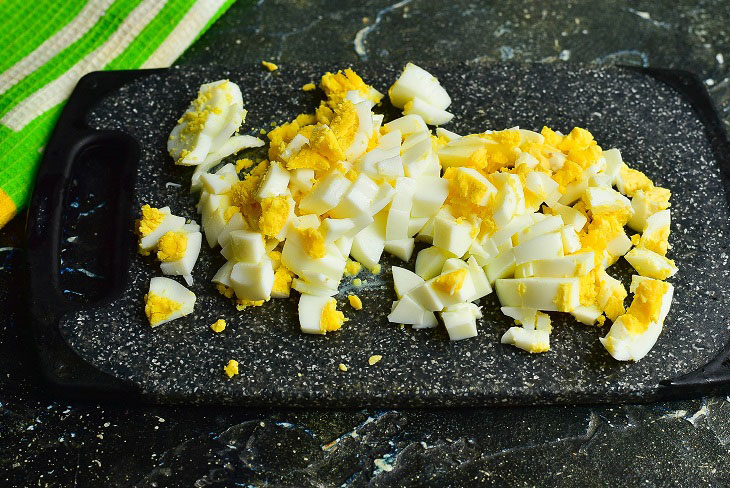 4. Put mushrooms with onions, meat and chopped eggs in a deep bowl.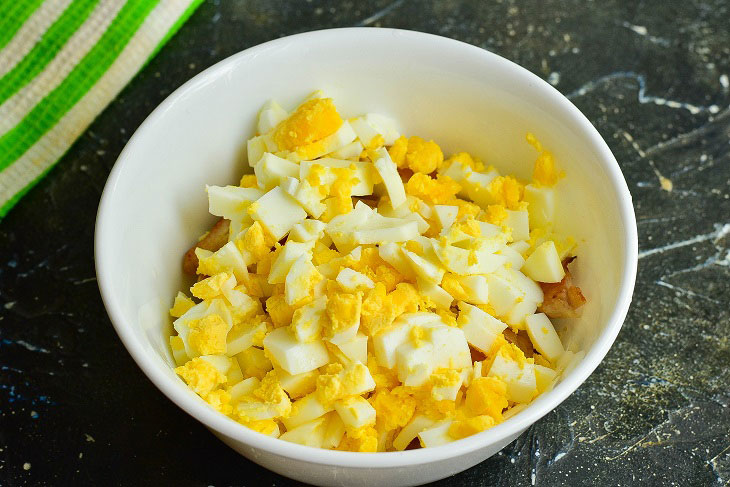 5. Add salt and pepper.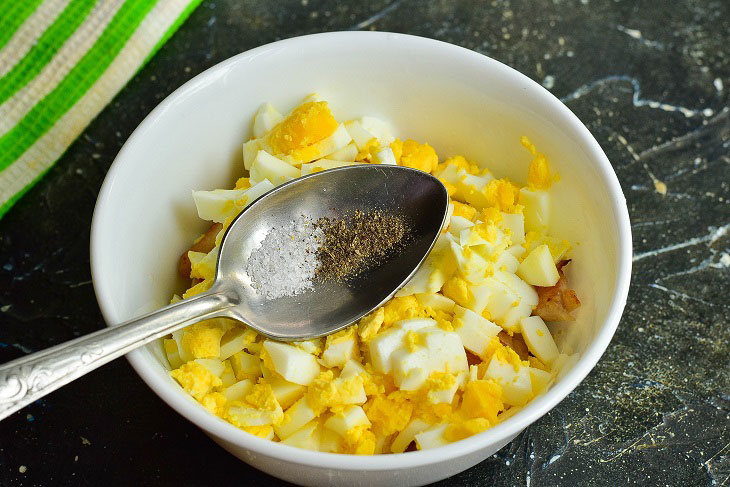 6. Now send the mayonnaise there. You can replace this ingredient with sour cream or unflavored yogurt.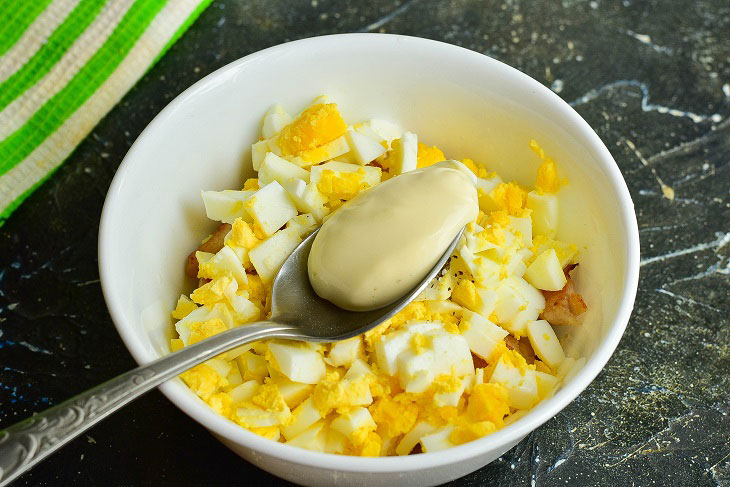 7. Mix everything very well.
8. Arrange the salad in a beautiful stemmed glass bowl. Arrange chopped walnuts on top. Serve the finished Sherlock salad to the table.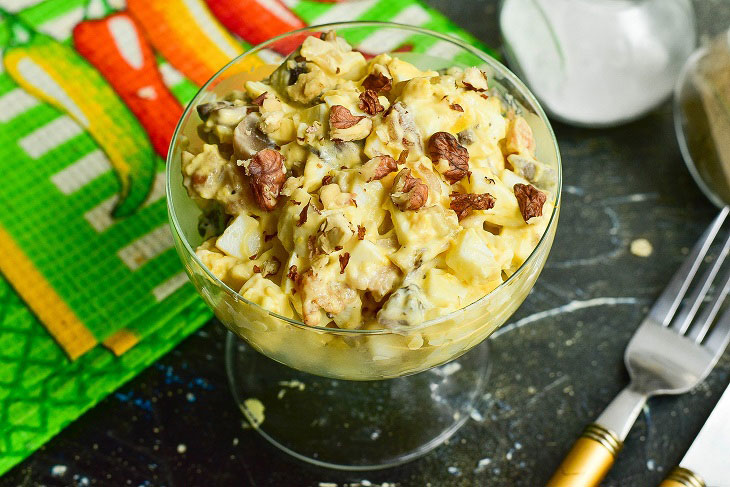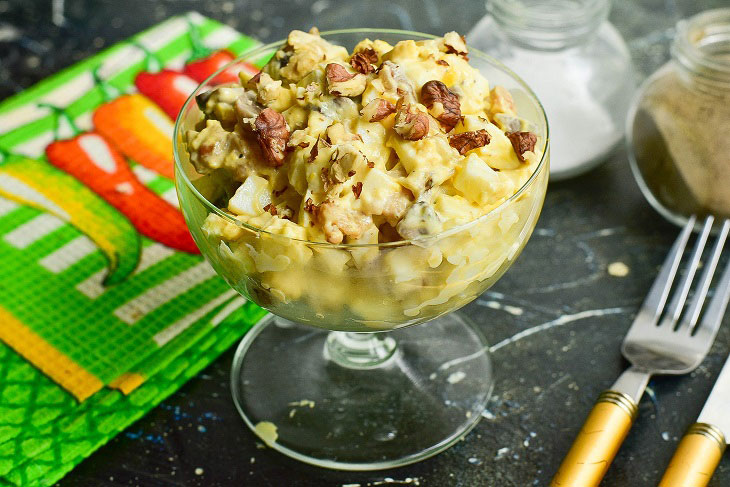 Bon appetit!