Salad "Workdays" most likely was named so because it is prepared from products that everyone definitely has in the refrigerator. But, probably, not only this was the main reason, it can also be quickly cooked, practically without spending a lot of time on it.
It turns out that it is always very juicy, and even useful, since such a vitamin vegetable as carrots is added to its composition. In addition to it, it also contains fresh cucumber, bright sweet pepper. If there is none, then take the most common 1. When choosing hard cheese in a store, it is advisable to purchase one that you like to taste. It can be Gouda cheese, Maasdam, Creamy and even Mozzarella. Chicken eggs should be homemade. For dressing, sour cream or classic mayonnaise with a high percentage of fat is suitable.
A ready-made salad is combined with any meat dishes and side dishes. It can also be served to the table simply as an appetizer or used for a snack.
Ingredients:
Egg – 2 pcs.
Fresh cucumber – 1 pc.
Sweet pepper (orange or any other color) – 0.5 pcs.
Carrot – 1 pc.
Hard cheese – 70-100 g.
Mayonnaise – to taste.
Salt, pepper – 1 pinch each.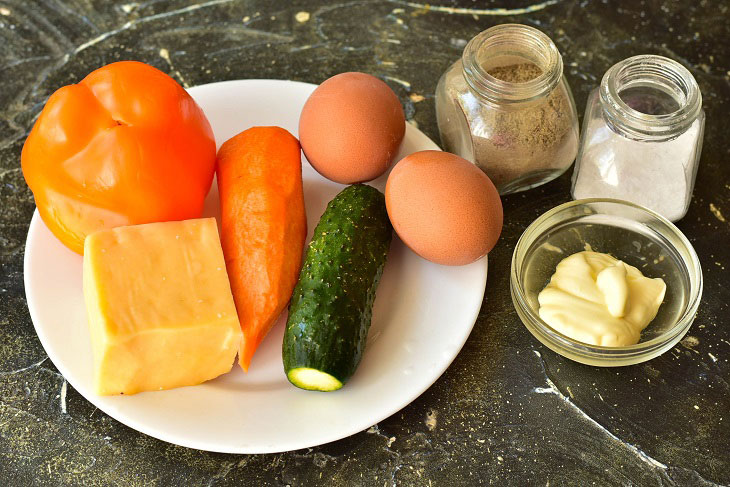 How to cook:
1. Cut the cucumber into strips.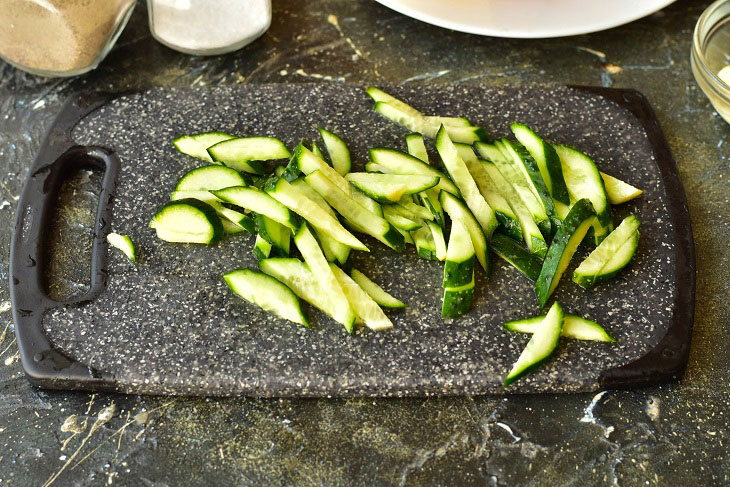 2. Cut hard cheese like the previous vegetable, or grate it on a coarse grater.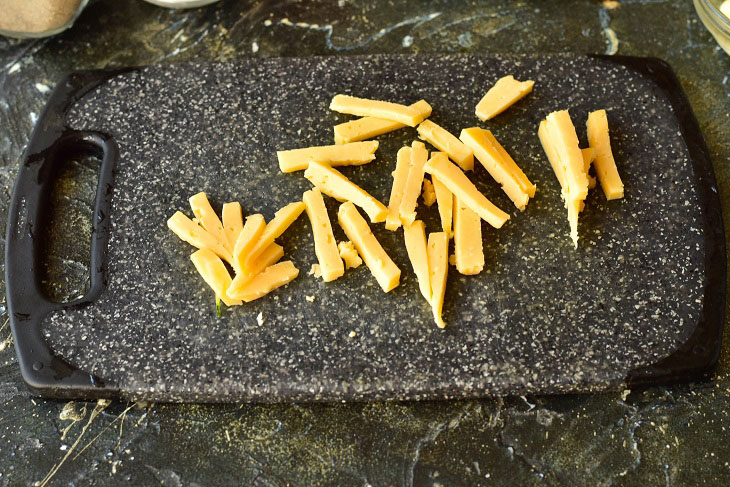 3. Boil chicken eggs. It will take 7 minutes in time. Peel them and then cut them.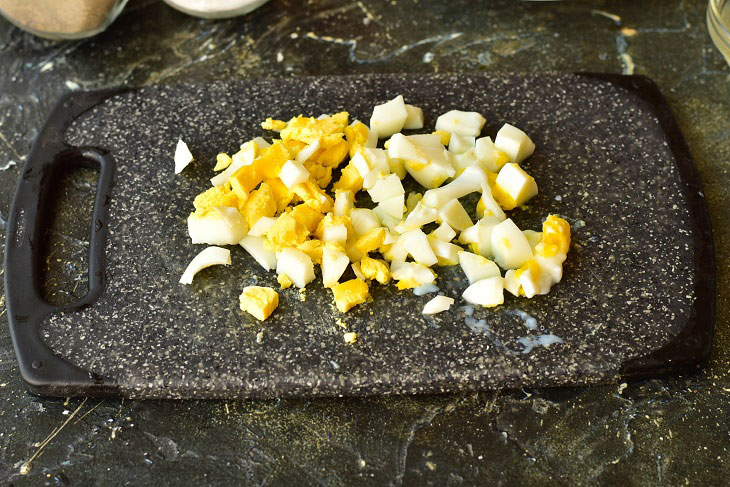 4. Cut sweet pepper into strips.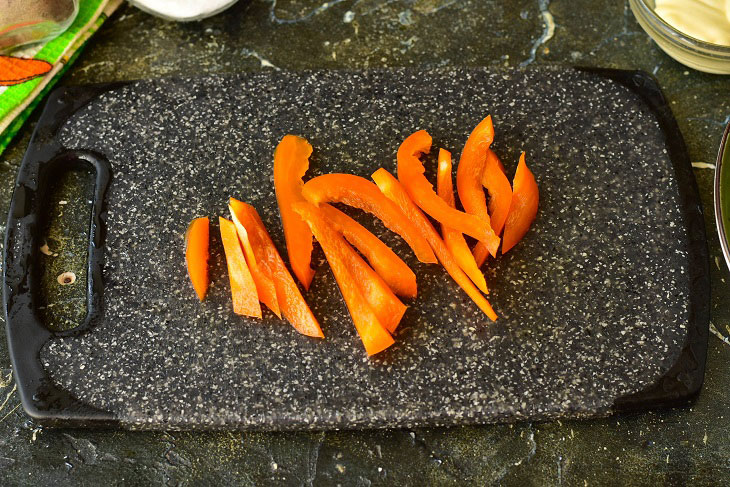 5. Grate the carrots on the grater from the side where there are large holes.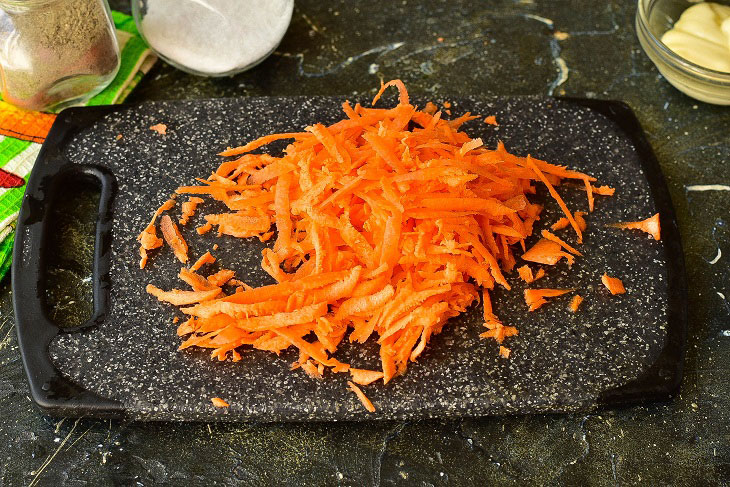 6. Now put everything in a bowl, it should be quite deep so that the salad can be conveniently stirred.
7. Add salt and pepper.
Feel free to add ground coriander if you like.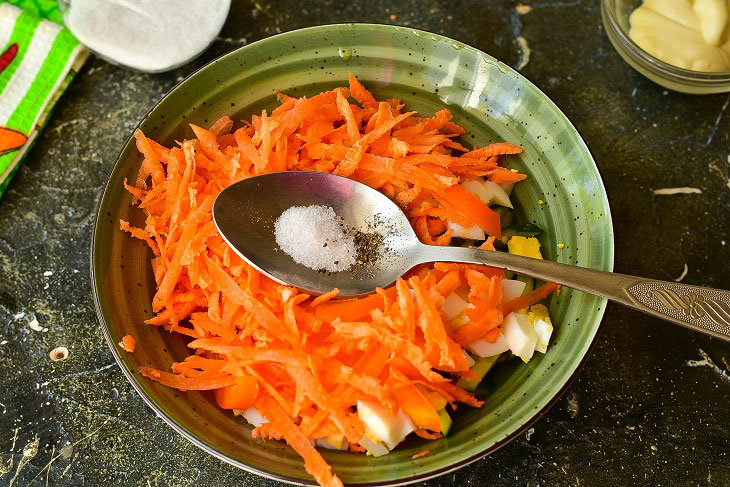 8. Add the dressing you plan to dress the salad with.
9. Now just stir gently. To do this, it is better to use a special or the most ordinary tablespoon.
Here is such a salad "Workdays" came out! Serve it immediately to the table. Just do not forget, if necessary, make some kind of side dish or cook something meat in advance.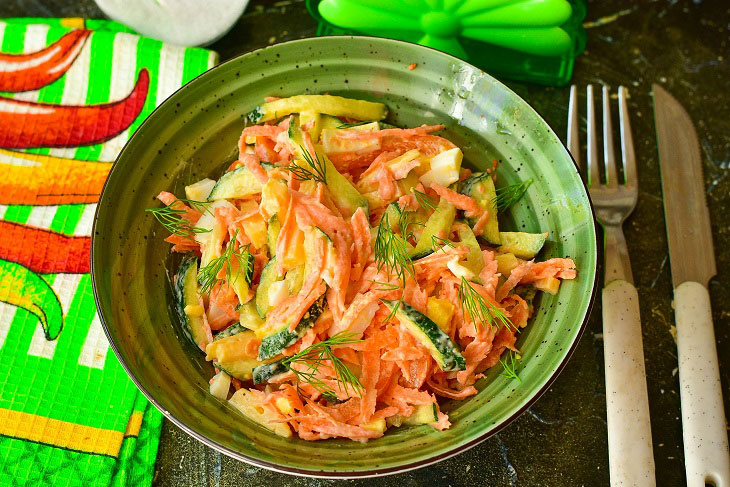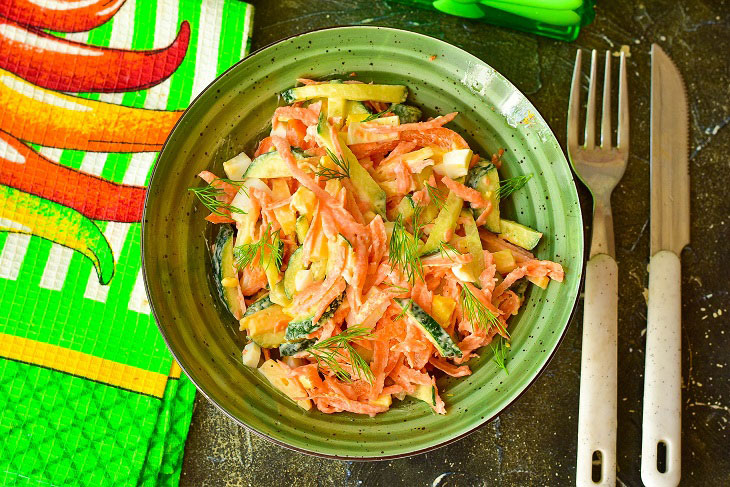 Bon appetit!