This dish is perfect for Sunday dinner or a small family celebration. In terms of the set of products and taste, stuffed shells resemble the well-known naval pasta, but an interesting design makes the dish aesthetic and appetizing.
For stuffing, large conchile shells are suitable. When choosing pasta, pay attention to the composition. They must be made from durum wheat flour.
For the filling, any quality minced meat is used – purchased or homemade. For flavor, add traditional vegetables, spices to taste in the dish. You can stew shells in a sauce of sour cream or homemade cream. The process of forming products is quite laborious, so we recommend involving children in it – they will be happy to help you. In addition to shells, a similar dish can be prepared from large tubules.
A dish can be cooked not only in a pan. Wonderful conchillés are made in the oven under the cheese crust.
Ingredients:
Shells – 150 g.
Vegetable oil – 35 ml.
Homemade cream – 50 g.
Minced meat – 180 g.
Onion – 30 g.
Carrots – 40 g.
Bay leaf – 1 pc.
Garlic – 5 g.
Khmeli-suneli – 5 g.
Oregano – 3 g.
Hot pepper flakes – 2 g.
Salt, pepper – to taste.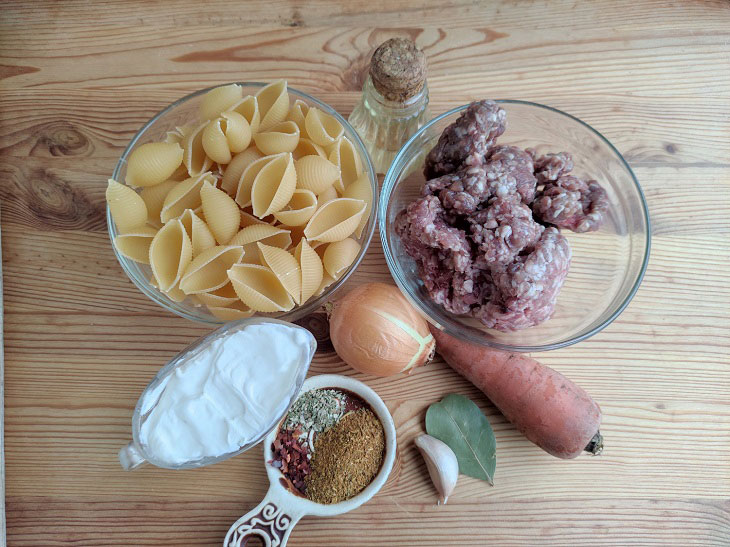 How to cook:
1. Cut the peeled onion into small pieces. Grind the carrots with a grater with medium holes.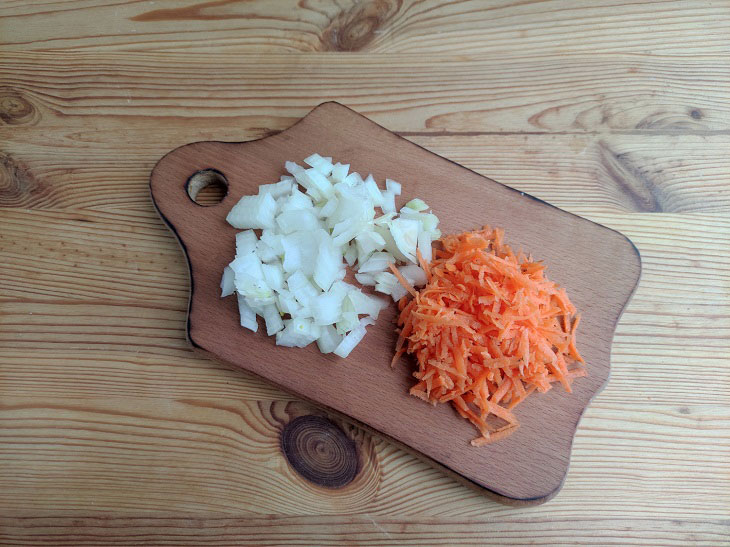 2. Saute onions and carrots in vegetable oil in a frying pan. Add salt and spices to the minced meat. Fry the minced meat, breaking up the lumps. Add 40 ml of water and simmer the filling under the lid.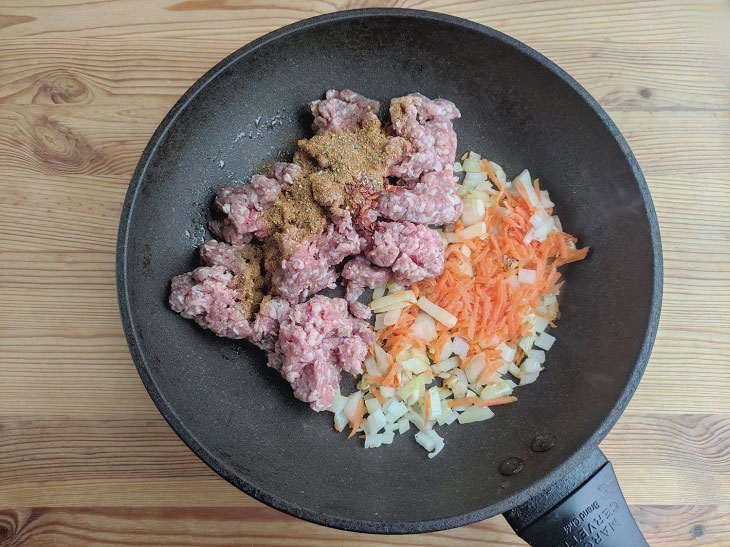 3. Boil water in a saucepan. Add salt, shells. Boil them for 5 minutes from the moment of boiling. Throw the shells in a colander, rinse in cold water.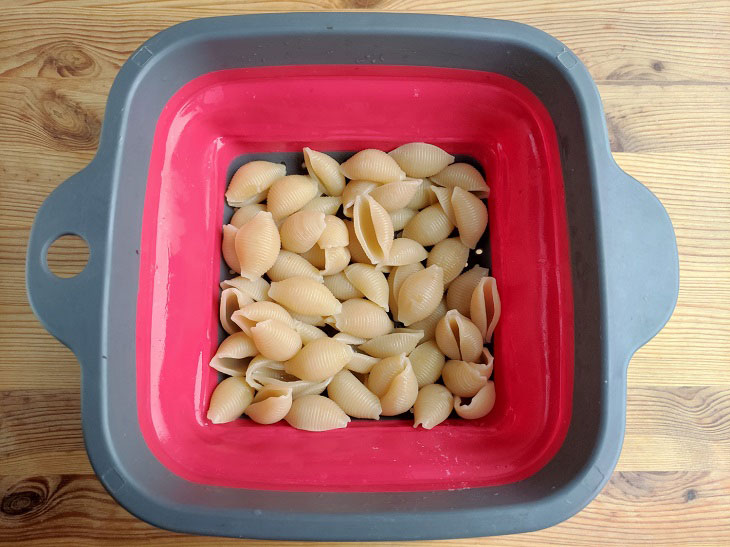 4. Cool the filling, mix it and put it in a bowl.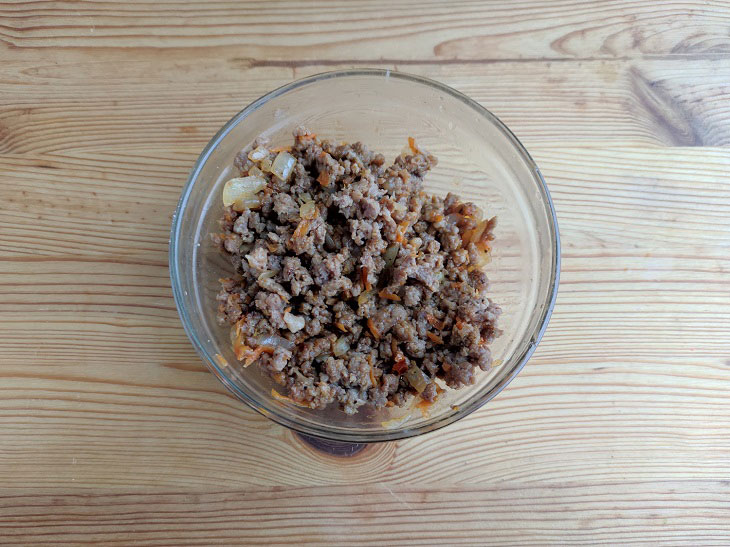 5. Stuff the shells with stuffing.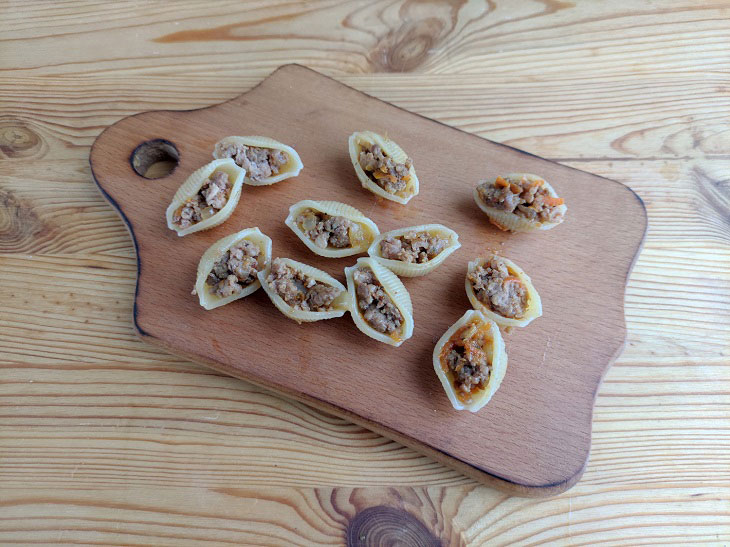 6. Put the products in the pan in which the minced meat was prepared.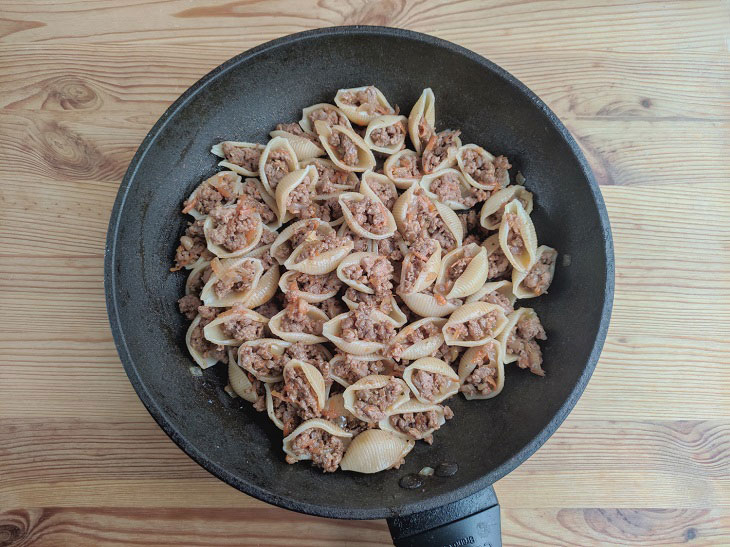 7. Pour the contents of the pan with cream, diluted one to three with boiled water. Add bay leaf and garlic. Stew stuffed shells under the lid for about 10 – 12 minutes. During this time, the gravy will evaporate, and the conchilles will become soft.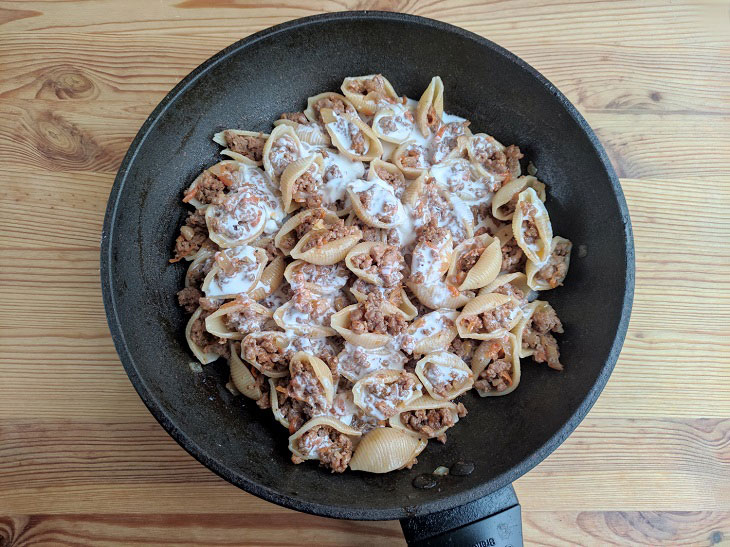 8. Transfer the finished dish to a serving plate, sleep with greens. Serve with fresh vegetables and ketchup.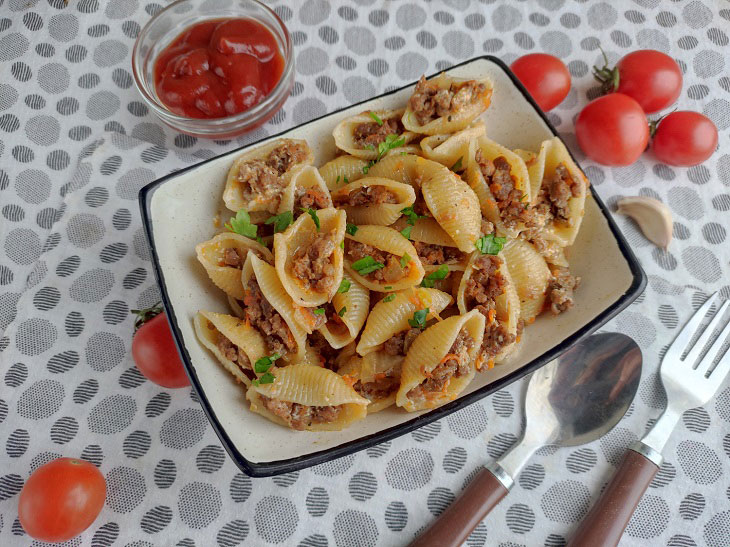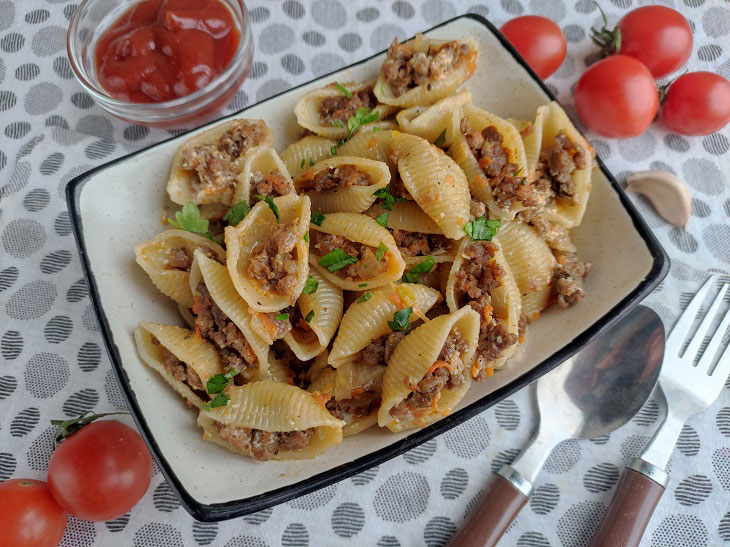 Bon appetit!