A huge number of different variations of cooking Adjarian khachapuri. This recipe is no exception. It is also one of the variations. Instead of wheat flour, oatmeal or flour is used. The recipe is suitable for those who adhere to proper nutrition. From the indicated amount of ingredients, 4 khachapuri will be obtained.
Ingredients:
For test:
Cottage cheese 5% – 280 g.
Protein of chicken eggs of the 1st grade – 4 pcs.
Crushed oatmeal – 5 tbsp. l.
Fresh herbs and spices – to taste.
For filling:
Yolks left over from the dough – 4 pcs.
Hard cheese – 80 g.
How to cook:
1. To prepare khachapuri, no matter how you limit the amount of fat in your diet, it is better not to take cottage cheese with a fat content of less than 5%. Ideally, of course, take fatty, 18% homemade cottage cheese.
You can use oatmeal instead of oatmeal.
Of the greens, dill is best suited. Add it to your liking.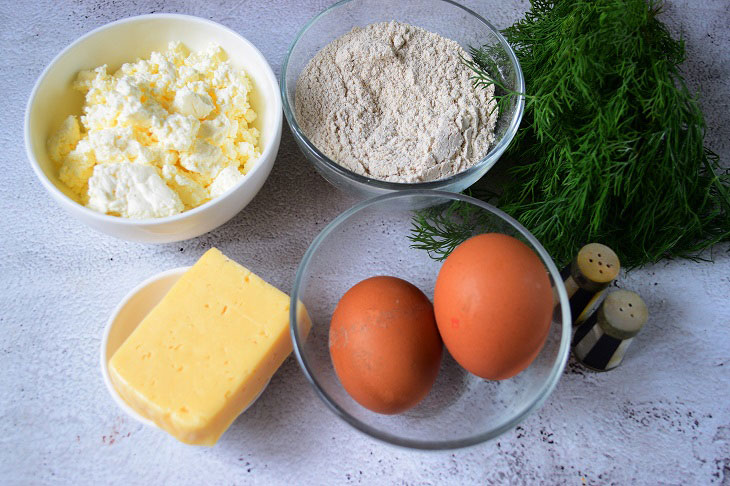 2. Put the cottage cheese in a bowl. Wash the eggs, wipe with a towel and break into a separate plate, separate the yolks from the whites so that the yolk remains intact. Pour the whites into the curd. Rinse the dill, dry it and separate the tender greens from the thick stems. Chop the greens and add to the curd.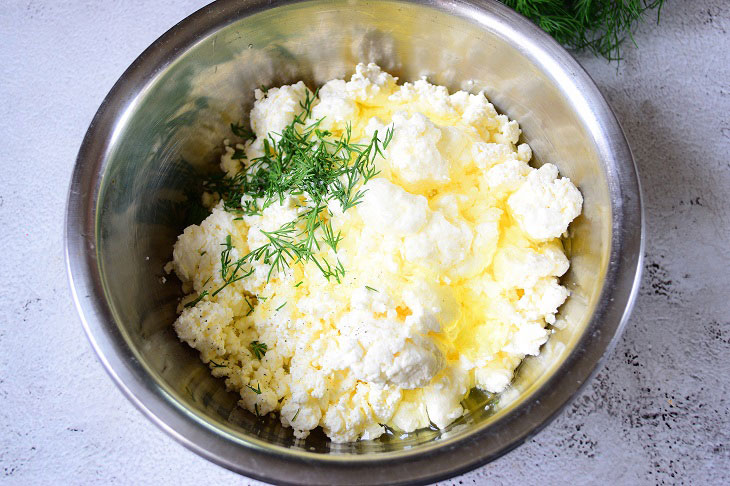 3. Grind oatmeal in a coffee grinder, or with a blender. Adjust the grind to your liking. Add oatmeal to cottage cheese.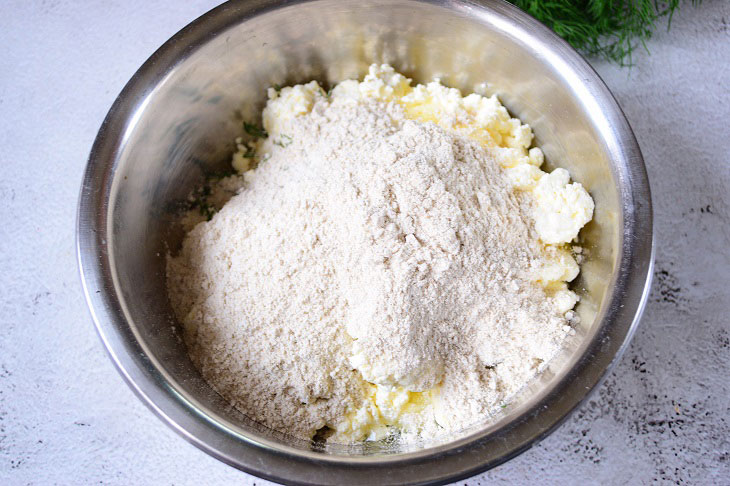 4. Knead the dough. The dough will be soft and pliable. It shouldn't crumble too much.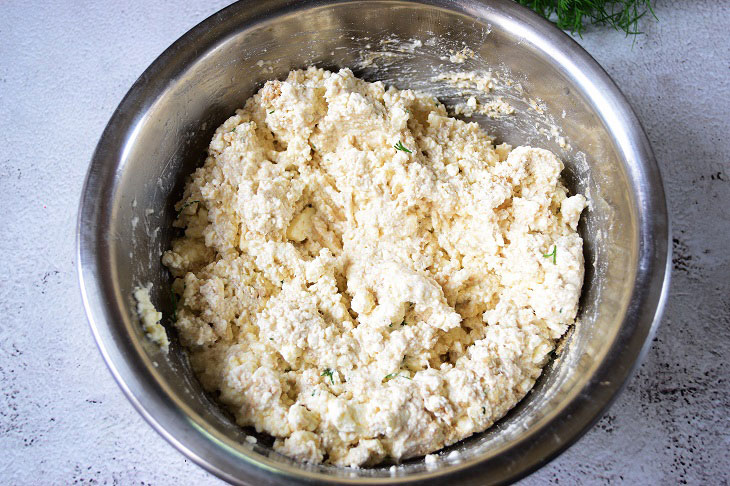 5. Cover the baking sheet with parchment, turn on the oven, set the temperature to 200 degrees. Divide the dough into 4 equal parts and shape each into a boat. Poke holes in the bottom with a fork to keep the dough from puffing up while baking. When the oven heats up, put khachapuri in it.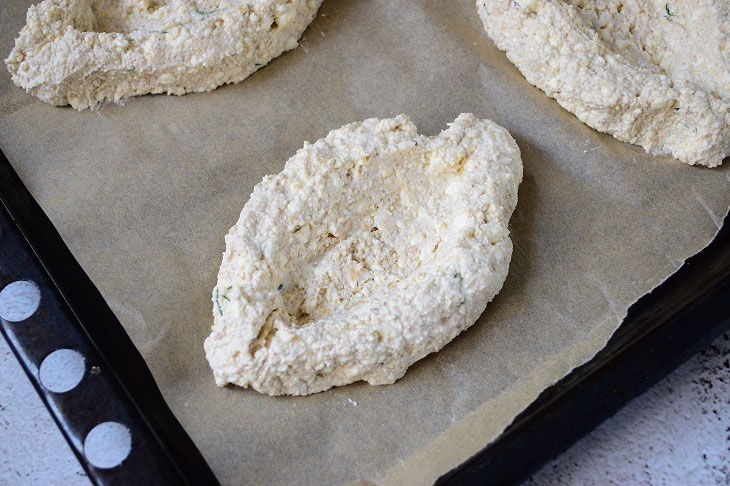 6. Bake for 20 minutes until the color turns light brown.
7. For each boat, grate 20 grams of cheese on a coarse grater and sprinkle evenly so that there is room on the edges. The cheese will spread during baking.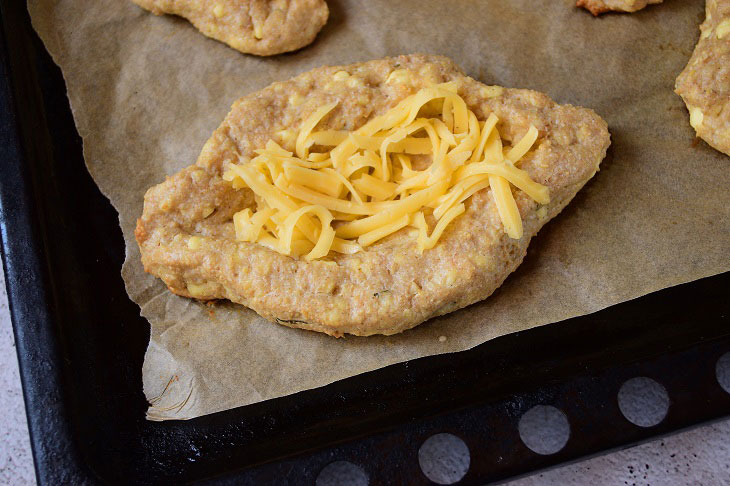 8. Put the yolk in the center of each khachapuri. Place in the oven for another 5 minutes until the cheese is completely melted.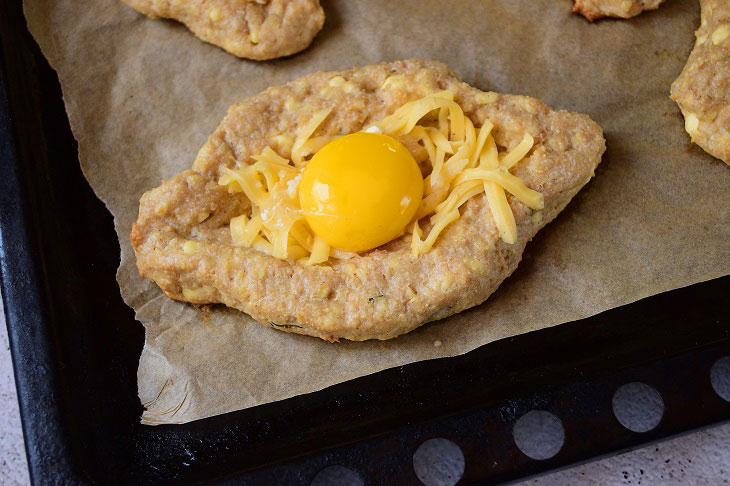 Serve hot with fresh vegetables and herbs.
If you do not plan to eat khachapuri now, cool them on a wire rack, and then you can pack them in paper bags.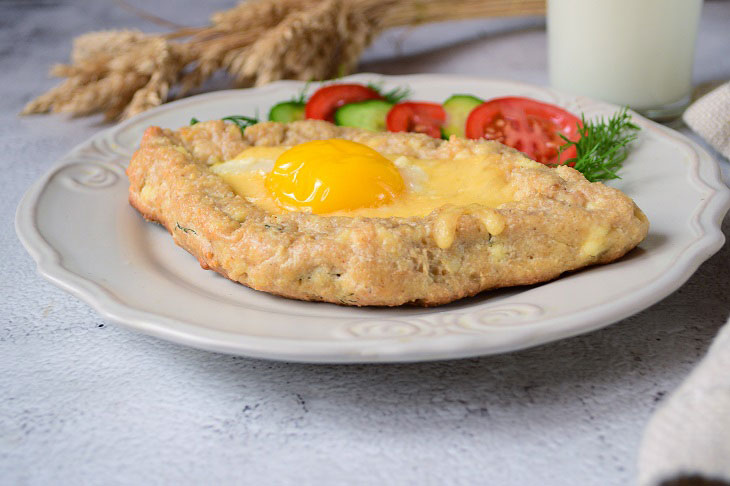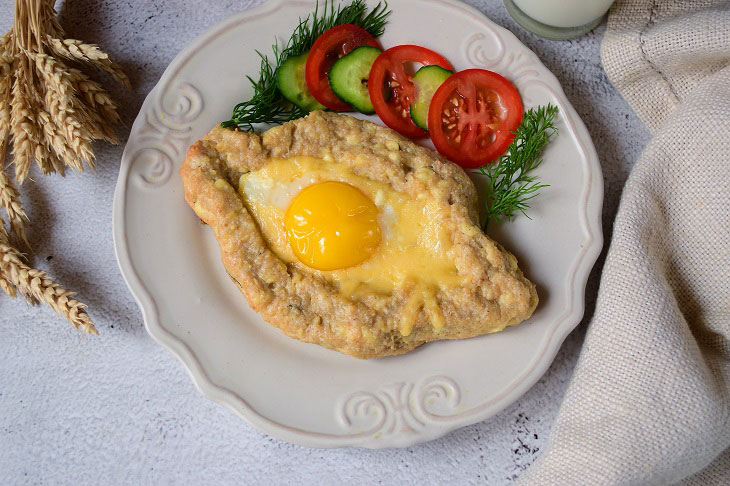 Bon appetit!