Aloo Gobi is an Indian vegetable dish. For this recipe, you will need cauliflower and potatoes, a familiar and familiar set. Buying them is not difficult. In addition, you will need a set of spices to make the dish spicy, bright and appetizing. Take turmeric, ground coriander and paprika. You will also need mustard seeds. Stew vegetables with spices in a pan and serve hot to the table.
Discover Indian cuisine and you will realize that it is delicious and simple. Alu Gobi is a great recipe for vegetarians and those who fast.
Ingredients:
Cauliflower – 250 g.
Potato – 250 g.
Mustard grains – 1 tsp.
Turmeric – 0.5 tsp
Sweet paprika – 0.5 tsp
Ground coriander – 0.5 tsp.
Vegetable oil – 2-3 tbsp. l.
Onion – 60 g.
Parsley – 3 g.
Salt, black pepper – to taste.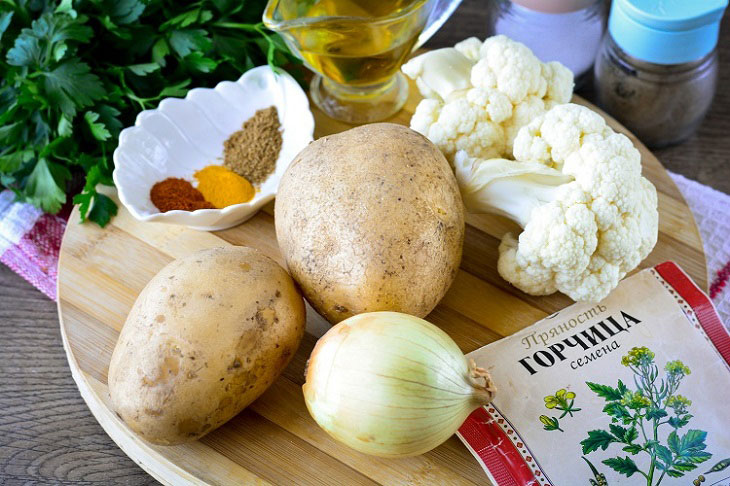 How to cook:
1. Dip the cauliflower into boiling water, slightly salt the water, cook the cabbage for 4-5 minutes, it will be ready. Then drain the water and leave the vegetables to cool.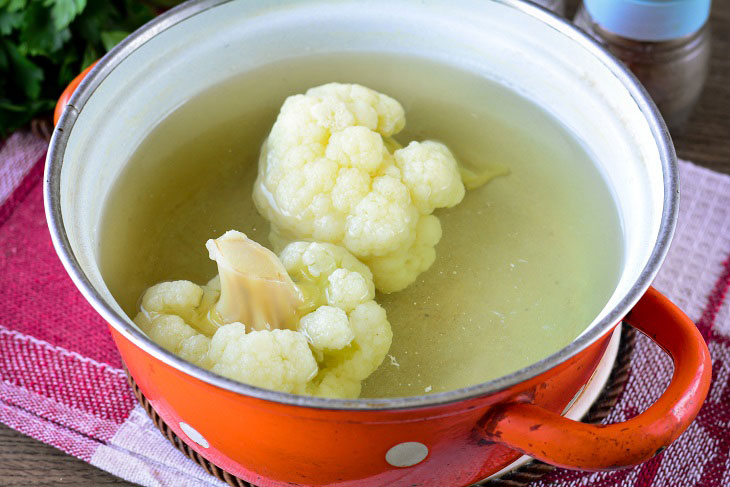 2. Rinse the potatoes well, cover with cold water and cook in their skins for 20 minutes so that the vegetables are soft. When cooking, you can slightly salt the water. Drain the liquid after cooking, cool the potatoes and peel them.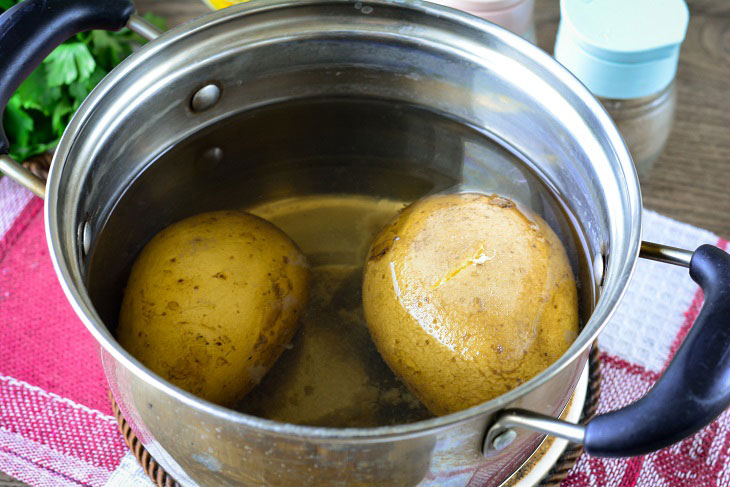 3. Chop the peeled onion into small cubes with a sharp knife.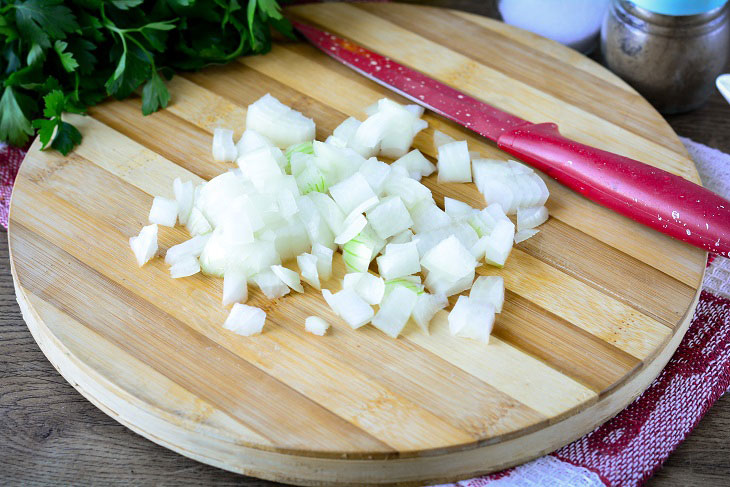 4. Heat a couple of tablespoons of oil in a pan, add mustard seeds. Roast lightly.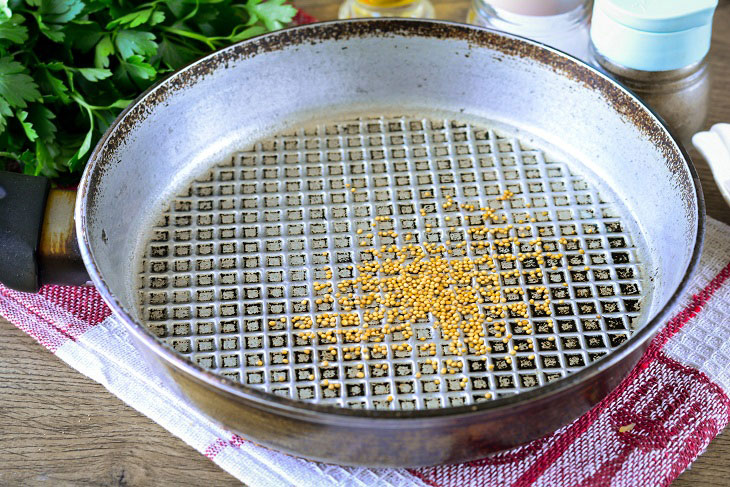 5. Pour into the pan and onions.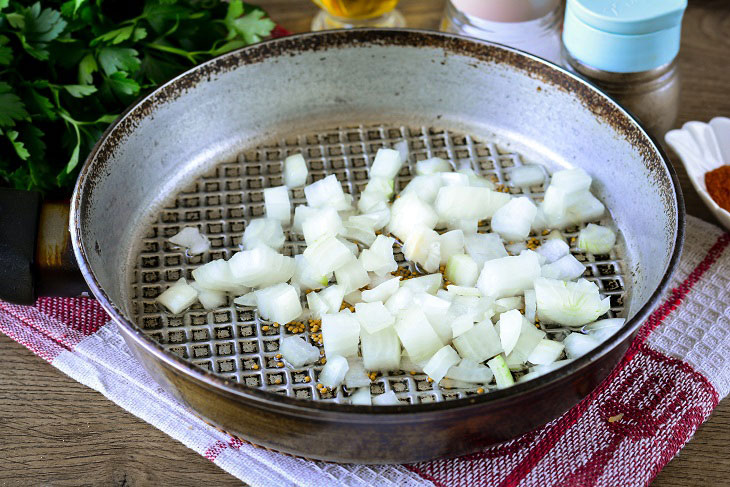 6. Pass the onion for a couple of minutes until a transparent color, stirring.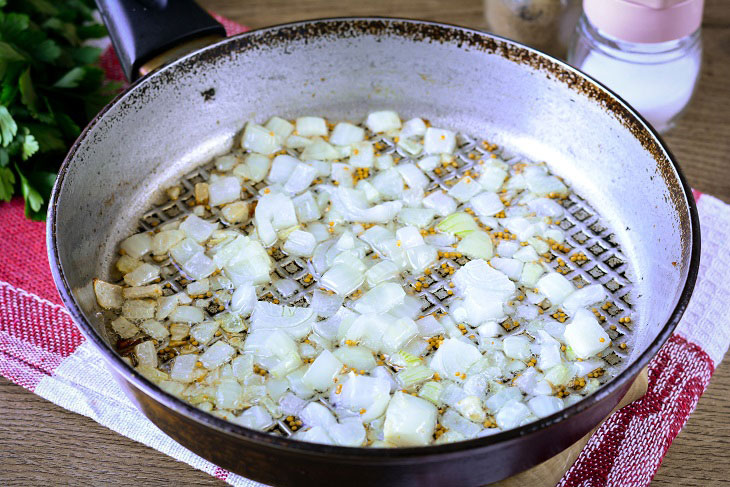 7. Divide the boiled cauliflower into medium-sized inflorescences, cutting off large stalks.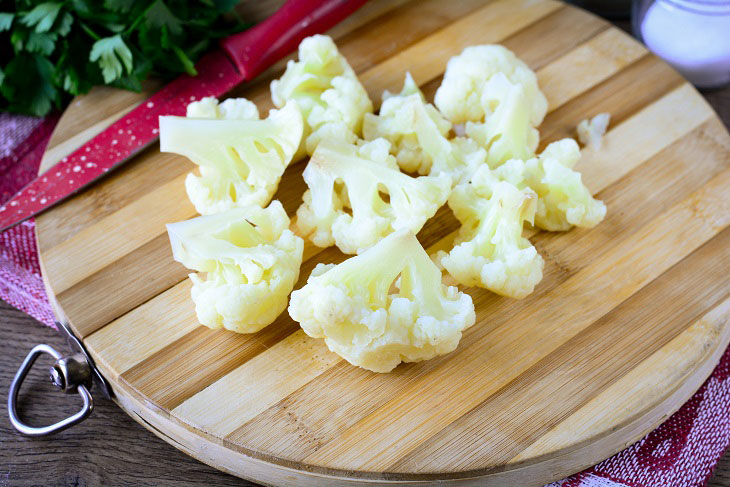 8. Send the cabbage to the pan with the onions.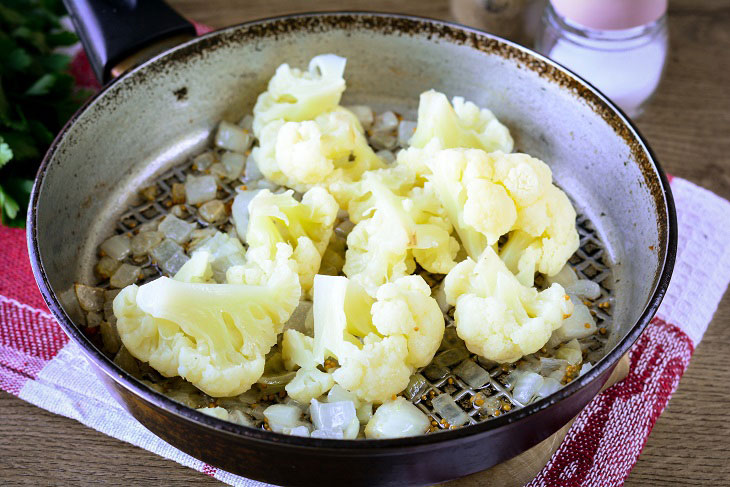 9. Sprinkle cauliflower with spices – sweet paprika, turmeric and coriander.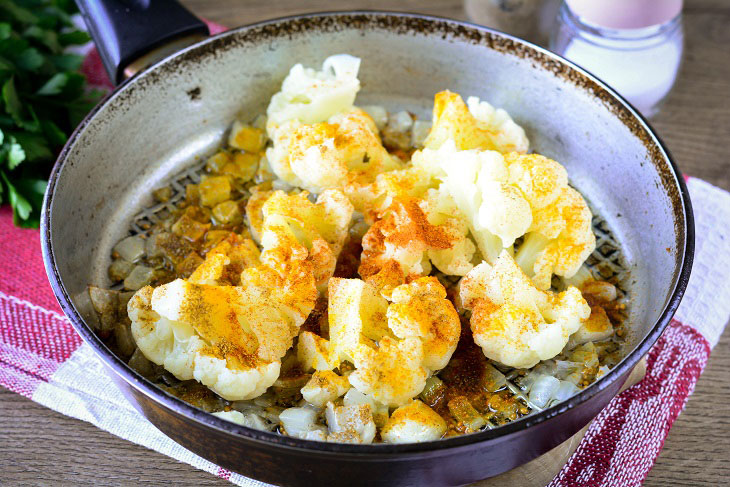 10. Mix the cabbage with spices and onions, simmer in a pan for 3-4 minutes, you can cover with a lid and make a small fire. Spices will release their full flavor when heated.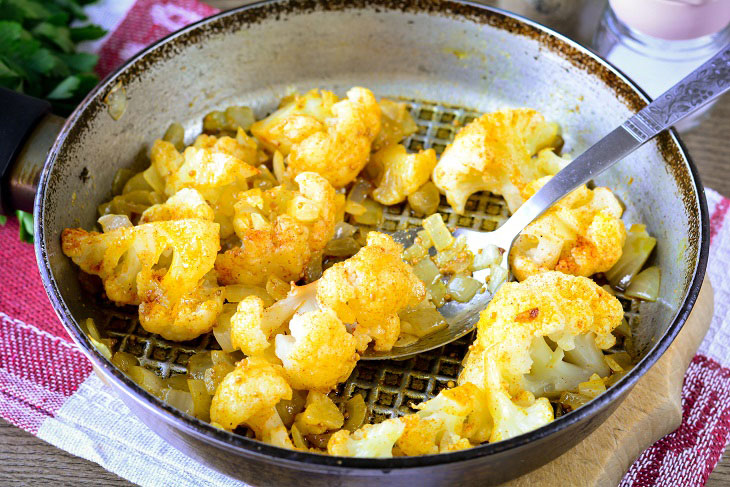 11. Cut the boiled potatoes into large cubes.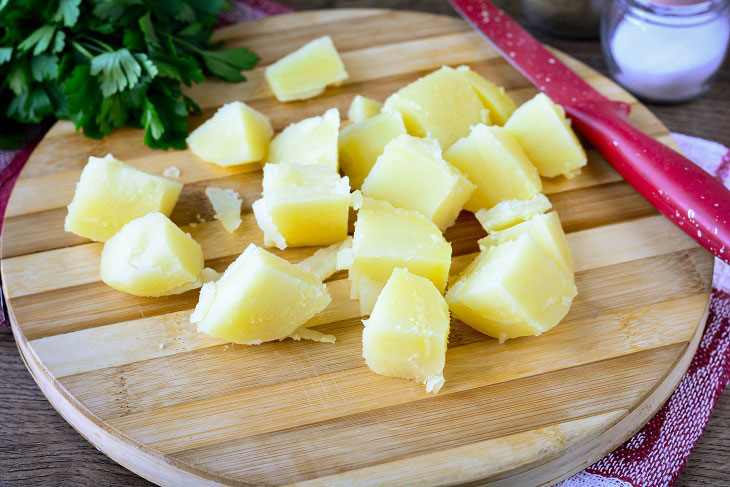 12. Pour the potatoes into the cabbage pan.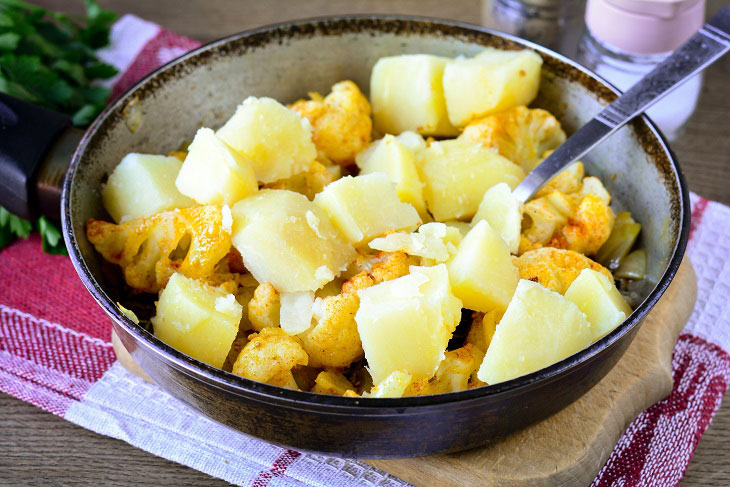 13. Stir, you can add a little more oil if necessary. Salt, pepper to taste and simmer under the lid all together for another 2-3 minutes.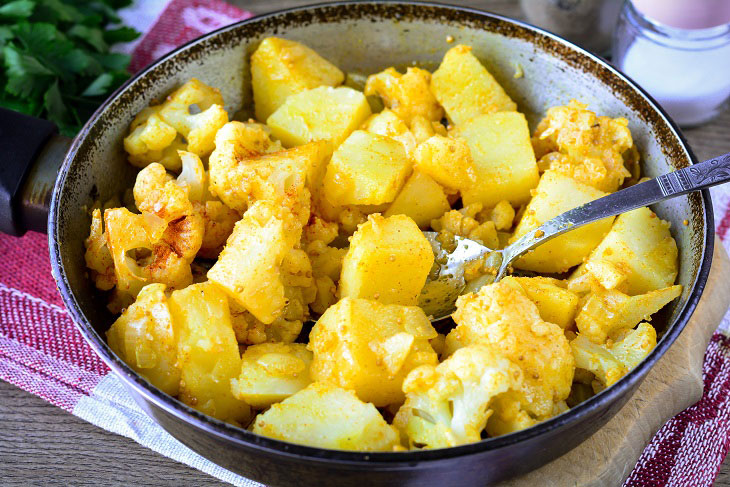 14. Lay out the finished dish in portions for each on a plate, sprinkled with freshly chopped parsley.
The combination of cauliflower with potatoes and spices is very tasty and original. It turns out a hearty and healthy dish.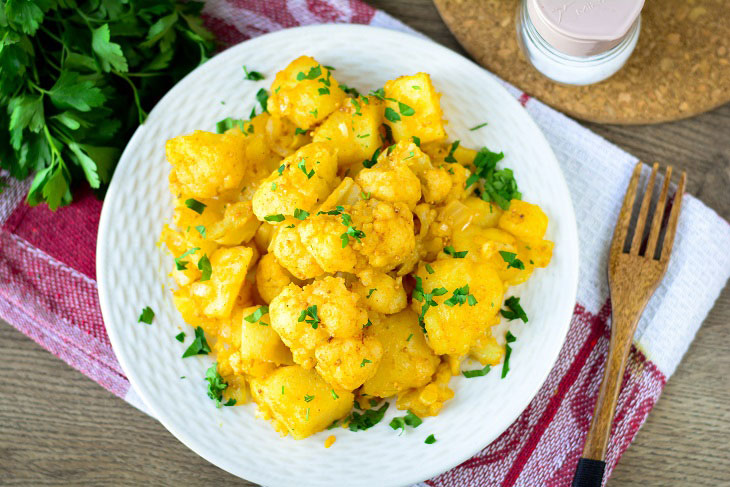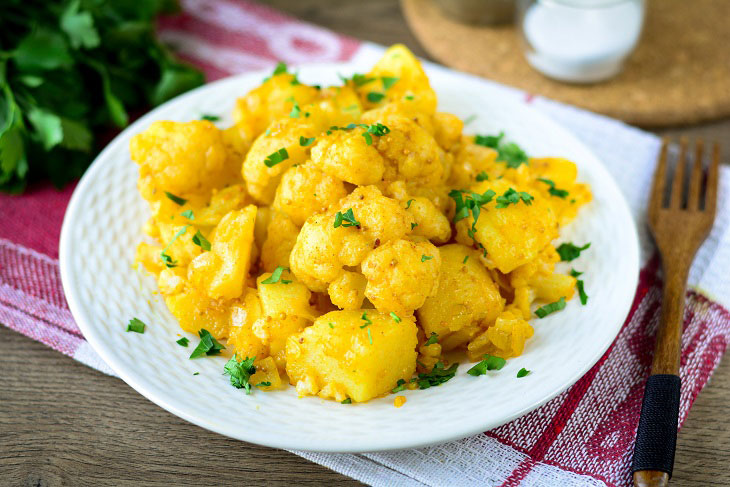 Bon appetit!