Such Armenian shawarma is quite popular among fans of a quick snack. An appetizer in pita bread will quickly satisfy your appetite, and it is not at all difficult to cook it. Absolutely any minced meat, as well as any spices, will do. It is important not to overdo it with the mustard in the sauce, otherwise the bukhlavash will become quite spicy. Although this is a matter of taste, you can even add chili if you like savory dishes.
Ingredients:
Minced chicken – 200 g.
Lavash Armenian or wheat roll – 1 pack.
Bulb – 1 pc.
Hard cheese – 100 g.
Small carrot – 1 pc.
Parsley – a bunch.
Sour cream of any fat content – 100 g.
Table mustard – a couple of tbsp. l.
Any greenery is a bunch.
Salt, spices, sunflower oil – to taste.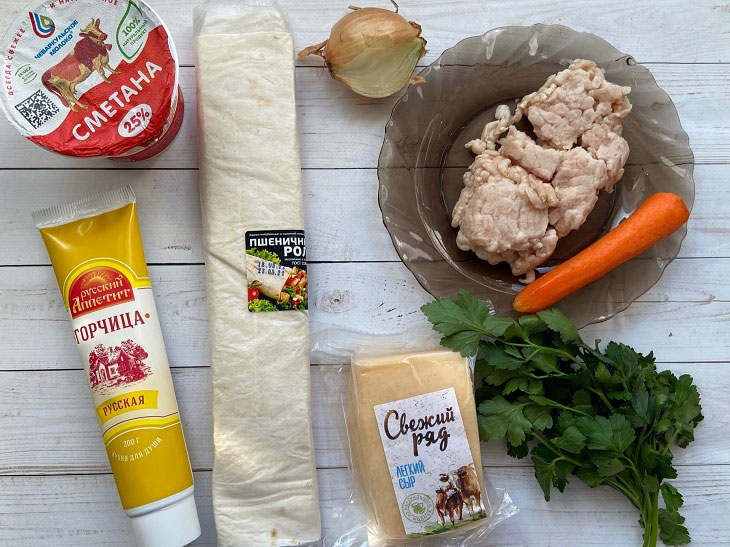 How to cook:
1. Wash and grate carrots on a coarse grater. Choose sweet and juicy varieties, so the dish will taste better. The onion is also peeled and cut into small cubes.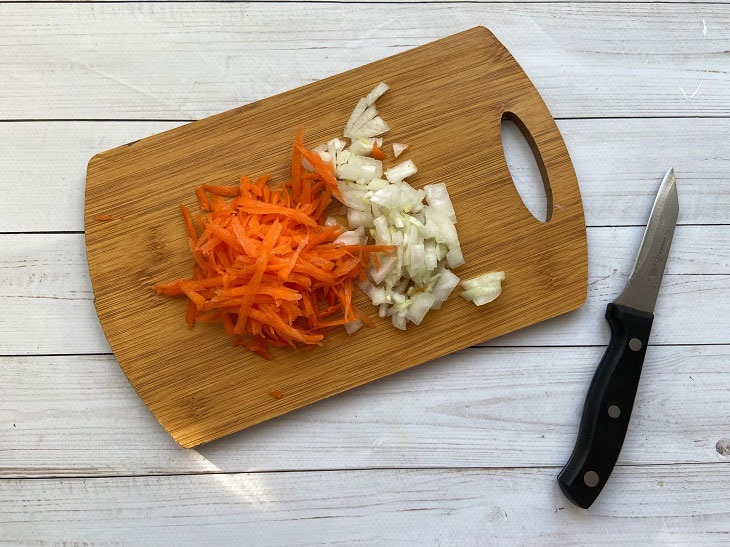 2. Vegetables need to be fried over medium heat with the addition of vegetable oil until soft. Then add minced meat to the pan.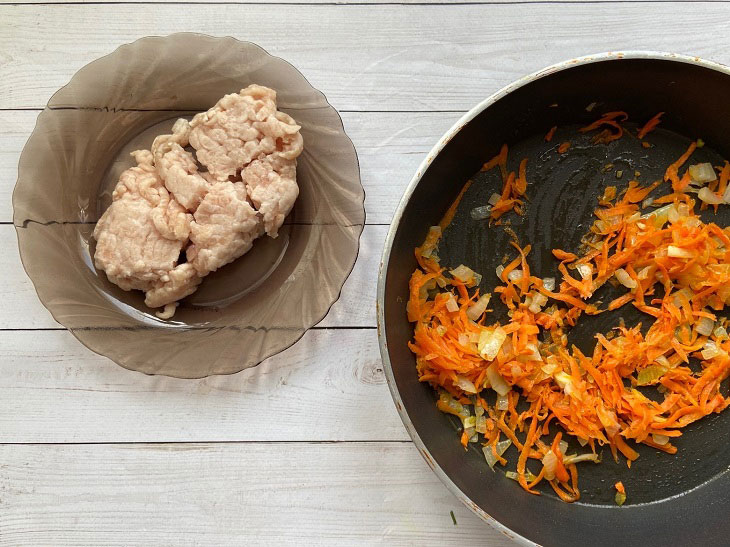 3. Any greens that are used in salads will do. We used regular parsley, but dill, basil, or even Chinese cabbage will do as well. Greens need to be chopped.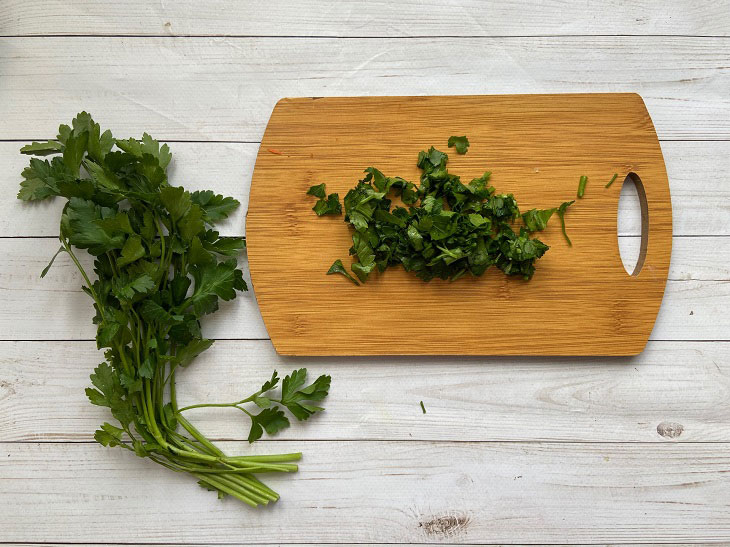 4. The fire under the pan must be reduced to a minimum and pour the greens, mix and fry for just a minute.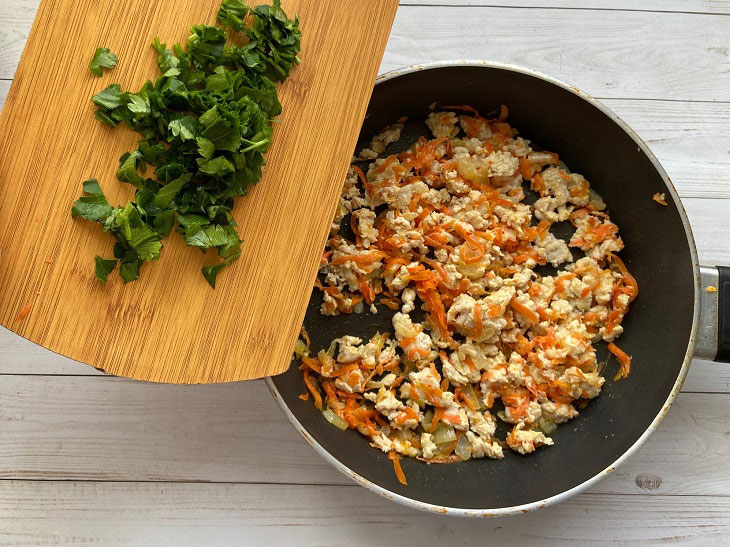 5. Add spices to your taste. You can take dry garlic, black pepper, chili or paprika.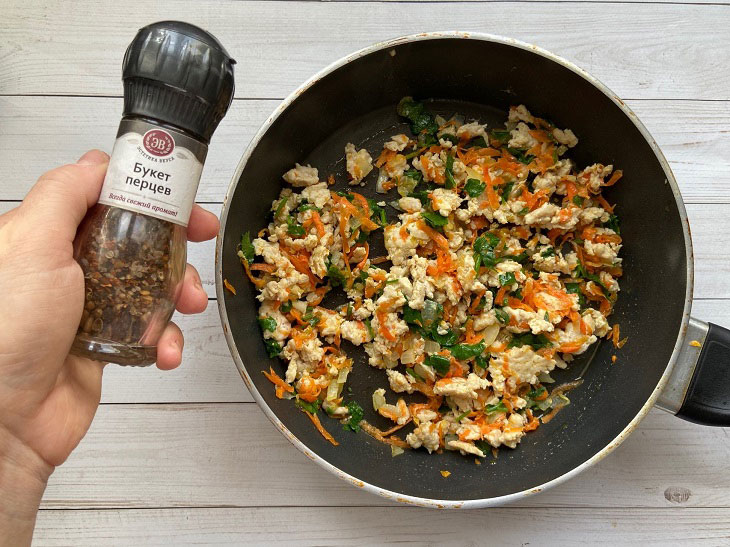 6. Cheese needs a hard variety. It is ideal to use Dutch or Russian, it must be grated on a coarse grater.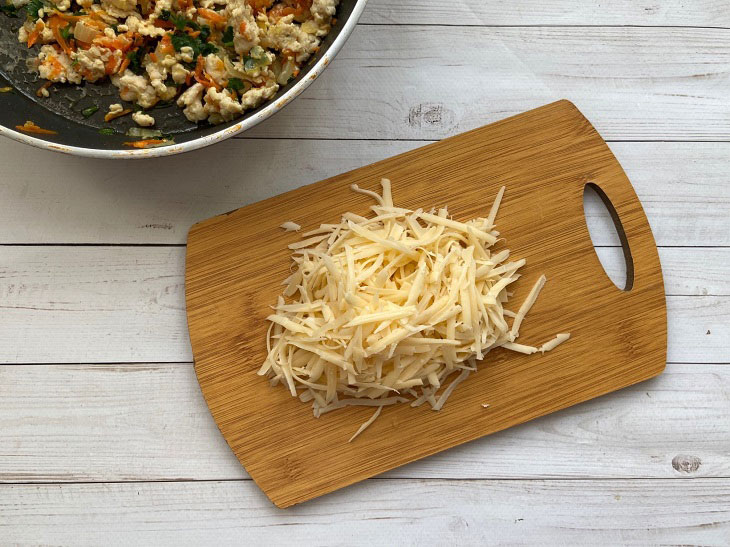 7. Gently spread the pita bread on the table and sprinkle it with grated cheese – take half of the total amount. From the edges you can retreat a couple of centimeters.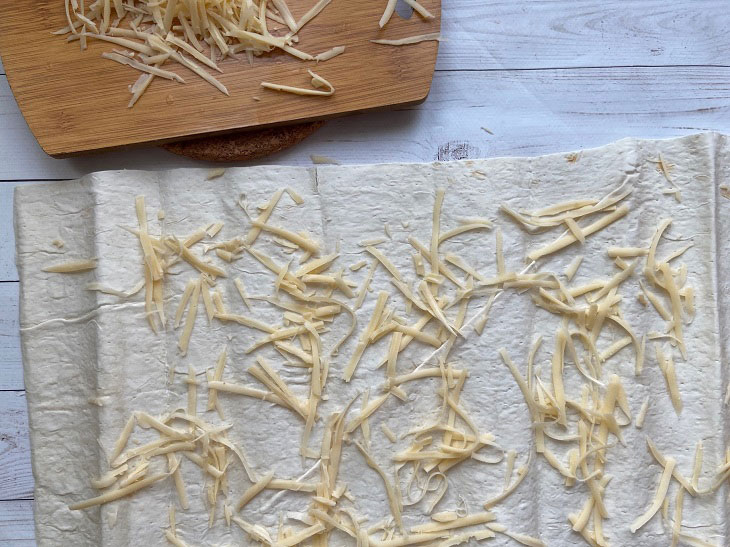 8. Put the frying on top of the cheese, while trying to distribute it evenly throughout the pita bread.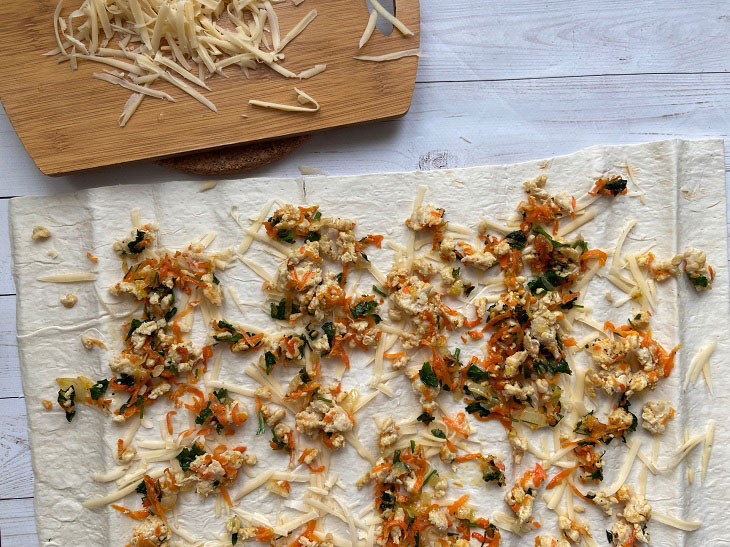 9. In a separate bowl, mix sour cream and a small amount of table mustard. You can also take grained, but it has a specific taste and not everyone will like this dish.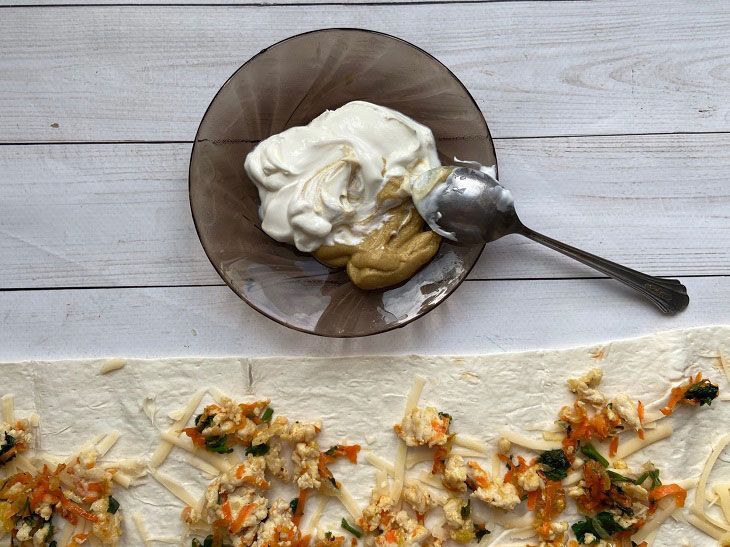 10. Lubricate the filling with the resulting sauce. In this case, you need to use only half of the mixture, the second will be needed for decoration.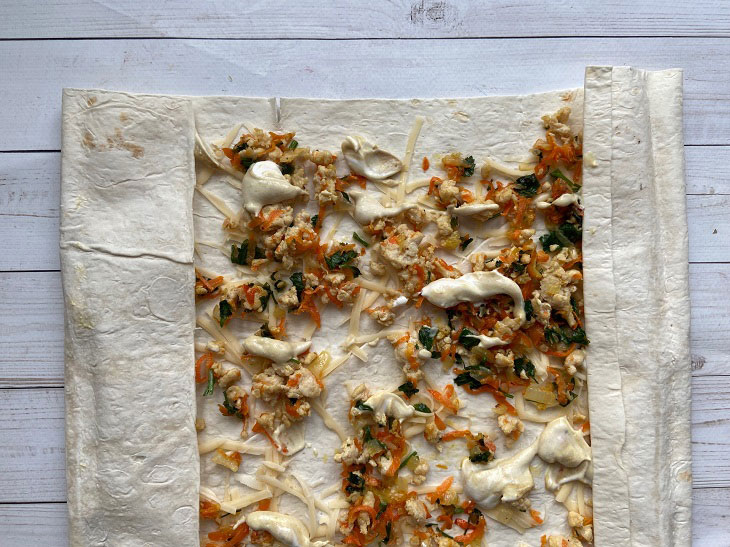 11. Roll a pita roll and brush it with sauce. Sprinkle cheese on top and place on a greased baking sheet. Bake for no more than twenty minutes.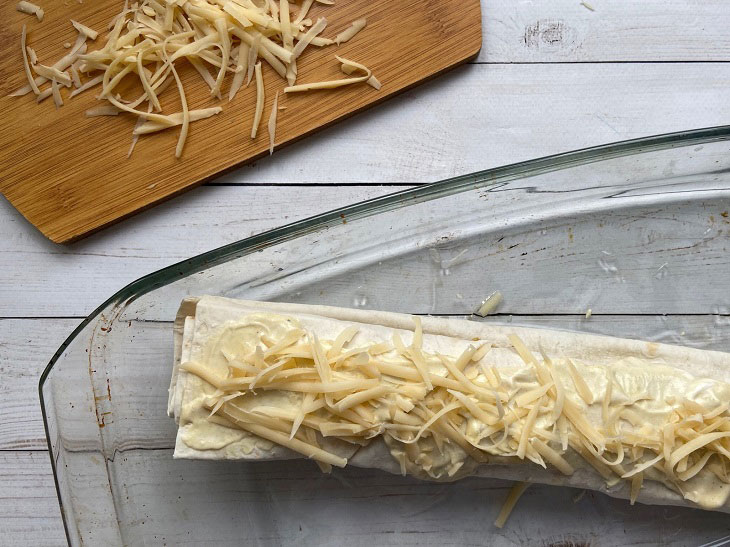 Bukhlavash should be served on the table cut into several pieces and sprinkled with fresh herbs. You can also serve cream sauce in order to complement the taste.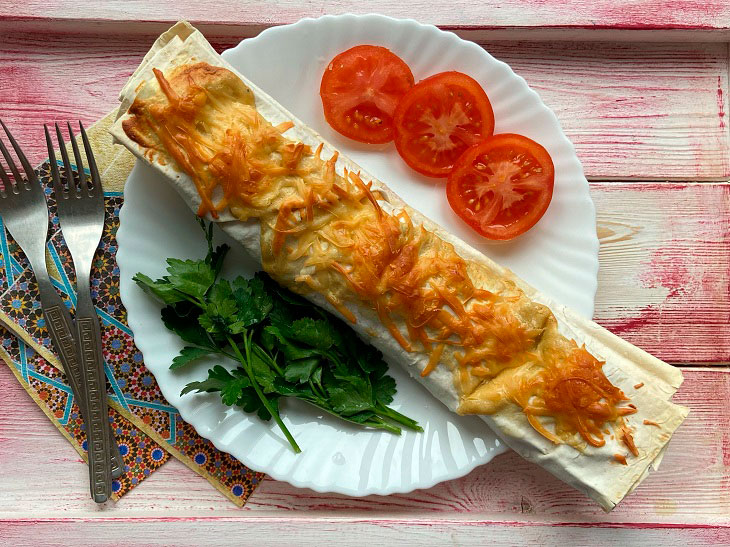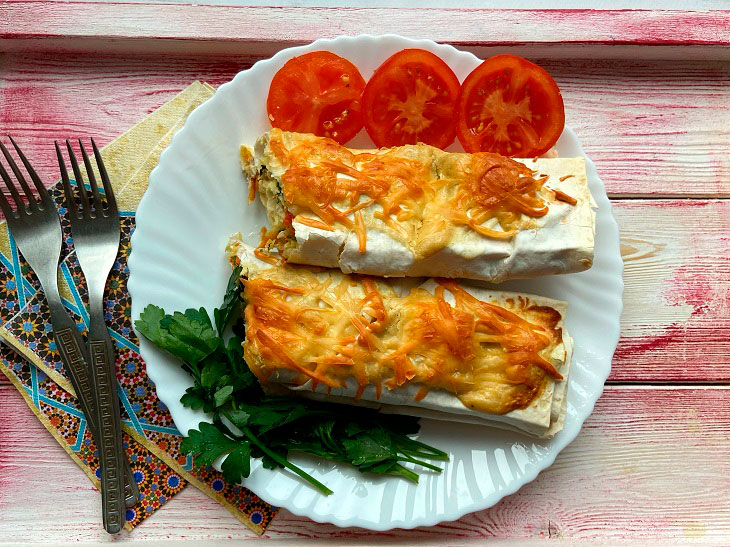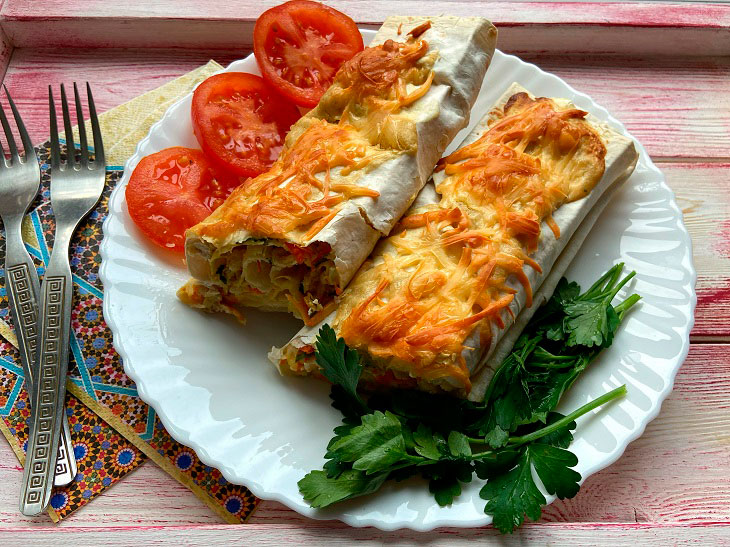 Bon appetit!