Cooking salads with sausage is a pleasure. In terms of time – it takes a few minutes, plus everything to buy it in the store is not a problem at all. Delicious sausage is the key to your success. A high-quality and expensive product can be added to any dishes, snacks, including salads. For today's recipe, you will need a boiled potato.
Prepare a delicious and unusual salad "Bakhor" with sausage. Despite the fact that the recipe is very simple, all components are cut and mixed with mayonnaise, the important point is the combination of ingredients. In addition to sausage, take fresh cucumbers, tomatoes, onions, garlic, cheese and eggs. Spicy onions and garlic add zest to the dish, while cheese and eggs make the salad more satisfying. Salad "Bahor" will not go unnoticed on your table.
Ingredients:
Boiled sausage – 150 g.
Cucumbers – 100 g.
Tomatoes – 100 g.
Onion – 50 g.
Chicken eggs – 1 pc.
Hard cheese – 70 g.
Garlic – 1 clove.
Mayonnaise – 100 g.
Dill – to taste.
Salt, pepper – to taste.
Cooking:
1. Peel the boiled sausage from the packaging and cut into strips for salad.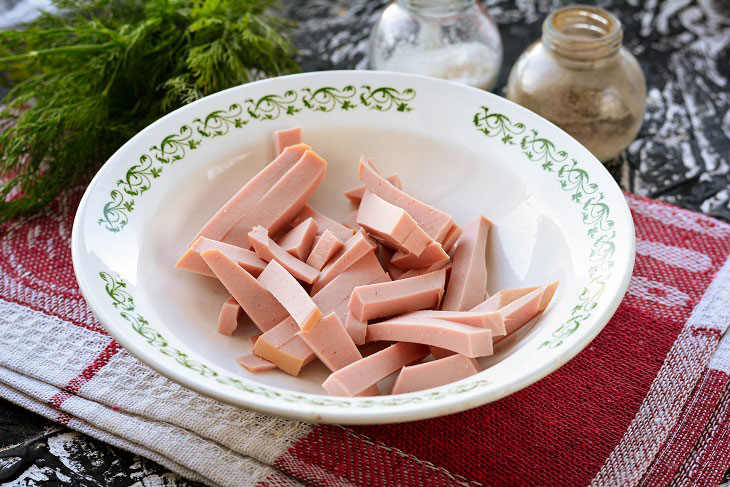 2. Next, cut into strips of fresh cucumbers and tomatoes. Put the vegetables into the bowl with the sausage.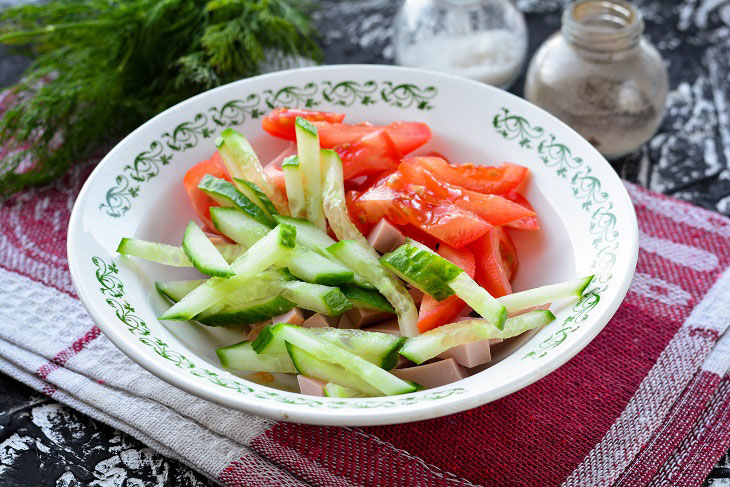 3. Cut onions into half rings. Boil a chicken egg, cool. Clean and cut into salad strips. Add these ingredients to the bowl.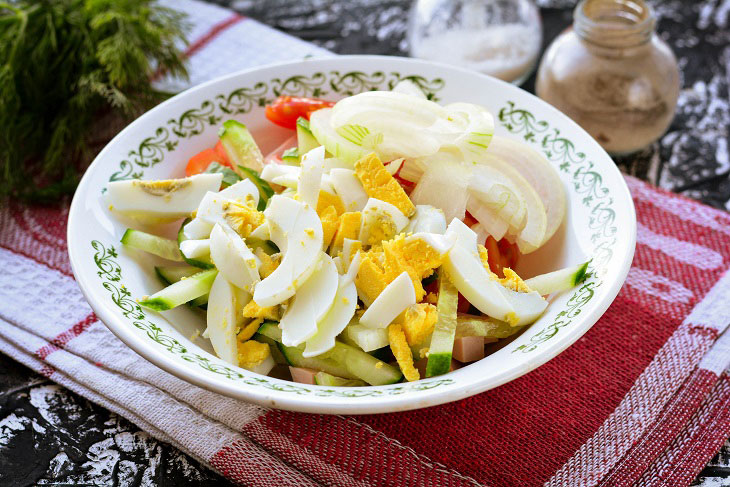 4. Grate hard cheese into the salad. For this, both a large and a small grater are suitable. To your taste.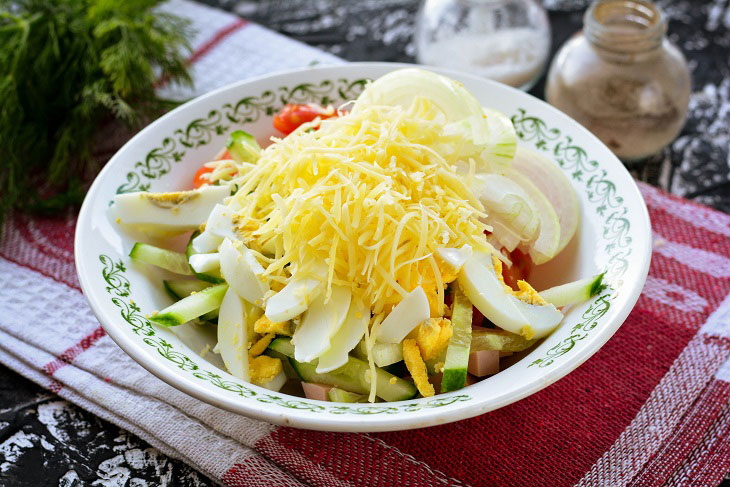 5. Also squeeze the garlic into the salad. Garlic can be squeezed through a spadefoot or grated on a fine grater.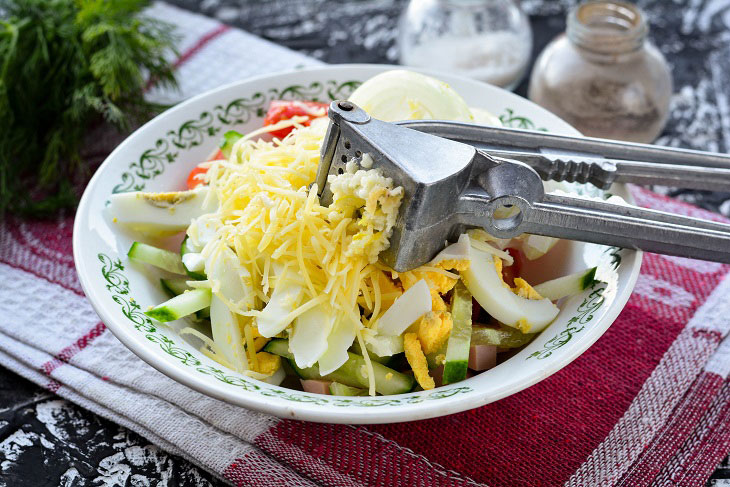 6. Dress the salad with mayonnaise and mix several times. Salt and pepper, taste.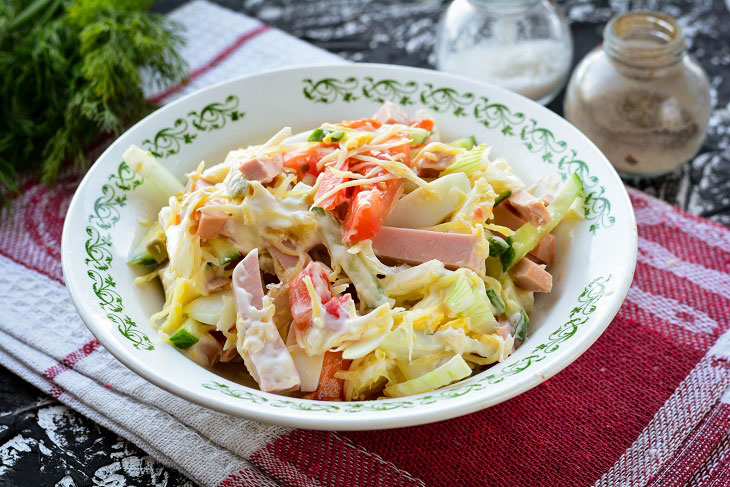 7. If there is enough of everything, you can put the salad in portioned dishes and serve it to the table, sprinkled with finely chopped dill.
Salad "Bakhor" with sausage will certainly become the highlight of your table and will appeal to every guest. Spicy salad has an unsurpassed taste and aroma. Fresh vegetables go well with sausage.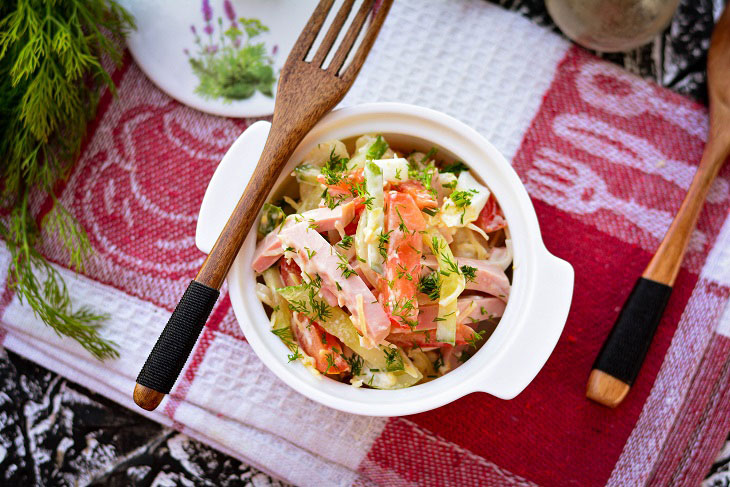 Enjoy your meal!