If you like salads without mayonnaise and from vegetables, then you should take note of the Batumi salad recipe. It is prepared from vegetables, it turns out very tasty and quite colorful, since all vegetables are of different colors. Therefore, this type of salad can be safely prepared on the festive table, believe me, guests will appreciate both its taste and its appearance.
To prepare Batumi salad, you should buy yellow or orange sweet pepper, fresh cucumber and tomato. In addition to these ingredients, you will also need to prepare an unusual salad dressing, the main ingredient in which is vegetable oil. And the piquancy of the salad will be given by the fact that chopped garlic and walnuts will also be added to the dressing.
Ingredients:
Tomato – 1 pc.
Fresh cucumber – 1 pc.
Sweet pepper – 0.5 pcs.
Greens – to taste.
Vegetable oil – 2 tbsp. l.
Water – 2 tbsp. l.
Garlic – ½ clove.
Salt – to taste.
Walnuts – 3-5 pcs.
Ground black pepper – to taste.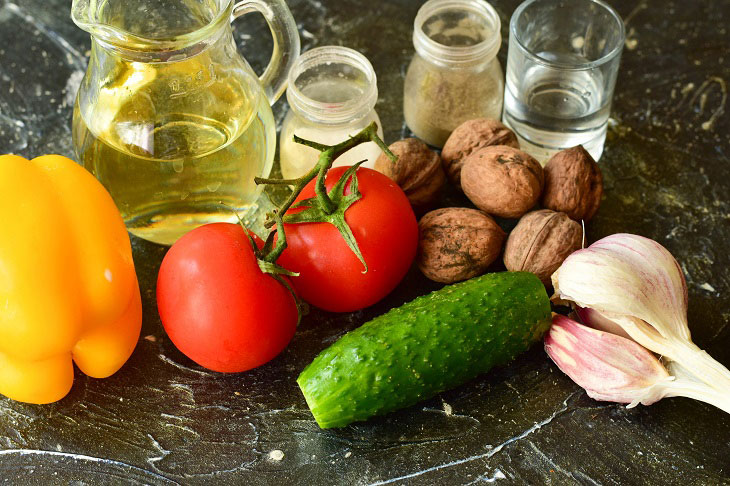 How to cook:
1. Wash a fresh cucumber, cut off the edges on both sides. Now cut the vegetable lengthwise into plates of the same thickness. After that, cut them into strips.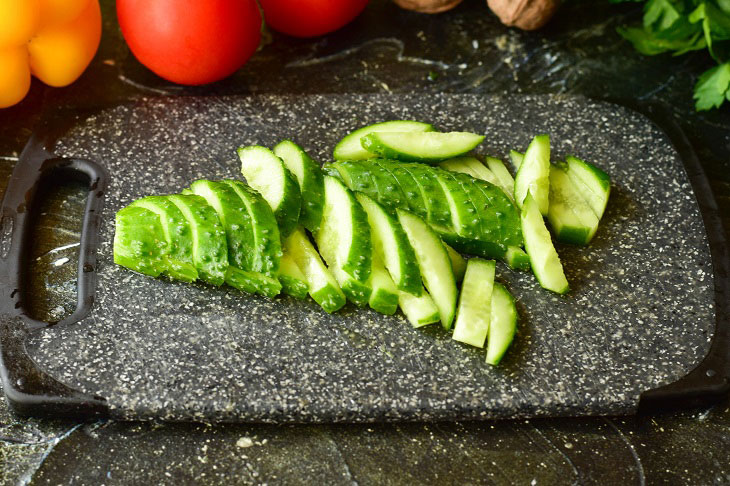 2. Wash the tomato and sweet pepper. Cut these vegetables into strips as well.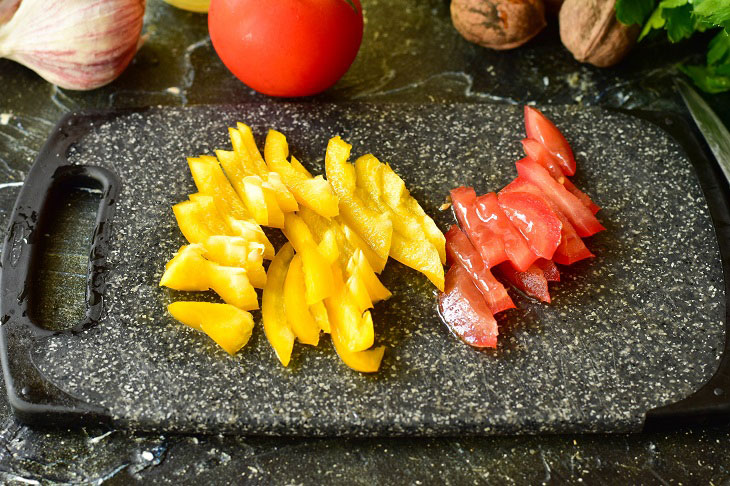 3. Put all chopped vegetables in a deep bowl. Cut the greens and put it on top.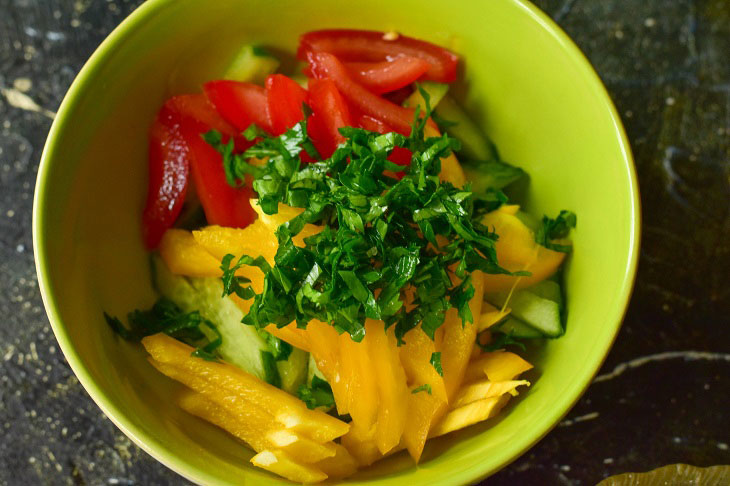 4. Pour water into a small bowl, put walnuts, garlic.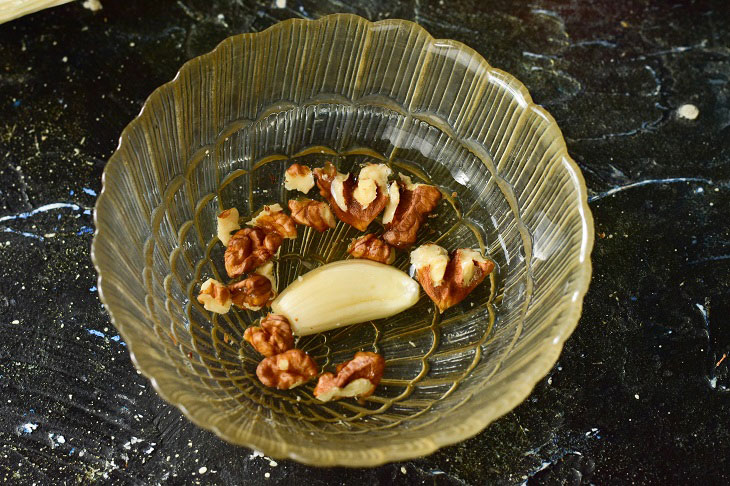 5. Grind everything with an immersion blender, pour in vegetable oil, add salt, ground black pepper, mix the dressing well. Be sure to taste it. If any ingredient is missing, then add and mix well the salad dressing again.
6. Pour the dressing in parts to the vegetables.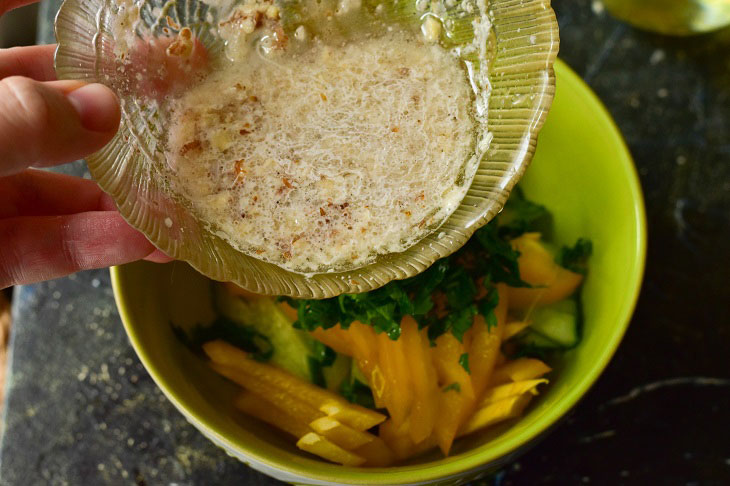 7. Mix everything well.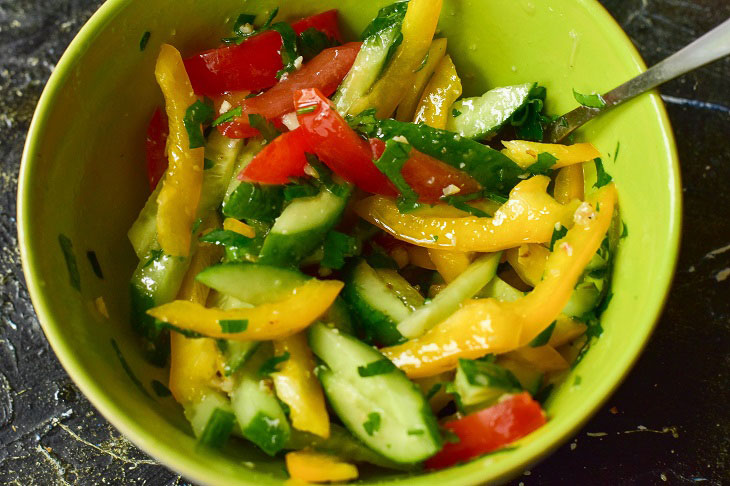 8. Leave the salad to infuse for 40 minutes. You can put it in the refrigerator. After that, boldly serve it to the table.
Do not forget to prepare mashed potatoes for salad or some kind of meat dish, for example, chicken chops.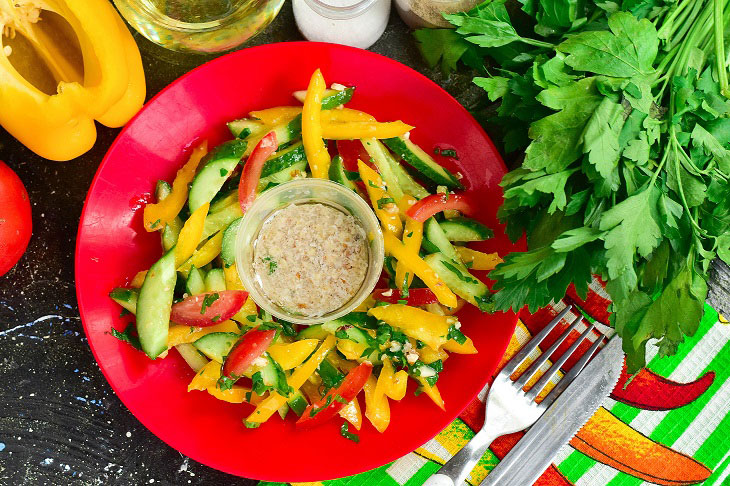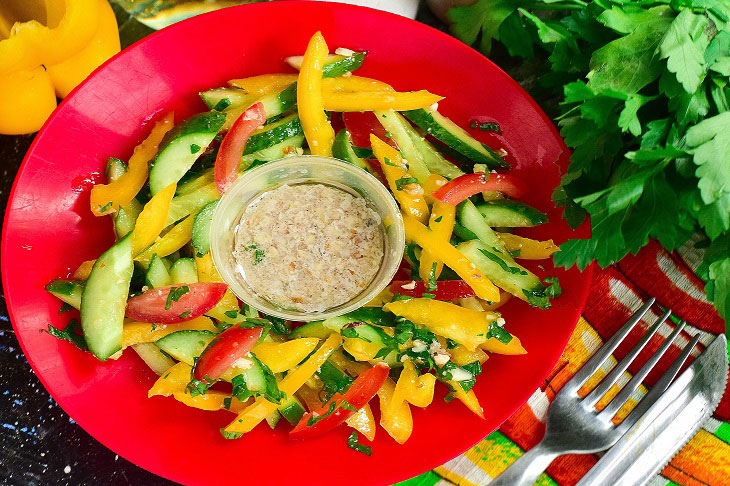 Enjoy your meal!