Have you tried Korean eggplant? They are spicy and smell amazing! Carrots chopped on a special grater add juiciness to the appetizer, and spices, garlic and vinegar add a signature taste.
Eggplants are prepared in Korean in 15 minutes, and then they need to be given time to infuse – 3-4 hours. Vegetables should be saturated with the aromas of garlic and spices (the recipe uses a ready-made set of seasonings for Korean carrots, which can be easily purchased at any supermarket). The longer the snack is infused, the tastier it will turn out. Be sure to try!
Ingredients:
Small eggplants – 2 pcs. (200 g).
Large carrots – 1 pc. (150 g).
Garlic – 3 cloves.
Vegetable oil – 2-3 tbsp. l.
Seasoning for Korean carrots – 1 tbsp. l.
9% vinegar – 1.5 tbsp. l.
How to cook:
1. Cut the eggplant lengthwise into strips about 0.5 cm wide. Salt generously and leave for 30 minutes, then rinse under running cold water and wring out excess moisture with your hands. For this salad, it is best to use small vegetables. If they are still large, then you can cut them not into strips, but into cubes – it will be more convenient to take them with chopsticks.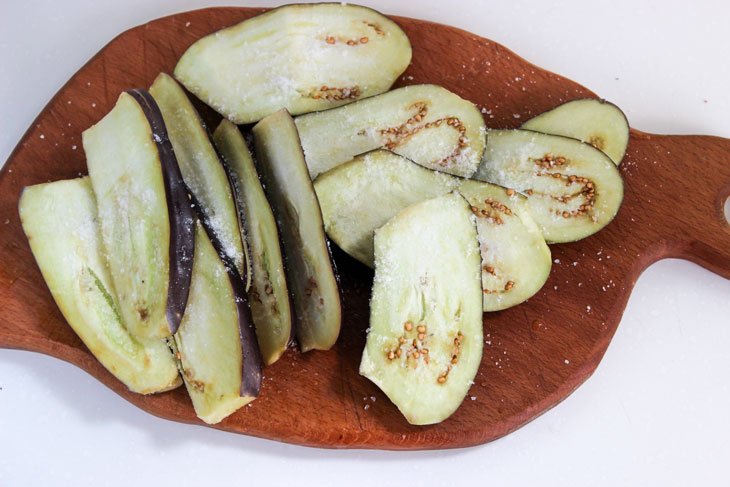 2. Heat the vegetable oil in a frying pan and fry the eggplant until cooked on both sides. Cool to room temperature.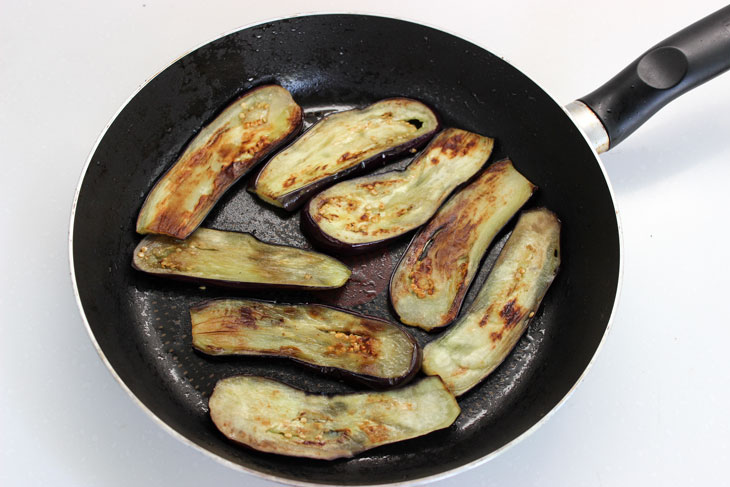 3. Peel the carrots and then grate them for Korean salads. Please note that the carrot should be juicy in itself, very sweet, then the salad will turn out tasty and juicy.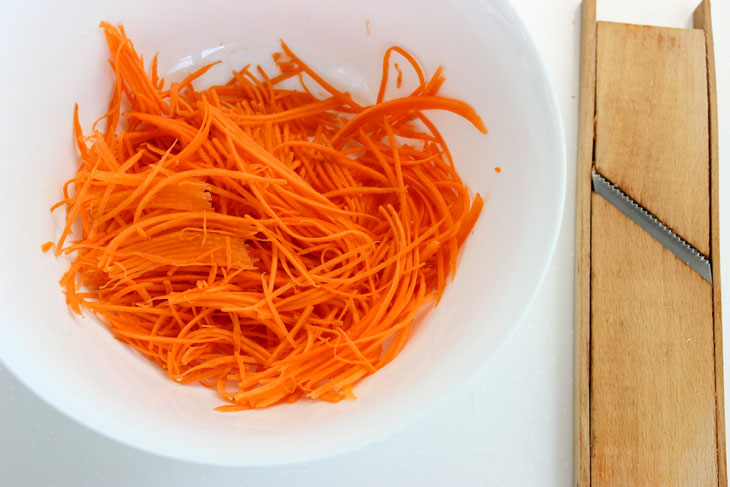 4. Mix the cooled blue ones in one bowl with carrots.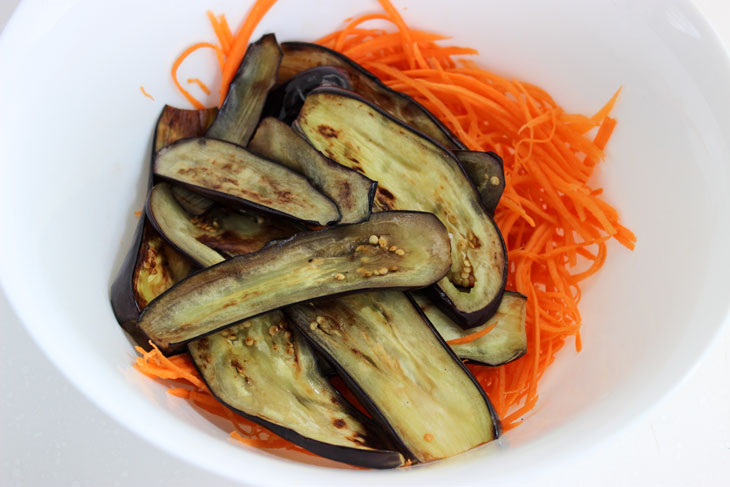 5. Season with ready-made seasoning from the pack, add vinegar and garlic, passed through a press. As a rule, the composition of the finished seasoning already contains a sufficient amount of salt and sugar, so you do not need to add them. As for the spiciness, you can adjust it to your liking by adding a little hot ground chili if the seasoning is not spicy.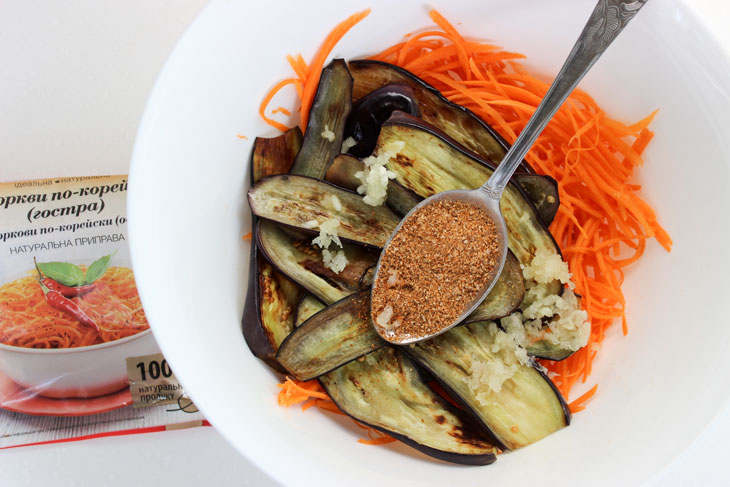 6. Stir and leave to marinate for 3-4 hours in the refrigerator. During this time, the vegetables will give a lot of their own juice, so you need to mix the salad several times.
If the carrots were not too juicy, then you can add a spoonful of vegetable oil, then the pickling process will be more active.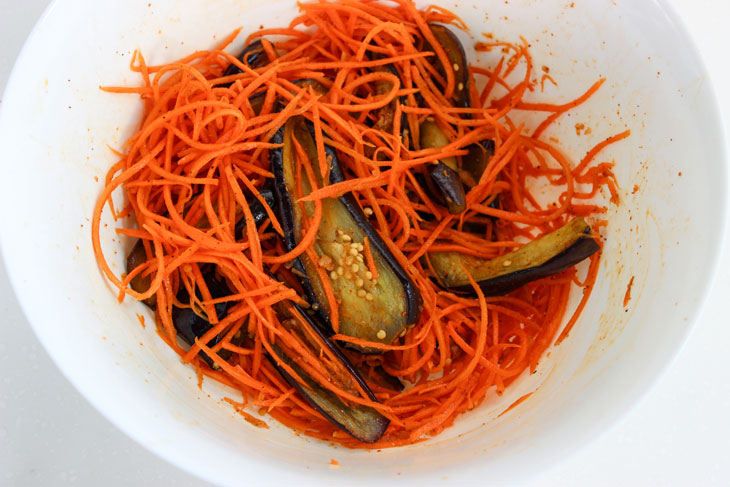 Serve the Korean-style eggplant cold. You can store the snack in the refrigerator for 2-3 days in a glass container, under a tightly closed lid.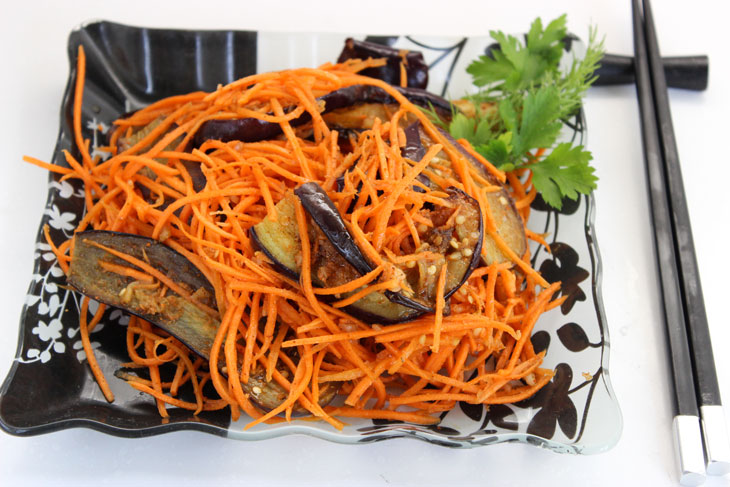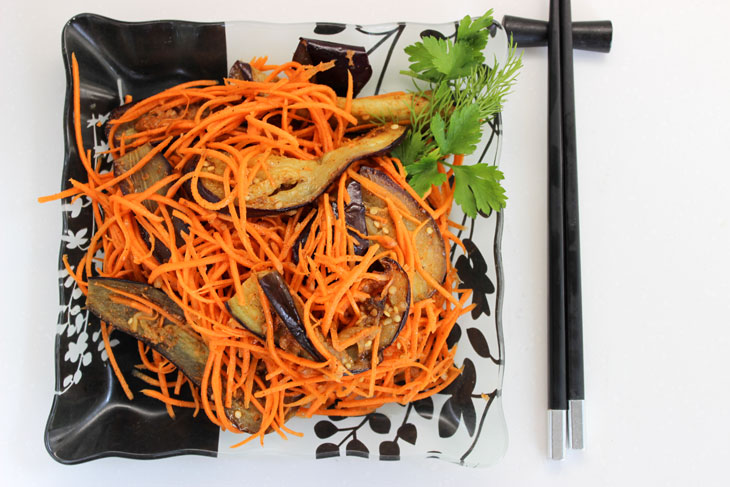 Enjoy your meal!