Cooking real Belarusian sorcerers is not so easy, however, the result will please you. The result is hearty and tasty potato cutlets with tender, juicy minced meat inside.
Minced meat can be anything, for example, chicken, turkey, beef or mixed. It is optimal if the product is homemade, however, store-bought is also suitable. The main thing is to buy minced meat in a trusted place so that its taste does not disappoint later.
Ingredients:
Minced meat – 200 g.
Potatoes – 600 g.
Sour cream – 60 ml.
Salt – 3 pinches.
Spices – 1 pinch.
Bulb – 2 pcs.
Wheat flour – 3 tbsp. l.
Chicken egg – 1 pc.
Oil for frying – 30 ml.
How to cook:
1. Potatoes need to be peeled, washed and grated. Next, you need to try to squeeze out as much juice as possible – for these purposes, ordinary gauze, a colander will do. You can also squeeze by hand.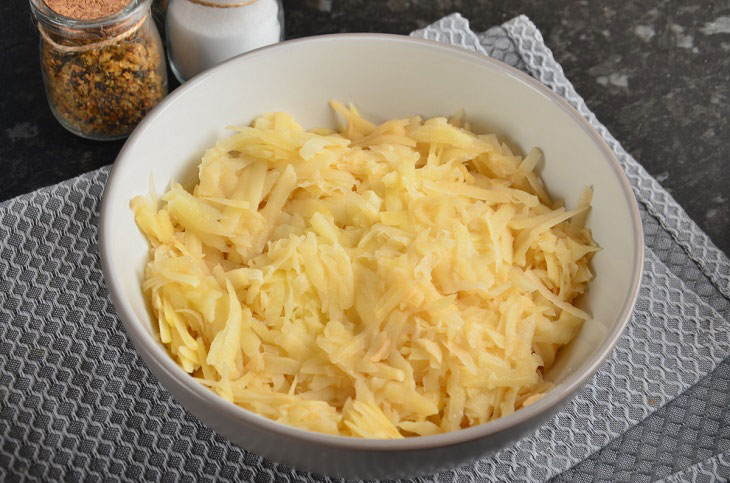 2. Peel and grate the onion. Put half of the onion in a bowl with grated potatoes, beat in a fresh chicken egg there.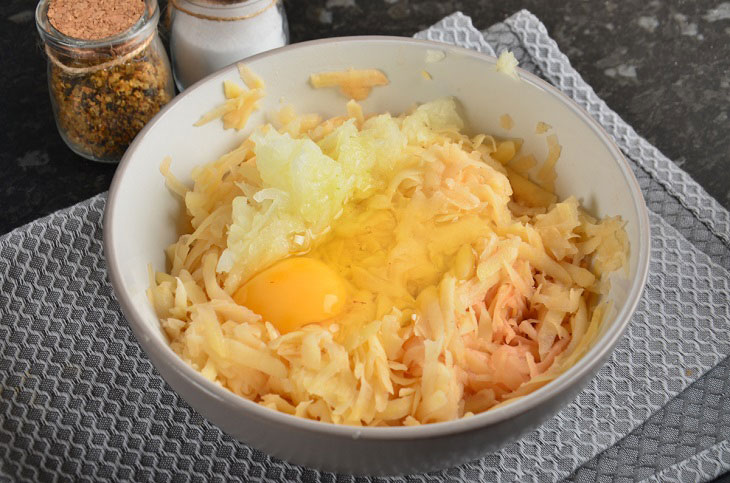 3. Put sour cream in a bowl – its fat content can be any. Also add salt to taste and a pinch of black pepper.
4. Add wheat flour after sifting it.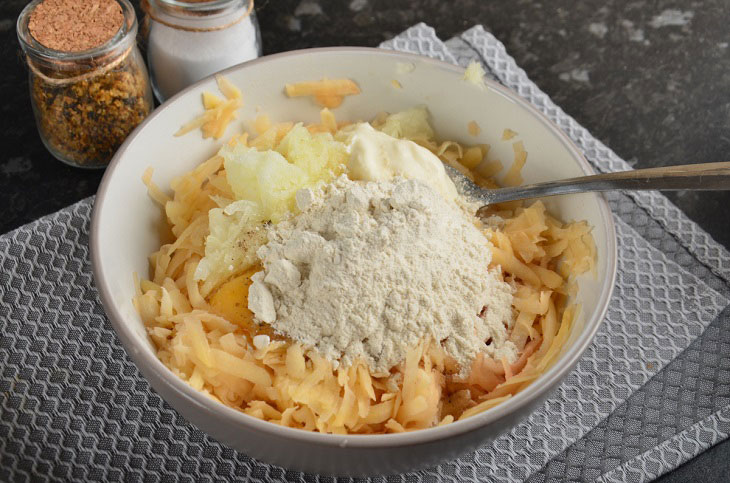 5. Thoroughly mix the potato mass.
You need to cook everything quickly, as the potatoes darken quickly.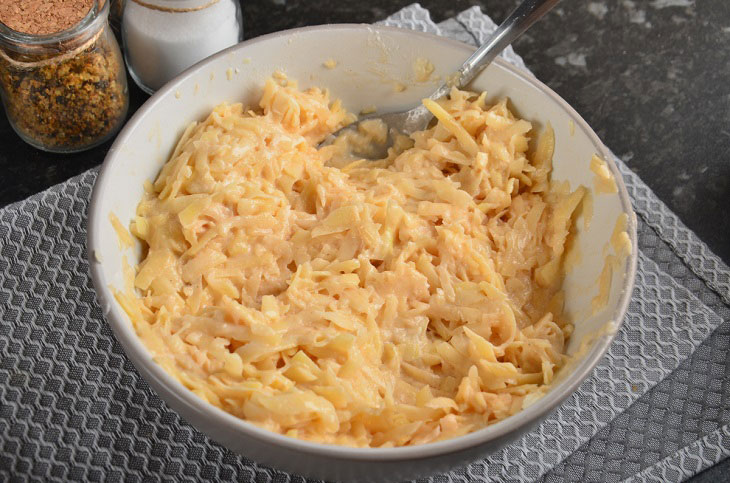 6. Salt the chilled minced meat and throw in a pinch of ground pepper.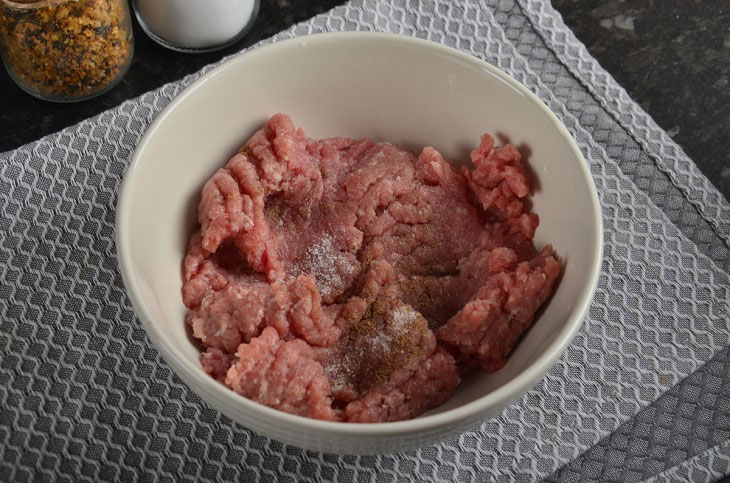 7. Send the remaining grated onion to the minced meat.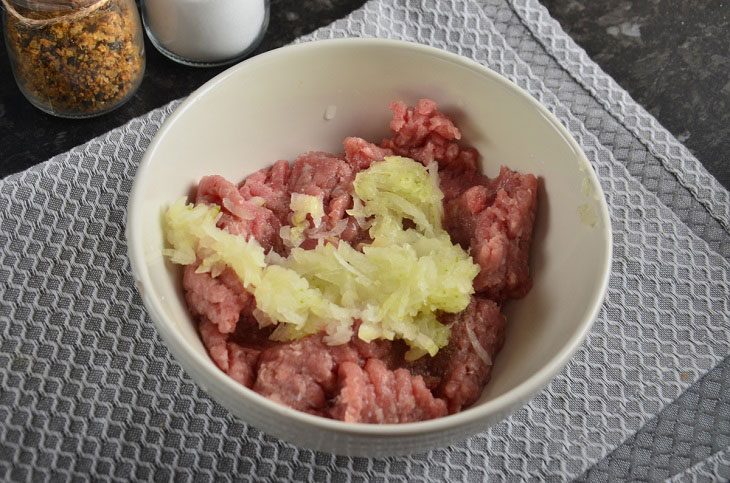 8. Stir the minced meat with a spoon or hands until completely homogeneous.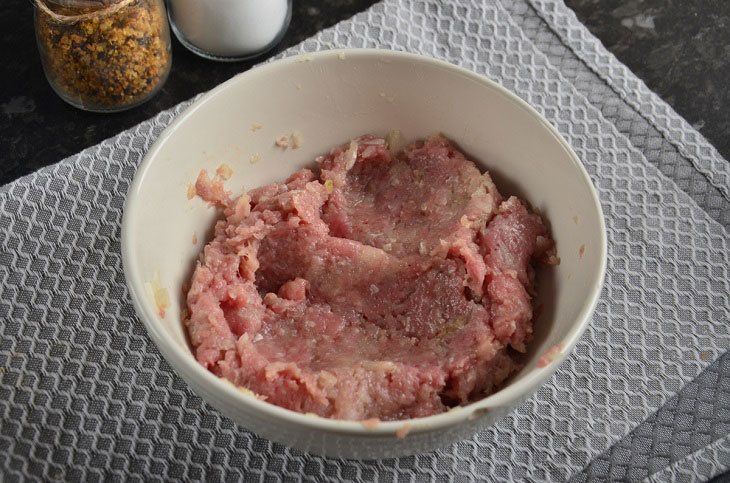 9. Put the pan on the fire, pour in the oil and make a low fire.
While the pan is heating up, you can make preparations. Put a small portion of the potato mass in the palm of your hand, make a recess.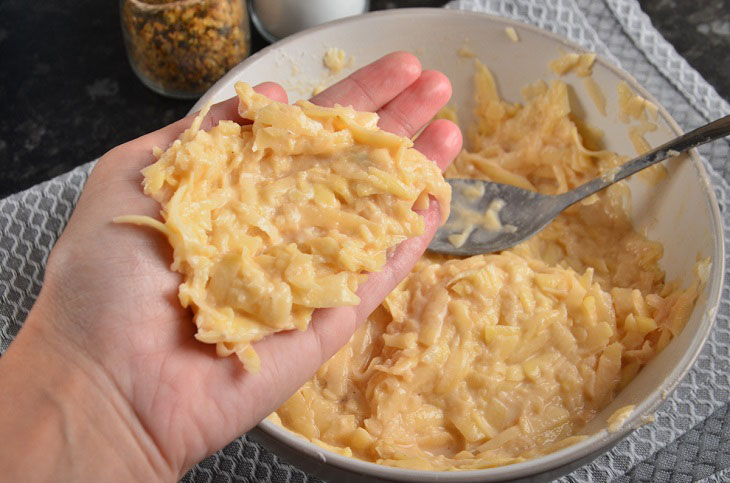 10. Put some minced meat in the recess.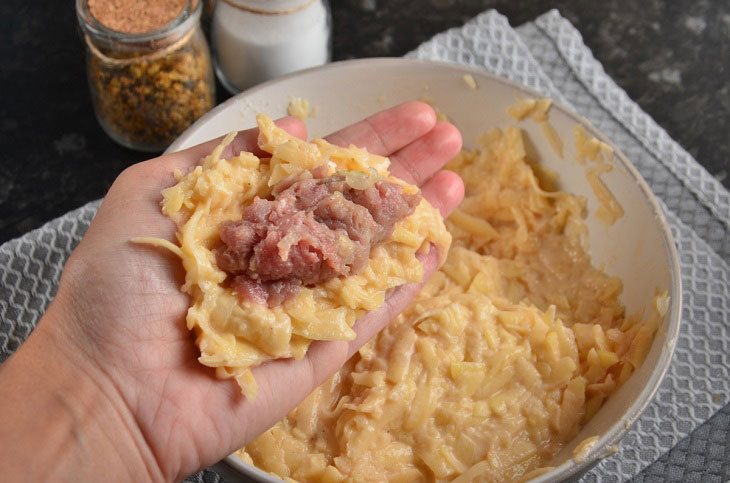 11. Cover the minced meat with a small portion of the potato mass, form a neat zrazy, simultaneously squeezing out the excess juice.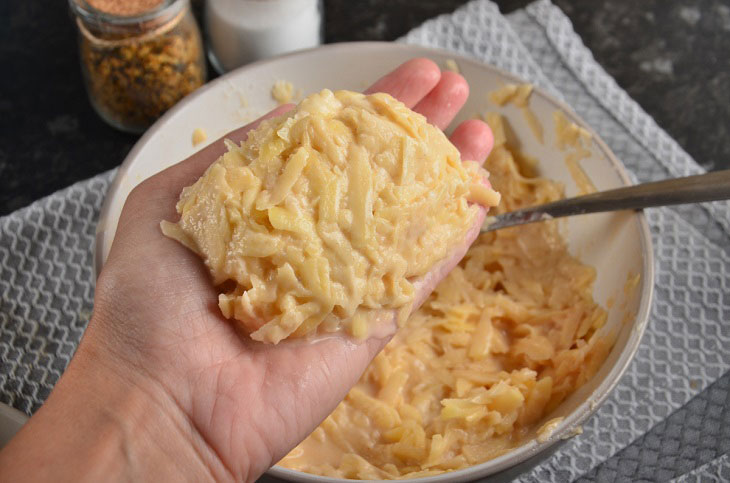 12. Send the blanks to fry in a pan.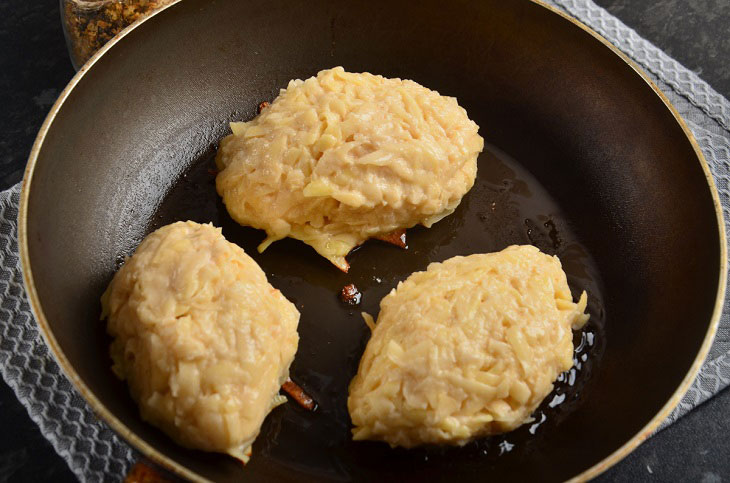 13. After 5-6 minutes, turn the sorcerers with a spatula to the other side and wait another 3-4 minutes.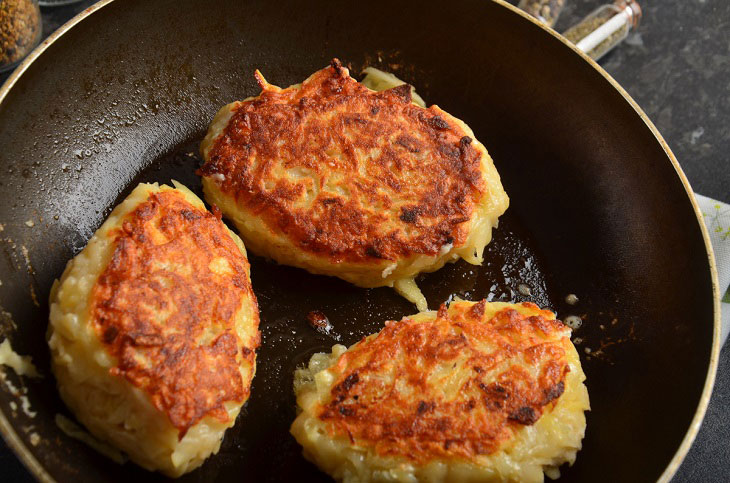 14. Carefully transfer the workpieces to a greased form. Make a layer of sour cream on each sorcerer and bake them in the oven for 20 minutes at 180 degrees.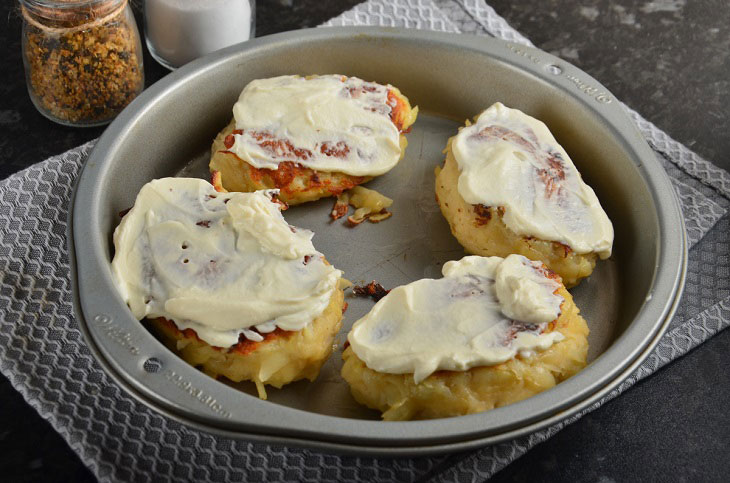 The finished dish can be served immediately, with fresh herbs, sour cream sauce, mayonnaise, ketchup. It turns out a full meal, which can also be supplemented with fresh vegetables and pickles.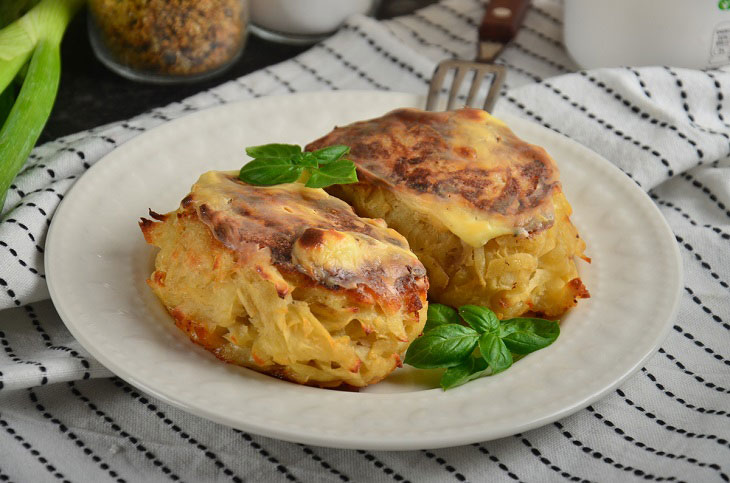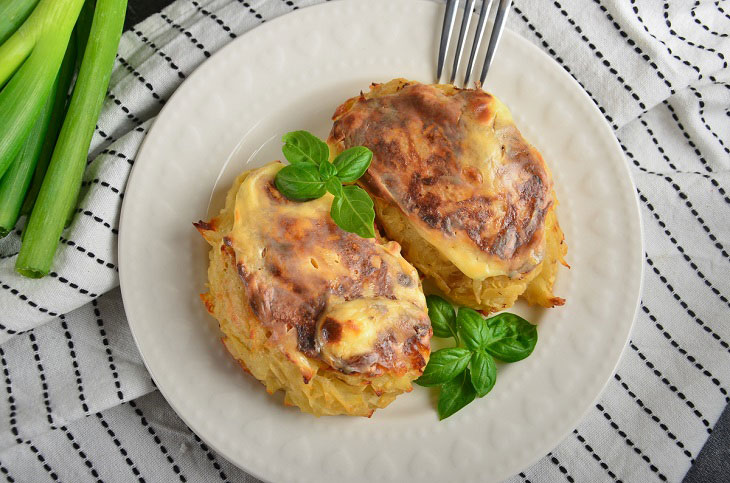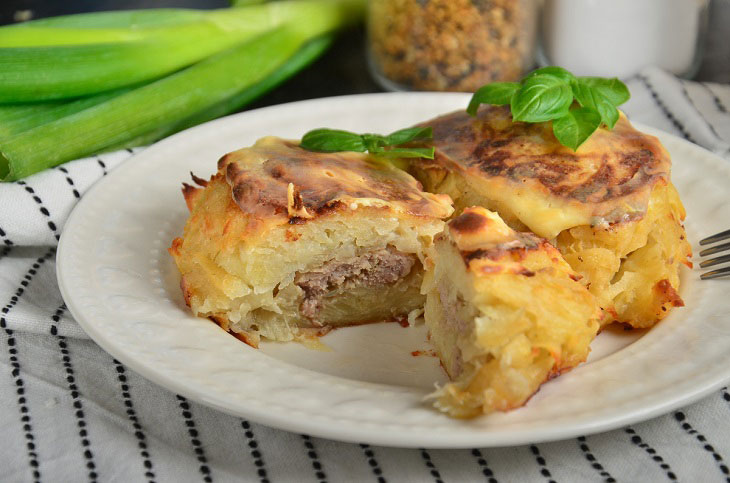 Enjoy your meal!