Today we will cook a quick bolognese – a simplified recipe for meat sauce for Italian pasta. Ground beef stewed with onions in tomato sauce. Cooking will take you only 30-40 minutes. During this time, you will have time to boil pasta in parallel or prepare another side dish. Delicious and nutritious dinner guaranteed!
The dish is suitable for diet food, and can also be included in the children's menu (schoolchildren). Of the vegetables in the recipe, only onions and a little garlic are used. If desired, the list of ingredients can be expanded to include carrots and stalk celery.
Ingredients:
Minced beef cutlet – 400 g.
Onion (large) – 1 pc.
Garlic – 2 cloves.
Vegetable oil – 2-3 tbsp. l.
Salt – 0.5 tsp. (or to taste).
Sugar – 1/4 tsp
Black ground pepper – 1/4 tsp.
Tomato paste – 2 tbsp. l.
Vegetable broth – 200 ml.
Hot pepper – 1-2 rings (optional).
How to cook:
1. Saute finely chopped onion and garlic in vegetable oil until softened.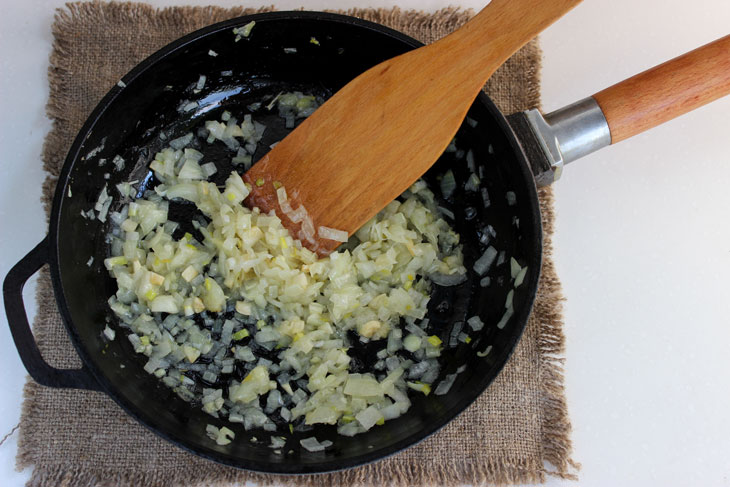 2. Next, send the minced meat to the pan.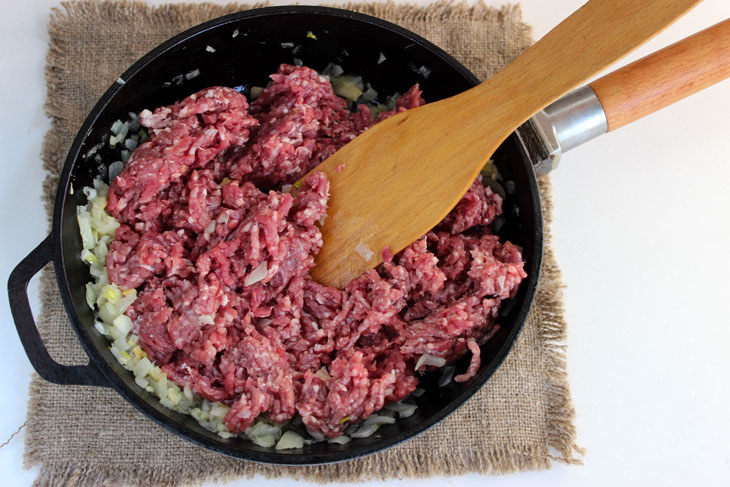 3. Breaking the lumps, continue to fry over high heat for another 5-7 minutes, until a pronounced smell of fried meat appears.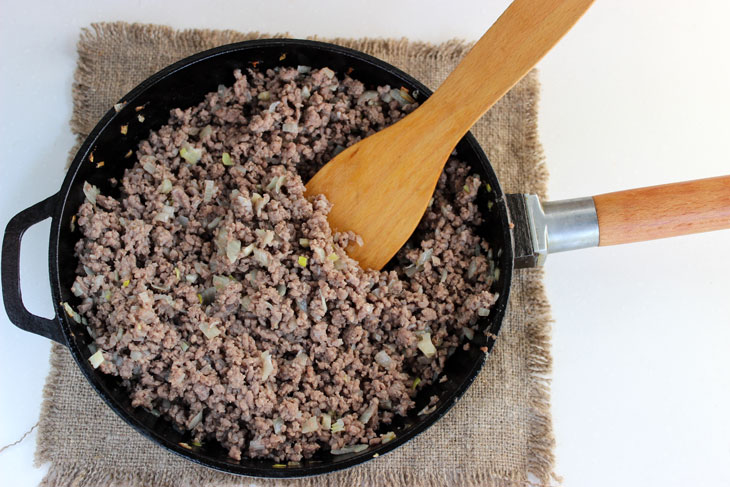 4. Add tomato paste, fry everything together for 1 minute.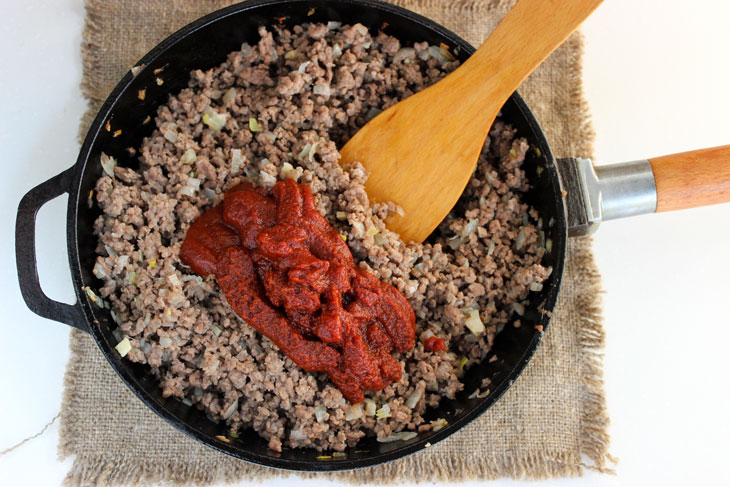 5. Pour in vegetable broth – the amount should be such that the liquid completely covers the contents of the pan (as it boils, you can add a little more until the desired consistency is obtained). Salt and pepper, and be sure to add a little sugar to balance the tomato sourness.
If you want to make the sauce more savory, at this stage it's time to add hot pepper to it (finely chop a couple of rings or use dry ground chili).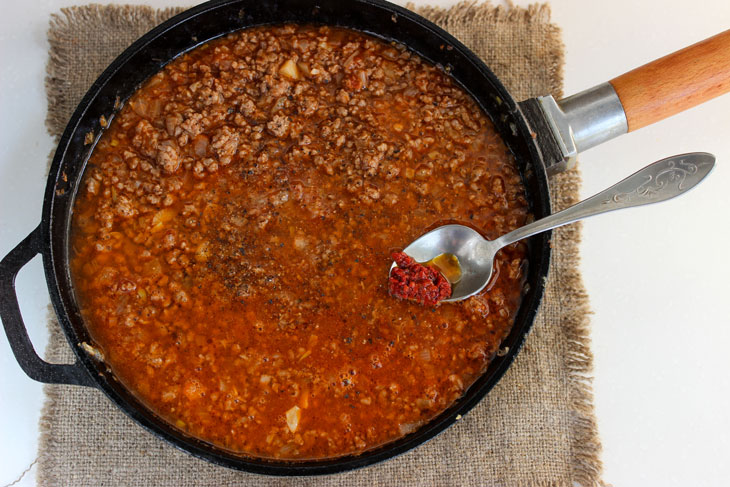 6. Simmer over medium heat for about 15-20 minutes, covering the pan with a lid. During this time, minced meat with vegetables and sauce will have time to cook completely, they will exchange their tastes and aromas.
If you don't want the bolognese sauce to be runny, you can thicken it with flour.
7. Serve the bolognese hot with your choice of garnish. The classic combination is with pasta, but you can also add buckwheat porridge, rice or potatoes. The sauce turns out with a rich meat flavor and a beautiful color, and what a wonderful aroma! Before serving, do not forget to sprinkle chopped herbs on top: dill, green onions, basil.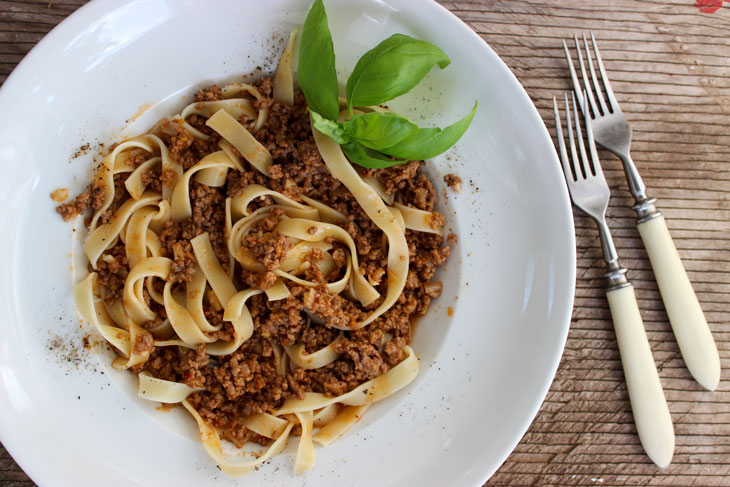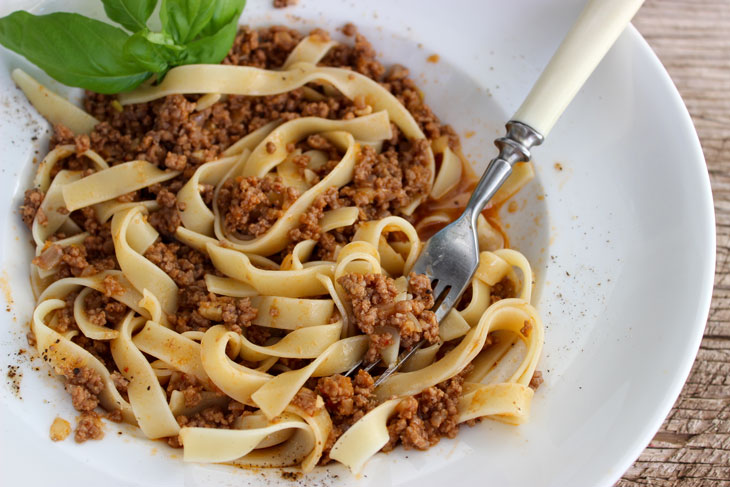 Enjoy your meal!