Braised cabbage in a jar is a simple and tasty dish that is cooked in the oven. Often cabbage is stewed in a pan with a lot of oil, so not every housewife uses such a recipe. We suggest you stew cabbage in the oven – the vegetables will turn out juicy and low-fat. Bake cabbage in an unusual way – in an ordinary glass jar. No special forms are needed. If you put the jar in a cold oven, and then turn on the power, then nothing will happen to the glass, nothing will burst, but it will heat up evenly.
For the recipe, use regular white cabbage. In addition, you will need onions, carrots for brightness and sweet peppers for flavor. All vegetables are perfectly combined with each other and complement the cabbage.
Braised cabbage in a jar is an excellent dish for lean or diet food.
Ingredients:
White cabbage – 350 g.
Onion – 80 g.
Carrots – 70 g.
Sweet pepper – 70 g.
Tomato sauce – 2 tbsp. l.
Vegetable oil – 1 tbsp. l.
Salt, black pepper – to taste.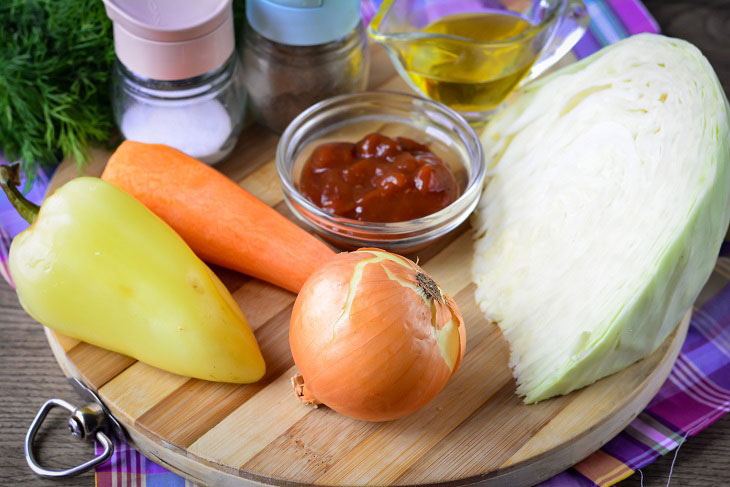 How to cook:
1. Remove the top leaves from the cabbage, chop it into thin strips.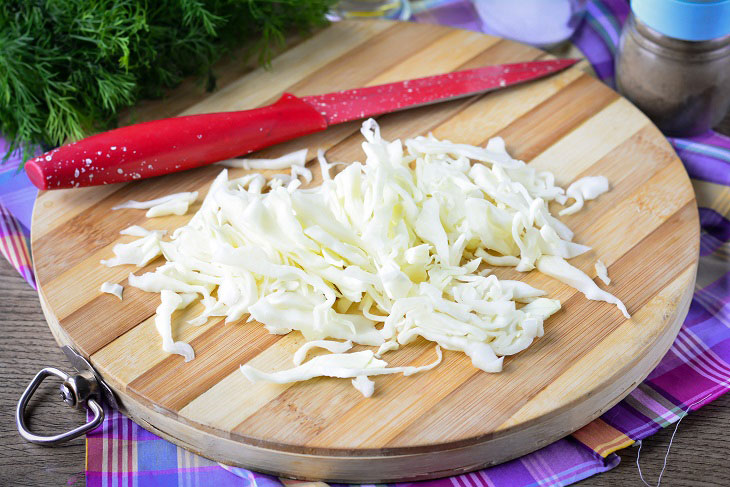 2. Cut the peeled onion into quarter rings. Onions will give the cabbage a piquant taste and extra juiciness.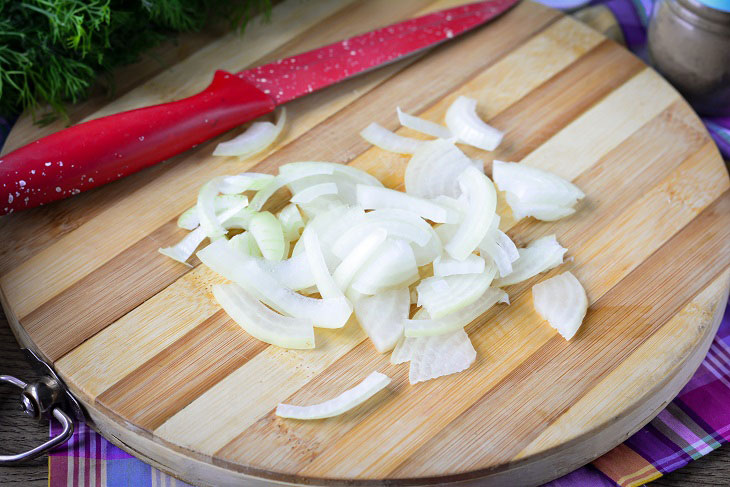 3. Peel the sweet pepper from the seeds, cut into small strips.
Pepper will give its flavor to the cabbage and the dish will be even tastier. Use any color pepper.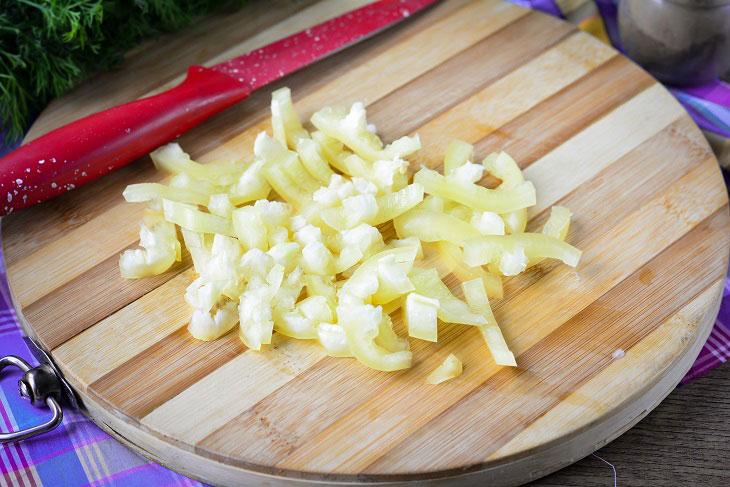 4. Peel the carrot, then grate it on a coarse grater. Bright color and sweet taste will complement the cabbage.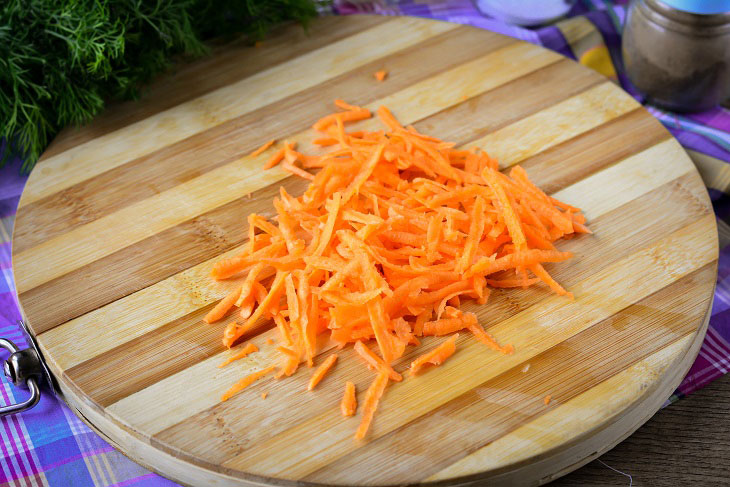 5. In a deep bowl, combine cabbage, onion and sweet pepper.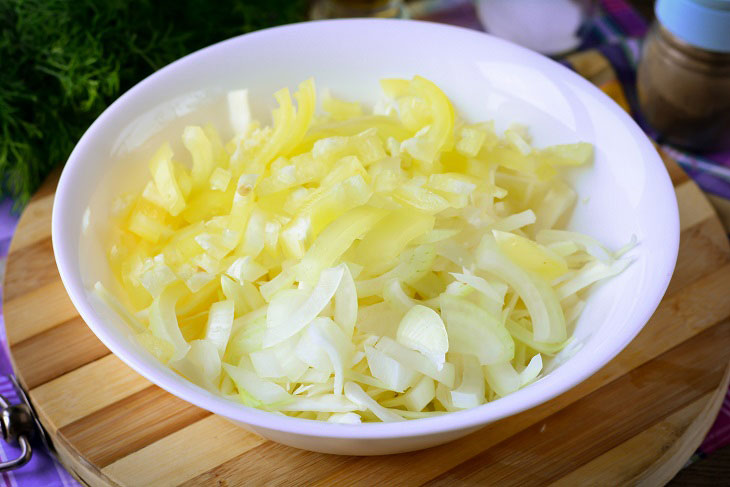 6. Pour in the carrots, add salt and black pepper to taste.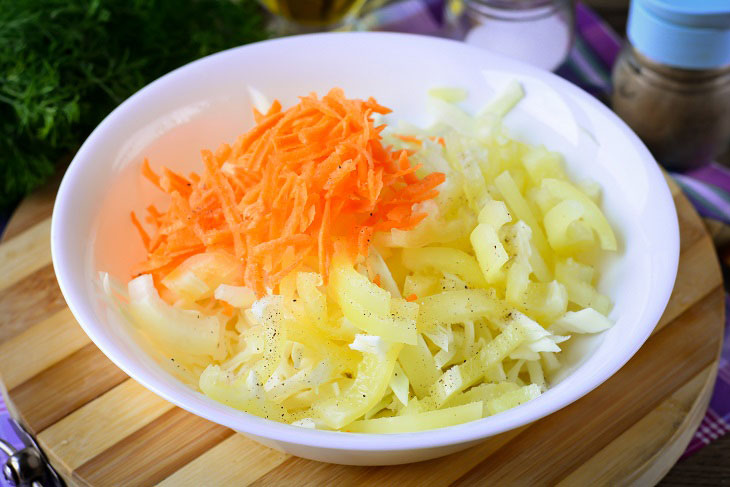 7. Pour in some vegetable oil.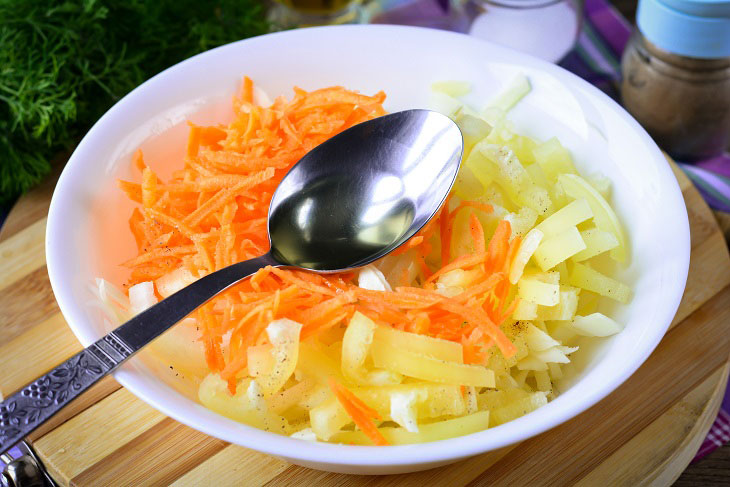 8. Add any tomato sauce.
You can substitute tomato sauce for tomato paste. If the paste is very thick, dilute it with water.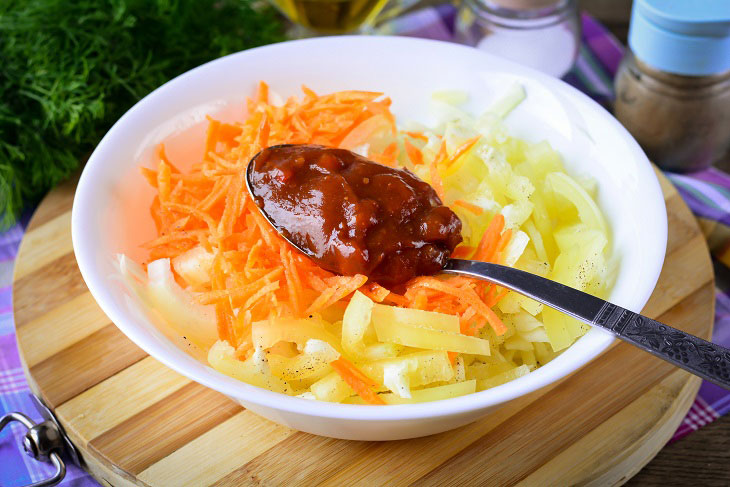 9. Mix all the ingredients, let stand for 10-15 minutes to infuse and soak.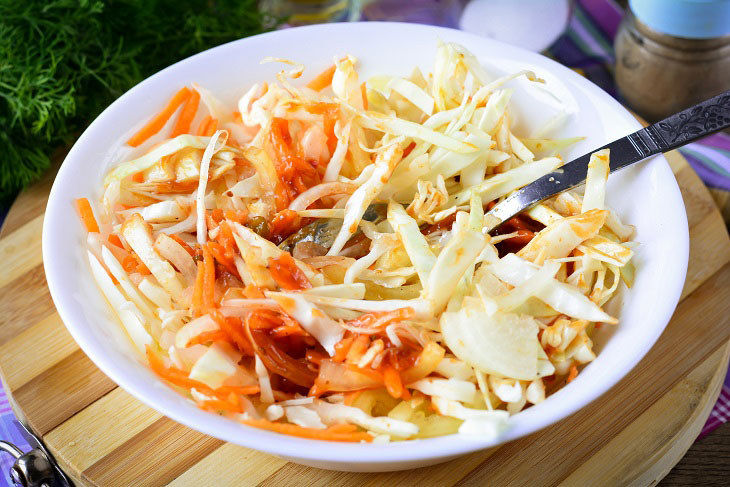 10. Fill a glass jar with cabbage.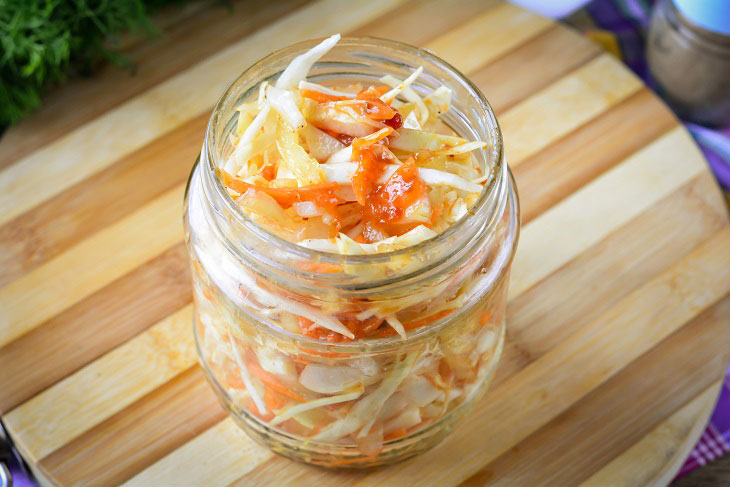 11. Cover the neck of the jar with foil, making a small hole, steam will escape through it.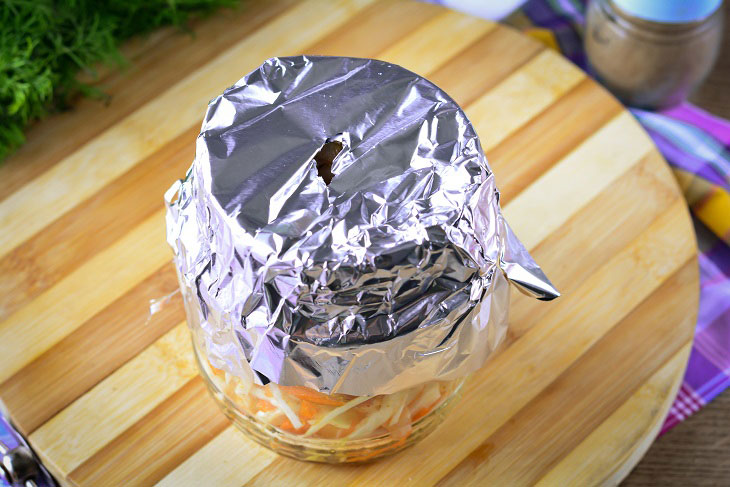 12. Put the jar of cabbage in a cold oven. Turn on the power at 180-190C and bake the dish for 40-45 minutes. The cabbage should settle, become very juicy and soft.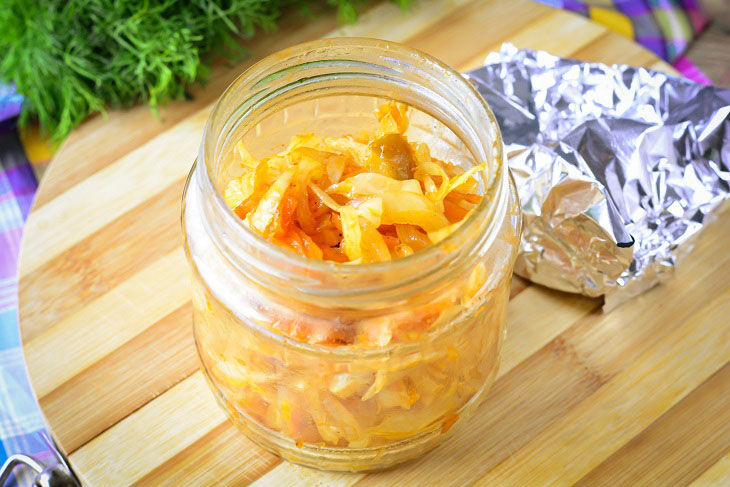 13. Put the cabbage on a plate and serve. You can serve either hot or cold with any side dish. It goes well with cabbage boiled potatoes, rice or buckwheat.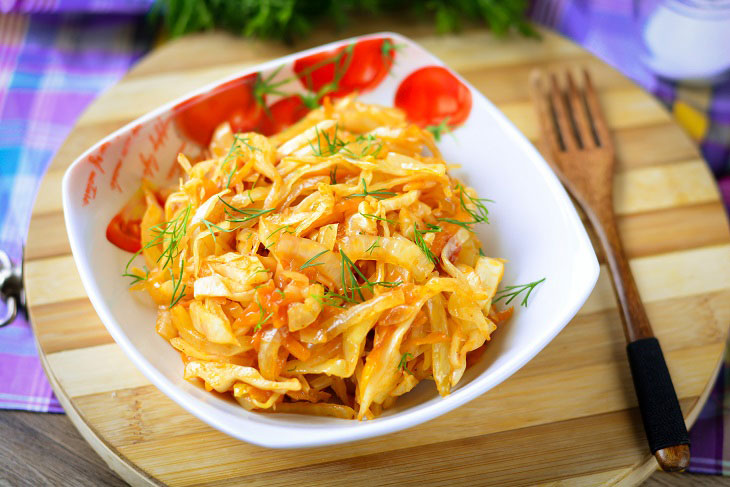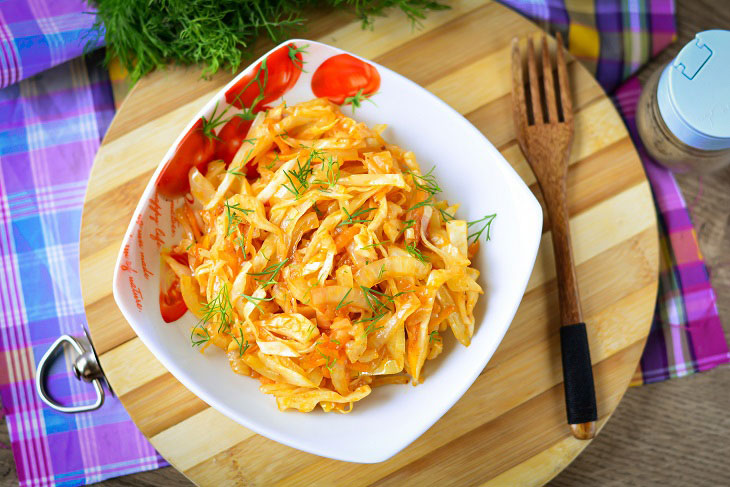 Bon appetit!